Je viens de me re-regarder l'excellent Electra Glide in Blue de James William Guercio, grand road movie tragico-ironique et désillusionné typiquement early-70's (1973, également l'année de sortie du Duel d'un certain Spielberg). Ce film injustement méconnu est le pendant/miroir inversé d'Easy Rider : les deux hippie-bikers qui se lancent dans un trip hédoniste et halluciné à la poursuite d'un Rêve Américain déjà moribond sur leurs chops hardcore sont ici remplacés par un flic sur sa Harley, sillonnant tous les jours les mêmes routes, l'ennui et la routine grignotant quotidiennement l'ambition professionnelle et la mystique du cowboy-gunslinger des temps modernes sur laquelle il fantasme encore.

L'acteur Robert Blake joue un motorcycle cop de la highway patrol, un peu loser, pas mauvais bougre, pas vraiment un fascist pig mais pas un ange non plus, un type normal quoi, qui rêve de devenir détective et, en attendant une promotion qui n'arrive jamais, patrouille inlassablement les blacktops et les highways poussiéreuses de l'Arizona des 70's au guidon de son shovel Electra Glide Police Special, jusqu'au jour où.. ça se termine mal, bien sûr.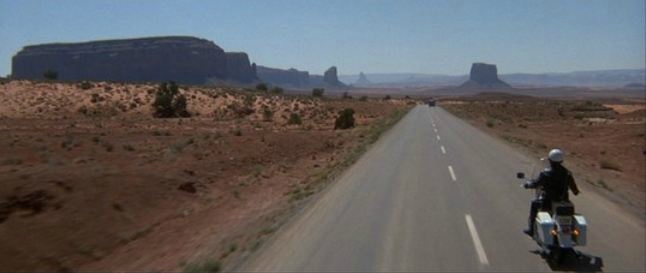 Après avoir aussi revu The Sugarland Express (Spielberg, encore) il y a quelques jours, j'ai eu illico l'envie de me replonger dans mes DVDs et de m'envoyer quelques autres pépites du même genre – et tant qu'à faire, de playlister mes cinq Highway Patrol r'n'r-songs-favorites-de-la-semaine histoire de m'imaginer quelques minutes en trooper filant up and down the road à la poursuite des chauffards du dimanche, outlaw bikers, speedfreaks dégénérés et autres hippies douteux..
Voilà ce que ça donne:
Highway Patrol – Junior Brown
LE classique incontournable, par le virtuose de la six-cordes / double-neck guitar et vétéran de la scène Country U.S. Jamieson "Junior" Brown. Le twang et l'assurance dans la voix chaude et très mâle de J.B. évoquent instantanément les clichés du flic vieux briscard à-qui-on-ne-l'a-fait-pas, un true redneck en embuscade dans sa patrol-car, cool mais dur-à-cuire, avec qui il vaut toujours mieux obtempérer...

« I got a star on my car and one on my chest,
A gun on my hip and the right to arrest
I'm the guy who's the boss on this highway
So watch out what you're doin' when you're drivin' my way.. »

A noter que Junior Brown fait l'actu ces jours-ci, puisque l'un de ses titres fera office de générique pour Better Call Saul, le très attendu spin-off de la meilleure série télé de ces cinq dernières années.. Breaking Bad, of course !

Radar Gun – The Bottle Rockets
Côté lyrics, tout le contraire de la précédente. Nos deux patrolmen sont plutôt ici des types immatures qui s'éclatent avec leur brand-new radar gun, à piéger les contrevenants comme des salles gosses ravis de jouer au chat et à la souris avec leur jouet tout neuf. Des paroles bien ironiques pour un pur rock'n'roller ultra-addictif et le titre le plus emblématique de cet excellent combo country-folk-r'n'r, qui continue depuis plus de vingt ans et vaille que vaille à défendre son point de vue très Woodie-Guthriesque à grands coups de folksongs intimes et de rockers rageurs (The Bottle Rockets Official Website).

« Radar gun, radar gun
Im makin money and Im havin fun with my
Radar gun, radar gun
With my brand new radar gun.. »

Car With The Star – André Williams
Quand le grand André délaisse l'auto-portrait façon Sugardaddy libidineux, qui est sa marque de fabrique 100 % cochonne depuis des lustres, ça donne un putain de bon titre garagepunk-rhythm'n'booze aux paroles gorgées de moonshine, de venin et de payback time ! Bon, là je triche un peu, vu que le cop dont il est question est plus occupé à traquer et débusquer les bouilleurs de cru clandestins qu'à poursuivre les accros à l'excès de vitesse, mais fuck it, le personnage incarné par Mr. Rhythm est un butt-kickin' agent suffisamment badass pour faire partie de la même confrérie des Law Enforcement Officers !
L'histoire? Un grand-père moonshiner raconte à son p'tit gars de la cambrousse comment il se faisait courser par le type « avec l'étoile sur la portière », et énumère les raisons de se méfier du type en question, mais,comble de l'ironie, aujourd'hui c'est le p'tit gars lui-même qui est devenu the man with the star on the car, et c'est un baaaad motherfucker !

« You're gonna respect me,
coz I'm the man with the star on the car !
With the STAR on the car !
Damn it !
I don't care who you are,
I'm the man with the star on the car ! »

Highway Patrolman – Bruce Springsteen / Johnny Cash
Dans ses deux versions pour clore ce top-5, car impossible pour moi de départager l'original du Boss et la magnifique appropriation de l'Homme en Noir.
Un roman entier – ou un scénario (devenu d'ailleurs un film en 1991 - The Indian Runner, Sean Penn à la réalisation), dans cette chanson. Le flic honnête dont le frangin est un bon-à-rien, les deux amoureux de la même femme, la guerre du Vietnam, la perte de la ferme familiale, le premier obligé d'arrêter le second quand celui-ci commence à déraper sévère, et qui finit par le laisser filer et traverser la frontière canadienne, parce qu'un mec qui « turns his back on his family well he just ain't no good ». Je chiale à chaque fois, au deux..

« It was down by the crossroads, out by Willow bank
Seen a Buick with Ohio plates, behind the wheel was Frank
Well I chased him through them county roads till a sign said Canadian border 5 miles from here
I pulled over the side of the highway and watched his taillights disappear.. »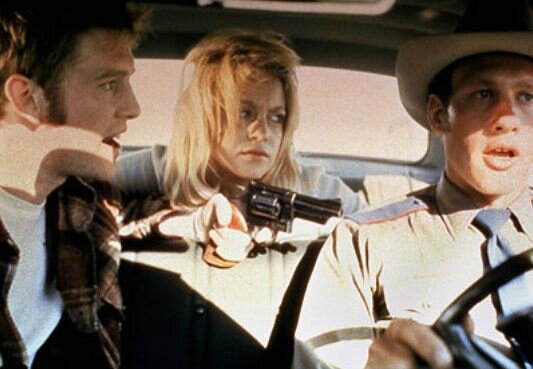 The Sugarland Express (ci-dessus) et ci-dessous, Dirty Mary, Crazy Larry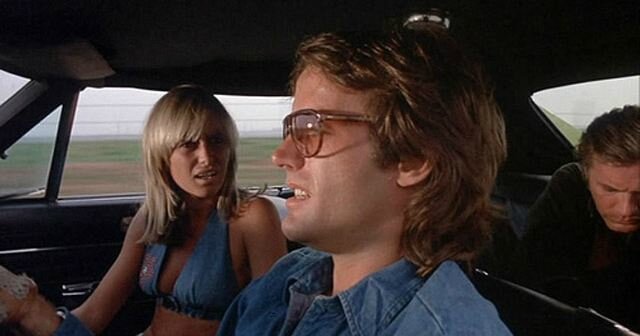 Et, côté films, si on ajoute donc aux précités le tout aussi jouissif Dirty Mary, Crazy Larry (John Hough, 1974, avec l'inoxydable Peter Fonda) et les deux classiques 70's road movies incontournables de Monte Hellman et Ricard C. Sarafian, (Two-Lane Blacktop et Vanishing Point),on obtient un autre top-5, celui des meilleurs road-movies de cette décennie désenchantée, sous-rayon moteurs gonflés et existentialisme sous LSD, muscle-cars de dingues, blue meanies on wheels et high-speed pursuits impitoyables!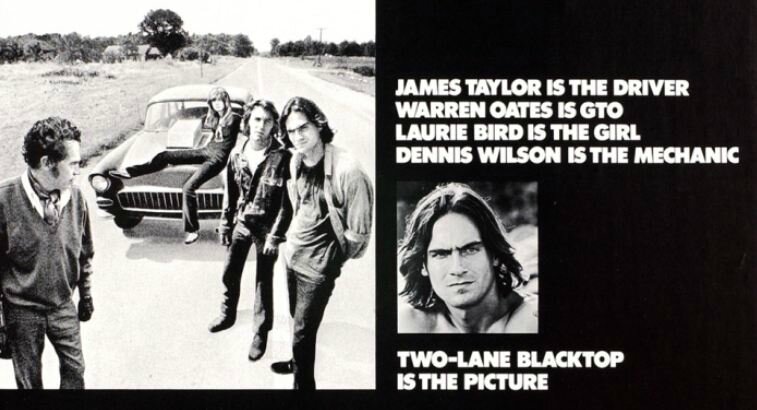 Two-Lane Blacktop (ci-dessus) et Vanishing Point (ci-dessous)


Le web est truffé de sites hyper-documentés comme The Selvedge Yard ou Cine Meccanica pour approfondir le sujet, et puis il y a bien sûr Lost Highways, le fabuleux bouquin de Jack Sargeant et Stephanie Watson (Creation Books, 1999), source incontournable et excellente base de départ pour explorer le genre du road movie et de ses variantes.