C'est le weekend, c'est (bientôt) l'été, y fait (presque) beau et chaud, un temps à enfourcher son bobber, son chop old-school ou sa classic bike pour une feel good virée sur les petites routes de campagne, non? Et avec une bande son adéquate dans les esgourdes, c'est encore plus trippant; allez, un top-ten de la semaine pour kick-starter la playlist..

Summer is almost here, it's getting warmer outside, the sun is shining, time to hop on the seat of your bobber, old-school chopper or classic bike and ride up and down those backcountry roads, right? And with the right kind of soundtrack this is gonna be even better! – Here's this week's top-ten to kickstart the playlist..
demonics - she devils on wheels

01. Motorcycle Madness, Daddy Long Legs
C'est LE titre qui me trotte dans la tête depuis quelques semaines et qui a déclenché ce top-10. Dès l'intro, quand D.D.L. imite le bruit du gros cube avec son micro d'harmonica, on s'imagine mettre la poignée dans le coin en laissant une belle traînée de gomme bien nette sur le macadam... et les paroles évoquent simplement tout ce que les motocyclettes peuvent susciter comme fantasmes et comme frissons:

They're gonna clutch you..
They're gonna kill you !
They're gonna love you..
They're gonna thrill you !!!
Motorcycle Madness !
I 've got motorcycle madness almost every night..

02. Bad Motorcycle, The Storey Sisters a.k.a. The Twinkles

The Twinkles, c'était deux frangines de Philadelphie, Ann et Lillian Storey, qui enregistrèrent une poignée de singles entre 1957 et 59 pour quelques labels locaux, avant d'avoir un petit hit national avec ce très kewl black rock'n'roller. Ou l'on apprend qu'une «Bad Motorcycle» n'est pas seulement une super bécane mais aussi un type hyper cool, ne serait-ce que par sa manière de fumer..

I was on my way to school when a fellow I could meet,
took me by the hand and he told me I was sweet
And I knew by the way he smoked he was a bad motorcycle,
Yes I knew by the way he smoked he was a bad motorcycle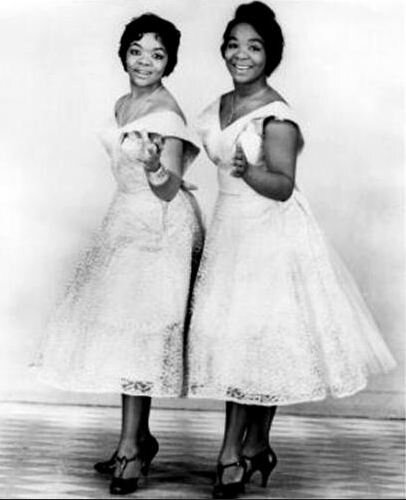 03. Speeding Motorcycle, Daniel Johnson / Daniel Johnson & Yo La Tengo

Que ce soit dans sa version originale ou celle enregistrée au téléphone, depuis la chambre de ses parents, avec Yo La Tengo dans les studios de WFMU – version d'ailleurs gravée en 45trs pour la postérité (un histoire délirante, retracée ici), l'ode lo-fi antifolk à la joie motocycliste du grand génie reclus et abîmé de New Cumberland, West Virginia, demeure plus de 15 ans après son enregistrement l'une des plus poignantes déclaration d'amour à la liberté sur deux roues.

We don't have to break our necks to get our kicks
Speeding motorcycle, the road is ours
Speeding motorcycle, let's speed some more
We don't need reason and we don't need logic
cuz we 've got feelings and we're dang proud of it !!!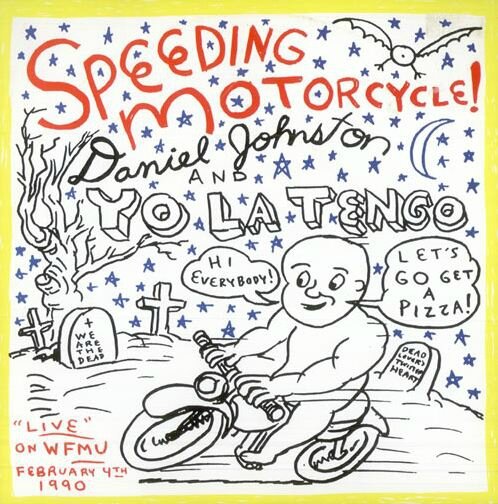 04. Little Honda, The Beach Boys / The Hondells

Dans le tas de titres incontournables célébrant le Endless Summer californien des early-to-mid-60's, il y a bien sûr pléthore de chansons dédiées au surf et au hot-rodding mais curieusement relativement peu de pistes à propos de la bécane. Faut dire que trimballer une longboard en deux roues, c'est beaucoup moins pratique – et moins cool - qu'à l'arrière d'un Ford Woody déglingué ou sur le toit d'une 409 flambant neuve..
Ceci dit, Little Honda a quand même été en '64 un des très gros cartons de Brian Wilson et Mike Love – à la grande joie du fabriquant japonais, qui comptait sur l'image proprette des Beach Boys pour imposer son petit Super Cub 50cc au pays des Milwaukee Vibrators pilotés par des délinquants juvéniles. Un hit, donc, surtout dans sa version Hondells, un groupe monté de toutes pièces par le producteur Gary Usher. «a catchy tune», disent les anglophones, et c'est vrai qu'on devient vite accro à cette chouette piste vantant les mérites de la petite japonaise, capable de grimper les côtes «aussi bien qu'une Matchless» (carrément!) sans pour autant terroriser le voisinage..
J'aime bien aussi les versions plus récentes des Queers et des Demonics, et celle bien déjantée (oups, sorry) et hallucinogèno-déconstrutiviste de Yo La Tengo.

It's not a big motorcycle,
Just a groovy little motorbike
It's more fun than a barrel of monkeys,
That two-wheeled bike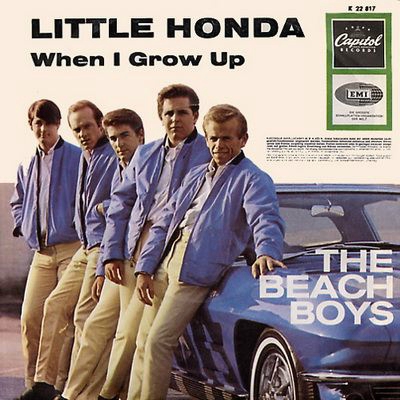 05. She-Devils on Wheels, The Demonics
Un hommage au biker movie splatter-trash-féministe (?!) de 1968 signé Hershell Gordon Lewis, par ailleurs réalisateur culte d'une poignées de Z movies et inventeur du Gore avec sa trilogie mid-sixties Blood Feast / Two Thousand Maniacs! / Color Me Blood Red. Et un original qui plus est, par cet excellent et injustement méconnu combo de surfpunk powerpop californien qui avait réussi à pondre, en très peu de temps (1998-2002) et mine de rien, trois fantastiques albums d'un rock'n'roll de haute volée truffés de références bien cools.
Faut dire que son band-leader et fondateur, Russ Wright, cultivait depuis longtemps un amour inconditionnel pour les muscle-cars, Mopar en tête, les films d'horreurs et les road movies de la grande époque, les subcultures underground des mêmes décennies, les café-racers gonflés et les pin-up girls volcaniques.
Ajoutez un talent certain pour torcher des lyrics bourrés d'humour, de jeux de mots tordus et de clins d'oeil, et des mélodies ultra accrocheuses propulsées par des guitares ramonesques à souhait, et vous obtenez le groupe idéal pour parcourir les pages de ce blog!
On reparlera bientôt de ce combo..

Don't follow your ambitions, better turn around instead,
Baby, cancel your pursuit, stay away, don't lose your head
She-devils on wheels, she-devils on wheels
She-devils on- Maneaters! Maneaters! Maneaters! She-devils on wheels!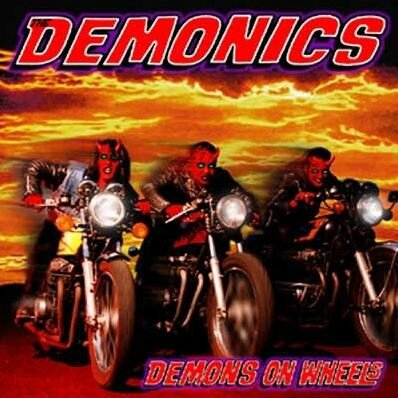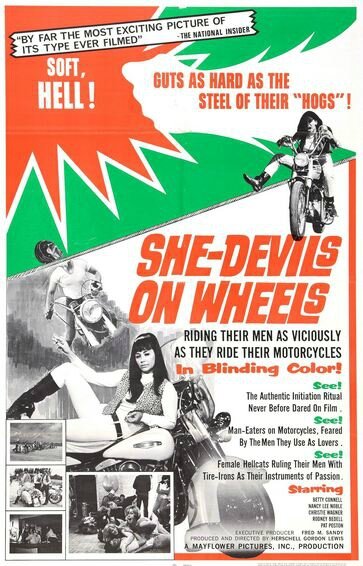 06. Get Off The Road, The Cramps
Hershell Gordon Lewis, c'est aussi bien sûr l'une références de Lux et Ivy, têtes pensantes et couple fusionnel des Cramps, qui avaient en dignes précurseurs et infatigables fouilleurs de poubelles de la junk culture américaine déjà emprunté au même film ce titre issu de la B.O. de She-Devils On Wheels.
Chantée par Poison Ivy, la version des Cramps est lascive et mangeuse d'hommes à souhait, et, cherry on the cake, le maxi-45tours de l'époque bénéficiait d'une pochette ultra chaude dans sa version suédoise, avec la Poison chevauchant une Hydra Glide dans une tenue – gold bikini et blouson de cuir - aussi minimaliste que suggestive..

We are the Hellcats nobody likes,
Maneaters on motorbikes
We own this road so you better get lost,
When you hear the roar of cut-out exhausts
Bug off or you'll find that you've blown your mind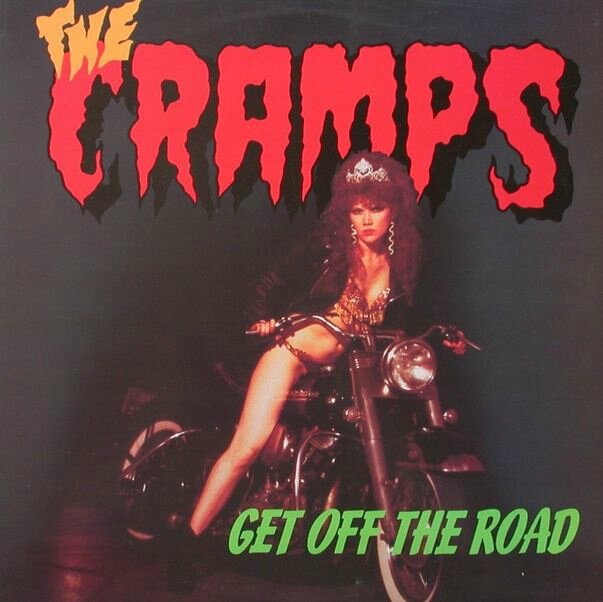 07. (She's a) Bad Motorcycle, The Crestones
Un carton dans les charts à Chicago, home of the Crestones, trio garagiste local à la durée de vie limitée (trois 45trs entre avril et septembre 1964) mais qui enregistra tout de même, fait assez rare, un autre single à la gloire de la moto, le très Trashmen-like The Chopper, une histoire de grand-prix-du-feu rouge-du-samedi-soir contre une Pontiac GTO! (I'll show you what I mean when my chopper start to scream)
Leur Bad Motorcycle à eux n'a rien à voir avec le titre des Storey Sisters, c'est un garage-rocker bien rustre et primitif fille-bécane-vitesse qui carbure au nitrométhane, avec bruitages adéquats et ce «vroooom pah pah pah papapapapah, Waoooww!!» addictif!
une floppée de reprises bien senties pour ce cult-classic aussi, notamment par les Phantom Chords et par les Panther Burns de Tav Falco.

She's got a big set of risers, way up there,
Bobbed fenders,
Straight pipes,
She's runnin' nitro..

08. Bad Betty, The Sonics
En parlant de fantasmes, tiens, justement,... Depuis Boss Hoss et The Witch les Cinq de Tacoma s'y connaissent en machines infernales et filles pas sages. Bad Betty, c'est l'obsession teenage et masculine classique et indémodable sur fond de garage punk rock'n'roll ultrabrutal, avec une mean evil bitch toute en cuir noir très moulant qui sillonne la région sur son bolide, en l'occurrence ici, une Triumph Bonneville, «depuis qu'elle a planté la Cadillac Coupe de Ville de son papa»... Jouissif.

Bad Betty on a Bonneville,
She looks fast when she's sittin' still
High boots and a look to kill
That's Bad Betty on a Bonneville, yeah!

09. Motorbike Beat, The Revillos
Un des hits dans les charts anglais de cet autre combo injustement oublié de la vague punkabilly / new wave naissante du début des 80's, les Revillos, from Edinburgh, Scotland, mené par un autre couple infernal, Fay Fife et Eugene Reynolds, au chant. Et une petite bombinette power pop enervée dédiée à l'allégresse du bikerider dont le cœur bat au même rythme que celui de son engin.. Imparable.

I'm hypnotized by the motorbike beat
I've got the hots for a drive up the street
I got the heat
I got the beat
I got the motorbike beat!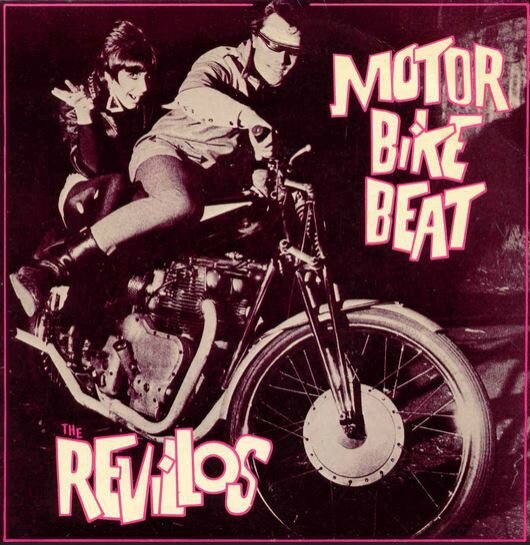 10. Motorcycle of Love, The Lizard Train
Un des groupes de la seconde vague du rock austral des late-80's, le Train Lézard avait balancé depuis Adélaïde cette éjaculation sonique garage punkrock d'une minute trente-trois d'abord en 45trs en '88 sur Greasy Pop Rds, puis sur son second album, The Ride. Un gros riff testostéroné, une quinzaine de mots en guise de lyrics, un solo psyché-high-energy qui se barre dans la stratosphère, et c'était torché.. Brutal.

Take a ride with the motorcycle of love,
feel the wind, runs fingers right thru your hair,
Enjoy the ride, motorcycle of love
Come on let's ride, motorcycle of love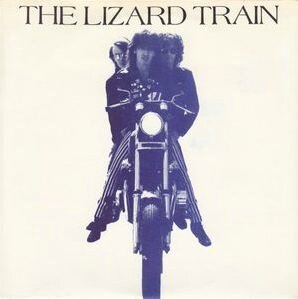 Bonus qui n'a presque rien à voir: Country Soul Sisters - Women In Country Music 1952-1978 (Soul Jazz Records)
Pas de motorcycle songs sur cette excellente compilation concoctée par l'indispensable label Soul Jazz Rds il y a quelques années, mais une splendide pochette sexy à souhait avec pin-up, fringues et panhead chop period-correct pour une remarquable sélection de pistes gorgées de complaintes country, d'humour trailer trash et surtout de chansons vindicatives et féministes par des performeuses qui n'avaient pas peur de remettre à leur place les beaufs phalocrates qui pullulaient dans le milieu très conservateur et misogyne de la country music "traditionnelle". Check it out!
To be continued..?