A la fin de la semaine, Detroit Boom Boom! Un weekend à Saint Sauveur pour clore Lille 3000 Renaissance avec un hommage appuyé à Deeeetroit : du Finger Poppin Time avec les DJs qui vont bien, un paquet de combos, locaux ou non, venus célébrer le(s) Motown Sound(s), un invité prestigieux, John Sinclair, pour se connecter à l'esprit frondeur de la Motor City (and to the Power of Rob Tyner, Fred "Sonic" Smith & Michael Davis) et un film, 8-Mile, pour mettre un doigt sur la réalité de la ligne de démarcation raciale de la ville, sur fond de rap hardcore.
Hank Ballard & The Midnighters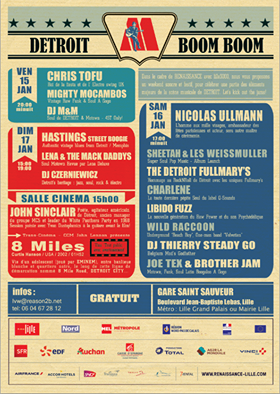 Et en ce qui nous concerne, une dernière salve de classiques incontournables! Avec les Stooges, of course, mais aussi l'inventeur du Twist, le regretté Hank Ballard, ses Midnighters et son coquin Work With Me Annie, plus le hit de Martha Reeves et de ses Vandellas, filmé à Dearborn, en 65, sur la chaîne de montage des premières Fords Mustangs! Enjoy.
Martha Reeves & The Vandellas - Nowhere To Run (1965)
The Stooges - I wanna be your dog (1965)
Hank Ballard & The Midnighters - Work With Me Annie