31 mars 2016
Etonnante histoire que celle d'Eugene de Salignac: fils d'immigrés français né à Boston, cet employé du département des ponts de New York a photographié pendant 28 ans les ouvrages d'art de la Big Apple sous tous les angles. Sans avoir au départ aucune compétence particulière en matière de photographie, mais avec, très rapidement, un regard singulier et un talent certain allant bien au-delà de ce qui n'était au départ qu'un travail d'archiviste municipal, de Salignac a fini par obtenir une reconnaissance posthume mais amplement méritée, et ses innombrables clichés sont aujourd'hui reconnus à leur juste valeur, tel ce célébrissime Brooklyn Bridge showing painters on suspenders, pris le 7 Octobre 1914. Enjoy.
30 mars 2016
Charles C. Ebbets est le photographe qui a fini par être reconnu (en 2003, quand même) comme étant l'auteur du fameux Lunch atop a Skyscraper, le célèbre cliché de ces ironworkers new yorkais cassant la croûte sur une poutre métallique suspendue au dessus du vide pendant la construction du Rockefeller Center, en 1932. On le voit ici avec son assistant dans un autre cliché iconique, au 61ème étage du Chrysler building cette fois-ci, tranquillement installé sur la gargouille American Eagle, prêt à faire d'autres photos. Love it.
29 mars 2016
Parmi tous les skyscrapers de NYC, l'un des plus étranges et des plus emblématiques est sans nul doute le Flatiron sur la 23ème rue à Manhattan. Construit entre 1885 et 1902, ce très photogénique immeuble en forme de fer à repasser est très vite devenu le point de rendez-vous des voyeurs new yorkais! En effet sa forme atypique et la proximité des autres immeubles provoquaient de très violentes et imprévisibles bourrasques susceptibles à tout moment de soulever les jupons des élégantes qui s'aventuraient dans la rue. De quoi révéler une cheville ou le haut d'une bottine, ce qui suffisaient à émoustiller la gent masculine et à provoquer attroupements.. et intervention des forces de l'ordre.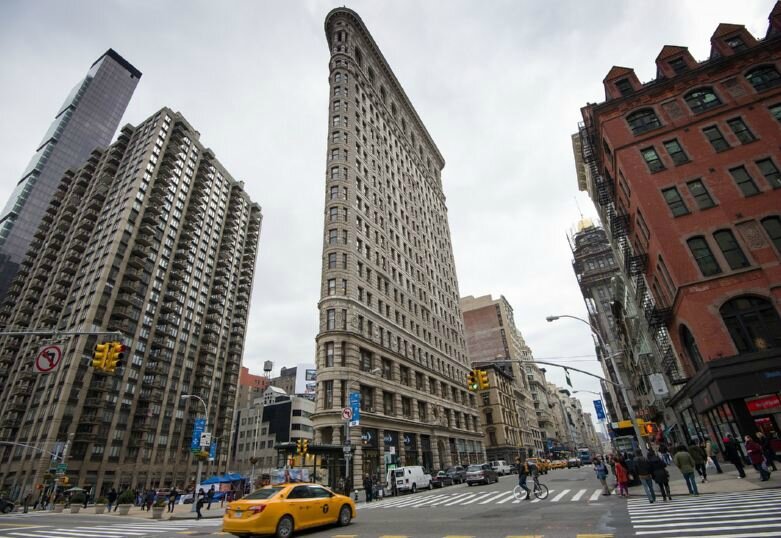 28 mars 2016
A grizzly bear of a man
Le Lower East Side encore, mais avec l'AntiFolk-Rocker Jeffrey Lewis et son chouette clip sur Back to Manhattan, issu de son septième album sur Rough Trade, Manhattan, paru en 2015. Et en plus il sera en concert à Lille avec son groupe le 9 Mai à La Péniche! Kool..
Jeffrey Lewis - "Back To Manhattan"
27 mars 2016
Né à Manhattan et élevé dans le Bronx, Ralph Morse est l'un de ses grands photojournalistes qui semblent avoir été partout au bon moment, traversant le vingtième siècle avec un flair certain et un oeil toujours curieux, de ses débuts new yorkais pour Life Magazine à ses travaux majeurs sur les deux théâtres d'opérations de la Seconde Guerre Mondiale ou avec la NASA. Il a aussi bien évidemment photographié sa ville sous toutes les coutures, comme ce bout de trottoir de Spanish Harlem avec ses façades tristouilles transcendé par une dynamique partie de stickball, le baseball de rue de tous les gamins de NYC.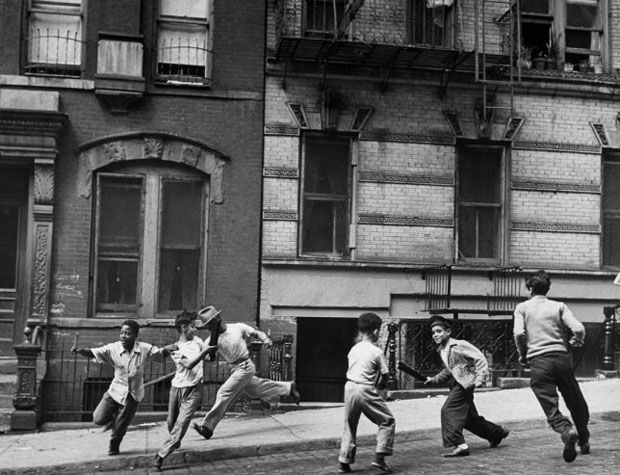 26 mars 2016
La Pierce-Arrow de Mr Perkins, toute en rondeurs streamline, sort tout droit des 1930's, et ses courbes contrastent joliment avec la rigueur de l'arrière-plan, ou même la gestuelle du piéton saisi en pleine action est parfaitement alignée avec les lignes tendues des cages d'escaliers de ce quartier de Harlem, photographié par un autre grand, Todd Webb, en 1946, un an à peine après son emménagement à New York et ses débuts de photographe professionnel. Enjoy.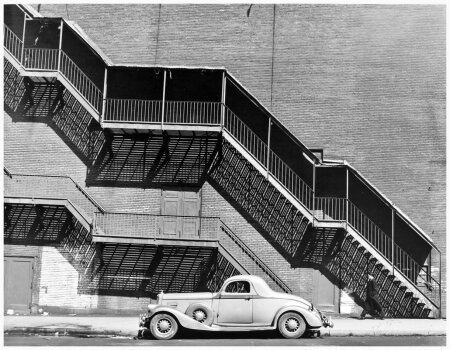 24 mars 2016
Né à Brooklyn et décédé à New York il y a deux ans à l'âge de 96 ans, le photojournaliste et collaborateur du New York Times Arthur Leipzig a été l'un des grands photographes de rue de NYC ainsi qu'un membre important de la Photo League, ce regroupement de photographes new yorkais mêlant le social et l'artistique qui vit également passer dans ses rangs des grands comme Sid Grossman ou Robert Frank. Je ne me lasse pas de ce cliché de gamins jouant sur un bout de rue de Brooklyn recouvert de dessins à la craie, datant de 1950, et trouvé sur la chouette page de Laura Moazedi consacrée au Hopscotch (la marelle!).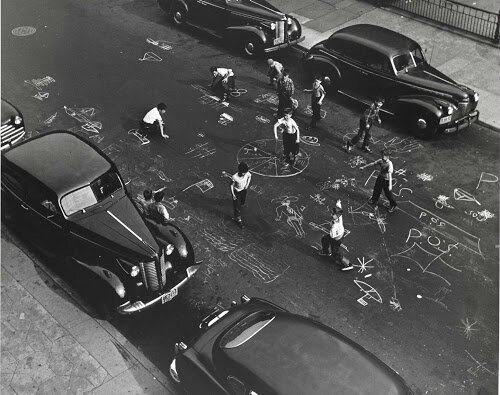 image copyright © Arthur Leipzig - Arthur Leipzig Official Website
23 mars 2016
Un classique du genre. The Warriors (Les guerriers de la nuit, en v.f.), film de Walter Hill sorti en 1979, est l'archétype du "film de gangs" des 70's et a été depuis sa sortie une source d'inspiration constante pour une floppée de punkrock bands qui ne se sont pas gênés pour repiquer gimmicks esthétiques et noms de groupes (The Baseball Furies!), entre autres. Un bon film d'action avec un contenu sociologique pas inintéressant, la cavale des Warriors - accusés à tord du meurtre d'un des leaders du très puissant gang des Gramercy Riffs - du Bronx à Coney Island, traqués par tous les autres gangs de la ville, dépeint le New York mal famé et dangereux de l'ère pré-Giuliani et évoque furieusement les photos des Savage Skulls prises par Jean-Pierre Laffont dans le Bronx au début des 70's.