Première surprise en arrivant sur le site du festival cette année: le nombre de tentes et de stands a notablement augmenté, et en plus des incontournables vendeurs de fringues, bijoux et vinyles on peut aller goûter et se renseigner sur les productions locavores, bio et autres, et entamer l'apéro en toute bonne conscience à coups de bière locale ou de shots de White Rootsian, version lessinoise, équitable et ad hoc du White Russian cher au Big Lebowski!
Dead Bronco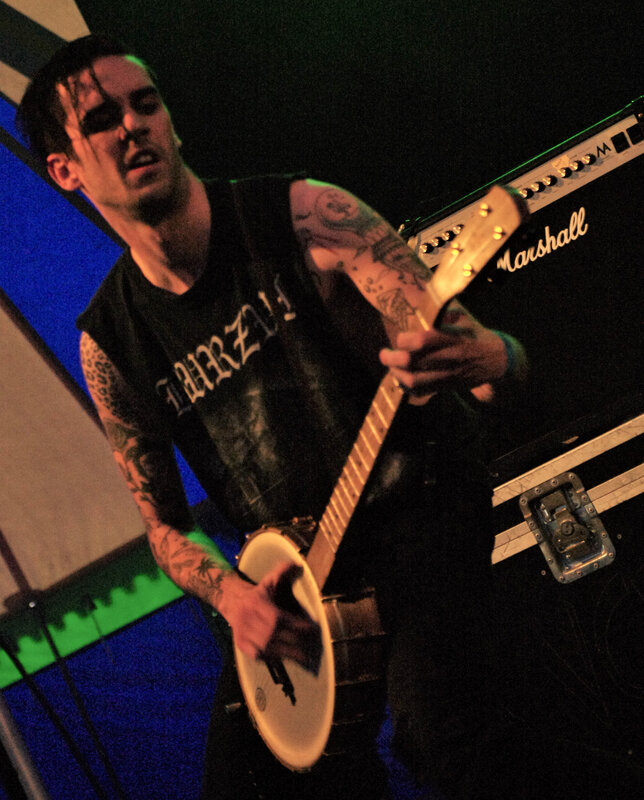 Mais faut assurer en termes de tempo, et arrivé presque à la fin du set de Yak, jeune trio anglais garunge et turbulent (mais classe, fallait oser balancer sa guitare dans le public et laisser le soin à un spectateur d'exécuter le solo du dernier morceau..), on a juste le temps de se précipiter au pied de la scène Roots pour découvrir Dead Bronco en live. Ce gang de Bilbao mené par le floridien Matt Horan annonce un mix à priori détonant à base de swamp country punk goguenard et de hardcore sanguin, qu'ils ont d'ailleurs rebaptisé Americana Sludge, et effectivement ça démarre fort, ça saute dans tous les sens et ça mouille le maillot (enfin façon de parler, le combo se retrouve torse nu - beaux tatouages - au bout de deux morceaux..), mais j'ai du mal à accrocher: pas assez de titres vraiment saillants et un léger problème de timing à cette heure encore matinale empêchent le gig de décoller vraiment, et au bout de quelques morceaux je préfère aller casser la croûte après un petit détour par la scène Roses ou le monolithe Fifty Foot Combo commence son set à fond de train.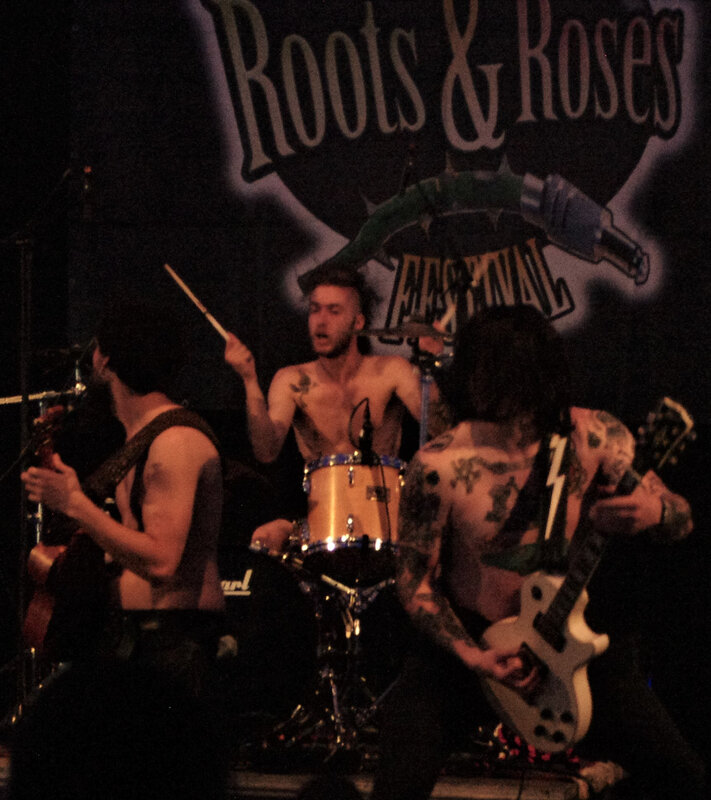 Fait beau, le soleil brille, les nuages ne font que passer et je me dis pendant qu'on s'installe face à nos assiettes que ce festival a définitivement un truc particulier: une espèce de feelgood vibe indéfinissable mais bien réelle qui se reflète sur les visages ouverts et réjouis autour de moi et dans les attitudes anti-bullshit des festivaliers, une ambiance bon enfant, voire familiale, qui fait autant partie de l'ADN du festival que le concept «formes modernes de folk, blues, rock'n'roll, garage» qui lui sert d'étendard.
J.D. Wilkes & Legendary Shack Shakers @ Roots & Roses 2018
Bon, cépatouça mais faut pas trop tarder à regagner le chapiteau Roots, si on veut profiter du gig de J.D. Wilkes, de retour au R&R avec ses Legendary Shack Shakers en backing band, avant la très attendue brochette Darts / Left Lane Cruiser, dans la foulée. Mais first things first, un passage par le stand de La Trompeuse s'impose! Gouleyante et bien équilibrée la 33cl. se laisse déguster sur la longueur et s'avère un digestif tout à fait adéquat pour accompagner J.D.Wilkes et son retour aux racines Americana, un virage souhaité si on en croit ses interviews récents. Et ma fois, ça marche encore mieux que LSS tout court, à quatre sur le stage avec drumkit minimal, contrebasse slappée et guitare rockab' / slide très en avant, plus le J.D. qui se lâche en version bateleur de foire tout en grimaces et gesticulations pour un show ultra énergique et entraînant. C'est très bon, tout ça!
Le gig à peine terminé je me faufile jusqu'au pied de l'autre scène, damned, la fosse photographes est bondée – on se demande pourquoi (grin..) - oh yes, The Darts, Baby! La température est montée d'un coup, et je ne parle pas de la météo locale, hein! Faut dire que les quatre Fléchettes jouent à fond la carte rock'n'roll gurls ultra-sexuées, look d'enfer et poses félines, et y prennent manifestement plaisir en plus! Mais attention, ladies and gents, on est plus près de Tura Satana dans Faster Pussycat, Kill, Kill! que de l'inepte, inoffensive et stupide final girl d'un quelconque slasher movie, ces filles-là vous briseraient en quatre à la moindre esquisse d'un geste déplacé. Ceci-dit, c'est pas le genre de la maison, ici, on peut être libidineux mais on en est pas moins classieux, pas de wolf-whistles mais un intérêt poli pour un garage-punk honnête mais pas renversant non plus. Le quatuor s'en sort mieux sur les mid-tempos venimeux à la Fuzztones de la grande époque que sur les garage-punkers plus basiques, à cause, encore une fois d'un manque de titres suffisamment marquants pour susciter un réel enthousiasme.
Un poil déçu, donc, mais je leur donne quand même des points pour la patate et l'attitude en me disant qu'avec un peu de boulot sur les compos le groupe pourrait aisément se hisser au niveau des Love Me Nots, le groupe originel de la chanteuse-claviériste Nicole Laurenne.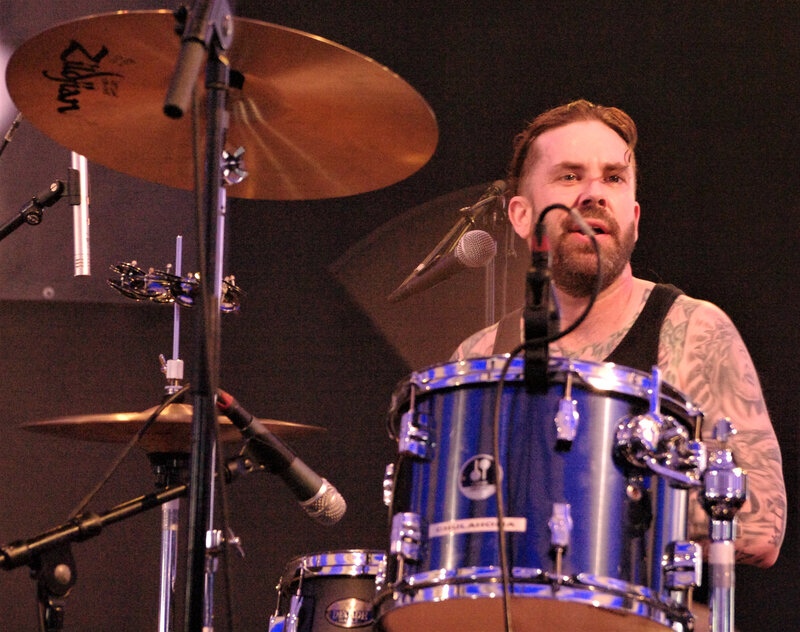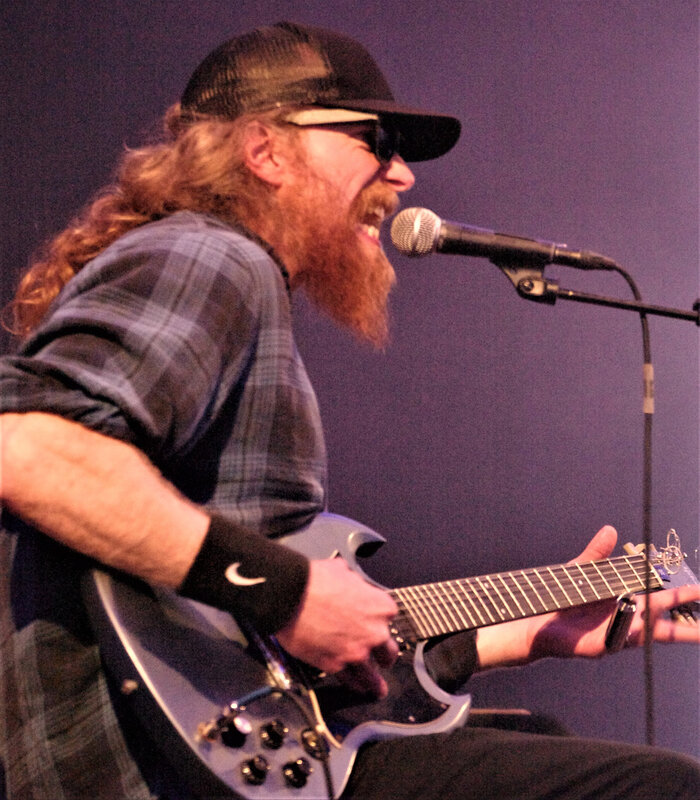 Left Lane Cruiser en ligne de mire, maintenant, en plein milieu d'après-midi, les matchs de catch vont bon train entre les trois tentes, et le festival bat son plein. Bon, je ne répéterai pas tout le bien que je pense du duo de Fort Wayne, Indiana – ah ben si, tiens, c'est fait – et je me contenterai de préciser que même sous chapiteau, à l'heure de la sieste, ces deux types déchirent!!! C'est tight, c'est puissant, et la voix de Joe Evans est tellement râpeuse qu'elle pourrait dézinguer un gruyère entier à plus de trois mètres… Good Golly...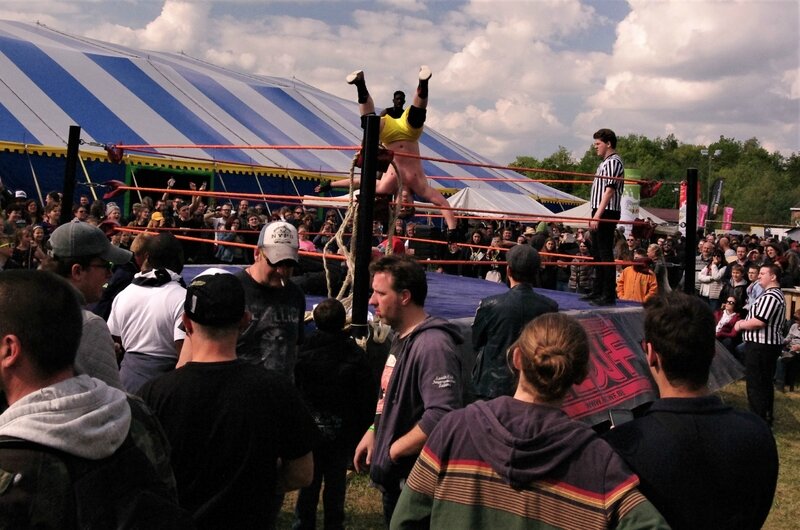 (To be continued..)