30 juin 2018
Curieux parcours que celui des Osmond Brothers; à l'origine une (vraie) fratrie née et élevée dans une famille Mormone très straight d'Ogden, Utah, dont quatre des frères commencèrent très jeunes à chanter localement et, très vite, avec beaucoup de succès leur propre barbershop music (harmonies vocales à cappella sans aucun instrument) avant de se lancer dans une carrière professionnelle dans la variété la plus mainstream sous la houlette de leur papa manager. Ultra-pros sur scène comme en studio, complètement clean-cut avec leurs dents bien blanches et leur look inoffensif, ils devinrent quasiment à eux tous seuls le prototype de tous les boys bands à venir, influençant les frères Jackson au début du Jackson Five et déclenchant une véritable Osmondmania un peu partout.
Jusqu'au jour ou les frangins, attirés par le côté sombre de la Force du Rock'n'Roll, décidèrent contre l'avis paternel d'injecter une bonne dose de groove et d'énergie dans leur pop bien propre. Ce qui aboutit à ce petit bijou d'hybride glam / funk / hard rock / bubblegum - et classique maintes fois repris depuis - qu'est Crazy Horses: une cavalcade débridée et un cri de guerre écolo, avec derrière l'évident clin d'oeil aux Native Americans et à leurs montures, via le célèbre chef de guerre indien Lakota Crazy Horse (cf. la rythmique tribale et le fameux riff d'orgue de Donny Osmond), des paroles engagées (si,si) puisqu'il s'agit d'une dénonciation en bonne et due forme de la pollution automobile croissante en ce début de décennie (On est en 1972!) - "et si ça continue c'est de notre faute à tous". Imparable!
The Osmonds - Crazy Horses
et un bonus, en live et pour le look!
The Osmonds brothers - crazy horses
26 juin 2018
Rhythm Sophie, c'est souvent la moitié féminine des vocaux de Sonny & His Wild Cows, combo hongrois basé à Budapest et vétéran de la scène rockabilly revival depuis bientôt 20 ans. Mais la miss Sophie à bien d'autres cordes à son arc au delà du rockab', et ce qu' elle enregistre et poste régulièrement sur Youtube vaut franchement le détour - dans un registre traditionnel mais large - du swing au country and western en passant par le rhythm'n'blues. Sacrée voix, et du matériel original qui mériterait bien un album solo! Check her out.
Rhythm Sophie - Got a lot of rhythm in my soul
Rhythm Sophie - Weather Man
En fait la miss a déjà sorti un lp solo il y a trois ans sur Rydell's Records, un debut lp intitulé Born to live the blues gorgé de rhythm'n'blues et de 50's rock'n'roll pétillant à souhait, tout à fait digne d'intérêt!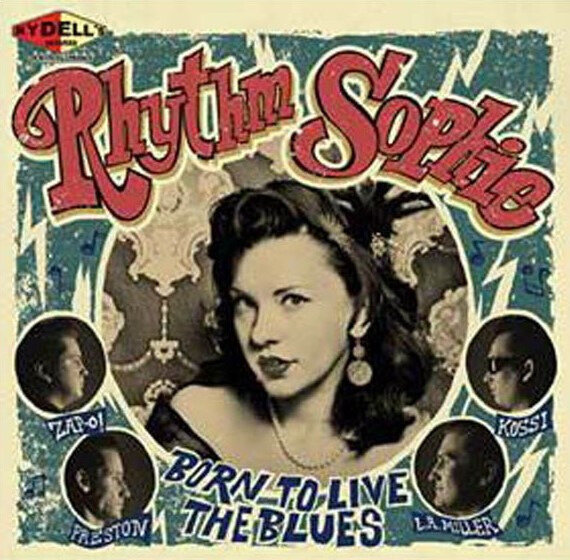 25 juin 2018
Ouais, trois titres, carrément, parce que ça faisait des années que je n'avais pas écouté la scream queen Kim Shattuck et song gang, et que mine de rien ça fait beaucoup de bien aux poils pubiens de se replonger dans la discographie des Foufounes. Si la power pop est la version sucrée poivrée du punkrock, alors les Muffs produisaient les meilleures sucettes à l'anis aux orties des 90's! Mention spéciale pour la cover du Paul Collins' Beat, aussi kewl que l'original!
The Muffs - Sad Tomorrow
The Muffs - Rock N Roll Girl (The Beat)
The Muffs - I Don't Like You
23 juin 2018
Du surfpunk canadien pour démarrer le weekend sur les chapodroux avec The Huevos Rancheros, ce power trio de Toronto qui privilégiait le côté rentre-dedans débridé (souvenir d'un super concert au Democrazy vers '95) aux poses chiantes et stériles. Les albums tiennent encore parfaitement la route aujourd'hui!
Huevos Rancheros - Get Outta Dodge
21 juin 2018
Et vendredi c'est demain! L.A. Witch (from, euh, L.A.) à la Cave aux Poètes, Roubaix (Support: Wild Raccoon), Dirty Primitives et He Rents a Red Banjo (Lille) à la Ferme d'en Haut à Villeneuve d'Ascq, et Crystal & Runnin' Wild à Madame Moustache (Bruxelles) pour la release party de leur dernier album. Y'a de quoi faire, non?
L.A. Witch - Drive Your Car
Dirty Primitives - Farmer Song
Crystal and Runnin'Wild - Midnight Creature
20 juin 2018
Les quatre garage-punk rockeuses de The Darts sillonnent toute l'Europe en ce moment, et, après leur passage au Roots & Roses il y a six semaines et avant le Sjock Festival dans une quinzaine, vlatipa que le combo mené par la super-badass Nicole "Here comes the Judge" Laurenne pose ses amplis à Saint-Léger (à côté de Roubaix), au Bar Le Communal, sympathique établissement spécialisé dans les breuvages houblonnés dont les proprios cultivent également un penchant certain pour toute chose rock'n'roll. L'occasion de se replonger dans l'univers des quatre fléchettes en s'abandonnant dans un endroit intime, chaud et humide (hum..) à la bacchanale psyché-garagiste!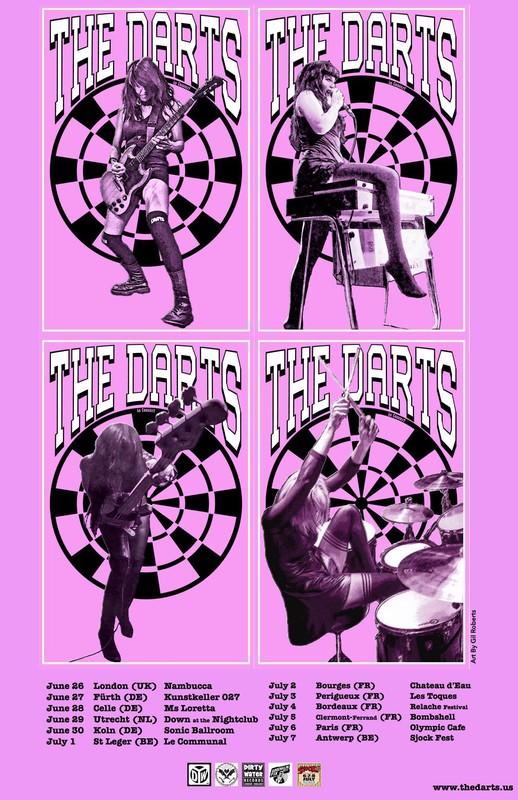 The Darts - Gonna Make You Love
19 juin 2018
The Courettes.. Elle est brésilienne, lui est danois, et à eux deux il font autant de raffut qu'une bande de vikings imbibés débarquant en plein carnaval de Rio. Et quand le raffut en question s'épèle g.a.r.a.g.e p.u.n.k, ça m'interpelle! Mais pas le truc trop scolaire et appliqué de jeunes hipsters branchés vintage-parce-que-c'est-cool, hein, le vrai garage punk rock'n'roll, celui qui crache et qui grince et qui scream et qui éjacule avec exubérance, fun et abandon. The Ronettes meet The Cramps autour d'un vieil électrophone et d'une pile de compils' Back From The Grave, fuck la finesse et balance la purée!
The Courettes - The Boy I Love
The Courettes - Boom! Dynamite!
18 juin 2018
Le premier album de Bodega, jeune et fin quintet from Brooklyn, New York City, pourrait avoir été enregistré à la fin des seventies, mais voilà, il paraît ces jours-ci, et ce How did this happen!?, premier single issu de ce Endless Scroll, est bien parti pour devenir le tube de l'été sur toutes les plages accessibles depuis le portail spatio-temporel ouvert en permanence sous le troisième pilier du pont de Williamsburg. Et, au delà des modèles et références proto et postpunk évidents (The Fall, Wire, le Velvet & co), auxquels on risque très vite de les réduire, il y a suffisamment de petites perles pop'n'roll dans ce premier opus (Truth is not Punishment, Boxes for the Move, Williamsburg Bridge,..) pour donner envie d'en savoir plus. Check'em out.
Bodega - How did this happen!?
17 juin 2018
Débuter l'été avec un gig psych-folk rock'n'roll bien frappé, ça vous tente? Alors rendez-vous à l'Imposture le 6 juillet prochain, 39th & The Nortons débarqueront de Paris pour tester en live et sur les Lillois les nouveaux titres de leur troisième album (Mourning Waltz, à paraître fin Août sur Croque Macadam Rds) avant de traverser la mare pour une tournée chez les Britons. Be there or be..
39th And The Nortons - ..Disconnected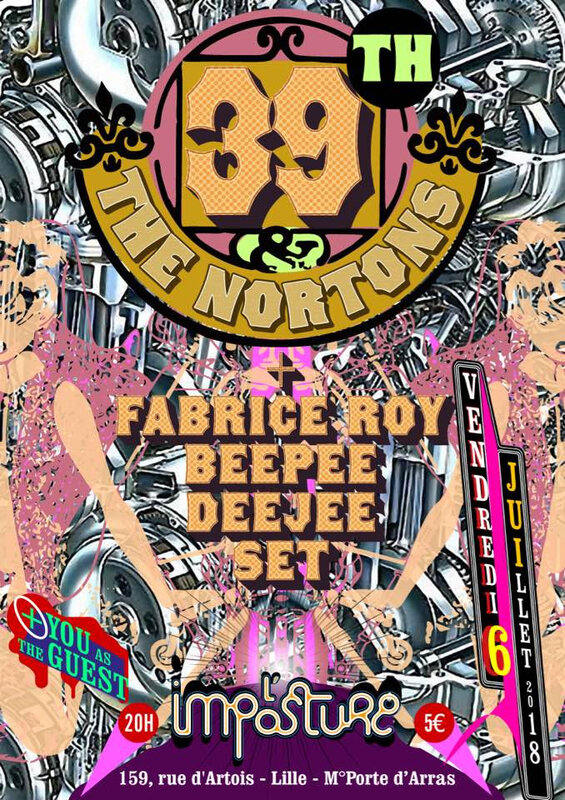 39th & The Nortons - Golden Sand
16 juin 2018
Aucun titre n'est plus emblématique de la culture low rider que ce classique signé War, le fameux groupe multi-ethnique de Long Beach, California, et, bien au delà des si riches sous-cultures automobiles nord-américaines, de la culture hispanique west-coast en général. Un véritable hymne chicano qui n'a pas pris une ride, et qui en même temps nous catapulte way back in the 1970's (le single est sorti en 1975) au son Funk / Soul / Latin Jazz / rock fusion avant l'heure de ce combo qui n'était, à ses débuts cinq ans plus tôt, "que" le projet du producteur Jerry Goldstein et de l'ex-chanteur des Animals, Eric Burdon (On en reparlera). En attendant, check deez hydraulics, baby, and don't forget, low and slow is da way to go...