Hier c'était le dixième anniversaire du Roots & Roses Festival, à Lessines, à quelques dizaines de minutes de Lille ou de Bruxelles, et on y allait avec autant d'enthousiasme et de curiosité que les années précédentes. C'est là la grande réussite de ce "petit" festival à taille humaine, indépendant à tous les sens du terme, et concocté avec amour par une petite équipe de passionnés épaulés par plus de 400 bénévoles: donner l'envie, édition après édition, de retourner à ce rendez-vous du premier mai quel que soit la programmation, au delà de l'effet d'appel des noms connus en tête d'affiche, avec la certitude qu'on va tomber sur le groupe ou l'artiste dont on a - ou pas - peut-être déjà vaguement entendu parlé mais qui va à coup sûr nous scotcher sur place et nous coller un big fucking grin d'une oreille à l'autre.
.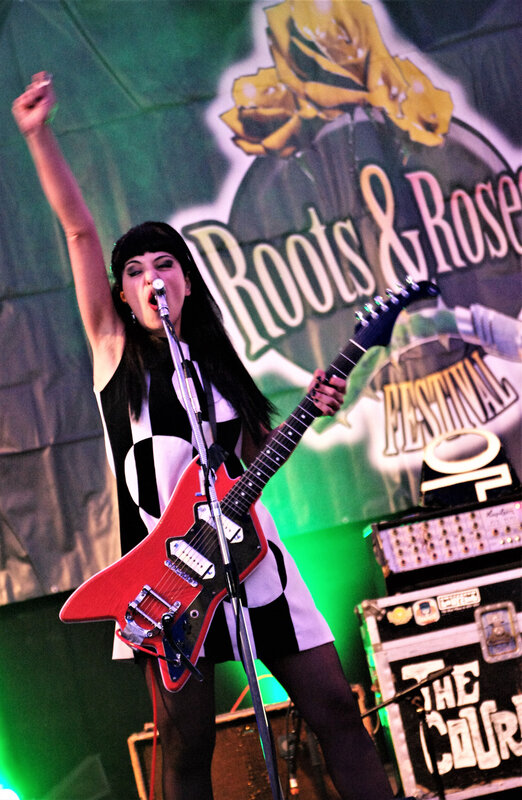 Et cette édition n'a pas déçu! Des claques monumentales et d'excellents moments plus intimistes, on en a eu pour notre Premier Mai, du topnotch folkrock de The Devil Makes Three au country-punk-psyché-western des Sadies en passant par le garage punk ludique et débridé des Courettes, le blues powerhouse testostéroné très fun de The Goon Mat & Lord Benardo, ou le calypso jungle blues décalé de C.W. Stoneking. Le line-up du Roots & Roses a tenu ses promesses, et on est rentré de ces treize heures de marathon roots & rock'n'roll rincés mais ravis.What else could you wish for?!
Bon, j'ai un peu honte de poster mes pov' photos toutes pourrites (promis, un jour j'apprendrai à faire des photos de concerts) mais c'est juste en attendant de compiler quelques adresses de photographes qui ont couvert le festival et ont sûrement dû faire des clichés d'une autre teneur "artistique"! Enjoy quand même.
C.W. Stoneking -The Zombie