S'il y bien un groupe qui a porté la torche garage punk sans esbroufe mais avec une détermination sans faille et une indéboulonnable foi en la puissance supérieure du rock'n'roll, du milieu des 80's jusque bien après le début du nouveau millénaire, c'est Dead Moon. Le trio ultra-DIY, ultra-back-to-basics, ultra-lean & mean formé par Fred Cole, vétéran de la scène rock'n'roll de Portland, Oregon, avec sa femme Toody et le batteur Andrew Loomis s'est taillé au fil des années et des tournées une réputation inattaquable et amplement justifiée, à coups de concerts démentiels d'intensité, mais aussi grâce à la simplicité, l'humilité et la gentillesse non-feinte de chaque membre du groupe. Si vous avez un jour eu la chance d'assister à un concert de ce combo complètement inconnu des masses mais littéralement vénéré par ceux et celles qui ont été «touchés», vous ne pouvez pas ne pas vous remémorer l'indicible frisson qui vous avez parcouru et l'exaltation que vous aviez ressentie.. Une expérience quasi-mystique.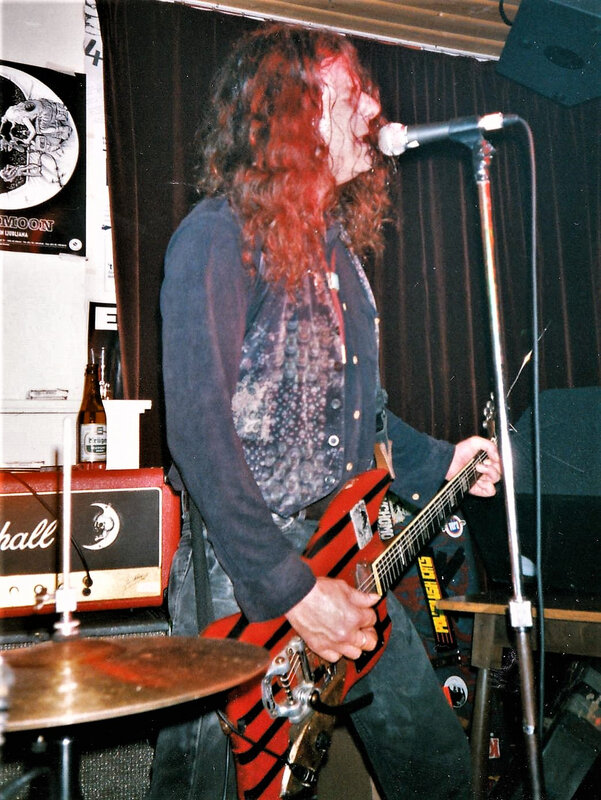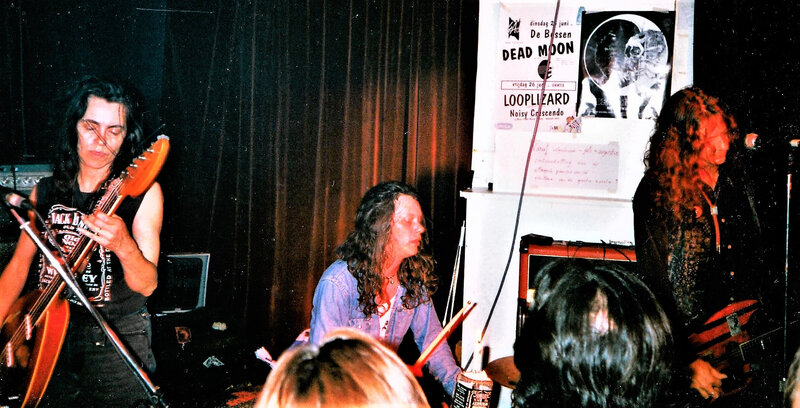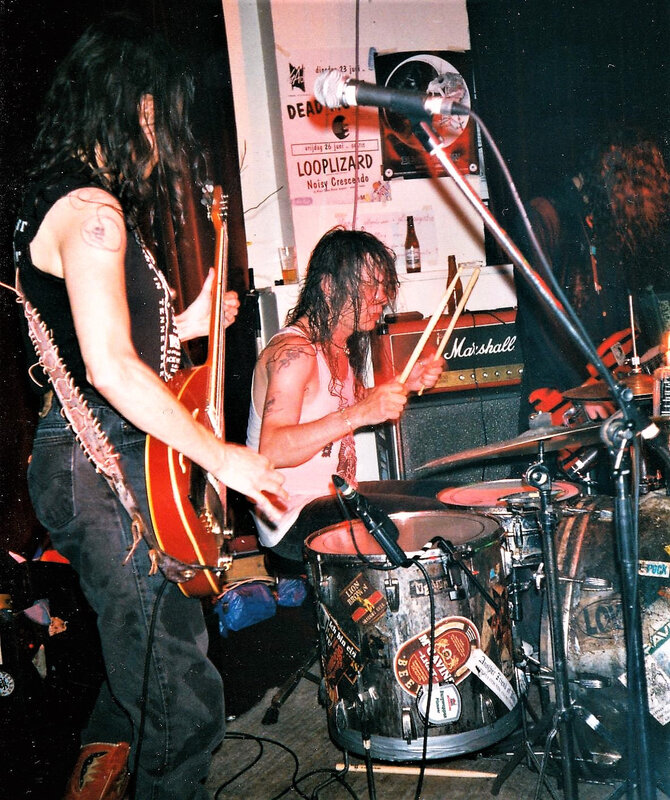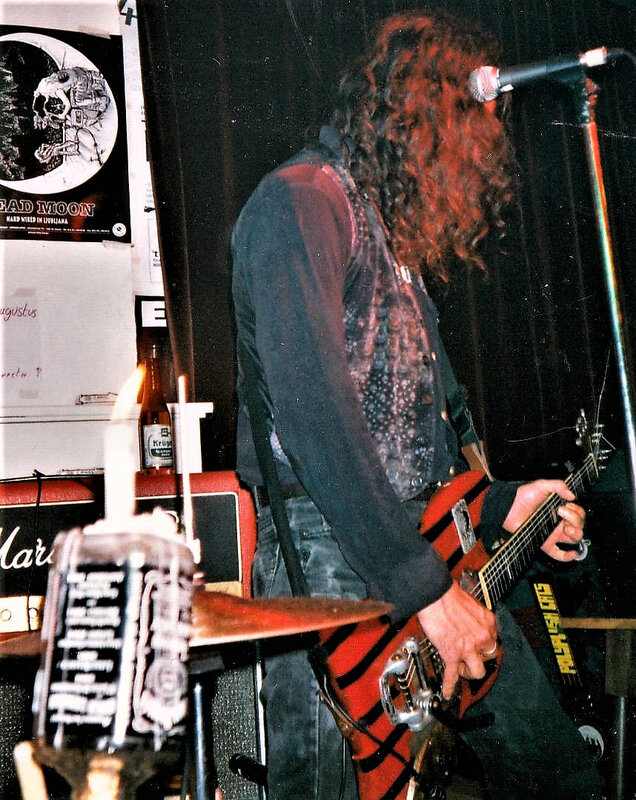 Dead Moon en concert à Diksmuide, au 4AD première version (le café en face de la gare) en juin 1998 ou 99. Photos d'époque scannées.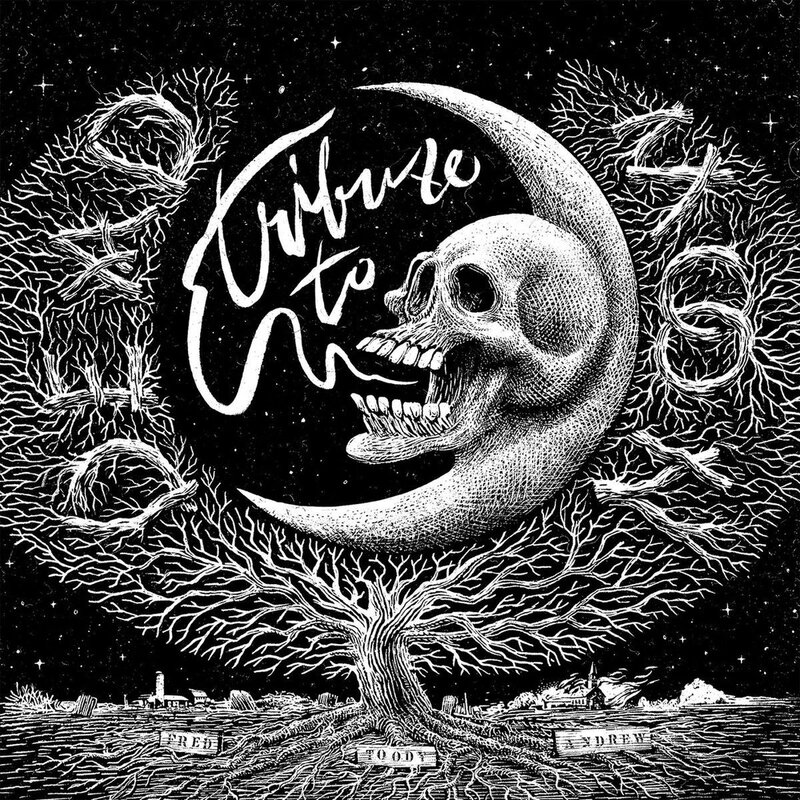 C'est donc avec énormément de plaisir qu'on découvre ce tribute fraîchement paru, à l'initiative de deux labels espagnols (Chaputa! et Ghost Highway Rds) qui ont joint leurs efforts pour concrétiser ce très bel objet (un double-25cm tirage limité) en hommage à Dead Moon, en compilant des reprises signées par des noms connus (The Monomen, The Hellacopters, Sator, The Nomads, The Sewergrooves – grosse représentation scandinave) et d'autres moins (Kicked out Kicked In par les Boatsmen et un hit dans ma cuisine à l'heure de vider le lave-vaisselle) mais tout aussi méritoires. L'occasion de (re)découvrir les pépites cachées derrières les enregistrements radicalement crus et sans concessions des vinyles du groupe, des titres de pur garage punk aux racines fermement plantées dans les mid-sixties mais avec ce je-ne-sais-quoi de plus qui les rend intemporels, juste le meilleur du rock'n'roll quoi, avec également ce côté sombre et crépusculaire qui transparaît dans les lyrics et qui fait intégralement parti de l'identité du combo.
A se mettre en boucle un soir de pleine lune ou une veille d'apocalypse..
Dead Moon - Dead Moon Night
DEAD MOON - 54/40 Or Fight