12 janvier 2019
The Fadeaways. 2016. Japanese Garage Punk. Yeah. Kool.
'Nuff Said.
Enjoy.
The Fadeaways - That Girl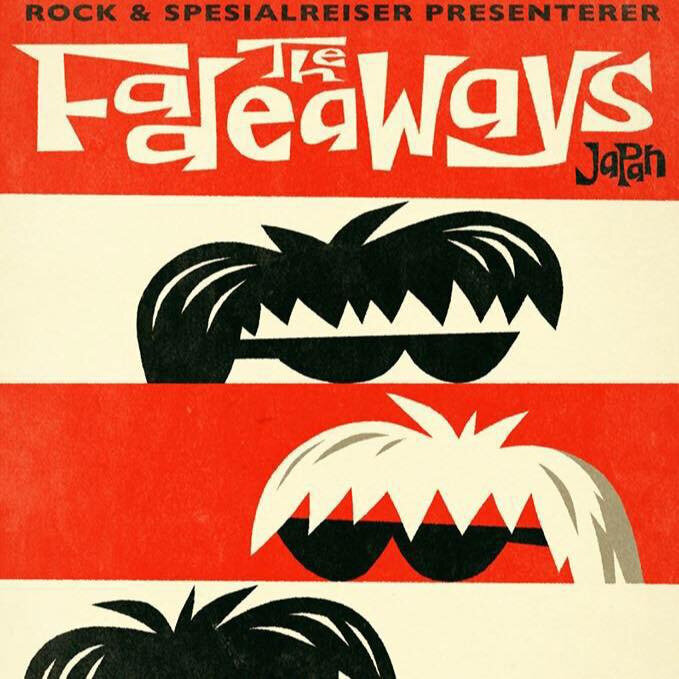 05 janvier 2019
Bon, la soirée est pourrie, le DJ craint, la bouffe est infâme, y'a rien à boire, et les autres vous snobent.. Pas grave, virez l'incapable en charge des playlists, dégainez votre usb-key, et balancez ce fabuleux single des Slickee Boys! Avantages immédiats: vous faites le vide sur la piste, ça vous laisse toute la place pour danser le Watusi comme un sauvage, et en plus vous exprimez clairement votre opinion sur la soirée en question..
Un des trucs les plus féroces et drôles jamais enregistrés par ce combo mythique dans l'underground de Washington D.C., This Party Sucks était sorti sur New Rose Records en 1988.
The Slickee Boys - This Party Sucks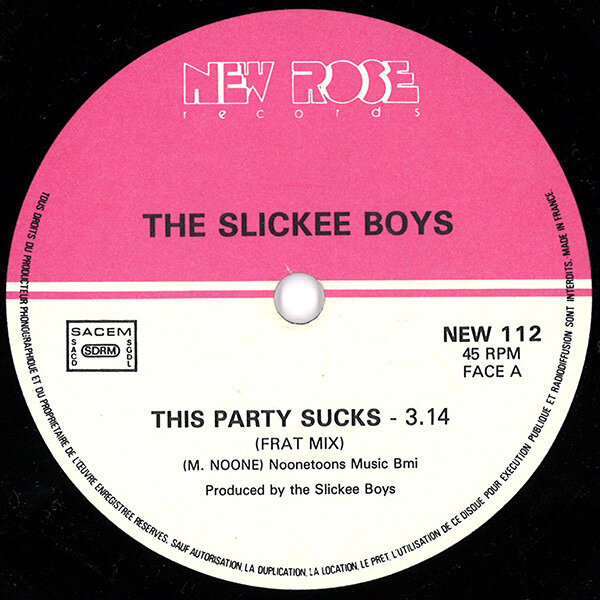 29 décembre 2018
L'un des thèmes classiques de la trilogie Dollars de Sergio Leone par le maestro Ennio Morricone, en attendant de faire l'expo Il était une fois Sergio Leone demain matin à la Cinémathèque Française! Can't Wait!
Ennio Morricone - For A Few Dollars More
22 décembre 2018
1969. Lalo Schifrin. The Getaway, More Mission: Impossible..
Instant coolness.
Enjoy.
Lalo Schifrin - The Getaway
15 décembre 2018
Un p'tit tour ce matin au Missouri, en 1973, sur les traces des Ozark Mountain Daredevils et de leur premier self-titled lp. Deux titres, le Southern rocker If you wanna get to heaven, et le très sautillant et agricole Chicken Train. Cluck, Cluck, Cluck.
Ozark Mountain Daredevils - Chicken Train
Ozark Mountain Daredevils - If You Wanna Get To Heaven
01 décembre 2018
Jeff Gordon a accompagné Brenda Lee dans les sixties, et sûrement fait un tas d'autres choses notables, mais pour ce samedi matin je recommande - surtout si votre semaine a été aussi chargée que la mienne - un passage en boucle de cet instro, face-B du seul single de Jeff Gordon & The Summits, daté de Mars 1962. La face-A, une très originale relecture du Peter Gunn d'Henry Mancini, vaut aussi le coup d'oreille. Enjoy.
Jeff Gordon And The Summits - Freeway
24 novembre 2018
Une piste rare, face-B du single Jackie Wilson Said de Van Morrison, enregistrée en 1972 pendant les sessions de son sixième album, Saint Dominic's Preview, et sans aucun rapport avec le titre de James Brown daté de 1960. Kool Kewl Track.. Enjoy.
Van Morrison - You've Got The Power
17 novembre 2018
Un dernier détour cette semaine par la discographie du grand Ed Kuepper, en solo cette fois-ci avec une extrait de son EP 4-titres de 1992. Encore un exemple frappant du talent protéiforme du bonhomme. Enjoy.
Ed Kuepper - The Way I Made You Feel
10 novembre 2018
Le samedi matin j'ai une compile de kewl trucs vintage pour démarrer la journée, et elle kickstart avec Dion & The Belmonts, groupe doo-wop formé en 1957 par quatre jeunes ritals qui habitaient tous sur ou pas loin de Belmont Avenue, dans le Bronx. Inspirés par leurs collègues des quartiers noirs de NYC, le quartet cartonna quasiment tout de suite avec ce single paru en '58, un uptempo doo-wop devenu depuis un classique du genre. Enjoy.
Dion & The Belmonts - I Wonder Why
03 novembre 2018
La Nouvelle Orléans, 1969. Le fantôme de Marie Laveau hante encore le Quartier Français, et Doctor John vient de sortir son premier album, Gris-Gris.. Sept pistes psyché--jazzy-bluesy hoodoo voodoo fleurant bon le gumbo et les crawfish, et dont la dernière est ce long, lancinant, et doucement halluciné - "Je suis le Grand Zombie.." - I Walk on guilded splinters. Quelques années auparavant, avant de se réincarner en Doctor John le Night Tripper, le jeune Malcolm John Rebennack avait déjà fait ses classes de rock'n'roller en jouant dans les bouges et strip-clubs de la Big Easy, sous le nom de Mac Rebennack, gravant dès la fin des fifties et alors qu'il était à peine majeur quelques titres bien groovy, tel ce real kewl instrumental Storm Warning annonciateurs des orages à venir lors de la décennie suivante.
Mack Rebennack - Storm Warning
Dr. John - I Walk On Guilded Splinters