09 novembre 2019
Novembre 1957. Max Lipscomb, jeune guitariste de 18 ans originaire de Dallas, Texas, rejoint les Blue Caps de Gene Vincent, qui vient il y un peu plus d'un an, à l'été '56, de changer la face du monde libre avec le hit international et instant classic Be-Bo-A-Lula. Deux ans plus tard, sous le pseudonyme de Scotty McKay, il enregistre deux fabuleux singles de pure feral rockabilly, Midnight Cryin' Time puis Evenin' Time, dont la face-B, l'explosif Rollin' Dynamite, suinte autant la nitro que, au hasard, le Fujiyama Mama de Wanda Jackson! Enjoy the Boom.
Scotty McKay - Rollin' Dynamite
02 novembre 2019
En boucle ce matin depuis le petit déj', cette pépite alt-country folk signée Julie & Buddy Miller, couple peu prolifique en duo (seulement trois albums entre 2001 et ce tout dernier effort, Breakdown on 20th Ave. South, paru en juin dernier) mais dont les carrières respectives sont déjà plus que conséquentes. Enjoy.
Buddy & Julie Miller - I'm Gonna Make You Love Me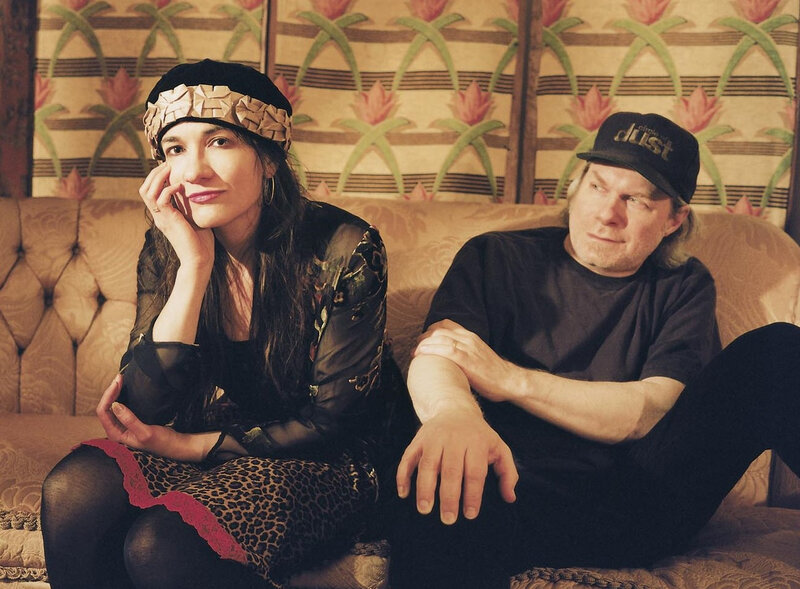 26 octobre 2019
Bon ben cette semaine a été très punk dans mes enceintes.. Après être retombé dans la marmitte mid-seventies pub/punk avec les 'Bishops et l'infernal quintet Bators/Chrome/Zero/Magnum/Blitz lundi et mardi dernier, on enfonce le clou chromé ce samedi matin avec un combo injustement oublié, The Nips, a.k.a. The Nipple Erectors (un nom unilatéralement désigné comme Meilleur Nom de Groupe Punk et Assimilé par un jury de une personne cette semaine dans mon salon), monté par Shanne Bradley et Shane MacGowan (Six ans avant que ce dernier ne co-fonde The Pogues) et auteur d'au moins deux classiques, le très power-pop Gabrielle (1979 - repris quelques années avant sa parution par Johnny Hallyday) et ce fantastique All The Time In The World, leur second single paru en 1978. Enjoy.
The Nips - All the Time in the World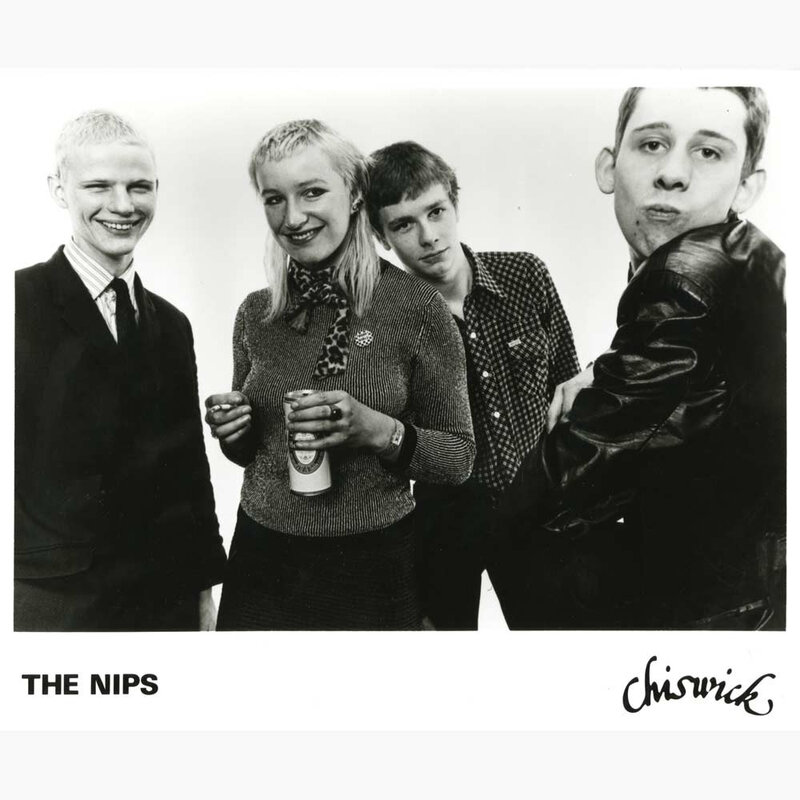 19 octobre 2019
Une parenthèse instro surf garage dans la riche carrière rhythm'n'blues, funk & soul de Steve Cropper, l'homme derrière Booker T & The MG's, The Mar-Keys, et une bonne partie du son Stax, avec ce single signé The Cobras, en 1964. et en bonus une autre petite perle des MG's justement, intitulée Fuquawi et parue en '71 toujours sur le mythique label de Memphis fondé en 1959 par Jim Stewart et sa soeur Estelle Axton. Enjoy.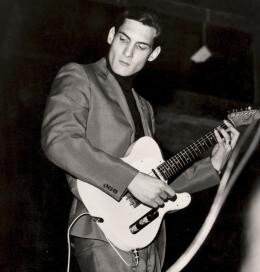 Booker T. & The MG's - Fuquawi
12 octobre 2019
Un kewl classic swingin' rock'n'roller pour débuter le weekend avec le Linda Lu de Ray Sharpe, chanteur guitariste texan originaire de Fort Worth qui décrocha la timbale dès son second single, ce même titre enregistré en 1959 sous la houlette de Lee Hazlewood, avec, excusez du peu, Duane Eddy et Al Casey aux guitares! Luv that stuff..
05 octobre 2019
Honnêtement, je ne connaissais pas The Cocktail Slippers avant cet été, mais leur Give It To Me m'a durablement imprégné les neurones à force de l'entendre sur la satellite radio de la bagnole de location via le Little Steven's Underground Garage.. Rien de révolutionnaire, juste une bonne piste de garage rock'n'roll avec un riff ultra-accrocheur et un p'tit goût de revenez-y bien addictif.. Est-ce que ça justifie d'aller investiguer la discographie de ce all-girl combo norvégien originaire d'Oslo? Ben oui, et on y découvre quelques belles perles pop dignes, au hasard, du premier lp des Bangles, pour ne citer qu'elles, comme ce Show 'Em Good, extrait de leur dernier album en date, People Talk. Enjoy.
Cocktail Slippers - Show`em Good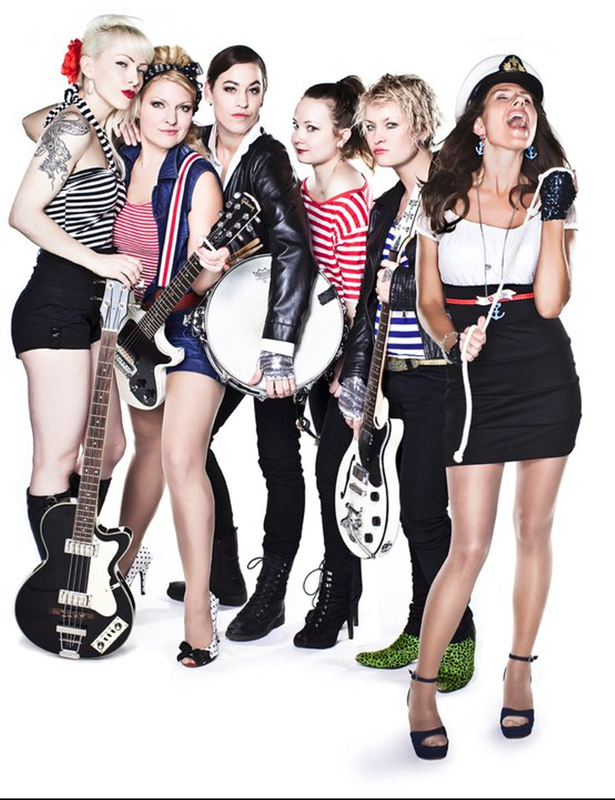 28 septembre 2019
"You're my only friend, and you don't even like me".. la voix abrasive de Sean Greenway, à peine majeur, les lyrics et le riff plombé du premier single de God avaient créé un véritable séisme à la sortie du 7" sur Au-Go-Go Rds en 1988, et cette piste signée à l'époque par ce tout jeune combo de Melbourne est depuis devenue un autre classique oz rock incontournable, régulièrement repris aux quatre coins de la planète r'n'r par "ceux qui savent".. Un parfait antidote à la douceur de vivre australe et un véhicule idéal pour ventiler son amertume, sa rage et son dégoût de soi.. What's not to like?
21 septembre 2019
Encore une belle tranche de cowpunk avec ce combo canadien (Alberta) qui sortit deux albums entre 2002 et 2006, le premier étant titré Farmaggedon, ce qui les qualifiait d'office à l'époque comme "Meilleur Groupe Country Punk Du Monde Cette Semaine Dans Mon Salon" sur le seul mérite du clin d'oeil / jeu de mots foireux comme je les aime, le nom du groupe - Agriculture Club, Boy George, eat your heart you! - et celui du lp! Le Rubber Duck Breakdown qui ouvre l'album est une petite perle de brutalité et de storytelling à la chute sarcastique à fort parfum de vécu. Love it!
Agriculture Club - Rubber Duck Breakdown
14 septembre 2019
Complétement obsédé par ce titre sorti en single en 1963 et signé Dion (Dion Francis DiMucci - né dans le Bronx en 1939, et star pop & doowop pré-British Invasion) et de ses Del-Satins (son groupe post-Belmonts), depuis que je l'ai entendu par hasard via l'auto radio cet été.. J'attends avec impatience que la drache et le crachin nordiste reviennent pour pouvoir me le mettre en boucle à la maison et passer la journée à regarder tomber la flotte..
Dion And The Del-Satins - Drip Drop
06 juillet 2019
Le seul point commun entre ces deux pistes, outre leur titre quasi-identique, c'est l'année de parution (1966) et le fait que les écouter en boucle pendant une heure le samedi matin vous file la patate pour tout le weekend. Merci donc à Tommy Boyce, l'homme responsable d' un bon nombre de hits pop des sixties (dont ceux des Monkees) et à Robert Parker (le New-Orléanais derrière l'ultra-groovy hit Barefootin', même année) pour ces deux killer tunes qui donnent envie de foncer sur la plage en écoutant du rhythm'n'blues (why not). Enjoy.
Tommy Boyce - Let's Go Where The Action Is
Robert Parker - Let's Go Baby (Where The Action Is)