18 mai 2019
Ce titre folk traditionnel popularisé par Leadbelly et Woody Guthrie dans les années '40 fut bien sûr un hit en France et dans le monde anglo-saxon dans sa formidable version signée Eric Burdon & The Animals en 1964, mais je comprends ceux et celles qui lui préfèrent celle-ci, signée Frijid Pink (Ce nom!) à Detroit cinq ans plus tard. Transformée en hard-rockin' charge psyché-épique et propulsée par le chant puissant de Tom Beaudry, elle demeure l'une des meilleures covers jamais enregistrées de ce classique véritablement - pour une fois l'expression n'est pas usurpée - intemporel!
Frijid Pink faisait partie, au même titre que les Amboy Dukes, le MC5, les Stooges ou les Rationals, de toute cette galaxie de groupes qui n'arrêtaient pas de tourner régionalement et qui de fait surent se tailler une solide réputation en live - leurs concerts attiraient énormément de monde dans la région et étaient souvent sold-out - et pourtant, la renommée de ce combo hard blues psychédélique formé en 1967, n'a jamais vraiment dépassé les limites du Michigan. Leur seul titre de gloire en dehors du succès local puis national de The House Of The Rising Sun fut d'avoir offert, un jour, à un jeune groupe tout juste créé à Londres l'opportunité d'assurer leur première partie aux USA. Le groupe en question s'appelait encore, quelques semaines auparavant, The New Yardbirds, et venait de changer de patronyme. Son nouveau nom: Led Zeppelin..
Frijid Pink - House of the Rising Sun
Quant à la version des Animals, cela fait aujourd'hui 55 ans jour pour jour que les cinq de Newcastle Upon Tyne l'enregistrèrent à Londres en moins de 24 heures, en une seule prise et en plein milieu de leur tournée britannique, avant de reprendre la route. Le single est publié le 19 juin, et malgré la longueur inhabituelle du titre qui provoque une certaine réticence à la BBC, il commence à grimper dans les charts aux quatre coins de la planète. Il entre dans le top-40 le premier juillet 1964, atteint la première place le 15 au Royaume Uni, le 5 septembre aux USA, avec entre ces deux dates une percée remarquable en France le 9 août - l'un des rares titres en anglais à bousculer la variété française dominante et les versions francisées et édulcorées des hits anglo-saxons des yé-yés. Le 45-tours restera 12 semaines dans le Top-100 britannique et demeurera n°1 trois semaines d'affilée aux USA..
The Animals - House of the Rising Sun
Un p'tit bonus avec ce montage de différentes versions du standard trouvé sur YT. Enjoy.
The House of the Rising Sun trough History (1933-2016)
11 mai 2019
John Fred (Gourrier) and The Playboys, trois ans avant son seul hit national. On est donc en 1964, certes, mais cette face-B sonne comme un early-rocker de la décennie précedente, et quel rocker! stompin' one-chord swamp-rock from Baton Rouge, Louisianne, car le samedi matin il faut laysser le bôn temps wouler!!!
27 avril 2019
Pendant ce temps-là, à New York dans le quartier de Harlem.. Cinq jeunes gens ont choisi, deux ans plus tôt et comme des milliers d'autres groupes d'un bout à l'autre de la planète, le nom de la marque de luxe du groupe automobile General Motors comme patronyme pour leur combo de Doo Wop. En 1955, The Cadillacs sortent leur cinquième single, Speedoo (b/w Let Me Explain), un uptempo doo wop particulièrement réjouissant, et l'idéal, par chez nous, pour démarrer la journée et le weekend en ondulant du pelvis et en claquant des doigts!
Une annecdode: le groupe se scinde en 1957 en deux entités différentes, Earl Carroll and the Cadillacs et The Four Cadillacs, avant de se redevenir un seul et unique band un an plus tard sous le nom de.. Speedoo & The Pearls. L'album des Four Cadillacs dont la pochette se trouve ci-dessous à quant à lui été enregistré en '57 et tient parfaitement la route encore aujourd'hui, pétillant mix de rhythm'n'blues swinguant et de doo woo suave à souhait. Enjoy.
20 avril 2019
Dix ans après Brownsville Station, Cub Koda, musicien, chanteur, journaliste, natif de Detroit et rock'n'roller hardcore bien frappé devant l'éternel avait encore bon pied bon oeil, et le label parisien New Rose ne s'y était pas trompé en lui proposant de sortir ce mini-lp solo en 1983. Let's Get Funky, le titre, sonne aussi jubilatoire qu'un early Flaming Groovies millésimé, et dépoussière les enceintes avec autant d'efficacité aujourd'hui qu'à l'époque! Heeeee-haww!!!
Cub Koda - Let's Get Funky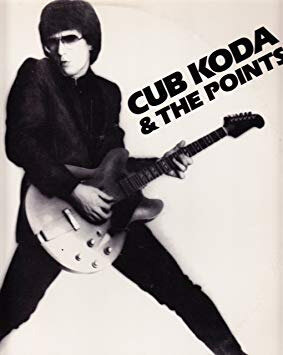 13 avril 2019
1978. Fred "Sonic" Smith (The MC5), Scott Morgan (The Rationals), Gary Rasmussen (The Up), Scott Asheton (The Stooges).. et le single qui aurait du être publié. Enjoy.
Sonic's Rendezvous Band - City Slang
Sonic's Rendezvous Band - Electrophonic Tonic
06 avril 2019
Derrière The Red Button, il y a un duo de songwriters plutôt doués et très actifs du côté de Los Angeles, Seth Swirsky et Mike Ruekberg. Le groupe a quant à lui deux albums à son actif depuis 2007, et cette petite perle power pop intitulée Cruel Girl, tiré de leur premier lp, She's About to Cross My Mind, a connu son petit succès à sa sortie en single à l'époque. Enjoy.
The Red Button - Cruel Girl
30 mars 2019
Kickin' Out The Jams ce matin avec un titre récent de The Strains, un bon combo de la Motor City. Punk rawk basique à la Humpers / Electric Frankenstein and co, et surtout une chouette vidéo, hommage à leur ville et à tous ceux et celles qui ont contribué à forger la légende Motown, des usines de Dearborn au 2648, West Grand Boulevard. Enjoy.
The Strains - Detroit City (No Love, No Pity)
23 mars 2019
RIP Zephire André Williams, Black Godfather & Sugahdaddee de toute la scène blues punk de ces vingt dernières années ET progéniteur, depuis les fifties et les sex-teaz, du R&B salace et libidineux le plus jouissif, ET co-auteur du killer hit Shake A Tail Feather propulsé au sommet par Ike & Tina Turner! On est pas prêt d'oublier tes costards flamboyants et ta bonhommie chaleureuse, man!
Andre Williams - Agile Mobile and Hostile
Andre Williams - Jail Bait
Andre Williams - Lookin' Down At You, Lookin' Up At Me
Andre Williams - Sweet Little Pussycat
16 mars 2019
j'ai découvert ce Pretty Please via la killer cover de Redd Kross sur leur album de 1996, Show World. Le gang des frangins McDonald l'avait repris des Dickies (autre grand groupe oublié - on en reparle bientôt). The Dickies avaient légèrement modifié le titre et en avait pondu une version speedo-ramonesque tout à fait réjouissante en '83, sur leur Stukas Over Disneyland le bien-nommé. l'original signé The Quick (Los Angeles, 1974-1978, un album est une poignée de singles et EP's) datant quant à lui de 1978, est depuis devenu une classique power-pop incontournable - surtout le samedi matin pour démarrer le weekend. Enjoy.
The Quick - Pretty Please
The Dickies - Pretty Please Me
Redd Kross - Pretty Please Me
09 mars 2019
La piste à se mettre en boucle quand c'est le weekend mais que le temps est pourri, qu'il fait froid, qu'on est crevé et qu'on a le moral dans les boots.. Ce classique pop-garage-rocker qui-aurait-du-être-un-hit à l'époque fut signé par The Choir, from Cleveland, Ohio, en 1966, est fait encore aujourd'hui toujours bien la paire garage-météorologique avec le I'm in Pittsburg (And it's raining) de The Outcasts, paru la même année. La version d'un autre natif de Cleveland, Stiv Bators, sortie en 1979, est pas mal non plus. Enjoy.
The Choir - It's Cold Outside
Stiv Bators - It's Cold Outside