Une vidéo pour bien commencer la semaine, disponible sur le net si on cherche un peu. Juste l'envie de partager une découverte récente, un vieux favori, ou un truc qui était passé sous mes radars jusqu'ici.
A music video to get the week started. I just felt like sharing a personal favorite, a recent find, or the stuff that had slipped under my personal radar so far.
05 novembre 2018
Pour démarrer cette semaine, un duo mari et femme qui commence à faire parler de lui! Gospel, soul, folk, bluegrass & roots music et pas d'esbrouffe, juste quelques instruments et une production minimaliste, c'est The War & Treaty, étrange patronyme derrière lequel se cache le dernier projet en date de l'actrice et chanteuse américaine Tanya Blount et de son mari Michael Trotter. Un ep l'année dernière et un tout nouvel album, Healing Tide, paru il y a quelques semaines, et déjà quelques chouettes vidéos qui circulent sur YT, en attendant d'avoir l'occasion de les découvrir en live.. Enjoy.
The War and Treaty - Down To The River
The War and Treaty - Down To The River
29 octobre 2018
Et donc je réécoute The Many Moods of Ben Vaughn (le podcast d'il y a deux semaines - excellent, comme d'hab'), et je re-craque comme à chaque fois sur le Jolene de Dolly Parton, un de mes all-time favourites de la miss, publié en 1973 en single et sur l'album du même nom, et qui a connu une nouvelle jeunesse début 2000 grâce aux reprises live et studio des White Stripes. Un titre qui à chaque fois me fait irrésistiblement penser au Ne me quitte pas de Jacques Brel, tant la peur panique d'être définitivement abandonné(e) par l'être aimé transparaît dans les paroles des deux chansons, même si l'approche et le traitement sont bien sûr radicalement différents. Dolly supplie sa flamboyante rivale de ne pas lui piquer son homme, Brel supplie sa femme de ne pas le laisser, et les deux personnages oublient leur amour propre et abandonnent toute dignité et toute retenue pour supplier et supplier encore.. Sublime.
En bonus la cover des 'Stripes en version live hardcore et une autre perle signée Dolly Parton, Joshua, live en 71 au Grand Ole Opry, pour le plaisir des oreilles et des yeux..ah! les costards de Porter Wagoner et de son band, et la choucroute blonde ultra-laquée de Dolly! Lovely.
Dolly Parton - Jolene
The White Stripes - Jolene
22 octobre 2018
Seasick Steve a déjà vécu plusieurs vies riches en rebondissements: hobo / tramp / bum de sa Californie natale au Tennessee, busker (musicien de rue) à Paris, bricoleur de guitares et de diddley bows improbables, storyteller goguenard un peu partout, puis star des médias britanniques, il a aussi depuis 2006 pondu une huitaine d'albums tout à fait dignes d'intérêt, swamp trash back-to-the-roots rock'n'roll blues, extra special quality. Love that guy.
Actuellement en tournée en Europe pour la promo de Can U Cook?, son nouvel effort, avec un passage à Bruxelles le 23 novembre prochain, au Cirque Royal.
Seasick Steve - Down On The Farm
Sea Sick Steve - Diddley Bo
15 octobre 2018
Bon, je triche un peu ce matin, but I'm in a country punk kinda mood et je n'ai pas trouvé de vidéo assez cool à mon goût pour célébrer le réjouissant mauvais esprit et la gouaille décapante de Nine Pound Hammer, le combo hardcore hillbilly cowpunk pré-Nashville Pussy de Blaine Cartwright & co basé à Owensboro, Kentucky. Du coup, deux versions différentes mais tout aussi goûtues l'une que l'autre de leur Stranded outside Tater Knob, dont l'original figure sur leur classique second album, Hayseed Timebomb (tiens, ça ferait un bon nom de groupe, ça, non?) paru en 1994 sur Crypt Records. Enjoy (with or without a copy of JuGGs Magazine).
Nine Pound Hammer - Stranded Outside Tater Knob
Nine Pound Hammer - Stranded Outside Tater Knob
08 octobre 2018
Quand je suis tombé sur la vidéo ci-dessus il y a quelques mois, je me suis dit, avant même d'avoir écouté la piste, que le groupe finlandais gagnait déjà des points via le choix de son nom de scène.. ben oui, j'ai un à priori favorable et totalement ridicule et infondé pour les combos qui aime jouer sur les jeux de mots foireux et débiles - En plus, le téléscopage complètement improbable du hard rockin' swagger d'AC/DC et du cadre champêtre façon Delivrance de la vidéo me met, allez savoir pourquoi, en joie. Steve'n'seagulls sera en concert à l'Aéronef le vendredi 18 janvier prochain. Paddle faster, I hear banjos..
Steve'n'Seagulls - Thunderstruck
01 octobre 2018
C'est encore l'été sur RKT, avec le genre de truc qui aurait pu être bloqué dans le lecteur cassette (non, dans le lecteur à cartouche huit-pistes..) de la caisse sur la route des vacances, en mode soul '70's laidback, soyeuseusement orchestrée et satinée, s'il n'était sorti début septembre. Le nouvel et quatrième album de Jonathan Jeremiah s'intitule Good Day, et constitue une bonne entrée en matière pour découvrir l'univers folk & soul pas si uniforme que ça de ce londonien féru de sons des seventies mais qui considère que c'est d'abord et avant tout la qualité des chansons qui compte. Pour preuve, les deux pistes qui suivent et qui ouvrent ce nouveau long-jeu bien pourvu en songwriting haut de gamme et en petites pépites addictives. Enjoy.
Jonathan Jeremiah - Good Day
Jonathan Jeremiah - Mountain
Jonathan Jeremiah sera en tournée européenne au printemps.
24 septembre 2018
1984. Rouen. The Dogs.
La classe rock'n'roll à la française.. Enjoy.
The Dogs - Little Johnny Jet
17 septembre 2018
Ou le Paul Collins' Beat, pour ne pas confondre avec le groupe anglais du même nom. Classique Power Pop du début des 80's, un premier album devenu culte d'Oslo à Madrid et de Perth à Toulouse, et un Paul Collins qui continue encore aujourd'hui et vaille que vaille à défendre une certaine idée du rock'nroll, mélodique, catchy et fiévreux, beatlesque et ramonesque à la fois.. ça fait 39 ans que The Beat, l'album, revient régulièrement sur ma platine, et je ne m'en lasse pas..
The Beat - Rock N Roll Girl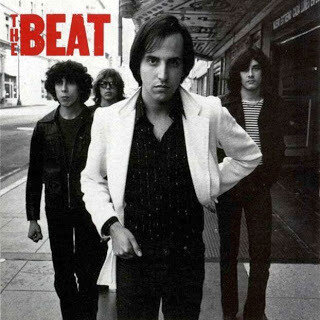 10 septembre 2018
Envie d'Acca Dacca aujourd'hui! Allez, mon morceau favori du gang de Sydney, première période, un an après la formation du groupe et quelques mois après l'arrivée de Bon, shooté en live pour la télé en 76 à Londres au tout début de leur envolée internatonale. Jaiiiiiiiiiiiiiiiiiiiiiiiibreak!
03 septembre 2018
The Howlin' Jaws est un jeune combo parisien qui creuse son sillon depuis quelques années et qui vient de sortir son nouvel EP, Burning House. Solide Rock'n'Roll déguisé en rockab' suave et décontracté. Kool..
The Howlin' Jaws - Three Days