Une vidéo pour bien commencer la semaine, disponible sur le net si on cherche un peu. Juste l'envie de partager une découverte récente, un vieux favori, ou un truc qui était passé sous mes radars jusqu'ici.
A music video to get the week started. I just felt like sharing a personal favorite, a recent find, or the stuff that had slipped under my personal radar so far.
01 juillet 2019
Hey! Hey! Hey! Uh-uwh-uwh! That's What I Like About You! Ce que je dis à ma chère et tendre tous les matins, yeah! Thanks to The Romantics, pugnace power pop trio natif de Detroit, Michigan, qui y débuta en 1977, influencé par la riche scène locale, bien sûr, mais fermement décidé à creuser un sillon nettement plus pop que ce qu'on associe en priorité à l'héritage de Detroit, à savoir la tellurique paire gagnante Stooges / MC5 et son rock brutal total. Malgré tout, les Romantics se distinguèrent par une approche high-energy de la pop sucrée que les médias U.S. allaient vite rebaptiser New Wave à la fin des 70's, et leur premier self-titled album paru en '79 contient son pesant de pépites énérvées, pop et poivrées, toujours aussi excitantes aujourd'hui. Le titre que j'ai choisi ouvre la face B du lp, et juste après le quatuor balance le She's Got Everything des Kinks, et le tout me met en joie pour ce début de semaine!
The Romantics - What I Like About You
24 juin 2019
Un T.W.M.V. en forme d'hommage, quelques jours après la disparition de Dc. John, à une autre légende de la Nouvelle Orléans, Dave Bartholomew, qui vient de nous quitter hier dimanche six mois presque jour pour jour après son centième anniversaire. Trop rapidement uniquement présenté comme "l'homme derrière Fats Domino", Dave Bartholomew était un membre incontournable et respecté des multiples scènes new-orléanaises, du jazz au rock'n'roll, du swing au rhythm'n'blues.
Dave Bartholomew - The Monkey
Dave Bartholomew - Shrimp and Gumbo
Dave Bartholomew's interview on PBS
17 juin 2019
Un petit aperçu de se qui attend les festivaliers du Sjock et de Binic en juillet, avec les quatre beaux gosses de Grindhouse en pleine action! From Melbourne, Australia, with a love of beer and Mutha Fuckin Punk Rock Power. Love'em!
Grindhouse - Death Of The Australian Car Industry
Grindhouse - Peter Brock Built My Hotrod
10 juin 2019
La piste qui ouvre en 1992 Sunrise On The Sufferbus, le deuxième album de The Masters Of Reality, ce très bon combo de Desert Rock de la scène de Palm Desert, dans la Coachella Valley, en Californie. Chris Goss toujours aux commandes, Ginger Baker (!) aux fûts, et ça déménage.. Enjoy.
Masters Of Reality - She Got Me (When She Got Her Dress On)
03 juin 2019
Les Lullies montent de Montpellier le dimanche 16 juin prochain pour un gig à l'Imposture, Lille, et ça c'est bien, parce que a) Les Lullies ont un look de punks à poils longs tout à fait classieux, b) Les Lullies ne prétendent pas jouer autre chose que du rock'n'roll, et c), Les Lullies ont l'extrême bon goût de reprendre le Savage des Fun Things, ce qui les place instantanément au sommet de la chaîne élémentaire mon cher Watson, comme disait ce bon vieux Billy. So, let's go down to the Night Club, en attendant le dimanche fatidique.
20 mai 2019
New York, début et milieu des 80's. La vague punk est retombée depuis un moment, la no-wave a fait pshitttt, et musicalement il ne se passe pas grand'chose de nouveau et d'excitant dans la Grosse Pomme; c'est l'une de ses périodes creuses ou tout retombe à plat et où naturellement les rock'n'roll addicts de tous poils et fans absolus de la chose se tournent vers le passé, plus ou moins éloigné et fantasmé. Les Raunch Hands se forment, comme des tas de groupes avant et après eux, poussés par cette envie de jouer un rock'n'roll fun, sauvage, débridé, simple et jouissif, sans aucune prétention carriériste, artistique ou musicale, en puisant à la source, dans le riche patrimoine national gorgé de morceaux de 50's rock'n'roll, de rhythmn'n'blues, de surf music, de garage 60's et de punk des 70's tous plus kool et bandants les uns que les autres.
Oui mais les Raunch Hands sont surtout new-yorkais, et le sulfureux passé pré-Giuliani de leur ville-monde va faire tout autant partie de leurs influences majeures. D'où leur surnom, sûrement, de Kings of Sleaze, tant leurs références au sexe tendance dirty et à toutes les autres dépravations possibles et imaginables (le tout dégoulinant d'alcool cheap à souhait - Thunderbird E.S.Q.!) imprègnent leur rock'n'roll libre, déglingué, testostéroné et mal embouché - aussi rugueux qu'une main calleuse sur un arrière-train rebondi, pour une partie de spanking librement consentie.. Deux exemples avec leur propre Blackjack et une méchante reprise d'un hit surf des sixties, le I live For The Sun des Sunrays. Enjoy
The Raunch Hands - Blackjack
The Raunch Hands - I Live for the Sun
13 mai 2019
The Mystery Lights are back avec un nouvel album, toujours paru sur Wick Rds, le sous-label de Daptone, il y a quelques jours. Psyché-garage rock'n'roll from Brooklyn, NYC, cet état de Too Much Tension est-il le résultat "Trop Dur à Supporter", du Too Many Girls d'il y trois ans? Dunno, mais j'attends avec impatience de pouvoir jeter une oreille à ce nouveau lp. Enjoy.
The Mystery Lights - Too Much Tension
06 mai 2019
The Knack, Los Angeles, 1979, la face-B du fameux hit interplanétaire My Sharona. Un single acheté à l'époque et dont les deux faces reviennent encore régulièrement dans ma playlist. Enjoy.
29 avril 2019
Dans quelques heures démarrera la dixième édition du Roots & Roses Festival, ce chouette festival belge orienté Americana, Blues et Rock'n'Roll qu'on suit ici depuis maintenant quelques années. Un festival qui évolue et s'épanouit sans heurts, mais dont l'état d'esprit demeure le même: la qualité plutôt que la quantité, que ce soit côté organisation, bouffe (homemade et locavore) ou programmation, mêlant grosses pointures, jeunes pousses à découvrir et révélations récente.

Black Box Revelation en était une, de révélation, il y dix ans, lorsque le duo flamand se retrouvait à l'affiche de la première mouture du Roots & Roses en 2009, et il semblait donc naturel à Fred Maréchal, le head honcho du festival, de les programmer à nouveau cette année histoire de marquer le coup et de célébrer à la fois l'anniversaire de l'événement annuel Lessinois et le retour en force de ce combo fer de lance de la scène belge et solide référence en Europe. Une ch'tite piqûre de rappel avec leur High On A Wire, daté de 2009 justement, en attendant de prendre la route direction Lessines le Ier mai prochain!
The Black Box Revelation - High On A Wire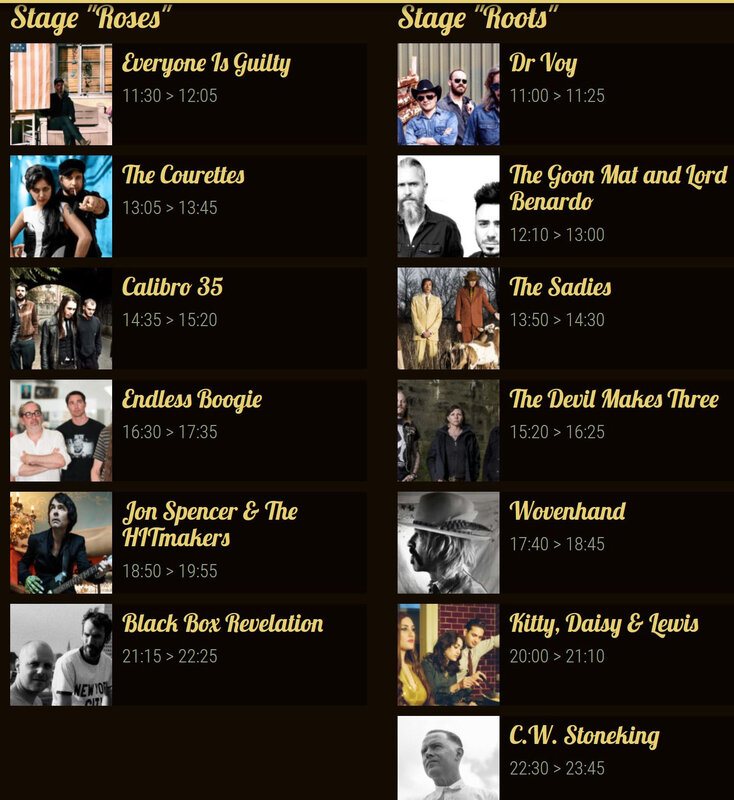 22 avril 2019
From Liège with leur primitive punk blues et un album produit par Jim Diamond, sorti sur Voodoo Rhythm Rds et sobrement intitulé Take Off Your Clothes, voici The Goon Mat et Lord Benardo, le duo belge chargé cette année de reprendre à sa hot sauce l'hymne officiel du festival Roots & Roses! Enjoy it en attendant de pouvoir se désaper et danser nu sous le soleil du fest le plus hot de Belgique (le staff du festival commande toujours une journée chaude et ensoleillée à la météo pour le premier mai, so, no probs).
The Goon Mat & Lord Benardo - Roots & Roses