Une vidéo pour bien commencer la semaine, disponible sur le net si on cherche un peu. Juste l'envie de partager une découverte récente, un vieux favori, ou un truc qui était passé sous mes radars jusqu'ici.
A music video to get the week started. I just felt like sharing a personal favorite, a recent find, or the stuff that had slipped under my personal radar so far.
19 mars 2018
Nettement moins connus que leurs homologues américains ou européens, les groupes garage rock australiens des mid-sixties ont eux aussi produit leur lots de singles notables et d'albums incontournables à l'époque, dont ont émergés très rapidement un nombre non négligeable d'hymnes devenus depuis des standards définitifs, down under principalement, mais parfois aussi à l'échelle planétaire.
Le premier exemple qui vient en tête, c'est bien sûr le foudroyant succès mondial des Easybeats dès 1965, mais Friday on my mind fut longtemps, jusqu'à l'internationalisation du phénomène fanzine / labels indés / rééditions Pebbles and co vingt ans plus tard, l'arbre qui cacha la foisonnante et riche brousse aussie.
Heureusement, la naissance aux USA du massif mouvement de compilations et de rééditions déclenché par la parution dès 1973 de la première et mythique Nuggets incita très vite beaucoup d'autres pays à se pencher sur leur propre – et pas si éloigné que ça – passé rock'n'roll, puis, grâce à la deuxième vague garage rock des 80's, ces pépites finirent par être définitivement déterrées, dépoussiérées, et amoureusement compilées par des fans hardcore avant d'être remises au goût du jour par autant de combos aussi respectueux que clairvoyants,ceux-là même qui permirent aux générations suivantes de (re)découvrir à leur tour toutes ces petites merveilles sauvées de l'oubli et des poubelles de l'Histoire.
The Atlantics a fait et fait encore partie de ce haut du panier, et même si ce Come On est un peu tardif (1967) par rapport à l'âge d'or (1964-1966) de ce qu'on appelle «garage rock», il n'en demeure pas moins l'un des joyaux ultimes du rock'n'roll tout court et toutes périodes - et origines - confondues.
12 mars 2018
Du blues roots hypno-voodoo mais-pas-que pour commencer la semaine, avec un extrait de Bongoes & Tremoloes, le second très bon album des lyonnais d'Automatic City paru il y a déjà dix mois. A quand un gig dans le nord, les gars?
Automatic City - Evil Eye On Me
05 mars 2018
Brian Auger, le maestro de l'orgue Hammon B3 (entre autres claviers, le clavecin sur le For Your Love des Yardbirds, c'était lui aussi) , avec son groupe The Trinity et pour une fois sans Julie Driscoll au chant, c'est forcément moins soul mais franchement plus freakbeat, voire garage, que le reste de la production du bonhomme. Un beau coup de pied au cul du rock psychédelique de la fin des sixties que ce Black Cat, histoire de rappeller que le Swingin' London se déclinait aussi sous l'angle high energy. Enjoy.
Brian Auger & The Trinity - Black Cat
26 février 2018
Le last great soul shouter de Boston est de retour en Europe au printemps, avec un nouvel album sous le coude (Soul flowers of Titan, à paraître dans une semaine - super titre, au passage!) et toujours ce démoniaque mix de soul blues et de high energy rock'n'roll rhythm'n'booze propulsé dans la stratosphère par The Savages, l'impeccable backing band du Barrence, emmené par le jeu sec et précis de Peter Greenberg à la six-cordes. En concert début juin en Belgique, on croise les doigts pour un passage par le nord de la France dans la foulée..
Barrence Whitfield & the Savages - Let's Go To Mars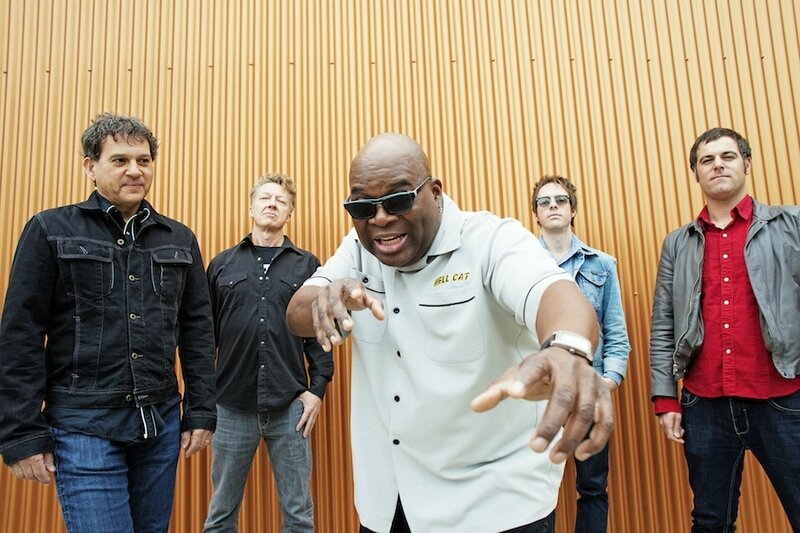 Bonus: BW&TS à leurs débuts au milieu des 80's, avec leur cover du Bip Bop Bip de Don Covay, et au Roots & Roses il y a 6 ans (click on the pix)!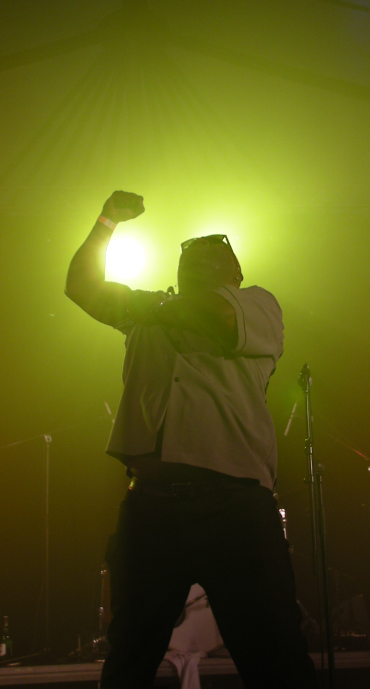 19 février 2018
Un des plus gros hits de Linda Ronstadt au milieu des 70's, cette cover d'un titre R&B bien chaloupé de Dee Dee Warwick, datant de 1963 et déjà envoyé au sommet des charts cette même année par Betty Everett, est depuis devenue grâce à la Linda un standard country pop incontournable. J'aime bien des trois versions, pour des raisons différentes. Enjoy.
Linda Ronstadt - You're No Good
13 février 2018
1969. Tony Joe White, 26 ans, cartonne avec Polk Salad Annie, une superbe piste 100% pure swamprock enregistrée à Muscle Shoals quelques mois plus tôt pour son tout premier album, Black & White. Tom Jones puis Elvis lui-même s'emparent du titre et contribuent à en faire le classique 70's qu'on connait aujourd'hui.
1er mai 2018. Tony Joe White sera en tête d'affiche du Roots & Roses Festival de Lessines, avec les Blasters, The Black Lips, Tjens Matic, Left Lane Cruiser, The Darts, King Khan et un paquet d'autres cools bands! Yeahup!!
Tony Joe White - Polk Salad Annie
Tony Joe White - Polk Salad Annie
05 février 2018
Issue du Gospel, la Soul de PG&E retournait régulièrement à la source - en témoigne leur hit single de 1970, Are you ready? tiré de l'album du même nom, leur troisième, paru quelques mois plus tôt. Un chouette bluesrocker pour commencer la semaine, tout comme la B-side du 45trs, une version de la classique folk-song Staggolee, que Tarantino sélectionnera en 2007 pour son Death Proof. Enjoy.
Are you ready - Pacific Gas and Electric
29 janvier 2018
Dans Something in my Brain, un des titres de How The West Was Won, son excellent et inespéré album solo sorti il y a peu, Peter Perrett dit "Rock'n'Roll is back in me". Et effectivement, l'ex-chanteur des Only Ones, mythique combo britannique punk / power pop de la fin des seventies auteur, entre autres, du sublime et intemporel Another Girl, Another Planet, a bel et bien retrouvé son mojo. Rien à jeter sur ce lp, dix pistes d'excellence pop finement ciselée, touchée par la grâce, avec des lyrics qui tiennent la route, entre ironie, mélancholie, espoir et aussi surprise d'avoir survécu jusqu'à aujourd'hui, à peu près intact, apaisé et pas trop cabossé. Et la voix bien sûr, si particulière et instantanément identifiable. De la magie à l'état pur... Enjoy.
Peter Perrett - How The West Was Won
(Thx BP for the post on Miss PWW's FB!)
22 janvier 2018
Plus de dix ans déjà que ce trio écossais originaire de Glasgow balance régulièrement (mais avec pondération, 4 véritables studio albums "seulement" depuis leur premier effort, le très énervé Costello Music, en 2006) ses réjouissantes collections de perles pop rock'n'roll, avec une constance qui force le respect et une aisance assez remarquable. Capables de naviguer d'une influence et d'un genre à l'autre et d'évoquer des références qui pour d'autres combos pourraient être un fardeau (Au hasard, Cheap Trick pour le mordant Power Pop'70s, Springsteen pour l'emphase bien dosée, les Kinks pour l'ironie sardonique, voire Prince pour les mélodies finement ciselées, et j'en passe), Jon Fratelli et son gang parviennent toujours à surprendre et à accrocher l'oreille, ayant tout digéré et s'étant très rapidement forgé une vraie personnalité.
The Fratellis - Baby Don't You Lie To Me! (Official Video)
Un nouvel album, In your own sweet time, est prévu dans les semaines qui viennent (sortie officielle le 9 mars, précisément). Pas de tournée pour l'instant, but keep your eyes peeled, si ça se produit on en recausera dans ces pages! En attendant, un aperçu du nouveau longplay ici. Enjoy.
15 janvier 2018
En termes de géographie rock'n'roll, Melbourne, Australie, engendre régulièrement nombre de groupes marquants, et Cash Savage & The Last Drinks ne fait pas exception à la règle. Monté par Cash Savage, neveu de Convay Savage, claviériste de Nick Cave & The Bad Seeds, le sextet formé en 2009 a trois albums à son actif et file un rock'n'roll à la fois stylé, sombre et poisseux, Australian Gothic revisité et digne héritier des productions les plus torturées de ses ainés. Enjoy.
Cash Savage and The Last Drinks - Rat-A-Tat-Tat