20 février 2018
Je ne remercierai jamais assez les Nomads de m'avoir fait découvrir, via leurs choix impeccables en matière de reprises, des perles oubliées comme ce titre bien psyché-garage tiré de l'unique lp de Merrell Fankhauser avec H.M.S. Bounty, l'un de ses nombreux et éphémères groupes post-Impacts. En 1968, on est déjà bien loin de la surf music, et déjà bien enfoncé dans la psychédéliquescence qui suivit le Summer of Love, mais cette piste tient encore la route..
Merrell Fankhauser & H.M.S. Bounty - Drivin Sideways On A One Way Street
13 février 2018
En 1987, Jonathan Richman se faisait son petit trip way back in the 60's avec ce coolrocker issu de son dernier lp, Modern Lovers 88, sous le nom de Jonathan Richman & The Modern Lovers. Aujourd'hui, pas besoin d'attendre trois heure du matin pour get it straight, get it right, et commencer à danser. Enjoy.
Jonathan Richman - Dancin Late at night
06 février 2018
Au royaume des groupes qui auraient dû être reconnus à l'époque et qui sont presque définitivement oubliés aujourd'hui, The Unknowns sont et seront toujours les numero unos... A l'instar de leur charismatique chanteur Bruce Joyner, malchanceux notoire et loser magnifique, le groupe Angelano n'a jamais eu l'occasion de cartonner à grande échelle mais à tout de même, pendant sa brève existence (1080-1982), réussi à marquer durablement quelques fans dispersés sur la planète, qui se souviennent encore aujourd'hui de l'impact quasi-physique de ce Pull My Train, frénétique garage punkabilly mutant tout en twang, en échos et en guitares Mosrites - emporté par la voix Southern Gothic unique, fougueuse et incandescente du génial Joyner..
The Unknowns - Pull My Train
30 janvier 2018
1982's Classic Garage Punk Medway Mod Revival Killer Instro!!! Le premier album, A Taste of Pink, revient encore régulièrement sur ma platine.. Enjoy.
The Prisoners - Come To The Mushroom
23 janvier 2018
Hell Yeah, gimme some SURF PUNK, honey! Le premier des deux singles de The Fender Four, from Baltimore & So Cal, enregistré en 1964, un instrumental brutal, lean & mean et testostéroné comme je les aime.. Randy Holden, futur The Other Half (Mr.Pharmacist !) et Blue Cheer, à la guitare.. Killer..
The Fender Four - Margaya
16 janvier 2018
Comme une foultitude de combos américains des mid-sixties, Lindy Blaskey et ses Lavells n'ont, depuis leur camp de base d'Albuquerque, Nouveau Mexique, enregistré et sorti qu'une poignée de 45-tours entre 64 et 67, dont aux moins deux sont devenus des nuggets: le très British beat revisité garage punk You Ain't Tuff, daté de 66, et cette fantasmabuleuse cover du Papa Oow Mow Mow des Rivingtons, un uptempo doo-wop complétement frapadingue qui avait déjà inspiré, avec le The Bird is the Word des même Rivingtons, cette géniale insanité punk déjantoïde qu'est encore aujourd'hui le Surfin'Bird des Trashmen.
La version de Papa Oow par Blaskey et son groupe - leur troisième single, sorti en 1965 - est au moins du même niveau que ce que les Trashmen on pu enregistrer de mieux, justement, dans le genre réappropriation d'un classique noir transformé en implacable frat-rocker / machine à danser, et j'adore autant cette version que l'original. Too Too Tutt!
Lindy Blaskey & the LaVells - Papa Oom Mow Mow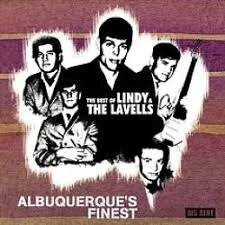 09 janvier 2018
Un single de 1961, par l'un des pionniers oubliés du rock'n'roll. Mike Pedicin était déjà un vétéran des scènes jive / swing de la fin des 40's lorsque son quintet commença à intégrer au début des fifties et à haute dose le rhythm'n'blues noir le plus dansant à son fond de marmite issu de la country - ni plus ni moins la même évolution que leur voisins à Philadelphie, Bill Haley & His Saddlemen, bientôt rebaptisés.. Bill Haley & His Comets. Seulement voilà, pas de hits à la Rock Around The Clock pour Pedicin et son groupe, et donc pas de passage à la postérité pour son combo et pour lui même alors qu'Haley allait (sorry..) devenir pour l'éternité le progéniteur du rock'n'roll blanc originel, juste avant l'explosion Elvis. Mais ça ne nous empêche pas d'apprécier à sa juste valeur ce superbe rock'n'roller et ce triste petit déjeuner qu'est Burnt Toast and Black Coffee..
Mike Pedicin - Burnt Toast And Black Coffee
02 janvier 2018
Tonic Tuesday? Parce qu'en cherchant des titres pour la rubrique This Week's Music Video du lundi matin je tombe régulièrement sur des pistes géniales, bons souvenirs, vieux favoris ou (re)découvertes récentes, mais pour lesquelles aucune vidéo digne de ce nom n'existe. On inaugure donc ce nouveau post régulier avec le Loretta original (1976) des Nervous Eaters, l'un des combos fondateurs de la scène punk bostonienne dont je parlais la semaine dernière dans ce post. Les 'Eaters, qui d'ailleurs continuent aujourd'hui encore sous la houlette de leur fondateur Steve Cataldo, avaient aussi sorti trois ans plus tard un autre single de la muerte, Just Head, vivifiant hymne à la turlute issu des mêmes sessions que Loretta qui mérite toujours 38 ans après de figurer également dans tout bonne Boston rock'n'roll mixtape aux côtés des classiques signes DMZ ou Real Kids. Enjoy.
Et en parlant de Boston..
Boys From Nowhere - Official Trailer