19 mars 2018
Nettement moins connus que leurs homologues américains ou européens, les groupes garage rock australiens des mid-sixties ont eux aussi produit leur lots de singles notables et d'albums incontournables à l'époque, dont ont émergés très rapidement un nombre non négligeable d'hymnes devenus depuis des standards définitifs, down under principalement, mais parfois aussi à l'échelle planétaire.
Le premier exemple qui vient en tête, c'est bien sûr le foudroyant succès mondial des Easybeats dès 1965, mais Friday on my mind fut longtemps, jusqu'à l'internationalisation du phénomène fanzine / labels indés / rééditions Pebbles and co vingt ans plus tard, l'arbre qui cacha la foisonnante et riche brousse aussie.
Heureusement, la naissance aux USA du massif mouvement de compilations et de rééditions déclenché par la parution dès 1973 de la première et mythique Nuggets incita très vite beaucoup d'autres pays à se pencher sur leur propre – et pas si éloigné que ça – passé rock'n'roll, puis, grâce à la deuxième vague garage rock des 80's, ces pépites finirent par être définitivement déterrées, dépoussiérées, et amoureusement compilées par des fans hardcore avant d'être remises au goût du jour par autant de combos aussi respectueux que clairvoyants,ceux-là même qui permirent aux générations suivantes de (re)découvrir à leur tour toutes ces petites merveilles sauvées de l'oubli et des poubelles de l'Histoire.
The Atlantics a fait et fait encore partie de ce haut du panier, et même si ce Come On est un peu tardif (1967) par rapport à l'âge d'or (1964-1966) de ce qu'on appelle «garage rock», il n'en demeure pas moins l'un des joyaux ultimes du rock'n'roll tout court et toutes périodes - et origines - confondues.
17 mars 2018
Un petit déjeuner Tex-Mex pour se réchauffer ce matin avec Doug Sahm et son Sir Douglas Quintet. C'mon et enjoy ce très primesautier It was fin while it lasted, extrait de Border Wave (1981), treizième album du gang de San Antonio, Texas. Et en bonus, une vidéo datée de 1969 avec l'un de ses classiques, Mendicino, juste après une interview avec Hugh "Playboy" Hefner, en présence, entre autres, de l'acteur britannique Michael Caine (en haut à gauche, au début).. J'adore le look de Doug Sahm!
Sir Douglas Quintet - it was fun while it lasted
Sir Douglas Quintet - Mendocino
10 mars 2018
Bon, c'est bientôt l'heure de l'apéro, non? Allez, on ouvre le bar et on se mixe un White Russian (4cl de Kahlua, 4cl de Vodka, 4cl de lait/crème fraîche) pour fêter les 20 ans (cette semaine) de la sortie du The Big Lebowki des frangins Cohen, et on sélectionne Jayne Mansfield dans le Rock-Ola! Suey, pour tortiller du croupion ("it makes my liver quiiiiiver!") avec Jimi Hendrix à la guitare et la basse (si,si), face-B d'un improbable single enregistré à New York en 1965 et paru en '67 en France, UK et Italie! ( As clouds drift by, London Rds).
Jayne Mansfield - Suey
Et maintenant qu'on s'est échauffé, in p'tit Twist avec Jayne et Chubby, ça vous tente? Yo.
Jayne Mansfield, The Twist
06 mars 2018
"Et qu'est ce que je vous sers pour l'apéro?"
"Ben moi, ce sera un tonic-cachaça avec une bonne dose de psyché dedans, please, avec le Bat Macumba de Os Mutantes en fond sonore, Obrigado!!"
Et en plus le mythique trio brésilien sera en concert à Lille, à l'Aéronef, le jeudi 24 mai 2018! De quoi rendre un peu plus tropical le printemps qui s'annonce..
Os Mutantes - Bat Macumba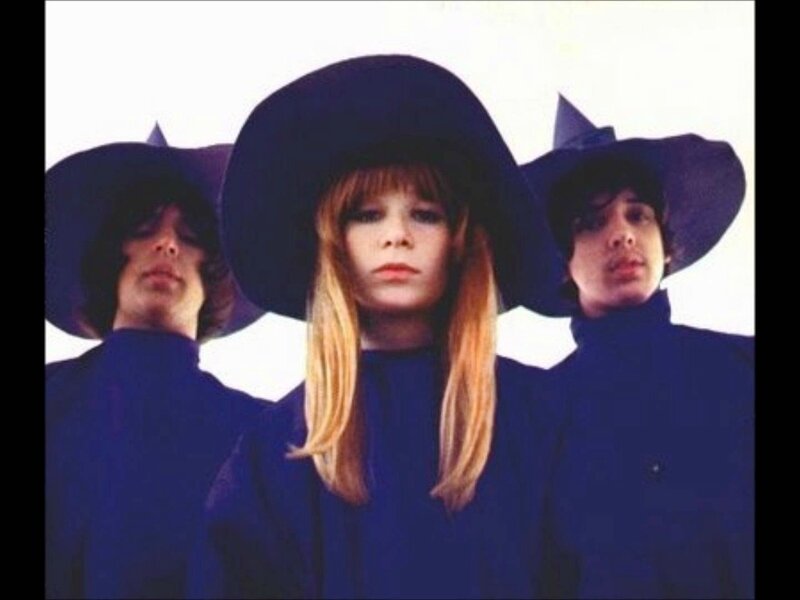 05 mars 2018
Brian Auger, le maestro de l'orgue Hammon B3 (entre autres claviers, le clavecin sur le For Your Love des Yardbirds, c'était lui aussi) , avec son groupe The Trinity et pour une fois sans Julie Driscoll au chant, c'est forcément moins soul mais franchement plus freakbeat, voire garage, que le reste de la production du bonhomme. Un beau coup de pied au cul du rock psychédelique de la fin des sixties que ce Black Cat, histoire de rappeller que le Swingin' London se déclinait aussi sous l'angle high energy. Enjoy.
Brian Auger & The Trinity - Black Cat
24 février 2018
Le jour où j'aurai enfin le jukebox de mes rêves, ce single sera le second à entrer dans la sélection, juste après le Louie Louie de 1963 par les Kingsmen originaux featuring leur premier chanteur, Jack Ely, avant son éviction du groupe. Ce David's mood datant de '66 et figurant en face B du Louie Louie '66 des Courtmen me met en joie à chaque écoute. Enjoy.
Jack Eely and the Courtmen - David's mood
20 février 2018
Je ne remercierai jamais assez les Nomads de m'avoir fait découvrir, via leurs choix impeccables en matière de reprises, des perles oubliées comme ce titre bien psyché-garage tiré de l'unique lp de Merrell Fankhauser avec H.M.S. Bounty, l'un de ses nombreux et éphémères groupes post-Impacts. En 1968, on est déjà bien loin de la surf music, et déjà bien enfoncé dans la psychédéliquescence qui suivit le Summer of Love, mais cette piste tient encore la route..
Merrell Fankhauser & H.M.S. Bounty - Drivin Sideways On A One Way Street
19 février 2018
Un des plus gros hits de Linda Ronstadt au milieu des 70's, cette cover d'un titre R&B bien chaloupé de Dee Dee Warwick, datant de 1963 et déjà envoyé au sommet des charts cette même année par Betty Everett, est depuis devenue grâce à la Linda un standard country pop incontournable. J'aime bien des trois versions, pour des raisons différentes. Enjoy.
Linda Ronstadt - You're No Good
10 février 2018
Donc, les types sont en train d'écouter les Surfaris, et là, les quatre kings of the surf de Glendora attaquent Wipe Out.. l'un des types à une révélation et dit aux autres: "à notre tour de faire un instro!" Et hop, ils se baptisent The Safaris, enregistrent Kick Out, et ..le combo disparaît aussitôt, juste après la parution du single en 63. Enjoy the Surf, punk..
05 février 2018
Issue du Gospel, la Soul de PG&E retournait régulièrement à la source - en témoigne leur hit single de 1970, Are you ready? tiré de l'album du même nom, leur troisième, paru quelques mois plus tôt. Un chouette bluesrocker pour commencer la semaine, tout comme la B-side du 45trs, une version de la classique folk-song Staggolee, que Tarantino sélectionnera en 2007 pour son Death Proof. Enjoy.
Are you ready - Pacific Gas and Electric