12 juin 2021
Le Surf City des Beach Boys revisité par The 101ers? Eh ben non, ce Surf City-là est un original signé par Dan Kelleher, le bassiste de cet éphémère (1974-1976) combo de pub rock monté par Joe Strummer avant le Clash. Les 101ers sont quand même responsables d'un incontournable du Brit Rock des 70's, Keys To Your Heart, et on aime bien ententu aussi beaucoup le classique surf des 'Boys (et de Jan & Dean, puisque le titre a été écrit par Brian Wilson et Jan Berry), dans RKT!
The 101ers - Surf City
The Beach Boys - Surf City
17 mai 2021
Nous en sommes au vingt mille huit centième jour d'investigation, et à ce jour l'identité et les motivations exactes de la blond go go danceuse à droite de l'écran concernant le flashage en live de booty tout nu à la deuxième minute (et 29 secondes) de ce passage du T.V. show Shivaree (Los Angeles, 1964) n'ont toujours pas été élucidées, malgré l'enquête très poussée menée par nombre de détectives érotomanes émoustillés depuis le tout premier post de cette vidéo.. Par contre le talent incontestable et le charactère unique du rock'n'roll du Four, sans oublier le génie de la composition de Bobby Fuller - derrière I'arbre I Fought The Law (Une reprise? Non, une incarnation) qui cache la forêt des dizaines de fabuleuses chansons écrites par le Rock'n'Roll King of The Southwest - éclatent d'une manière évidente, décennie après décennie!! I love, have always loved, and will always love The Bobby Fuller Four!!!
The Bobby Fuller Four - Let Her Dance + Sad & Lonely Night
08 mai 2021
Des Mancuniens qui vont bien, et qui cartonnèrent aux Pays-Bas au milieu des sixties avec leurs covers bien garage punk whako-débridées de déjà-classiques de la décennie précédente, tels les Hello Josephine (Antoine 'Fats' Domino) et (Ain't it) Just Like Me (Pas le titre de Paul Rever & The Raiders, of course, mais une piste bien kool rhythm'n'blues des Coasters) de leur troisième single paru en 1964. On s'envoie la face-B de suite, et la version originale aussi, tant qu'à faire. Enjoy.
The Scorpions - (Ain't It) Just Like Me
The Coasters - (Ain't It) Just Like Me
03 mai 2021
Australie à nouveau en ce début de semaine avec un hommage à Anita Lane, rockeuse Australienne, collaboratrice, compagne et muse de Nick Cave dès The Birthday Party en 1977, (elle fut aussi membre des Bad Seeds), décédée à Melbourne il y a quelques jours, à l'âge de 61 ans. Cette cover du Harley Davidson de Gainsbourg originellement performée par Brigitte Bardot en 1967 figure sur Intoxicated Man, le premier des trois albums enregistrés par Mick Harvey entre 1995 et 2016 dans le but de traduire en anglais et de réinterpréter les classiques du grand Serge (Harvey et Lane ont également travaillé ensemble sur les deux albums Solo d'Anita, Dirty Pearl et Sex O'Clock). Tiens, d'ailleurs, en parlant de sexe (on wheels), je poste aussi l'originale de Harley Davidson, avec un montage trouvé sur YT, et de chouettes photos de la BB vintage, ultrasexuée en miniskirt et gogo boots de la muerte chevauchant fièrement le vibromasseur - pardon, la WL 45 customisée par Maurice Combalbert pour les besoins du show télé, juste pour faire monter la température.. Enjoy.
Anita Lane & Lick Harvey - Harley Davidson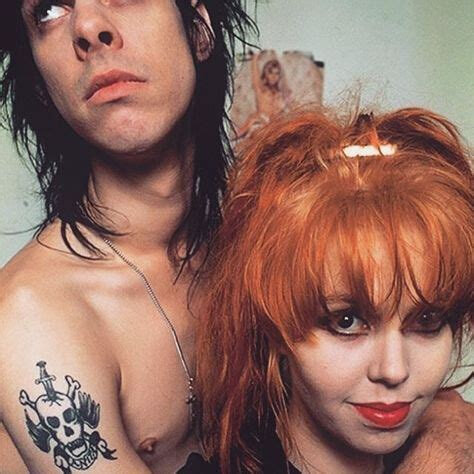 Brigitte Bardot - Harley Davidson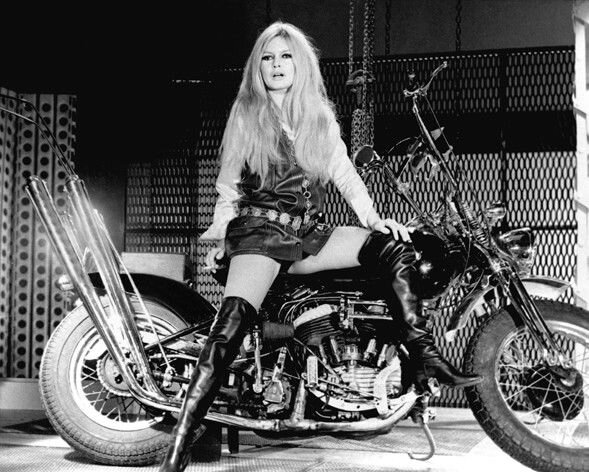 Brigitte Bardot explique à Serge Gainsbourg comment régler la carburation du V-Twin.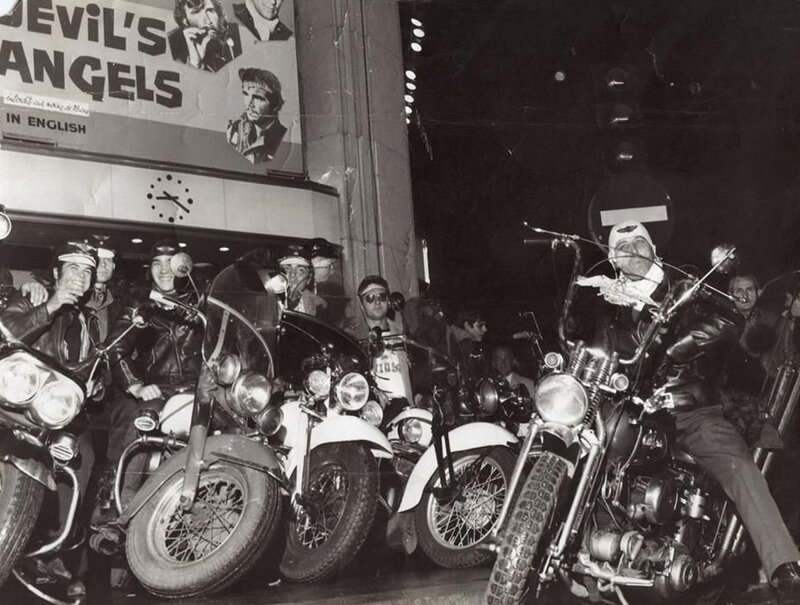 A droite, Maurice Combalbert sur la HD du clip.
13 avril 2021
Le deuxième single de The Music Explosion, garage band de Mansfield, Ohio, après leur cover du Little Black Egg des Nightcrawlers en 1966, était également une reprise: celle du Little Bit O' Soul des Little Darlings, un combo british (Coventry) qui n'avait pas eu, en 1965, le succès escompté avec ce seul et unique single sur Fontana Rds. La version sélectionnée et retravaillée par le génial duo de producteurs Jerry Kazenetz et Jeffry Katz allait par contre permettre à The Music Explosion d'obtenir leur seul véritable hit aux States (enfin, dans leur état) et est bien sûr devenue depuis sa sortie en 1967 un classique garage pop intemporel, repris d'ailleurs à l'initiative de Joey par les Ramones en 1983 sur Subterranean Jungle. Let's enjoy some Soul today, shall we?
The Music Explosion, Lil' Bit Of Soul
The Music Explosion
The Little Darlings - Little Bit O' Soul
The Little Darlings
The Ramones - Lil' Bit O' Soul
10 avril 2021
Bon, c'est pas flagrant quand on regarde par la fenêtre ce matin - y flotte et y fait pas beau.. Je sais, It Happens Everyday, mais quand même, je préfère vivre in the springtime. Enjoy the psych-garage pop des pionniers du genre en Illinois (Chicago,1967), The Lemon Drops, avec un extrait de leur compil' Crystal Pure! et ensuite leur seul et unique single paru à l'époque, le classique I Live In The Springtime.
The Lemon Drops - It Happens Everyday
The Lemon Drops - I Live In The Springtime
03 avril 2021
L'un des deux singles de Hamilton Streetcar, éphémère combo de L.A., sur le label de Lee Hazlewood, LHI Records ("Lee Hazlewood Industries", 1967-71). Belle tranche de psychedelic rock typiquement late-60's, produit par Lee, bien sûr, et paru un an avant le seul et unique album du groupe, qui est surtout connu comme ayant été la formation ou se sont croisés pas mal de futurs producteurs et songwriters notoires de la scène west coast, notamment Buzz Clifford, qui allait par la suite écrire des hits pour Petula Clark, Lou Rawls, Chris Kristofferson et consorts.
20 mars 2021
Go - Go, go - Go je ne sais ou, mais on y va quand même, sur la piste du Go Go Gorilla dans sa fiberglass jungle, avec The Ideals, The Jaguars et The Cheater Slicks - si ça ne vous donne pas envie d'escalader l'Empire State Building à mains nues et de flanquer des baffes aux biplans qui passent trop prêt c'est que vous êtes déjà mort. Ughh Awh...
The Jaguars - The Gorilla
The Ideals - Go Go Gorilla
The Cheater Slicks - Go Go Gorilla
13 mars 2021
Farmer John! Un classique early-rock'n'roller popularisé par The Premiers en 1964, avant de devenir un standard frat-garage repris par à peu près tout le monde en plus du garage-band de teens next door, mais surtout un super titre signé cinq ans plus tôt par Duey Terry et Don "Sugarcane" Harris, éminent duo originaire de Pasadena, Californie, auteur d'autres killer-tracks (Koko-joe, Justine,...) qui furent surtout des hits pour autant d'autres combos. J'aime autant l'original que la version superfratrock des Premiers. Et vous?
Don & Dewey - Farmer John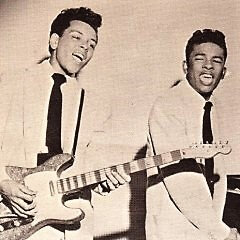 The Premiers - Farmer John
13 février 2021
Début des sixties quelque part dans le New Jersey. Une jeune fille de 18 ans, Barbara Greene, déjà pro de la pop avec sa frangine, décroche un contrat avec Atco Records et enregistre son premier single avec, en bonne fan de Little Richard, deux covers bien senties du Penniman.. et puis c'est tout. Disparue de la circulation, la Barbara.. Reste ce super single et cette face-A ultra-addictive, avec cette voix façon Wanda Jackson juvénile et ce doo-wop backing-vocal en roue libre. Gotta love it!