23 mars 2019
RIP Zephire André Williams, Black Godfather & Sugahdaddee de toute la scène blues punk de ces vingt dernières années ET progéniteur, depuis les fifties et les sex-teaz, du R&B salace et libidineux le plus jouissif, ET co-auteur du killer hit Shake A Tail Feather propulsé au sommet par Ike & Tina Turner! On est pas prêt d'oublier tes costards flamboyants et ta bonhommie chaleureuse, man!
Andre Williams - Agile Mobile and Hostile
Andre Williams - Jail Bait
Andre Williams - Lookin' Down At You, Lookin' Up At Me
Andre Williams - Sweet Little Pussycat
17 mars 2019
The King of the Surf Guitar.
A hot rod, a chopper, a surfboard, a soulmate, the sound of Dick Dale, and the endless summer..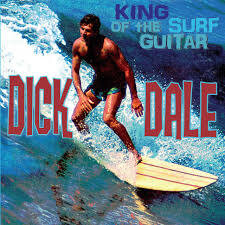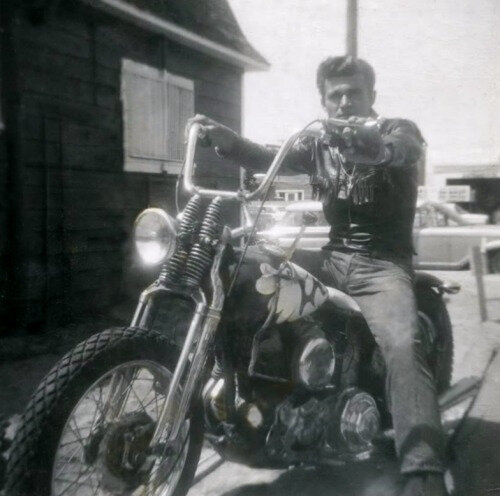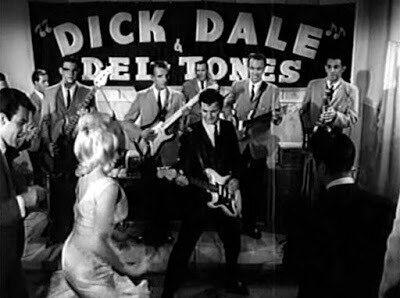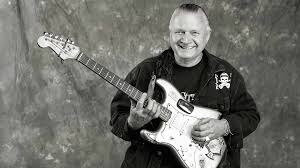 12 mars 2019
Des fois, j'aime bien me promener dans le noir, en pleine nuit, un grand couteau de boucher à la main, de la cuisine à la chambre, en écoutant le Night of the Sadist / Night of the Phantom de Larry & The Blue Notes, ou des covers bien senties de ce classique Back From The Grave garage-punker psychokiller paru en en 1965, face B de l'un des quatre singles enregistrés par ce combo de Fort Worth, Texas.
Des fois, je massacre une tartine et un bout de filet mignon, et après je retourne me coucher.
Et je dors.
Bien.
Larry & The Blue Notes - Night Of The Sadist
Larry & Blue Notes - Night Of The Phantom
Zuma - Night of The Sadist
The Nazis From Mars - Night Of The Phantom
09 mars 2019
La piste à se mettre en boucle quand c'est le weekend mais que le temps est pourri, qu'il fait froid, qu'on est crevé et qu'on a le moral dans les boots.. Ce classique pop-garage-rocker qui-aurait-du-être-un-hit à l'époque fut signé par The Choir, from Cleveland, Ohio, en 1966, est fait encore aujourd'hui toujours bien la paire garage-météorologique avec le I'm in Pittsburg (And it's raining) de The Outcasts, paru la même année. La version d'un autre natif de Cleveland, Stiv Bators, sortie en 1979, est pas mal non plus. Enjoy.
The Choir - It's Cold Outside
Stiv Bators - It's Cold Outside
06 mars 2019
Ahhh, Jonathan Richman et son Road Runner..
«We got the A.M.
We got the powah
We got the magic..»
La chanson parfaite pour fantasmer cette tradition si typiquement nord-américaine du cruising, la ballade sans fin, sans but, juste pour le plaisir d'avaler les miles calé derrière le cerceau de la caisse ou riding shotgun à côté de son pote (John Felice?), au son du rumble du gros V8 qui se marie si bien avec les tunes rock'r'roll qui sortent de la radio A.M. ou du lecteur de cartouches 8-pistes..
Jonathan Richman & The Modern Lovers - Road Runner
Je vois bien le jeune Jonathan, à peine 20 ans au début des 70's, laisser son imagination fertile et sa candeur intacte créer, à partir de toutes les pièces qui hantent son univers enfantin et décalé, ce titre emblématique, hymne à la beauté industrieuse, urbaine et suburbaine de la Nouvelle Angleterre, future référence pour les punks à venir des deux côtés de l'atlantique, et déclaration d'amour éternelle à la joyride automobile dans sa forme la plus kewl.
Bo Diddley, l'un de ces pionniers des 50's et héros du rock'n'roll que Jonathan vénère tant, ne doit jamais être bien loin, avec son propre Road Runner, pas plus que le fameux cartoon du génial Chuck Jones, lancé par la Warner Bros. dans sa série Looney Tunes et narrant les désopilantes et ultra-violentes-pour-rire courses-poursuites sans fin entre ce malheureux Wile E .Coyote et cet intrépide Geococcyx Californianus, le Grand Géocoucou communément appelé Road Runner aux USA et rebaptisé Bip Bip pour la télé française.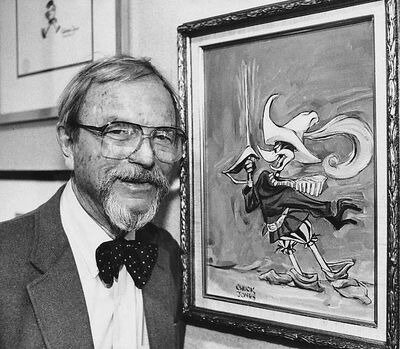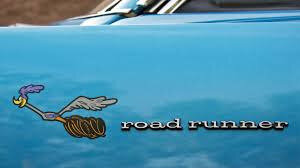 Et ça ne m'étonnerait pas du tout que J.R. ait aussi tilté en croisant dans une rue de Boston l'un de ses petits monstres de puissance débridée commercialisés par la marque Plymouth à partir de 1968, en pleine «guerre des muscle-cars», cette lutte à couteaux tirés entre les big threes à base de coupés ultra-sportifs construits autour de caisses assez légères dans lesquelles Ford, GM et la Chrysler Corp droppaient leurs moteurs les plus puissants, histoire de fournir à la jeunesse américaine et aux motorheads de tous poils de quoi faire fumer les pneus et gagner le grand prix des feux rouges du samedi soir..
'69 Plymouth Roadrunner & Barracuda Commercial
'70 Plymouth Roadrunner Commercial
Avec le trait de génie en plus du côté de chez Plymouth: l'achat pour 50000 dollars des droits à l'image du cartoon suscité, et l'utilisation sans vergogne de ces deux personnages aux quatre coins de la carrosserie de ce modèle déjà bien hip d'origine.
En tout cas, c'est l'histoire que j'aime bien me raconter, à chaque fois que j'écoute Road Runner (Once), Road Runner (Twice)..
Beep Beep!
Jonathan Richman & The Modern Lovers - Roadrunner. (Twice)
25 février 2019
The Cayman Kings pour commencer la semaine en beauté psychédélique, mais pas déliquescente (Wot?), avec un extrait du tout nouveau long-jeu de cet excellent six-tease garage band lillois, Marigold Under Scales, tout juste paru chez Soundflat, le fameux label allemand au goût toujours aussi impeccable. Et pour joindre l'agréable au supermidable, le groupe sera de la partie le samedi deux mars lors de la soirée Peaky Mania à la Maison Folie de Wazemmes, pour la présentation publique de la programmation du Séries Mania Festival, édition 2019, qui se déroulera à Lille du 22 au 30 mars prochain! Koooool...
Ah oui au fait, la soirée Peaky Mania est gratuite, mais vu le buzz, vaut mieux réserver dès ce midi sur le site officiel du festival..

Cayman Kings - Pink & Blue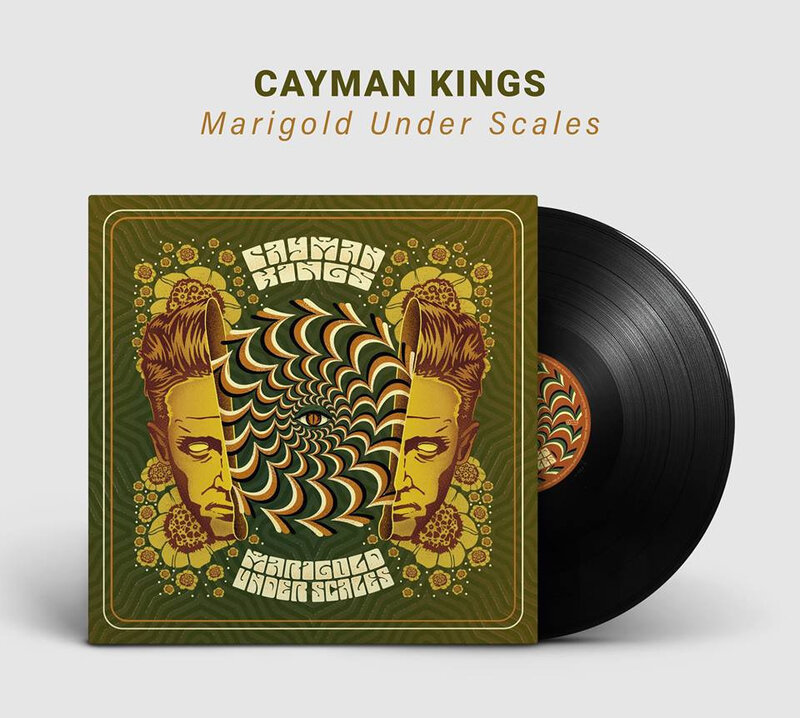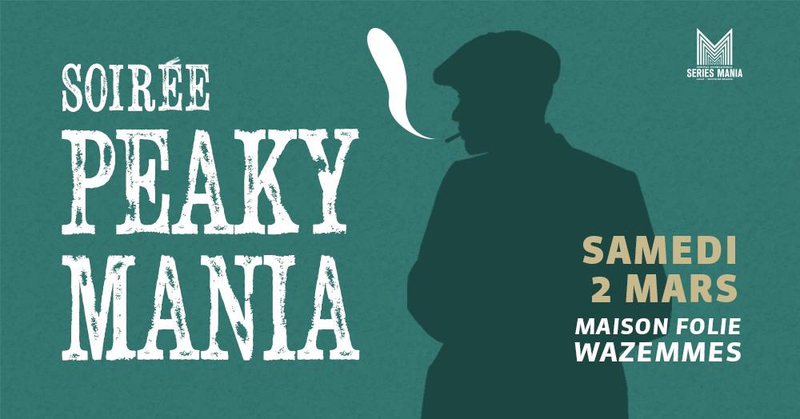 19 février 2019
1966. Dans quelques mois The Animals vont muter en Eric Burdon & The (New) Animals et prendre une virage psyché dans l'air du temps, mais pour l'instant le Rhythm'n'Blues survitaminé est toujours de mise et, British Invasion oblige, continue d'inspirer le garage rock US, de l'autre côté de la mare. Une bel exemple avec ce brutalement efficace Inside Looking Out, extrait de Animalization. Enjoy.
The Animals - Inside Looking Out
12 février 2019
Qui ça? The Jury, buddy! On reste au Canada avec ce compo de Winnipeg qui eut son quart d'heure de gloire localement dans les mid-sixties avant de se séparer après plusieurs tentatives pour percer sur le marché US. La face A de leur quatrième single Please Forget Her, témoigne de ce virage commercial et ne présente pas beaucoup d'intérêt, mais la face B, un vigoureux psyché-punker garage-rocker, est devenue un nuggets classic, toujours aussi tonique et bandant 53 ans après son enregistrement!
26 janvier 2019
George Warren Barnes, pionnier de la guitare électrique, musicien de blues, de jazz et de swing virtuose et sessionman renommé, et son single de 1962, Spooky, b/w Trainsville. Enjoy the chills.
22 janvier 2019
Un truc un peu mellow pour se mettre en route ce matin alors que la neige tombe et que le café passe.. Johnny Beecher, alias Plas Johnson, saxophoniste émérite (le solo sur le Pink Panther d'Henry Mancini, c'est lui) et son Beecher's Bossa Nova, extrait de son premier lp solo, Sax 5th Ave. paru en 1962. Enjoy the coolness.
Johnny Beecher - Beecher's Bossa Nova