06 octobre 2018
Et les deux versions, siouplaît! American Beat, le tout premier single des Fleshtones (l'original de 1978) et le remake de '84 pour le film Bachelor Party (Incidemment l'un des premiers rôles ciné de Tom Hanks), par l'un des groupes les plus funs qu'il m'ait été donné de voir sur scène.. Ladies & Gents, Enter New York City's Roman Gods of Rock'n'Roll, The Fleshtones!
Et en plus l'increvable quatuor sera live on stage à Lessines le 1er octobre prochain! Super-Rock Time! Yeeeeeaaaah... Yaaaaaaaaaw!!!
Fleshtones - American Beat '84
Fleshtones - American Beat
25 septembre 2018
1978. Belgium. The Kids.
well, it's the only music that makes me feel good
the only music I always understood [...]
rock 'n roll is what i feel
rock 'n roll it's fucking real [...]
this is rock 'n roll, this is rock 'n roll
that's my life until i die, that's my life until I die
that's my life until i die, that's my life until I die
Enough said.
The Kids - This is Rock'n'Roll
18 septembre 2018
Paul Collins encore, cette fois-ci avec Jack Lee et Peter Case.. The Nerves, mate! Le power pop trio de Los Angeles n'a jamais connu le succès mais, malgré sa courte durée de vie (1974-78) et un héritage vinylique limité à ce fameux EP 4-titres paru en 1976, il a su se tailler une réputation et marquer durablement le monde du rock'n'roll, de la pop et de la new wave (au sens américain du terme). Jack Lee, le compositeur du titre, entama par la suite une carrière solo, et Peter Case partit fonder les mighty Plimsouls. Et bien sûr, il y eu la reprise de Hang on the Telephone par Blondie dès '78, avec le carton international (mérité) que l'on connaît. Serais curieux de savoir combien de fans de part le monde ont choisi l'intro du morceau comme ringtone pour leur téléphone portable..
The Nerves - Hanging on the Telephone
17 septembre 2018
Ou le Paul Collins' Beat, pour ne pas confondre avec le groupe anglais du même nom. Classique Power Pop du début des 80's, un premier album devenu culte d'Oslo à Madrid et de Perth à Toulouse, et un Paul Collins qui continue encore aujourd'hui et vaille que vaille à défendre une certaine idée du rock'nroll, mélodique, catchy et fiévreux, beatlesque et ramonesque à la fois.. ça fait 39 ans que The Beat, l'album, revient régulièrement sur ma platine, et je ne m'en lasse pas..
The Beat - Rock N Roll Girl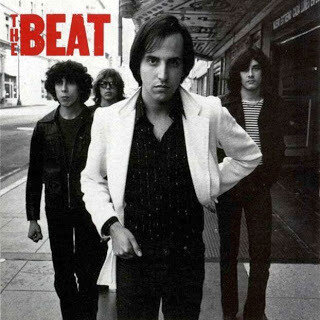 19 août 2018
.. ou juste pour le weekend? Une bonne vieille Electra Glide équipée d'un Shovelhead 74 c.i. ou 80' (1200 ou 1340 centimètres cubes, en V.F.), allégée et dépouillée de ses accessoires d'origines, peinture noire semi-mate toute simple et quelques sacoches souples judicieusement réparties, et hop, voilà une belle Harley vintage à forte personnalité pour déambuler avec classe dans la capitale slovène. Love it.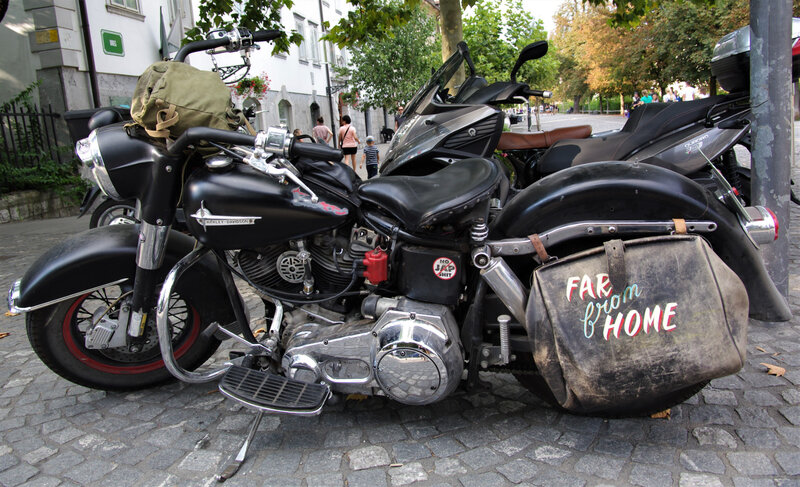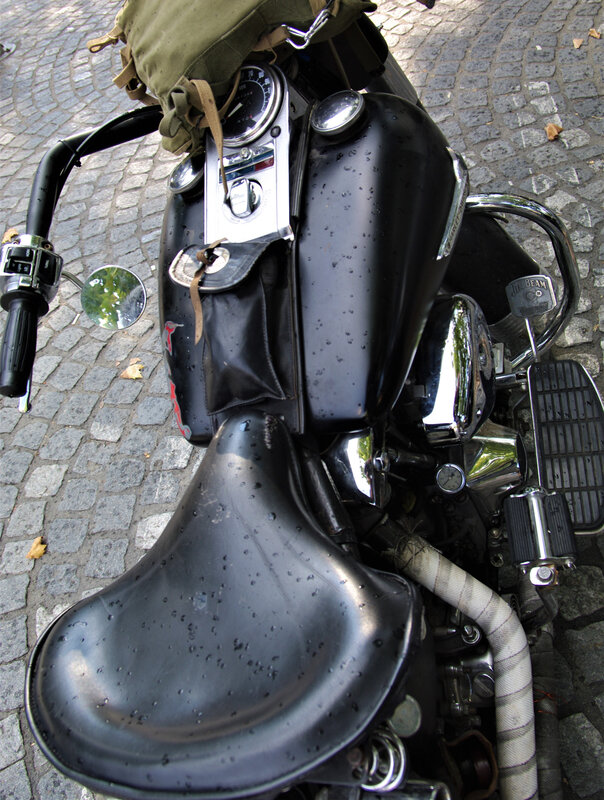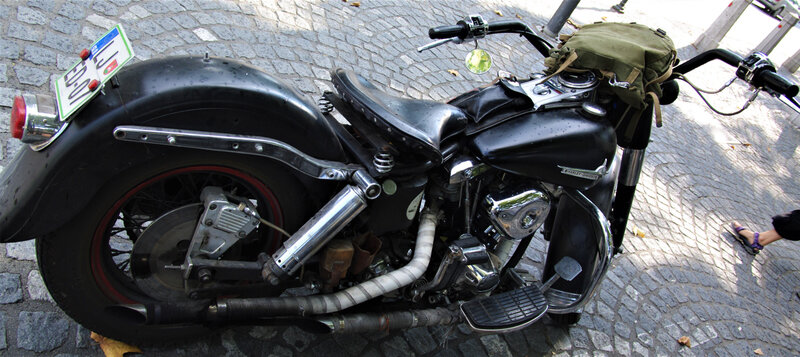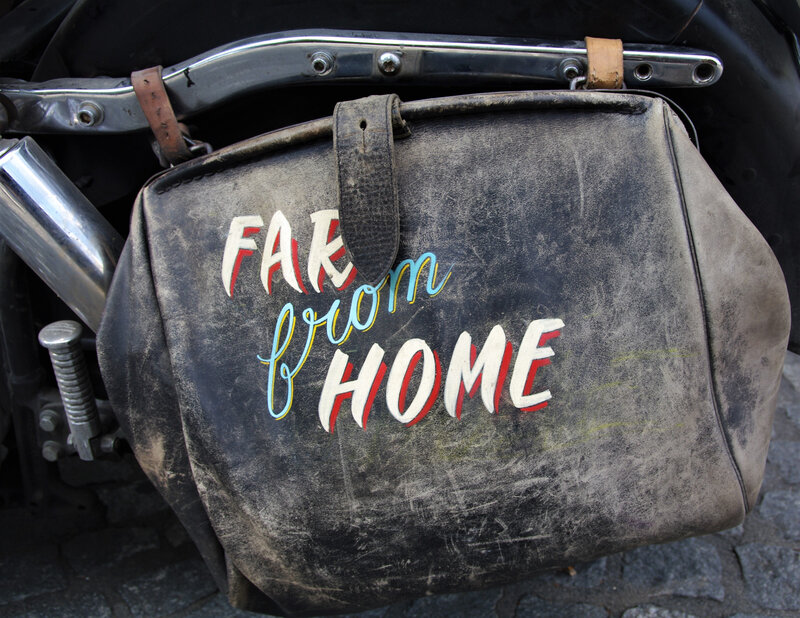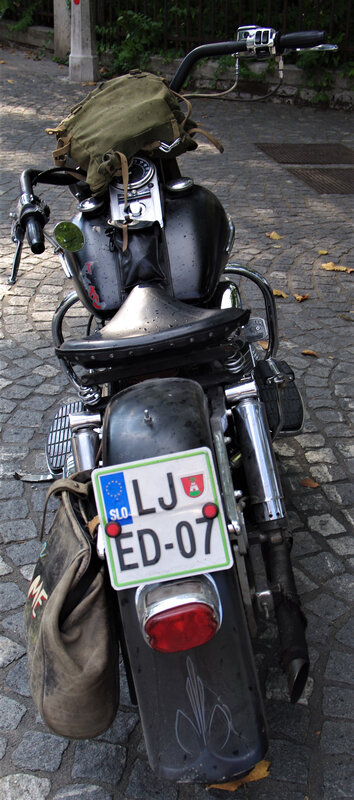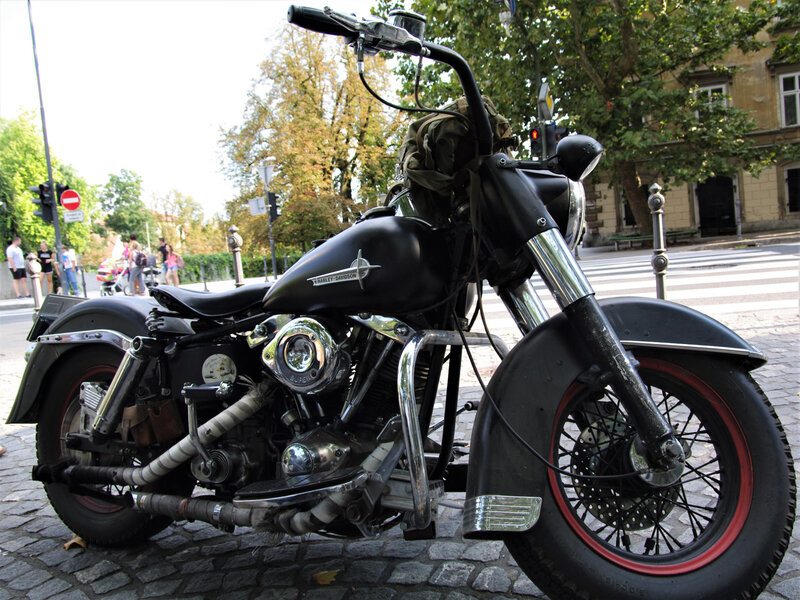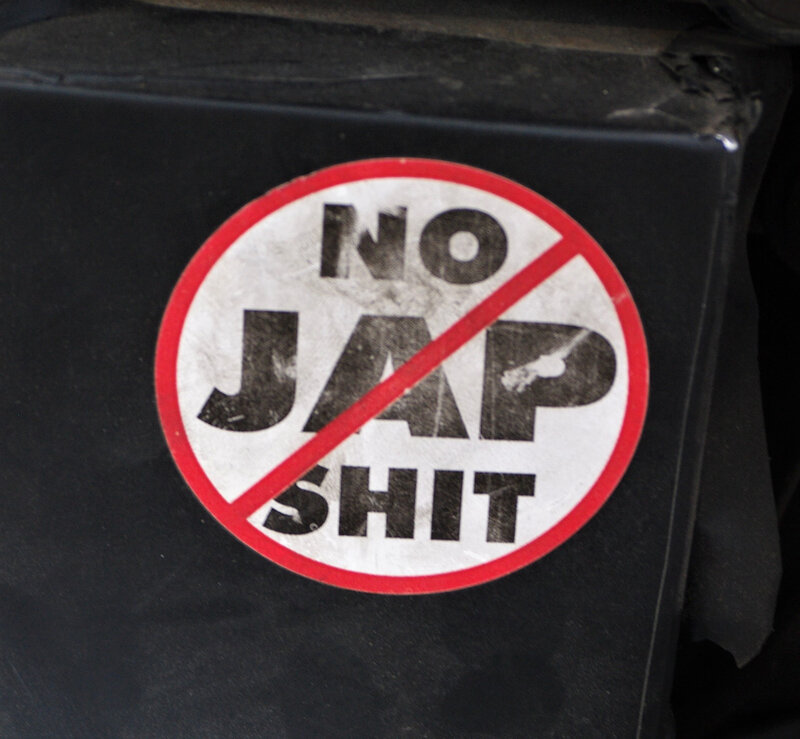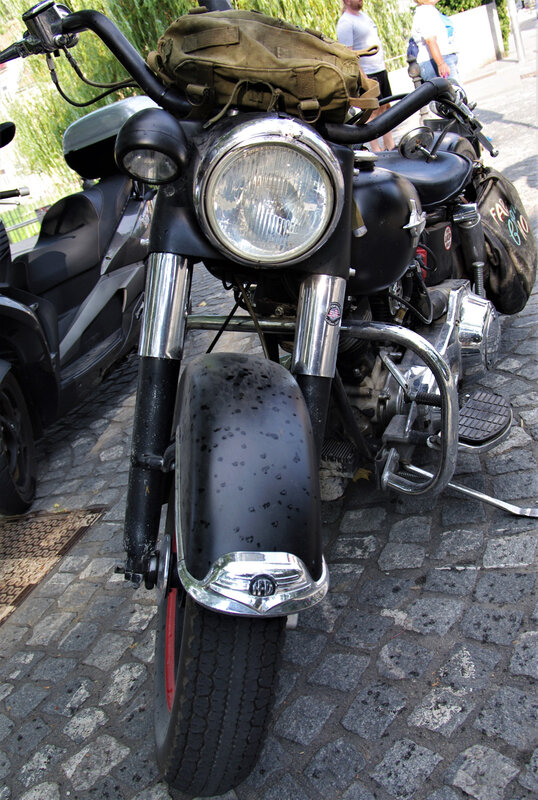 24 juillet 2018
Les festivals d'été battent leur plein et c'est peut-être l'occasion de se replonger dans l'ambiance de l'un des plus emblématiques fests des 60's avec le concert proposé par l'équipe du Roots & Roses ce vendredi 27 juillet au C.C. Lessines, Cour de l'Hôpital Notre Dame à la Rose, à Lessines donc. Ça s'appelle A woodstock Reunite et ce sera l'occasion de se gorger de blues, de soli de guitares héroïques, et de boo-boo-boogie jusqu'au bout de la nuit avec Canned Head, Ten Years After et Guy Verlinde & the Mighty Gators. En attendant, un p'tit retour aux sources avec Canned Heat justement, et l'un de leurs deux hits de l'époque, Going up the Country. Enjoy the trip.
Canned Heat - Going Up The Country
Tous les détails sur le concert ici!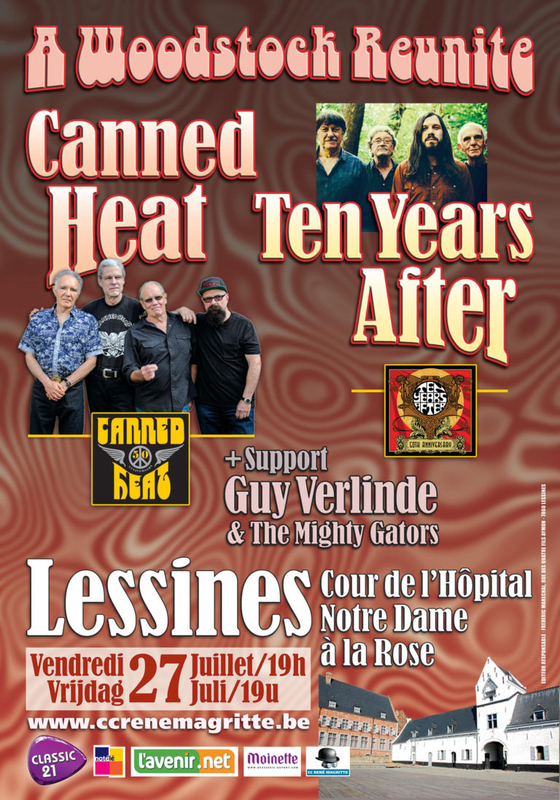 14 juillet 2018
Loose Gravel fut l'éphémère groupe monté par le guitariste Mike Wilhelm, entre The Charlatans, le groupe pionnier du psychédélique San Fransiscain dans la deuxième moitié des sixties, et son passage par les Flamin' Groovies dans les 70's. Frisco Band est le seul single du trio paru de leur vivant, en 1975, et j'avais d'abord flashé sur la pochette du EP 4 titres 30cm réédité par Fan Club, le sous-label de New Rose Rds sur lequel il était sorti en '84. La première parution sur Fan Club, en fait, avec un Mike Wilhelm en version biker d'époque posant fièrement sur sa Matchless 650 chopperisée.. Still love it.
Loose Gravel - Frisco Band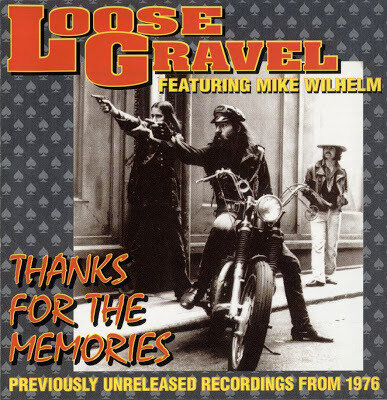 30 juin 2018
Curieux parcours que celui des Osmond Brothers; à l'origine une (vraie) fratrie née et élevée dans une famille Mormone très straight d'Ogden, Utah, dont quatre des frères commencèrent très jeunes à chanter localement et, très vite, avec beaucoup de succès leur propre barbershop music (harmonies vocales à cappella sans aucun instrument) avant de se lancer dans une carrière professionnelle dans la variété la plus mainstream sous la houlette de leur papa manager. Ultra-pros sur scène comme en studio, complètement clean-cut avec leurs dents bien blanches et leur look inoffensif, ils devinrent quasiment à eux tous seuls le prototype de tous les boys bands à venir, influençant les frères Jackson au début du Jackson Five et déclenchant une véritable Osmondmania un peu partout.
Jusqu'au jour ou les frangins, attirés par le côté sombre de la Force du Rock'n'Roll, décidèrent contre l'avis paternel d'injecter une bonne dose de groove et d'énergie dans leur pop bien propre. Ce qui aboutit à ce petit bijou d'hybride glam / funk / hard rock / bubblegum - et classique maintes fois repris depuis - qu'est Crazy Horses: une cavalcade débridée et un cri de guerre écolo, avec derrière l'évident clin d'oeil aux Native Americans et à leurs montures, via le célèbre chef de guerre indien Lakota Crazy Horse (cf. la rythmique tribale et le fameux riff d'orgue de Donny Osmond), des paroles engagées (si,si) puisqu'il s'agit d'une dénonciation en bonne et due forme de la pollution automobile croissante en ce début de décennie (On est en 1972!) - "et si ça continue c'est de notre faute à tous". Imparable!
The Osmonds - Crazy Horses
et un bonus, en live et pour le look!
The Osmonds brothers - crazy horses
16 juin 2018
Aucun titre n'est plus emblématique de la culture low rider que ce classique signé War, le fameux groupe multi-ethnique de Long Beach, California, et, bien au delà des si riches sous-cultures automobiles nord-américaines, de la culture hispanique west-coast en général. Un véritable hymne chicano qui n'a pas pris une ride, et qui en même temps nous catapulte way back in the 1970's (le single est sorti en 1975) au son Funk / Soul / Latin Jazz / rock fusion avant l'heure de ce combo qui n'était, à ses débuts cinq ans plus tôt, "que" le projet du producteur Jerry Goldstein et de l'ex-chanteur des Animals, Eric Burdon (On en reparlera). En attendant, check deez hydraulics, baby, and don't forget, low and slow is da way to go...
09 juin 2018
1977! Chris Spedding a 33 balais et une déjà belle carrière de session guitarist réputé et recherché derrière lui, et tente à nouveau le coup de l'album solo histoire d'essayer une fois de plus de décrocher la timbale auprès du grand public. Encore raté, mais Hurt, l'album, a depuis trouvé sa place de choix dans toute collection r'n'r digne de ce nom, et Hurt By Love, le titre - faux hymne à l'amùùùr et joyeux clin d'oeil BDSM - est devenu un classique power pop incontournable. Enjoy.
Chris Spedding - Hurt By Love