16 mars 2020
Des fois faut pas aller chercher bien loin pour trouver la piste qui va vous mettre en joie et vous accompagner toute la journée ou toute la semaine.. Si je vous dis Teenage Kicks, The Undertones, 1978.. Yep, ça marche à tout les coups! On a beau connaître le titre par coeur, la fraîcheur et le peps de cet incontournable classique power pop punk, hymne non-officiel de Derry, Ireland, vous harponne les esgourdes à chaque écoute. Kick out!
The Undertones - Teenage Kicks
29 février 2020
Okay Ladies and Gents, let's get down with it avec William Daron Pulliam, mieux connu (sic) sous le nom de scène de Darondo, un soul singer originaire de Berkeley, Californie, responsable dans la première moitié des seventies de quelques titres de haute tenue malheureusement très peu entendus en dehors de quelques initiés, et des dee-jays british qui ont contribué à le faire (re)découvrir il y a quelques années. Une bonne introduction à son top-shelf quality Funk & Soul, la compilation Listen To My Song: The Music City Sessions, sorti sur Omnivore Rds en 2011, et dont ce The Wolf est tiré. Enjoy.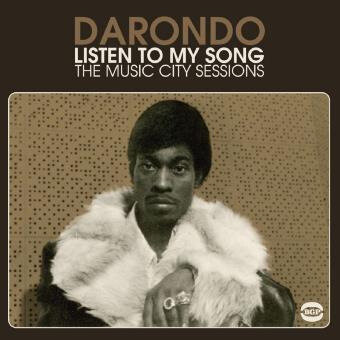 02 février 2020
Deux belles machines de rue à Béthune Rétro l'année dernière, une Chevelle '70 en version stock (à part les jantes aftermarket), rally stripes et rare capot cowl induction, et une Charger 3rd Generation (1971-1974) au stance encore plus agressif dont le splendide custom paintjob rouge profond accrochait le moindre rayon de soleil.. Chouettes engins!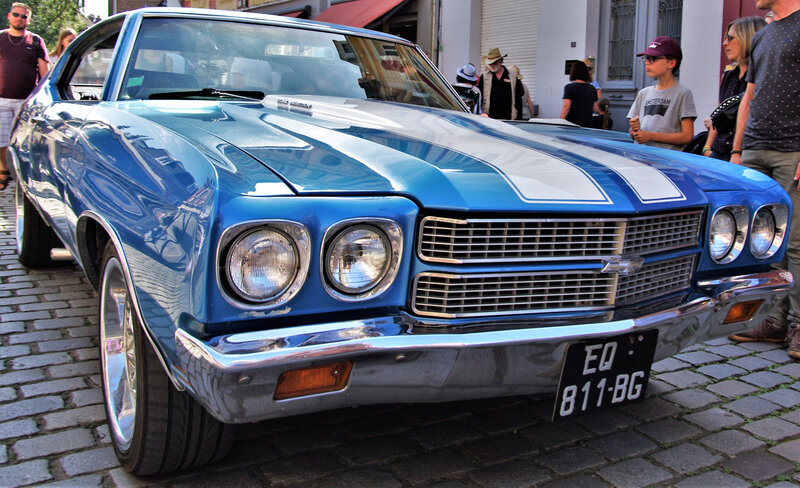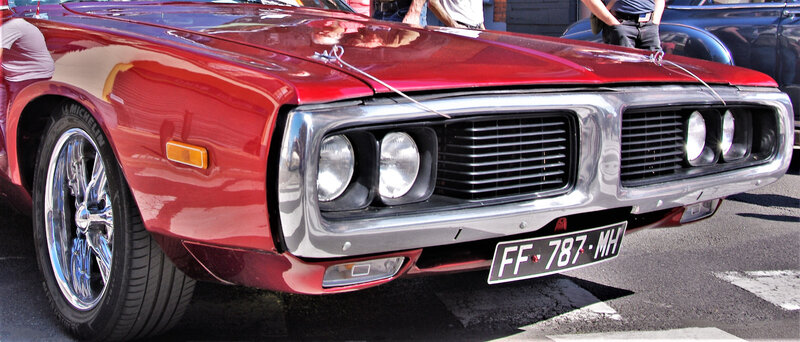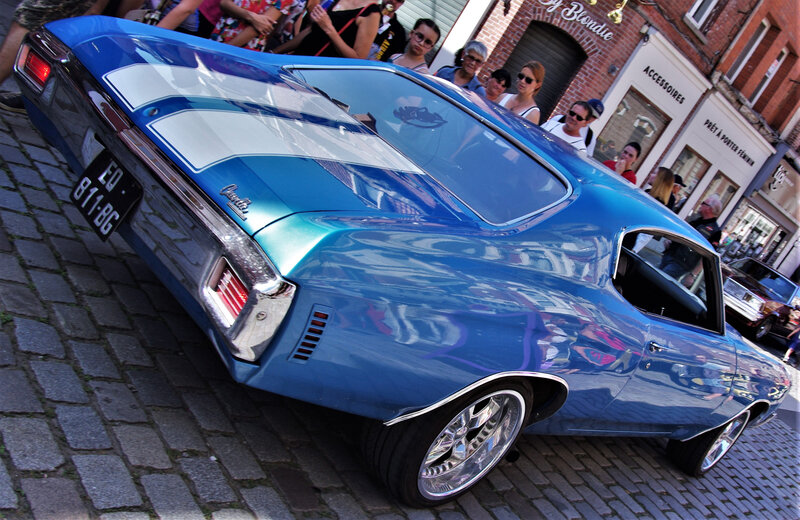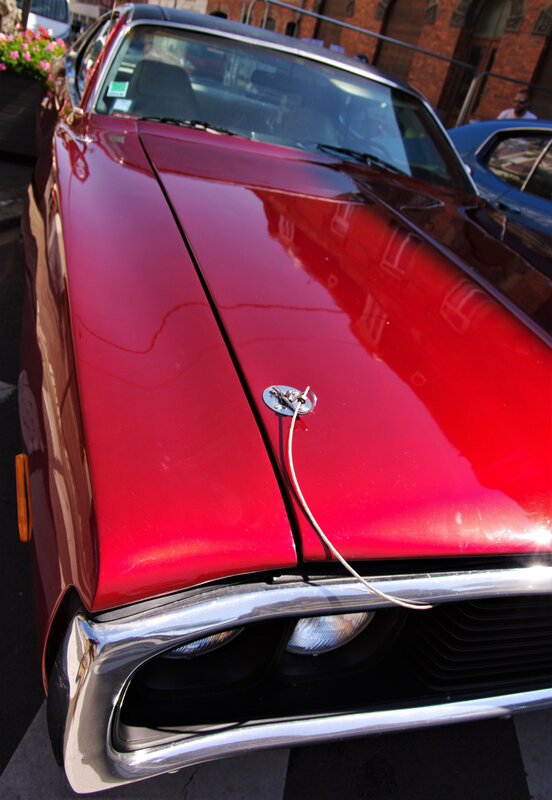 31 janvier 2020
L'été dernier on a terminé notre road trip américain à Jersey City pour quelques jours avant de goin' back home, et c'était pour nous l'occasion de goûter l'atmosphère du New Jersey, à la fois très proche et très différente de celle de New York. Lors d'une ballade en ville, mon regard fut attiré par une bande de street artists en train de commencer un grand mural à l'angle de Columbus Drive et de Coles Street, mais en m'approchant, c'est surtout cette kewl Chevrolet Chevelle SS 1970 qui me fit dégainer l'APN..
Autant, quand on fantasme sur la West Coast et son cruising éternel sous les palmiers californiens, on s'imagine au volant d'une telle muscle-car restaurée au petits oignons, impeccable jusqu'au bout de ses SS wheels, autant ici, au coeur de ces ex-working class et désormais bohême/hipster quartiers d'une petite ville devenue satellite de Manhattan, la même Chevy iconique des 70's colle parfaitement - en version street machine un poil fatiguée mais qui a de beaux restes (chromes piqués et baguettes cassées, carrosserie bien rayée et pocs un peu partout) 6 au feeling rugueux et East Coast, banlieue de briques rouges, asphalte craquelée et herbes folles, de ce côté-là de la Big Apple..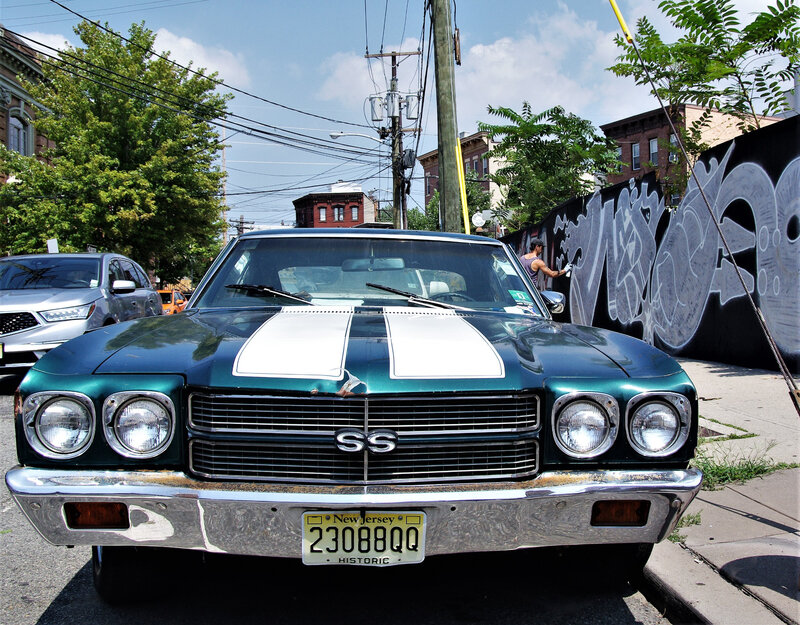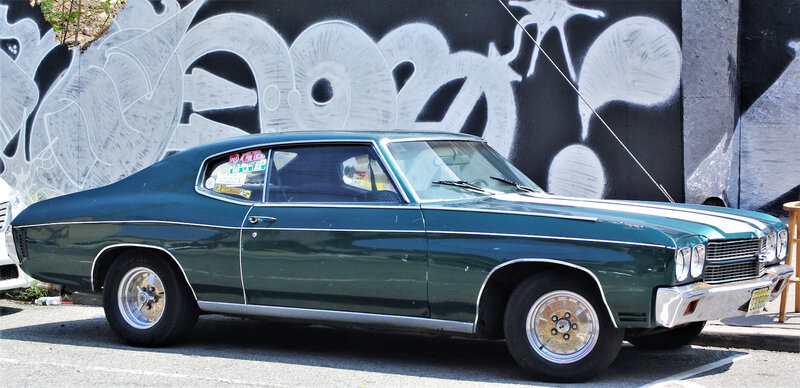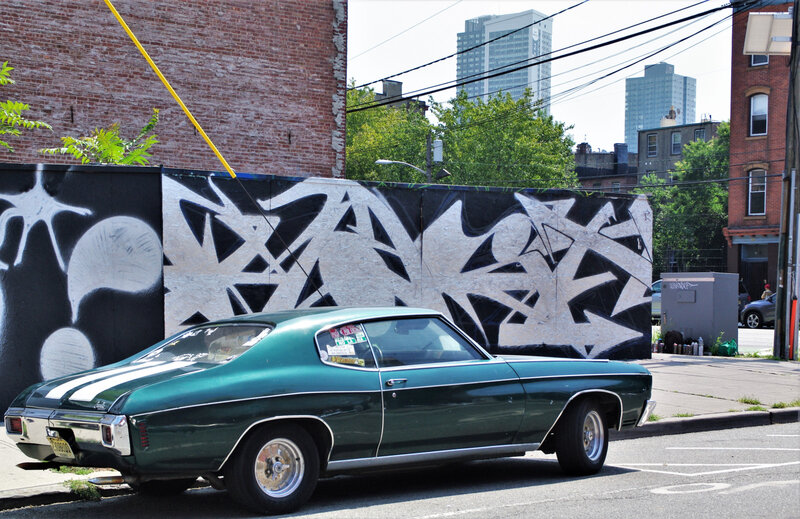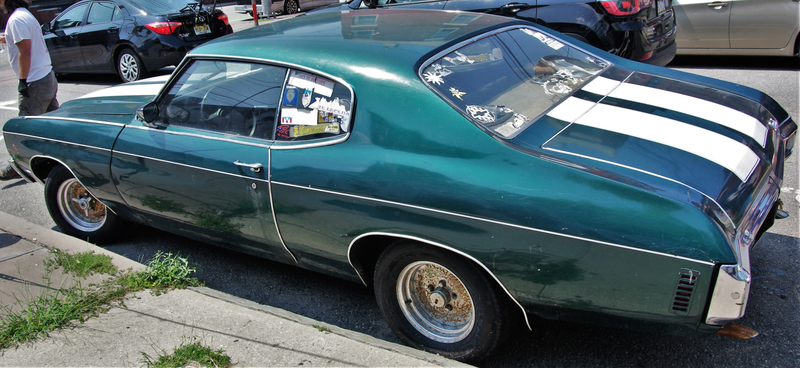 13 janvier 2020
Le Queens, New York, 1963. Randy & The Rainbows, un quintet de doo wop monté l'année précédente par deux paires de frangins, les Safuto et les Zero, décroche la timbale avec leur premier single, Denise, dans les charts r'n'b et pop. Quinze ans plus tard, Blondie reprend le titre, le masculinise et en fait le hit et le standard que l'on connait encore aujourd'hui - la version studio est pas mal, mais cette version en live nettement plus punchy vaut aussi le détour! Enjoy.
Randy & The Rainbows - Denise
04 janvier 2020
Alley Hop, on enjoy le onzième single de Fred Hughes, paru en 1971 sur Brunswick Rds. et tiré de son premier album, Baby Boy, paru deux ans plus tôt. Grooovy!!!!
Fred Hughes - Don't Let This Happen To Us
12 novembre 2019
The Dogs. Pas du "rock français", ou même "hexagonal" - du rock'n'roll Made-in-France. Nuance.Too much class internationale, sans se forcer, dès les premiers eps et avec ce premier album, Different - qui portait si bien son titre - paru en 1979. Enjoy.
28 octobre 2019
Bon, alors bien sûr, la video de ce T.W.M.V. ne montre pas les Coasters en action, mais il y a malgré tout plein de bonnes raisons pour se la (re)visionner en ce début de semaine:
1/ l'excellente reprise de ce classique R'n'B par Nick Waterhouse et son sextet hier soir au Grand Mix à Tourcoing - juste avant Katchi - qui a une dernière fois envoyé le public en orbite (sold-out, le concert dans le tout nouveau et très chouette club du Grand Mix, et le groupe en grande forme et nettement plus swing et groovy qu'à Bruxelles il y a deux-trois ans).
2/ l'occasion de se re-titiller les papillles, les esgourdes et les nerfs optiques avec l'une des scènes cultes du Death Proof de Quentin Tarantino, grand film féministe et auto-érotique (si, si) truffé de références 100% Real Kewl Trash-approved. - si le son de la montée en régime d'un gros V8 des bonnes années vous réveille le bas-ventre, well.. you know what I mean.
3/ Stuntman Mike - ou plutôt Kurt Russell. Marmoréen, reptilien, badass..
4/ Vanessa Ferlito, petit sourire en coin, sa lapdance de la muerte, son short très short, son p'tit bedon et son joli nombril, et son interprétation du personnage de Arlene / Butterfly, qui se lâche à fond - grrl power! - dans cette scène mémorable.
L'original date de 1956, premier single pour les Coasters, jeune groupe de rhythm'n'blues / rock'n'roll / doo wop originaire de Los Angeles mais installé à New York, et premier hit dans la foulée, signé par les incontournables hitmakers Jerry Leiber & Mike Stoller. La version la plus connue - celle utilisée par Tarantino pour le soundtrack de son sixième film - date quant à elle de 1973 et figurait à l'origine dans l'un des best of du groupe.
The Coasters - Down in Mexico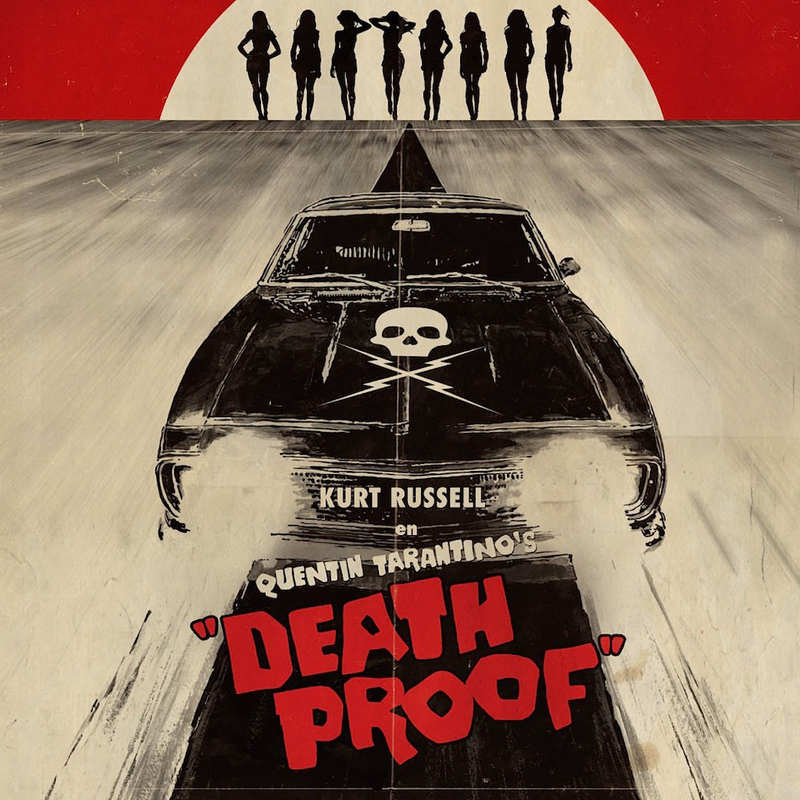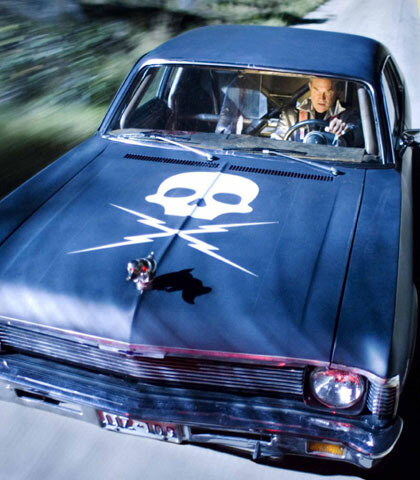 Coasters - Down In Mexico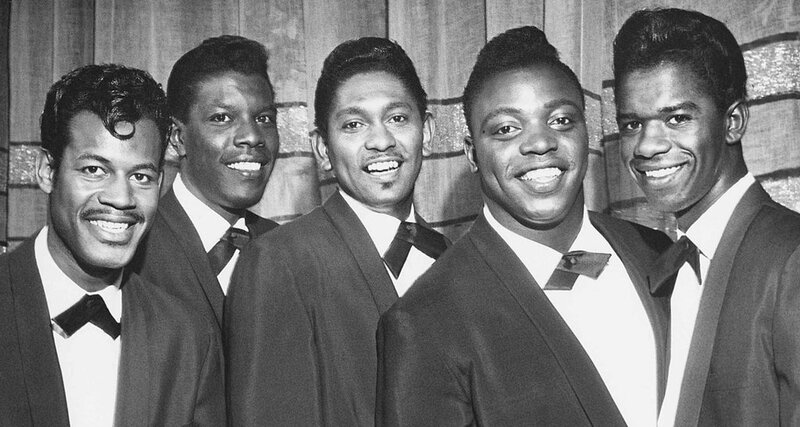 26 octobre 2019
Bon ben cette semaine a été très punk dans mes enceintes.. Après être retombé dans la marmitte mid-seventies pub/punk avec les 'Bishops et l'infernal quintet Bators/Chrome/Zero/Magnum/Blitz lundi et mardi dernier, on enfonce le clou chromé ce samedi matin avec un combo injustement oublié, The Nips, a.k.a. The Nipple Erectors (un nom unilatéralement désigné comme Meilleur Nom de Groupe Punk et Assimilé par un jury de une personne cette semaine dans mon salon), monté par Shanne Bradley et Shane MacGowan (Six ans avant que ce dernier ne co-fonde The Pogues) et auteur d'au moins deux classiques, le très power-pop Gabrielle (1979 - repris quelques années avant sa parution par Johnny Hallyday) et ce fantastique All The Time In The World, leur second single paru en 1978. Enjoy.
The Nips - All the Time in the World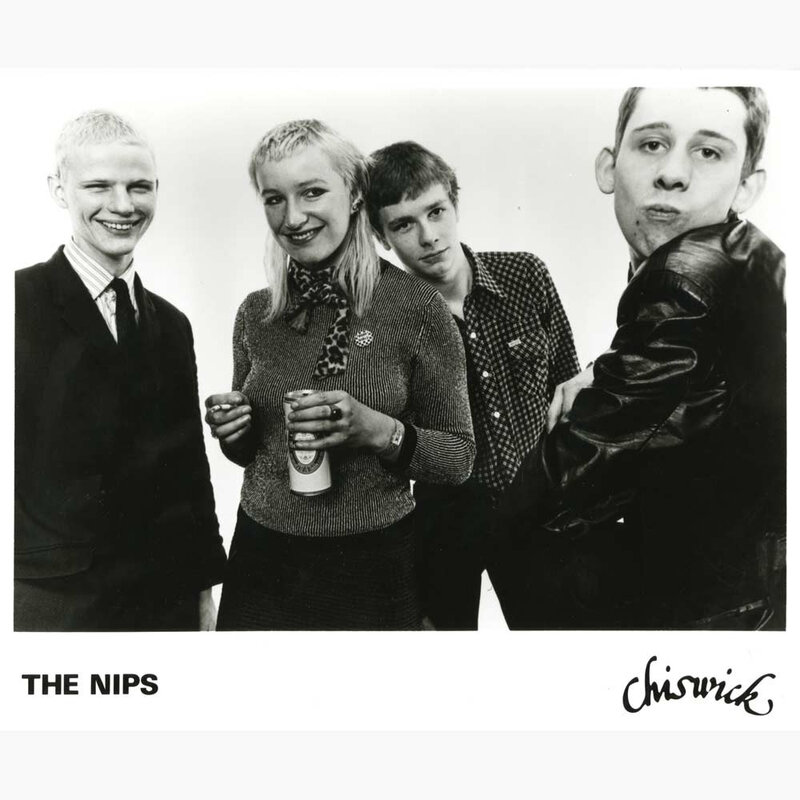 22 octobre 2019
Punk rock, pub rock, "street rock", en 1975, à Londres et un peu partout, c'était moins l'étiquette qui comptait que l'envie et la volonté du back to basics, aussi bien sur scène que dans le studio, façe à ce truc boursouflé, élitiste, nombriliste et prétentieux qu'était devenu le "Rock".. The Count Bishops, vigoureux quintet londonien biberonné au freakbeat rhythm'n'blues British et au garage punk US n'avait pas d'autre ambition que de revivifier le rock'nroll, d'en faire à nouveau un trux excitant, lean, mean and nasty, comme leur collègues Doctor Feelgood ou Eddie & The Hot Rods. Mission accomplie dès Speedball, leur premier EP 4-titres, également le tout premier vinyle paru sur Chiswick Records, jeune label dévoué à la cause. A coup d'originaux rentre-dedans et de reprises survitaminées - tel ce Teenage Letter écrit par Big Joe Turner et déjà revisité par Jerry Lee Lewis, The Sorrows et un paquet d'autres auparavant - les Count Bishops ouvraient la voie au Clash et aux Pistols..
Count Bishops - Teenage Letter