13 avril 2019
1978. Fred "Sonic" Smith (The MC5), Scott Morgan (The Rationals), Gary Rasmussen (The Up), Scott Asheton (The Stooges).. et le single qui aurait du être publié. Enjoy.
Sonic's Rendezvous Band - City Slang
Sonic's Rendezvous Band - Electrophonic Tonic
02 avril 2019
Un classique issu de la toujours aussi formidable compil' Destination: Bomp!, ce titre incisif signé The Vertebrats, éphémère quatuor power pop (1979-1982) et fierté D.I.Y. de l'Illinois, me tittille encore l'oreille aujourdhui et trouve toujours sa place dans mes mixtapes. Enjoy.
The Vertebrats - Left In The Dark
01 avril 2019
Un avant-goût du printemps et d'un été torride? E tout cas une bonne tranche de 70's revisitées, versants hard-rockin' roots, folk & blues.. Grace Potter & The Nocturnals, au naturel, avec une version live très chargée en eye candy de leur Paris (Ooh la la), qui ouvre leur troisième album paru en 2010. Bien content que la petite soeur de Harry ait choisi d'empoigner le manche d'une Flying V plutôt qu'une bête baguette de magicien, non?
Grace Potter & The Nocturnals - Paris (Ooh La La)
Grace Potter And The Nocturnals - Paris (Ooh La La)
26 mars 2019
Bon, c'est l'hécatombe en ce moment.. RIP Scott Walker, a.k.a. Scott Engel.. un extrait de son quatrième album solo, Scott 4, et un p'tit clin d'oeil à ses débuts de bassiste de surf pré-teen idol en 1963, because I'm in a surf music mood these days et parce que c'est Tonic Tuesday, tout de même!
Scott Walker - The Old Man's Back Again (Dedicated To The Neo-Stalinist Regime)
Scott Engel - Devil Surfer
25 mars 2019
En plein festival SériesMania ce weekend, quelques belles découvertes déjà, mais je me disais que ça faisait quand même un bon moment que je n'avais pas eu un choc sériephile à la hauteur de Breaking Bad, la fameuse série en cinq saisons (2008 - 2013) de Vince Gilligan, featuring Brian Cranston dans le rôle (de sa vie?) de Walter White, prof de chimie qui a plus ou moins raté sa vie et qui, atteint d'un cancer foudroyant, se transforme en redoutable fabriquant-dealer de métamphétamine pour subvenir aux besoins de sa famille.
J'avais vraiment craqué sur cette série là en particulier, et j'ai encore un souvenir ému de la toute dernière scène du tout dernier épisode, quand Walter rend l'âme et que le Baby Blue de Badfinger démarre.. Rarement l'adéquation entre les paroles d'une chanson, la chanson elle-même, et l'utilisation de celle-ci à un moment-clé - le premier couplet résumant en quelques mots toute l'intrigue - n'avait été aussi parfaite. Un coup de maître de Thomas Golubic, le Music Supervisor de la série à l'époque!
Badfinger - Baby Blue
16 mars 2019
j'ai découvert ce Pretty Please via la killer cover de Redd Kross sur leur album de 1996, Show World. Le gang des frangins McDonald l'avait repris des Dickies (autre grand groupe oublié - on en reparle bientôt). The Dickies avaient légèrement modifié le titre et en avait pondu une version speedo-ramonesque tout à fait réjouissante en '83, sur leur Stukas Over Disneyland le bien-nommé. l'original signé The Quick (Los Angeles, 1974-1978, un album est une poignée de singles et EP's) datant quant à lui de 1978, est depuis devenu une classique power-pop incontournable - surtout le samedi matin pour démarrer le weekend. Enjoy.
The Quick - Pretty Please
The Dickies - Pretty Please Me
Redd Kross - Pretty Please Me
09 mars 2019
La piste à se mettre en boucle quand c'est le weekend mais que le temps est pourri, qu'il fait froid, qu'on est crevé et qu'on a le moral dans les boots.. Ce classique pop-garage-rocker qui-aurait-du-être-un-hit à l'époque fut signé par The Choir, from Cleveland, Ohio, en 1966, est fait encore aujourd'hui toujours bien la paire garage-météorologique avec le I'm in Pittsburg (And it's raining) de The Outcasts, paru la même année. La version d'un autre natif de Cleveland, Stiv Bators, sortie en 1979, est pas mal non plus. Enjoy.
The Choir - It's Cold Outside
Stiv Bators - It's Cold Outside
06 mars 2019
Ahhh, Jonathan Richman et son Road Runner..
«We got the A.M.
We got the powah
We got the magic..»
La chanson parfaite pour fantasmer cette tradition si typiquement nord-américaine du cruising, la ballade sans fin, sans but, juste pour le plaisir d'avaler les miles calé derrière le cerceau de la caisse ou riding shotgun à côté de son pote (John Felice?), au son du rumble du gros V8 qui se marie si bien avec les tunes rock'r'roll qui sortent de la radio A.M. ou du lecteur de cartouches 8-pistes..
Jonathan Richman & The Modern Lovers - Road Runner
Je vois bien le jeune Jonathan, à peine 20 ans au début des 70's, laisser son imagination fertile et sa candeur intacte créer, à partir de toutes les pièces qui hantent son univers enfantin et décalé, ce titre emblématique, hymne à la beauté industrieuse, urbaine et suburbaine de la Nouvelle Angleterre, future référence pour les punks à venir des deux côtés de l'atlantique, et déclaration d'amour éternelle à la joyride automobile dans sa forme la plus kewl.
Bo Diddley, l'un de ces pionniers des 50's et héros du rock'n'roll que Jonathan vénère tant, ne doit jamais être bien loin, avec son propre Road Runner, pas plus que le fameux cartoon du génial Chuck Jones, lancé par la Warner Bros. dans sa série Looney Tunes et narrant les désopilantes et ultra-violentes-pour-rire courses-poursuites sans fin entre ce malheureux Wile E .Coyote et cet intrépide Geococcyx Californianus, le Grand Géocoucou communément appelé Road Runner aux USA et rebaptisé Bip Bip pour la télé française.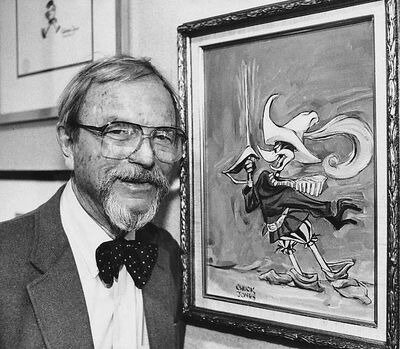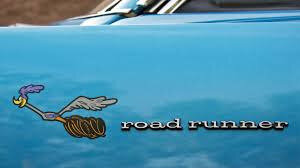 Et ça ne m'étonnerait pas du tout que J.R. ait aussi tilté en croisant dans une rue de Boston l'un de ses petits monstres de puissance débridée commercialisés par la marque Plymouth à partir de 1968, en pleine «guerre des muscle-cars», cette lutte à couteaux tirés entre les big threes à base de coupés ultra-sportifs construits autour de caisses assez légères dans lesquelles Ford, GM et la Chrysler Corp droppaient leurs moteurs les plus puissants, histoire de fournir à la jeunesse américaine et aux motorheads de tous poils de quoi faire fumer les pneus et gagner le grand prix des feux rouges du samedi soir..
'69 Plymouth Roadrunner & Barracuda Commercial
'70 Plymouth Roadrunner Commercial
Avec le trait de génie en plus du côté de chez Plymouth: l'achat pour 50000 dollars des droits à l'image du cartoon suscité, et l'utilisation sans vergogne de ces deux personnages aux quatre coins de la carrosserie de ce modèle déjà bien hip d'origine.
En tout cas, c'est l'histoire que j'aime bien me raconter, à chaque fois que j'écoute Road Runner (Once), Road Runner (Twice)..
Beep Beep!
Jonathan Richman & The Modern Lovers - Roadrunner. (Twice)
16 février 2019
Je suis en pleine rechute de Flamin' Groovies en ce moment.. Heureusement que le Doctor Boogie n'est jamais loin pour m'aider à tenir à distance (mais pas trop loin quand même..) cette garçe d'Evil Hearted Ada. Les Groovies en 1971, sur l'album Teenage Head, une autre perle signée Roy Loney! Enjoy the Groovah..
Flamin' Groovies - Evil Hearted Ada
06 février 2019
Bon, ça c'est pas cool: le gig à l'Aéronef des très attendus Schizophonics, dont les derniers 33-tours tournent en boucle dans les RKT headquarters en ce moment, est annulé (comme toute la tournée), mais on se console avec l'annonce du retour pas loin de chez nous des Lords of Altamont (le 29 mai au Magasin 4 à Bruxelles), et avec le comeback le plus inattendu du moment! Chula Vista, California's very own punk rock legends The Zeros are back in town, ou plutôt en Europe, avec pour l'instant une date prévue à Paris, au Klub, le jeudi 28 février! Yaaahhhrrrg!!!
The Zeros - Right Now
The Zeros - Dont Push Me Around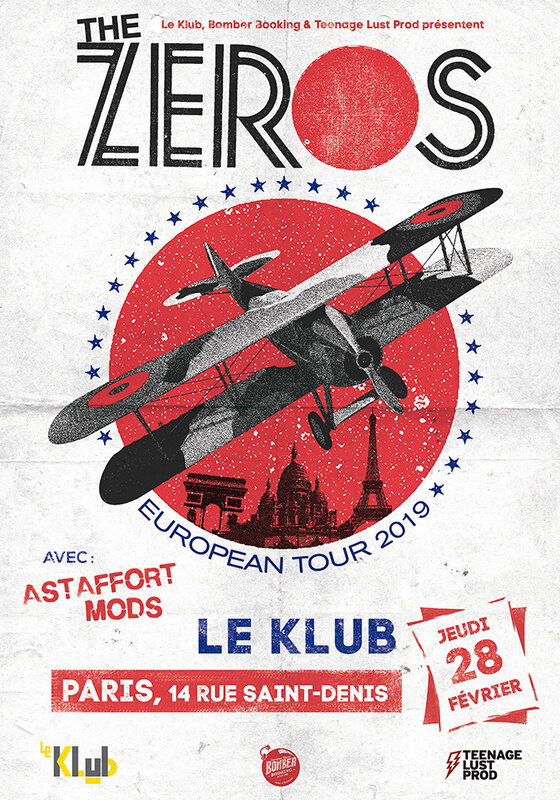 Merci à BeePee pour l'info, et pour avoir ressorti cette affiche du concert organisé par Vertigo! à Arras en 1996 sur l'infameuse péniche Les Tontons Flingueurs!!! Ah la vache ça m'a fait un choc! :)))