07 mai 2019
En 1985 sortait Beware The Ides of March, le premier album de Thee Mighty Caesars, un power trio garage punk back-to-basics monté par trois individus qui s'étaient déjà illustrés au sein d'une galaxie de bands vite qualifiée de Medway Scene - en référence au comté de Kent, au sud-est de Londres, d'où ces groupes avaient émergé dès la fin des 70's. The Pop Rivets, The Milkshakes, The Prisoners, puis The Headcoats/Headcoatees, The Delmonas, The Armitage Shanks, Holy Golightly, jusqu'aux Squares en France (Nancy), la liste est beaucoup trop longue, mais sûrement pas aussi longue que celle des productions vinyliques de l'ensemble de ces combos - rien que pour Billy Childish, chanteur-guitariste-peintre-poète, tête pensante et corps astral central de tout ce petit monde, on doit dépasser les 200!
Il faut bien l'avouer, cette multiplication tous azimuts de projets D.I.Y. avait à l'époque quelque chose de réjouissant, entre authentique passion pour le garage punk US et le rhythm'n'blues British des 60's dans leurs expressions les plus sauvages et déglinguées - évocations contemporaines des compiles Back From The Grave qui faisaient notre bonheur à la même période - et attitude désinvolte/je-m'en-foutiste, humour tongue-in-cheek et désir d'occuper le terrain dans le coeur et les tripes du rock'n'roll fan. Mais au fil des années, l'intérêt s'est émoussé, à cause même de cette prolifération d'albums et de singles souvent tout juste "okay".. jusqu'à ce qu'on les oublie suffisamment pour reprendre du plaisir, à l'occasion, à l'écoute d'une petite bombe comme ce You'll be sorry now, ce You make me die, ou ce Cowboys are square ("Indians are best!"). Enjoy.
Thee Mighty Caesars - You'll Be Sorry Now
Thee Mighty Caesars - You Make Me Die
Thee Mighty Caesars - Cowboys Are Square
20 avril 2019
Dix ans après Brownsville Station, Cub Koda, musicien, chanteur, journaliste, natif de Detroit et rock'n'roller hardcore bien frappé devant l'éternel avait encore bon pied bon oeil, et le label parisien New Rose ne s'y était pas trompé en lui proposant de sortir ce mini-lp solo en 1983. Let's Get Funky, le titre, sonne aussi jubilatoire qu'un early Flaming Groovies millésimé, et dépoussière les enceintes avec autant d'efficacité aujourd'hui qu'à l'époque! Heeeee-haww!!!
Cub Koda - Let's Get Funky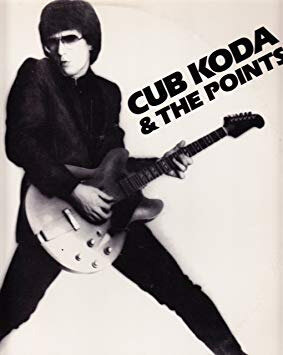 16 avril 2019
Des guitares, de la pop vitaminée et deux titres - She May Be Your Girl b/w All The Innocent Girls - qui parlent de.. filles, et rien d'autre. The Donuts, San Francisco, 1980, un seul et unique single autoproduit, une autre perle power pop à glisser dans une mixtape! Enjoy.
The Donuts - All The Innocent Girls
16 mars 2019
j'ai découvert ce Pretty Please via la killer cover de Redd Kross sur leur album de 1996, Show World. Le gang des frangins McDonald l'avait repris des Dickies (autre grand groupe oublié - on en reparle bientôt). The Dickies avaient légèrement modifié le titre et en avait pondu une version speedo-ramonesque tout à fait réjouissante en '83, sur leur Stukas Over Disneyland le bien-nommé. l'original signé The Quick (Los Angeles, 1974-1978, un album est une poignée de singles et EP's) datant quant à lui de 1978, est depuis devenu une classique power-pop incontournable - surtout le samedi matin pour démarrer le weekend. Enjoy.
The Quick - Pretty Please
The Dickies - Pretty Please Me
Redd Kross - Pretty Please Me
24 septembre 2018
1984. Rouen. The Dogs.
La classe rock'n'roll à la française.. Enjoy.
The Dogs - Little Johnny Jet
17 septembre 2018
Ou le Paul Collins' Beat, pour ne pas confondre avec le groupe anglais du même nom. Classique Power Pop du début des 80's, un premier album devenu culte d'Oslo à Madrid et de Perth à Toulouse, et un Paul Collins qui continue encore aujourd'hui et vaille que vaille à défendre une certaine idée du rock'nroll, mélodique, catchy et fiévreux, beatlesque et ramonesque à la fois.. ça fait 39 ans que The Beat, l'album, revient régulièrement sur ma platine, et je ne m'en lasse pas..
The Beat - Rock N Roll Girl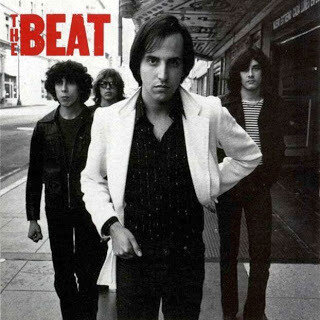 04 septembre 2018
Le meilleur du Garage Punk Revival des 80's! The Lyres, from Boston, baby! Jeff "Monoman" Conolly au chant et aux keyboards, et les riffs de malades de Rick Coraccio (bass) et de Danny McCormack (guitar) sur la ryhtmique de bûcheron psychopathe de Paul Murphy. Et ce son.. ça me fait toujours autant d'effets trente ans après..
Lyres - Don't Give It Up Now
28 août 2018
Il y avait ce samedi un bel assortiment de rods, dont ces deux pickups Ford de toute beauté, traités très différemment mais avec tous les deux un excellent feeling. Le A 1928-31 à calandre de '32 sortait tout droit des 80's avec son traitement "à la Boyd Coddington", lissage complet, train avant triangulé, flancs de capot "design", sans oublier ce rouge très proche de la couleur emblématique des Ferrari. Comme si quelques gouttes de l'ADN des productions de Maranello étaient tombées dans la marmite lors de la conception du pickup..
Le Model B 1932, quant à lui, a bénéficié de toutes les modifs traditionnelles des 50's, tout en gardant une silhouette proche de l'origine - pas de top chop, ailes et marchepieds conservés and so on. Perso, je préfère le second traitement (Lovely les jantes tôles à cerclages chromés et enjos Ford '46!), plus proche de ce que pouvait faire un hot-rodder enthousiaste et talentueux, pendant l'âge d'or du hot-rodding à la fin des fifties ou au début des sixties, tout seul dans son arrière cours ou son propre garage - mais ces petits pickups ont décidément tous les deux une bonne bouille!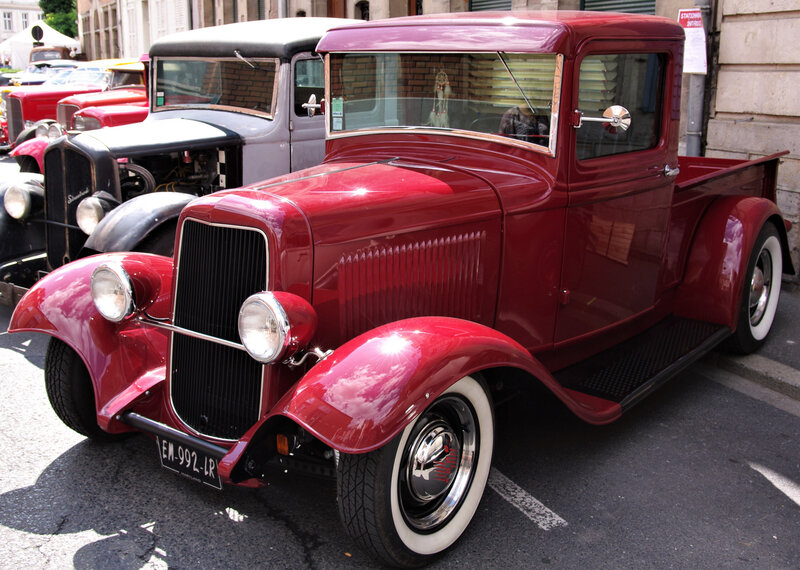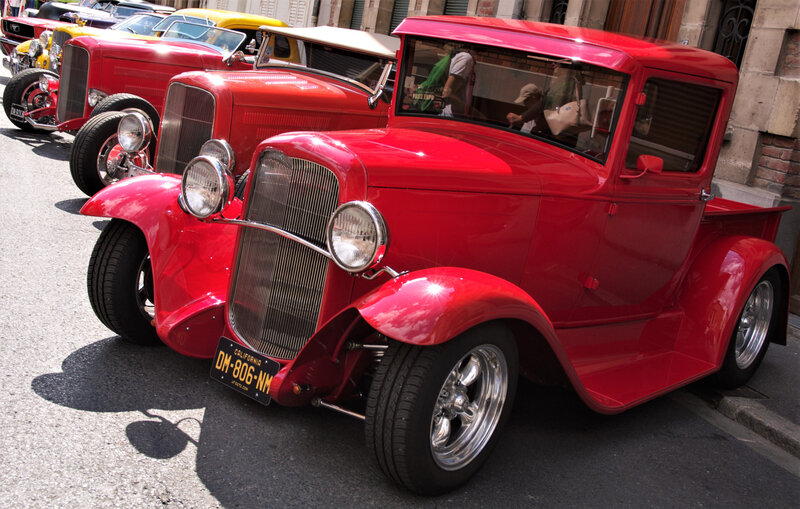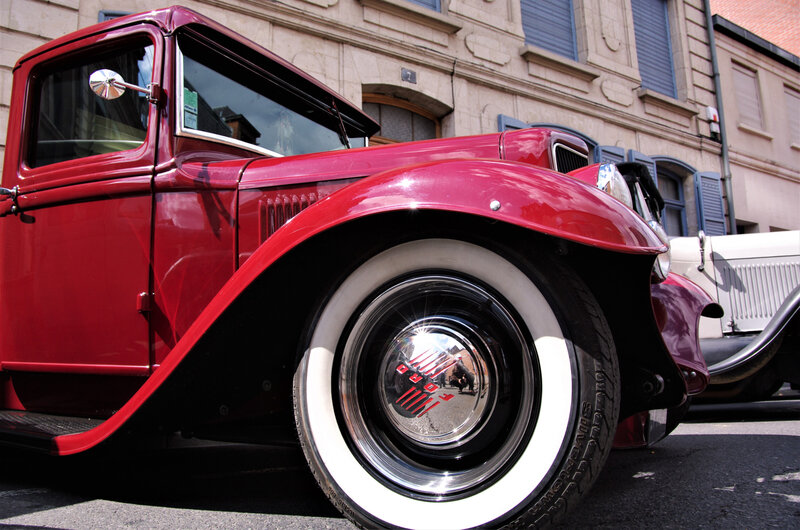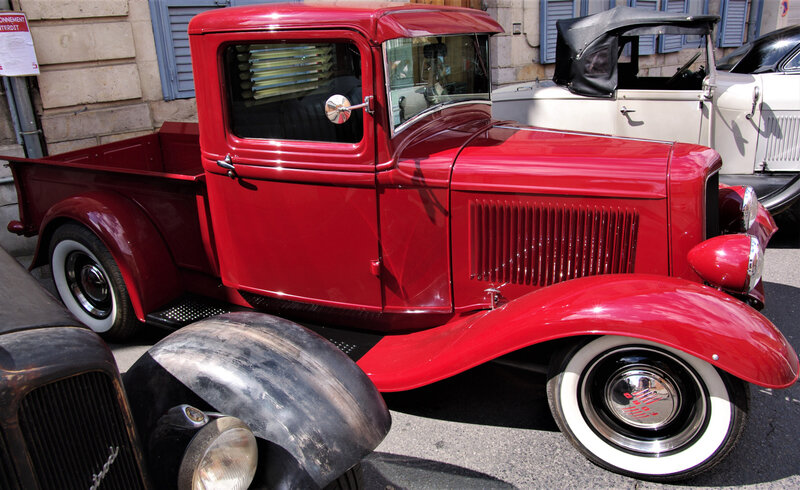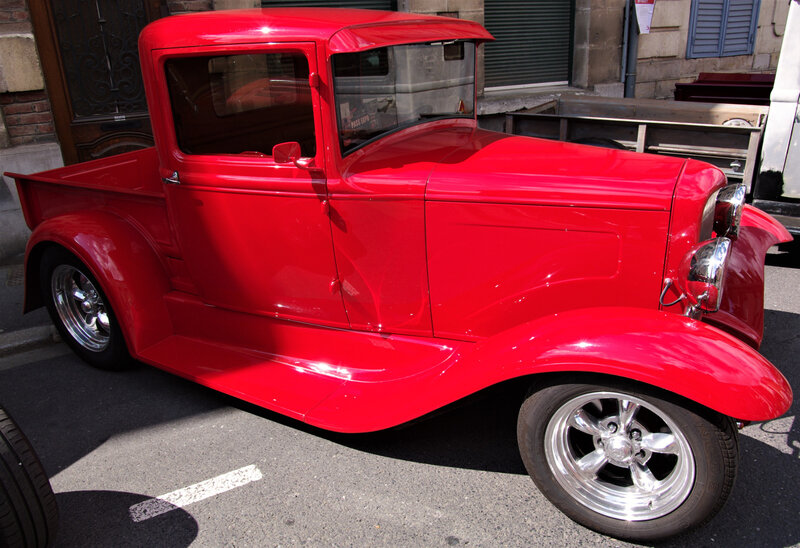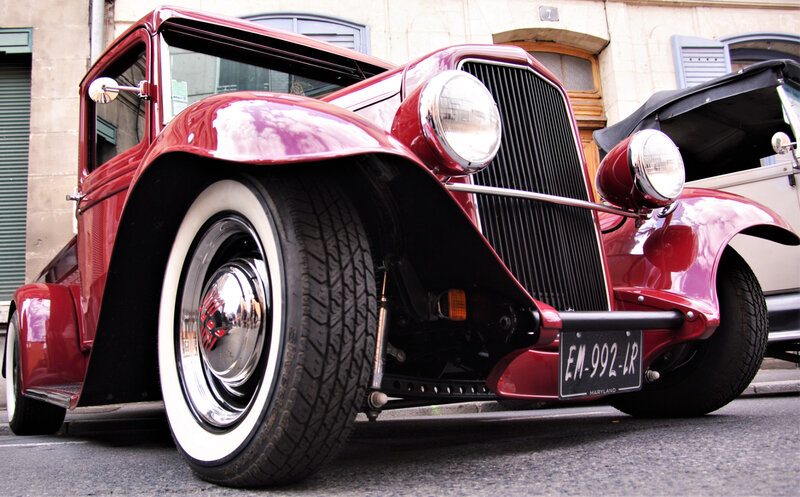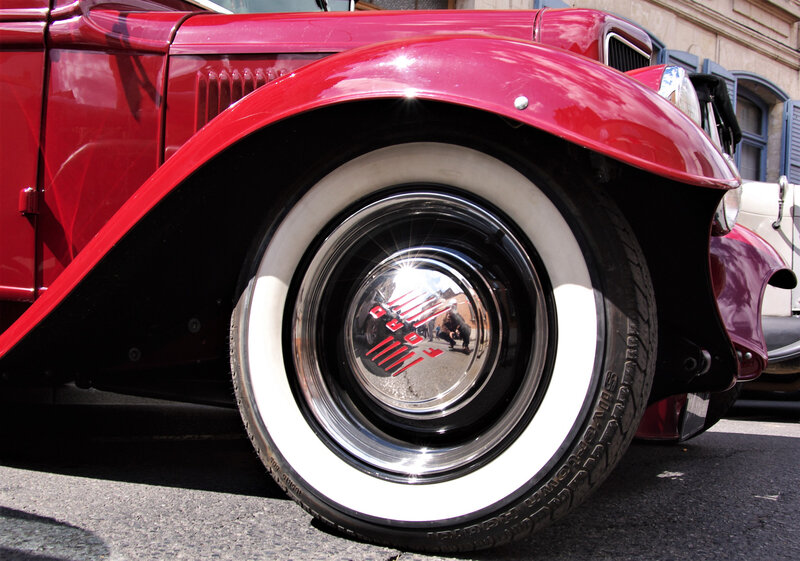 19 août 2018
.. ou juste pour le weekend? Une bonne vieille Electra Glide équipée d'un Shovelhead 74 c.i. ou 80' (1200 ou 1340 centimètres cubes, en V.F.), allégée et dépouillée de ses accessoires d'origines, peinture noire semi-mate toute simple et quelques sacoches souples judicieusement réparties, et hop, voilà une belle Harley vintage à forte personnalité pour déambuler avec classe dans la capitale slovène. Love it.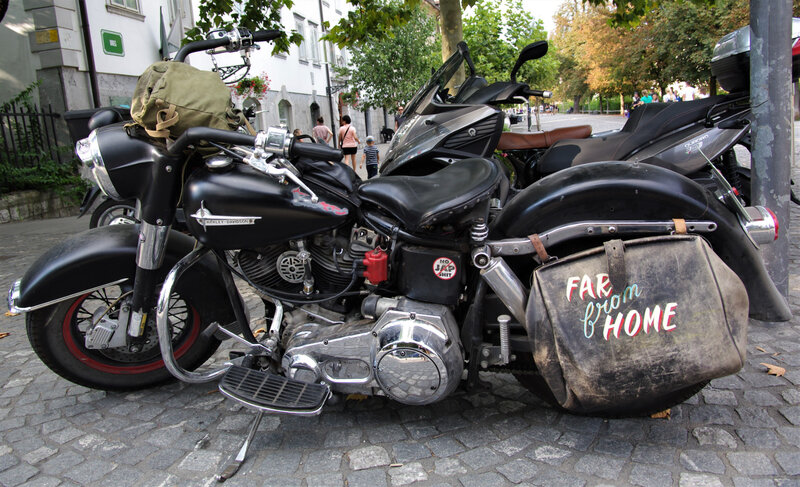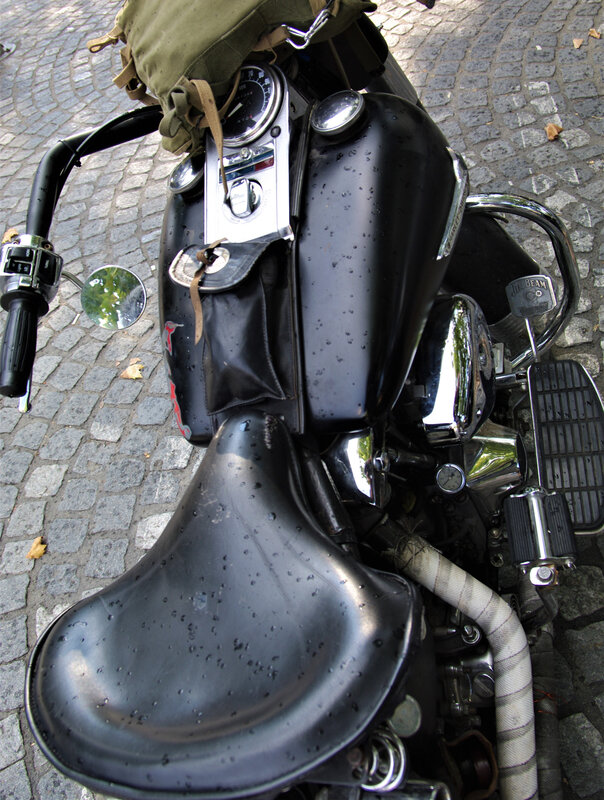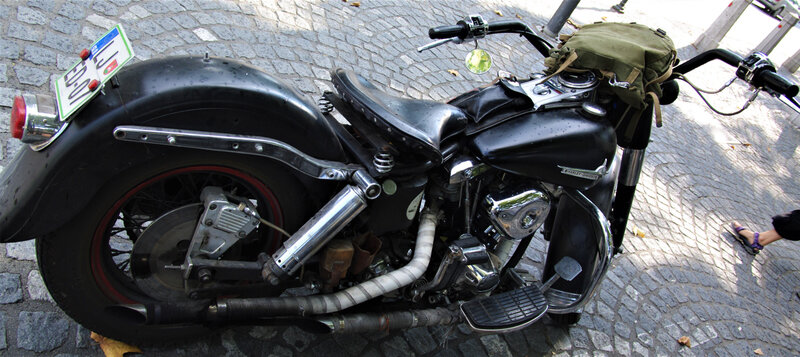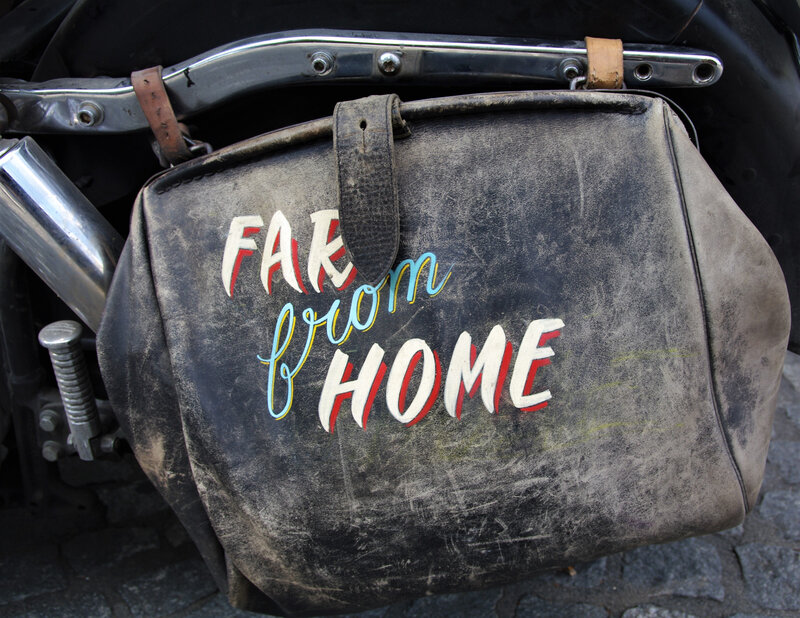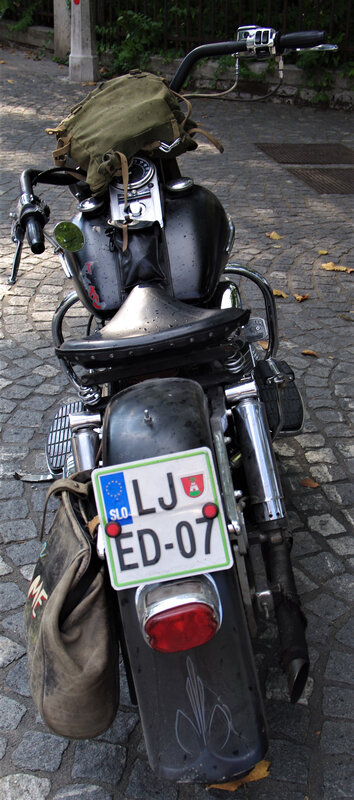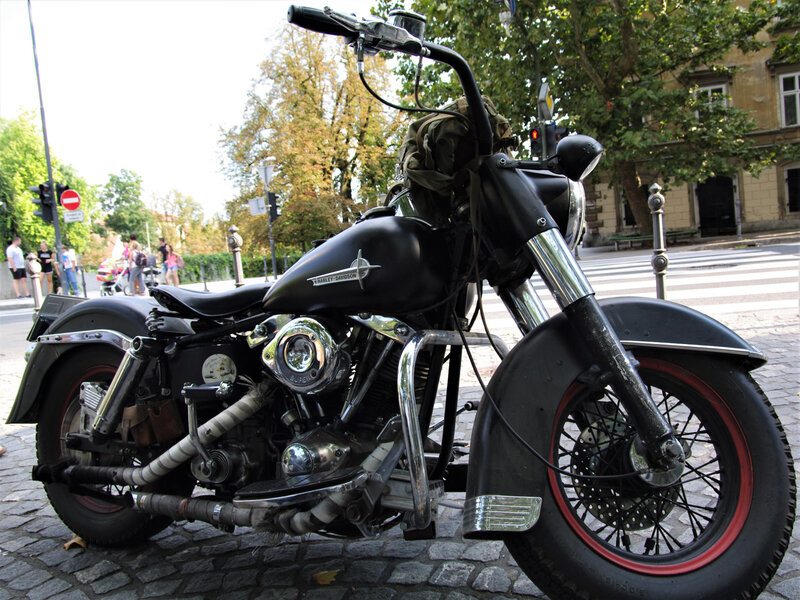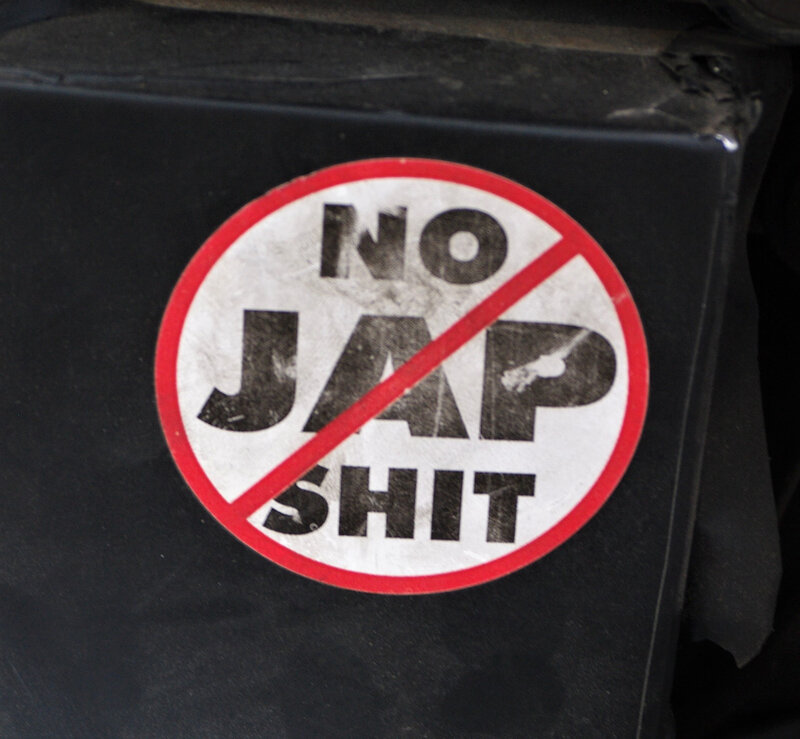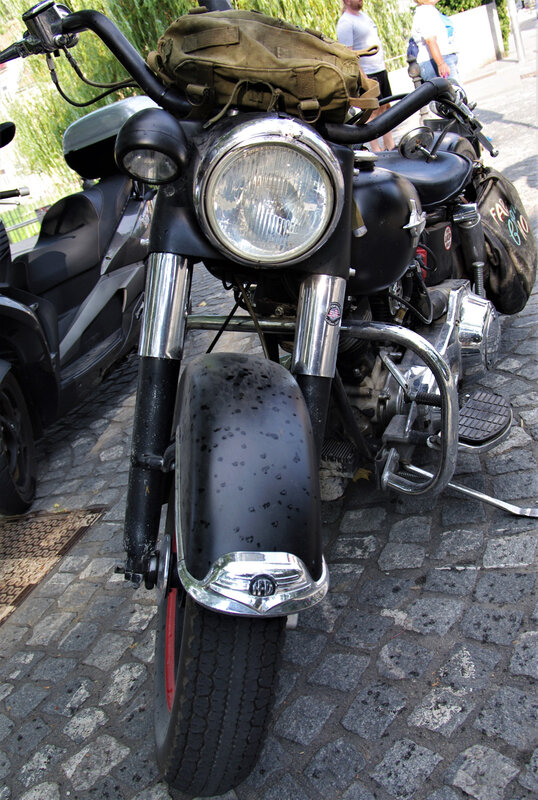 17 juillet 2018
1985 fut une GRANDE année pour le rock'n'roll !!! Un exemple (de plus..)? State Of Our Nation, deuxième album de The Long Ryders et l'un des classiques oubliés de la décennie. Allez hop, on retourne à la recherche des fameux explorateurs cartographes avec Sid Griffin et son gang, et on enjoy the ride..
The Long Ryders - Looking for Lewis and Clark