24 septembre 2018
1984. Rouen. The Dogs.
La classe rock'n'roll à la française.. Enjoy.
The Dogs - Little Johnny Jet
17 septembre 2018
Ou le Paul Collins' Beat, pour ne pas confondre avec le groupe anglais du même nom. Classique Power Pop du début des 80's, un premier album devenu culte d'Oslo à Madrid et de Perth à Toulouse, et un Paul Collins qui continue encore aujourd'hui et vaille que vaille à défendre une certaine idée du rock'nroll, mélodique, catchy et fiévreux, beatlesque et ramonesque à la fois.. ça fait 39 ans que The Beat, l'album, revient régulièrement sur ma platine, et je ne m'en lasse pas..
The Beat - Rock N Roll Girl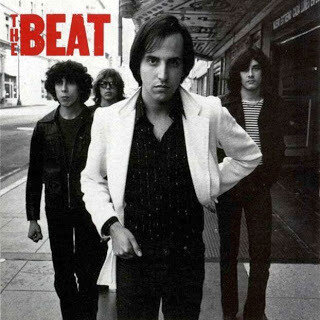 04 septembre 2018
Le meilleur du Garage Punk Revival des 80's! The Lyres, from Boston, baby! Jeff "Monoman" Conolly au chant et aux keyboards, et les riffs de malades de Rick Coraccio (bass) et de Danny McCormack (guitar) sur la ryhtmique de bûcheron psychopathe de Paul Murphy. Et ce son.. ça me fait toujours autant d'effets trente ans après..
Lyres - Don't Give It Up Now
28 août 2018
Il y avait ce samedi un bel assortiment de rods, dont ces deux pickups Ford de toute beauté, traités très différemment mais avec tous les deux un excellent feeling. Le A 1928-31 à calandre de '32 sortait tout droit des 80's avec son traitement "à la Boyd Coddington", lissage complet, train avant triangulé, flancs de capot "design", sans oublier ce rouge très proche de la couleur emblématique des Ferrari. Comme si quelques gouttes de l'ADN des productions de Maranello étaient tombées dans la marmite lors de la conception du pickup..
Le Model B 1932, quant à lui, a bénéficié de toutes les modifs traditionnelles des 50's, tout en gardant une silhouette proche de l'origine - pas de top chop, ailes et marchepieds conservés and so on. Perso, je préfère le second traitement (Lovely les jantes tôles à cerclages chromés et enjos Ford '46!), plus proche de ce que pouvait faire un hot-rodder enthousiaste et talentueux, pendant l'âge d'or du hot-rodding à la fin des fifties ou au début des sixties, tout seul dans son arrière cours ou son propre garage - mais ces petits pickups ont décidément tous les deux une bonne bouille!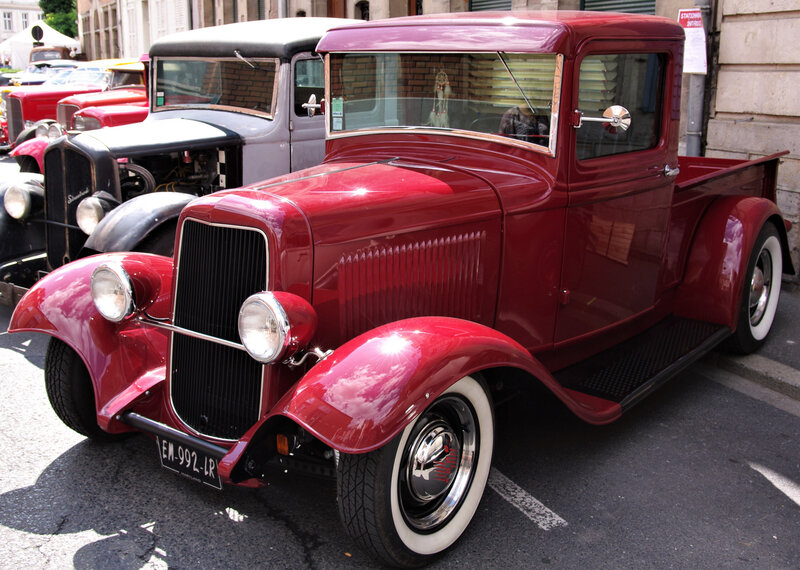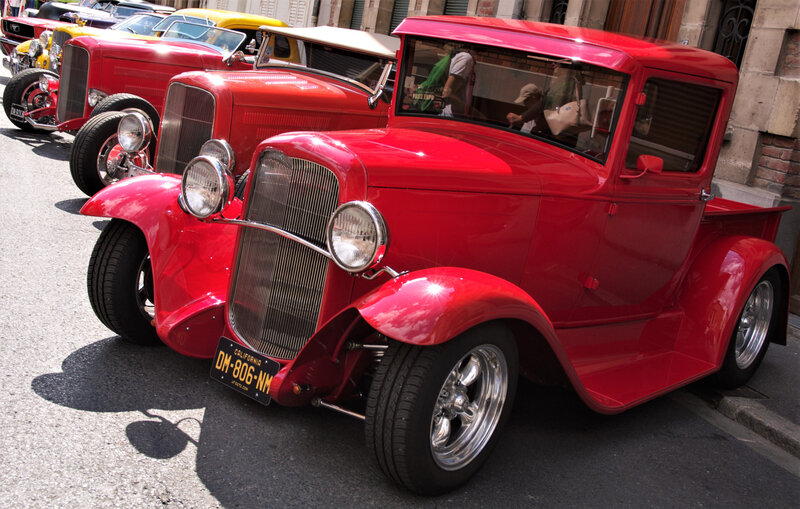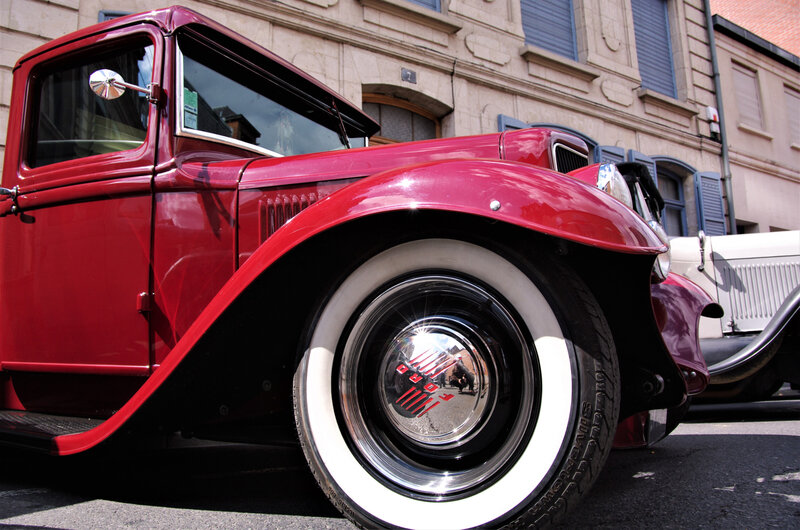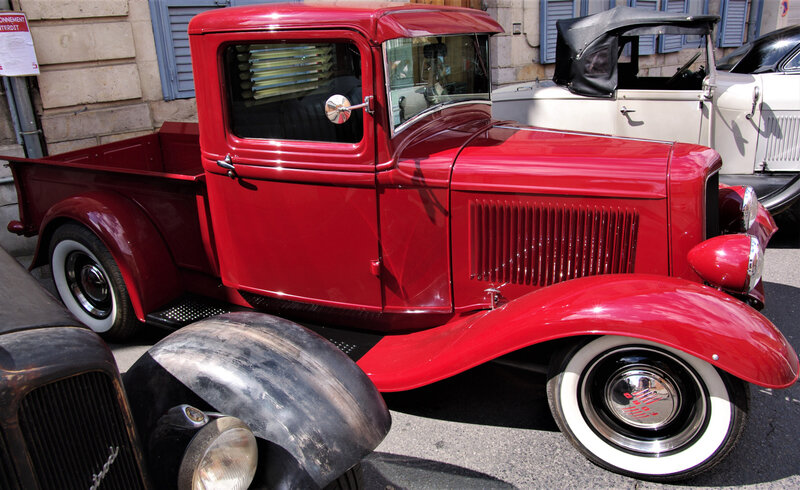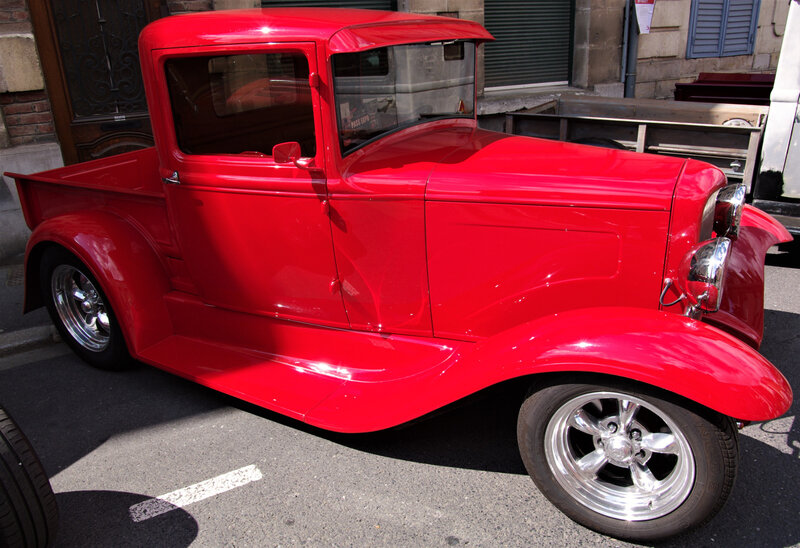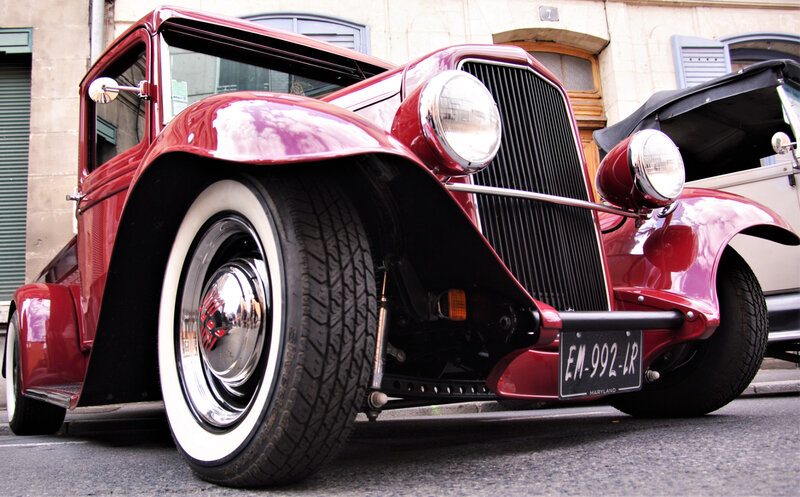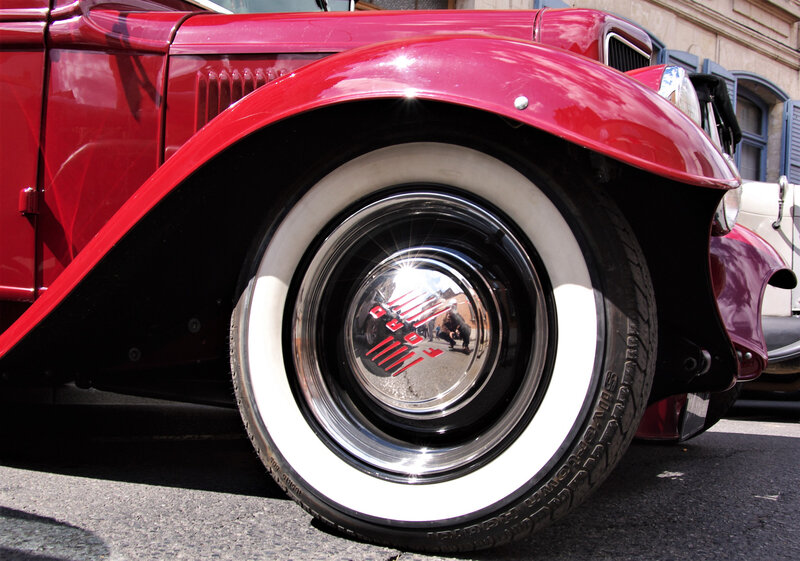 19 août 2018
.. ou juste pour le weekend? Une bonne vieille Electra Glide équipée d'un Shovelhead 74 c.i. ou 80' (1200 ou 1340 centimètres cubes, en V.F.), allégée et dépouillée de ses accessoires d'origines, peinture noire semi-mate toute simple et quelques sacoches souples judicieusement réparties, et hop, voilà une belle Harley vintage à forte personnalité pour déambuler avec classe dans la capitale slovène. Love it.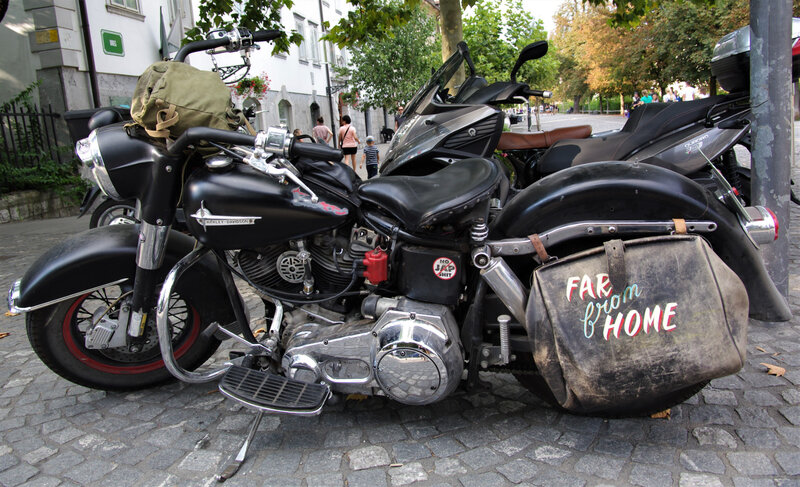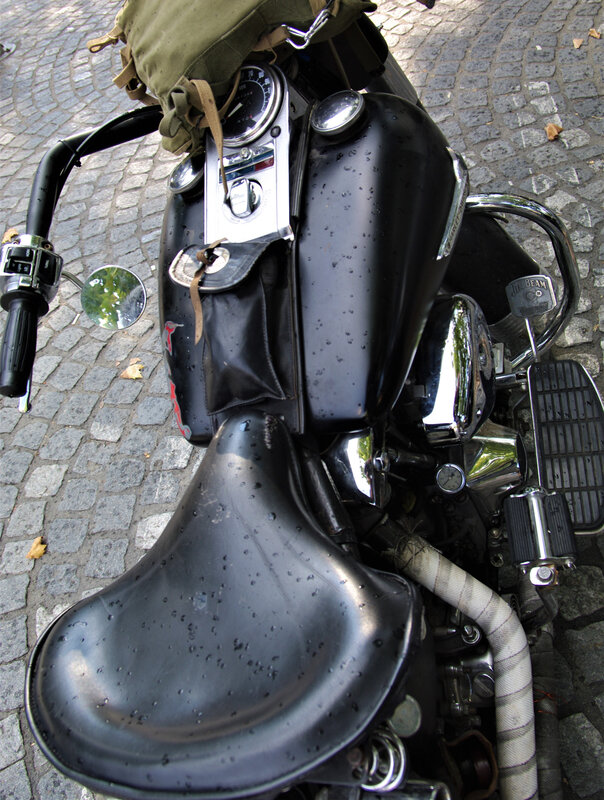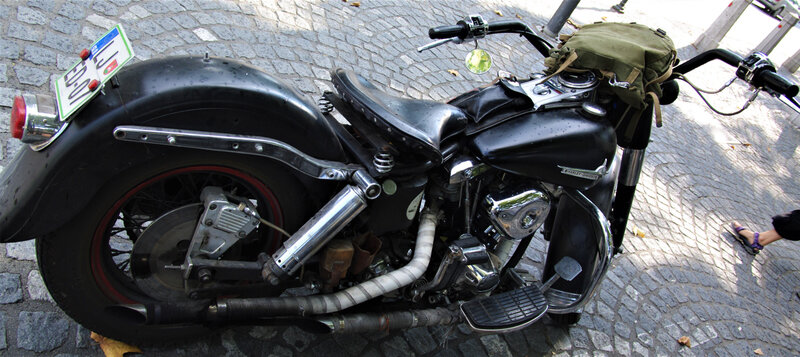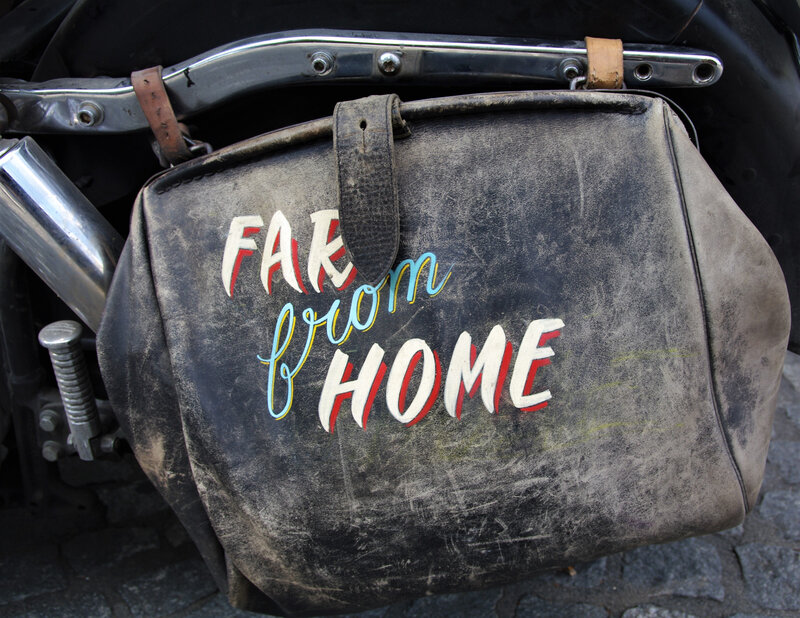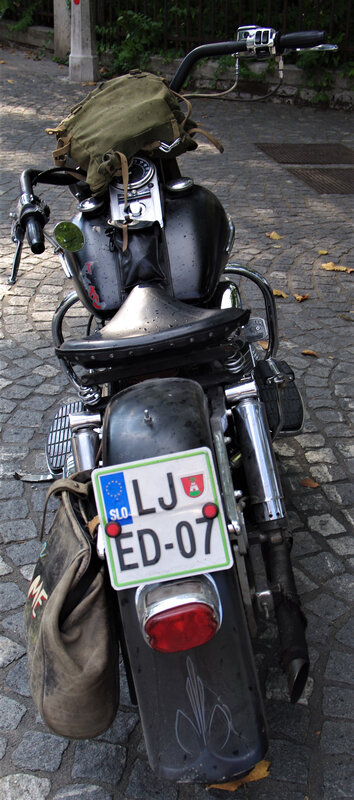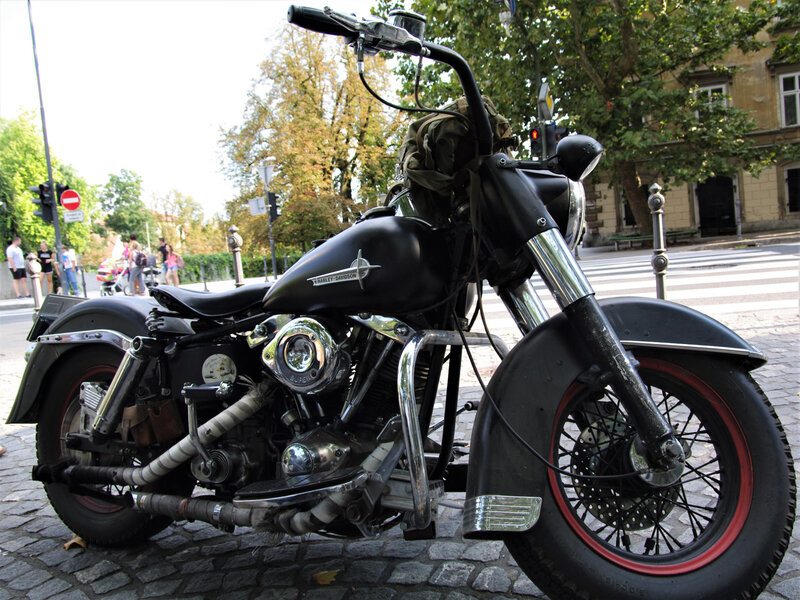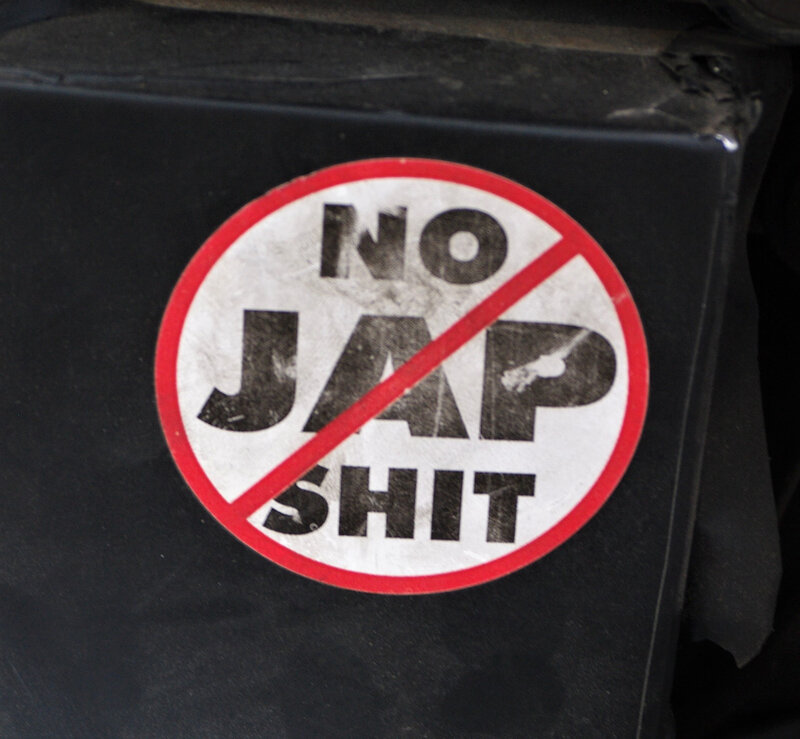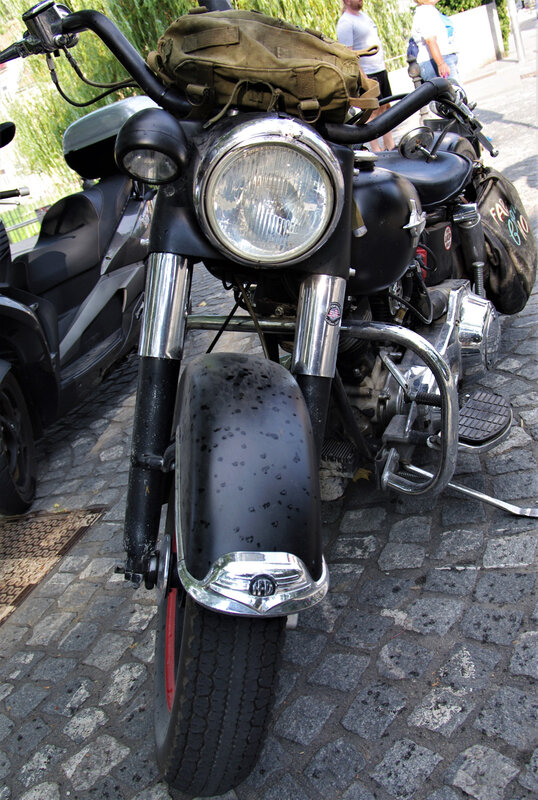 17 juillet 2018
1985 fut une GRANDE année pour le rock'n'roll !!! Un exemple (de plus..)? State Of Our Nation, deuxième album de The Long Ryders et l'un des classiques oubliés de la décennie. Allez hop, on retourne à la recherche des fameux explorateurs cartographes avec Sid Griffin et son gang, et on enjoy the ride..
The Long Ryders - Looking for Lewis and Clark
06 juin 2018
Alors les Scientists, hier soir, à Eeklo? L'un dans l'autre un bon concert, et le plaisir d'entendre en live les morceaux les plus mémorables de la période la plus féconde, et désormais mythique, du combo, sans oublier l'opportunité de croiser les trois piliers historiques de la formation de l'époque à savoir les excellentissimes Boris Sujdovic, bassiste métronomique et cooler than cool, Tony Thewlis, l'homme qui transforme n'importe quelle guitare en nid de bourdons en furie, et, last but not least, la très MoTuckeresque Leanne Cowie, ex-manageuse/roadie/chauffeuse et batteuse (post-Brett Rixon) du groupe dans les mid-eighties. Et le Kim Salmon? Le centre de toutes les attentions, bien sûr, look impec' de beat poet sulfureux et frénétiquement romantique à peine déglingué par le passage du temps, mais voix souvent un peu défaillante et performance un poil moins carrée que ses collègues, d'où quelques baisses de régime qui m'ont empêché d'atteindre le Valhalla, comme je l'espérais.
Bon, faut dire que j'étais crevé-de-chez-lessivé, mardi soir, aussi, mais par contre le souvenir de l'impact des titres joués par le quartet m'a depuis donné envie de me replonger durablement dans la disco du combo. J'ai retrouvé à Eeklo ce qui m'avait tétanisé il y a plus de trente ans, à l'écoute (au casque!) de leur cover de Creedence et de leur maxi-45-trs Demolition Derby, cette boucle de fuzz furibarde, de rythmique tribale, de lyrics désespérés et menaçants, et d'éructations enragées et hallucinées qui définissent depuis mes jeunes années une bonne partie de mon Australie fantasmée, au même titre que les productions des Beasts Of Bourbon, ou les premiers films de Peter Weir ou de George Miller. You only live twice pour débuter le gig, et les perles acides se sont enchainées, presque non-stop - à part un détour "titres récents" via l'anecdotique Mini Mini Mini emprunté à Dutronc et l'original Perpetual Motion, plutôt pas mal - puis Solid Gold Hell, Nitro ("This heart doesn't run on blood, this heart doesn't run on love, this heart beats on pure Nitro"..) Murderess in a purple dress, Blood Red River, Happy Hour, Atom Bomb Baby et bien sûr Swampland et We Had Love en bouquet final, fuck yeah c'était bon quand même!
Quelques unes de mes shitty pics prisent à la volée, en attendant de bien meilleurs clichés sur le FB du N9 Muziekclub.
Bonus Track : les superbes photos du gig sur l'album FB du N9 en cliquant sur la photo ci-dessous!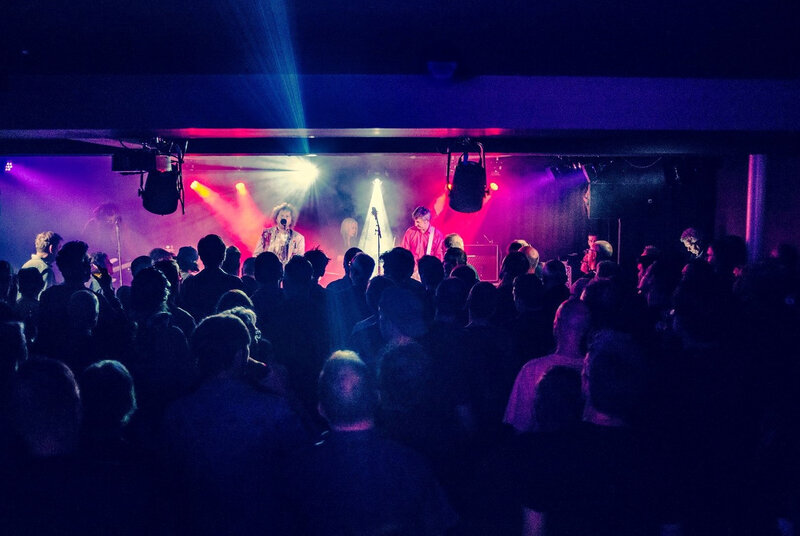 28 mai 2018
Né en 1974, Angel City (The Angels, pour le marché local) a été l'un des groupes de pub rock / rock 'n'roll les plus influents des 70's en Australie, naviguant entre hard rock et proto-punk et se taillant une solide réputation scénique, notamment grâce au jeu de scène débridé de son frontman, Bernard Patrick "Doc" Neeson. Marseilles est l'un de leurs hits, issu de Face to Face, leur second album paru en 1978 down under et en '80 en version export. Et voilà comment la cité phocéenne est devenu un détour obligé pour plusieurs générations de backpackers australiens..
17 mars 2018
Un petit déjeuner Tex-Mex pour se réchauffer ce matin avec Doug Sahm et son Sir Douglas Quintet. C'mon et enjoy ce très primesautier It was fin while it lasted, extrait de Border Wave (1981), treizième album du gang de San Antonio, Texas. Et en bonus, une vidéo datée de 1969 avec l'un de ses classiques, Mendicino, juste après une interview avec Hugh "Playboy" Hefner, en présence, entre autres, de l'acteur britannique Michael Caine (en haut à gauche, au début).. J'adore le look de Doug Sahm!
Sir Douglas Quintet - it was fun while it lasted
Sir Douglas Quintet - Mendocino
03 mars 2018
Un truc Stoogien, sauvage et suèdois pour démarrer le weekend, issu de In the air tonight, premier album 100% Fun(house) revisited de The Union Carbide Productions, paru en 1987. Enjoy.
Union Carbide Productions - Cartoon Animal