22 mai 2019
S'il y bien un groupe qui a porté la torche garage punk sans esbroufe mais avec une détermination sans faille et une indéboulonnable foi en la puissance supérieure du rock'n'roll, du milieu des 80's jusque bien après le début du nouveau millénaire, c'est Dead Moon. Le trio ultra-DIY, ultra-back-to-basics, ultra-lean & mean formé par Fred Cole, vétéran de la scène rock'n'roll de Portland, Oregon, avec sa femme Toody et le batteur Andrew Loomis s'est taillé au fil des années et des tournées une réputation inattaquable et amplement justifiée, à coups de concerts démentiels d'intensité, mais aussi grâce à la simplicité, l'humilité et la gentillesse non-feinte de chaque membre du groupe. Si vous avez un jour eu la chance d'assister à un concert de ce combo complètement inconnu des masses mais littéralement vénéré par ceux et celles qui ont été «touchés», vous ne pouvez pas ne pas vous remémorer l'indicible frisson qui vous avez parcouru et l'exaltation que vous aviez ressentie.. Une expérience quasi-mystique.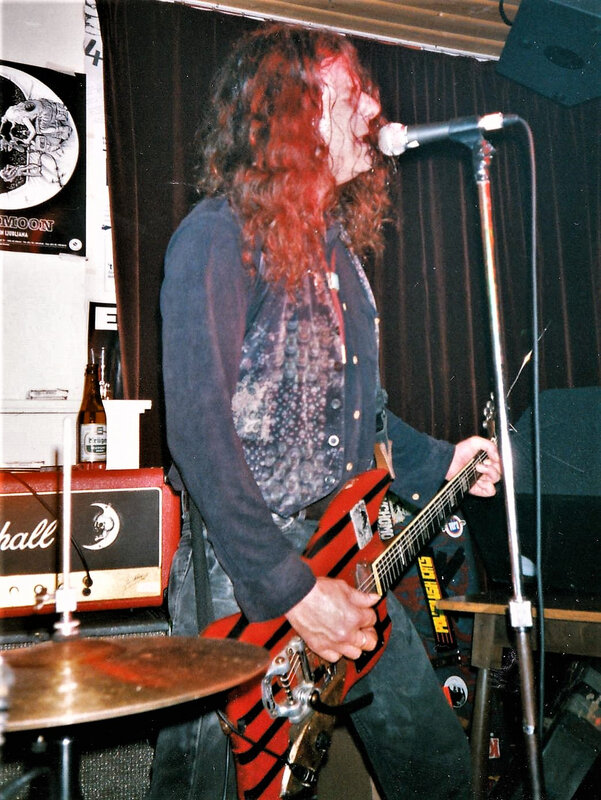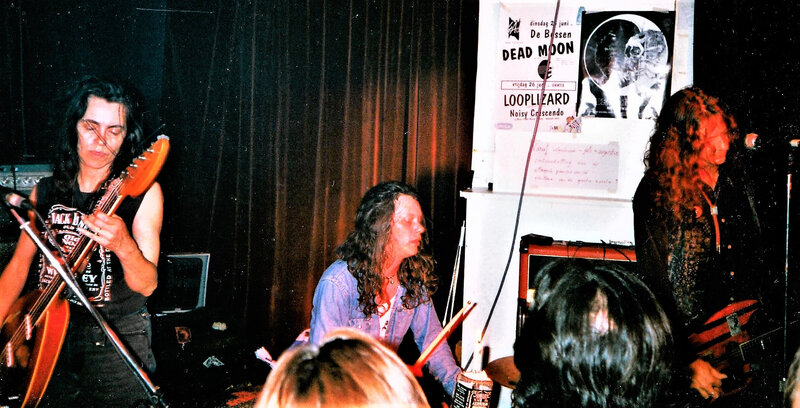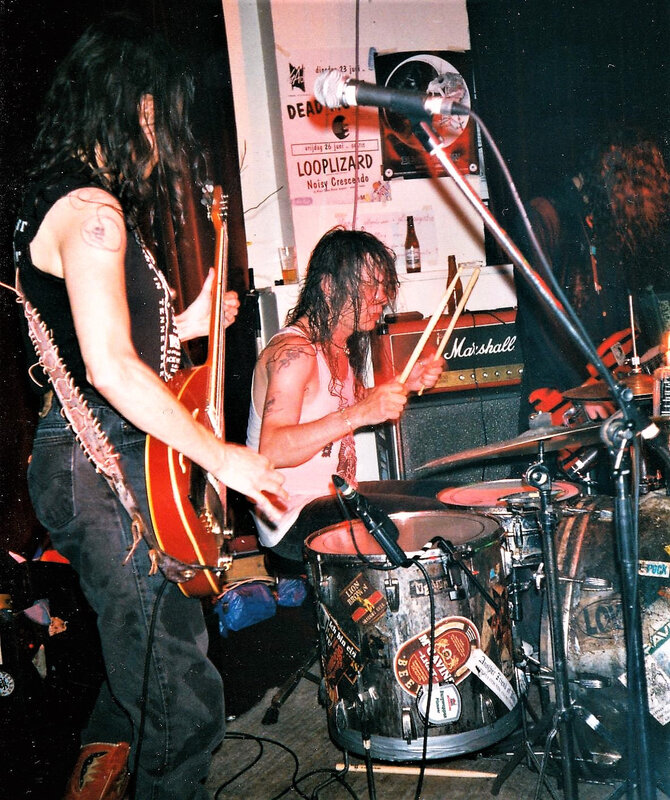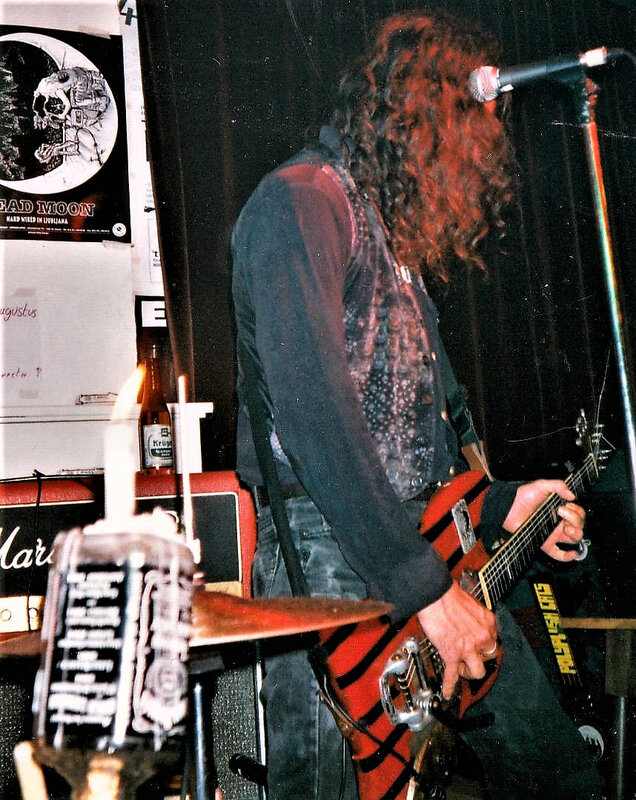 Dead Moon en concert à Diksmuide, au 4AD première version (le café en face de la gare) en juin 1998 ou 99. Photos d'époque scannées.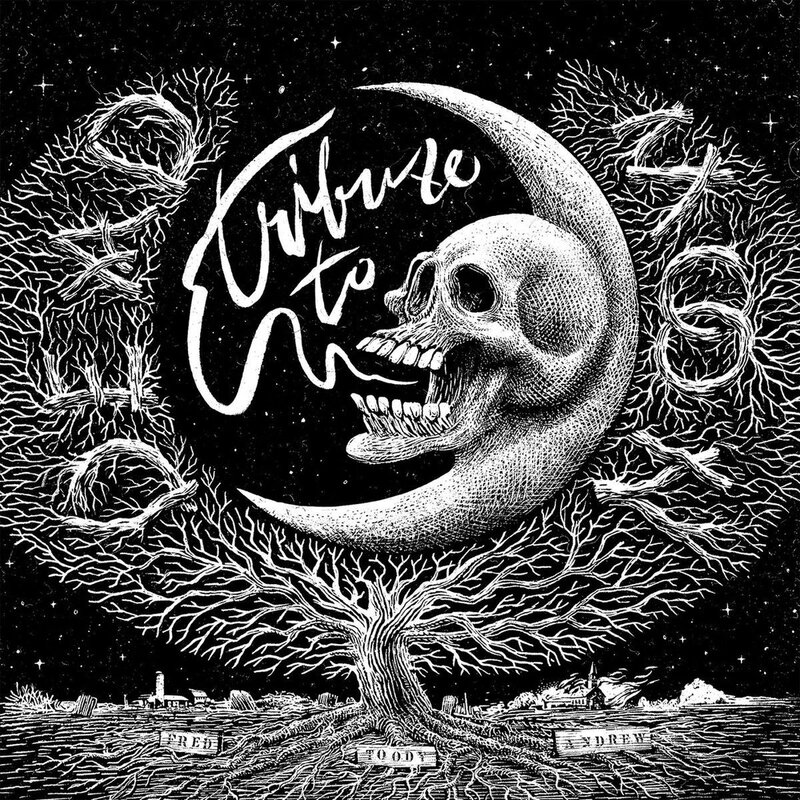 C'est donc avec énormément de plaisir qu'on découvre ce tribute fraîchement paru, à l'initiative de deux labels espagnols (Chaputa! et Ghost Highway Rds) qui ont joint leurs efforts pour concrétiser ce très bel objet (un double-25cm tirage limité) en hommage à Dead Moon, en compilant des reprises signées par des noms connus (The Monomen, The Hellacopters, Sator, The Nomads, The Sewergrooves – grosse représentation scandinave) et d'autres moins (Kicked out Kicked In par les Boatsmen et un hit dans ma cuisine à l'heure de vider le lave-vaisselle) mais tout aussi méritoires. L'occasion de (re)découvrir les pépites cachées derrières les enregistrements radicalement crus et sans concessions des vinyles du groupe, des titres de pur garage punk aux racines fermement plantées dans les mid-sixties mais avec ce je-ne-sais-quoi de plus qui les rend intemporels, juste le meilleur du rock'n'roll quoi, avec également ce côté sombre et crépusculaire qui transparaît dans les lyrics et qui fait intégralement parti de l'identité du combo.
A se mettre en boucle un soir de pleine lune ou une veille d'apocalypse..
Dead Moon - Dead Moon Night
DEAD MOON - 54/40 Or Fight
23 mars 2019
RIP Zephire André Williams, Black Godfather & Sugahdaddee de toute la scène blues punk de ces vingt dernières années ET progéniteur, depuis les fifties et les sex-teaz, du R&B salace et libidineux le plus jouissif, ET co-auteur du killer hit Shake A Tail Feather propulsé au sommet par Ike & Tina Turner! On est pas prêt d'oublier tes costards flamboyants et ta bonhommie chaleureuse, man!
Andre Williams - Agile Mobile and Hostile
Andre Williams - Jail Bait
Andre Williams - Lookin' Down At You, Lookin' Up At Me
Andre Williams - Sweet Little Pussycat
18 mars 2019
Dick Dale, en 1993, avec Nitro, la piste qui ouvre son album solo Tribal Thunder. Enjoy.
16 mars 2019
j'ai découvert ce Pretty Please via la killer cover de Redd Kross sur leur album de 1996, Show World. Le gang des frangins McDonald l'avait repris des Dickies (autre grand groupe oublié - on en reparle bientôt). The Dickies avaient légèrement modifié le titre et en avait pondu une version speedo-ramonesque tout à fait réjouissante en '83, sur leur Stukas Over Disneyland le bien-nommé. l'original signé The Quick (Los Angeles, 1974-1978, un album est une poignée de singles et EP's) datant quant à lui de 1978, est depuis devenu une classique power-pop incontournable - surtout le samedi matin pour démarrer le weekend. Enjoy.
The Quick - Pretty Please
The Dickies - Pretty Please Me
Redd Kross - Pretty Please Me
02 octobre 2018
Yeah gimme some more of that garage punk sound, man! Accent sur le punk, please, fuck la subtilité je veux du rentre-dedans sans fioriture, faut faire gicler la purée.. The Sons of Hercules, San Antonio, Texas, deuxième album Hits for the Misses, 1996. Enjoy.
The Sons Of Hercules - Gimme Some
25 juin 2018
Ouais, trois titres, carrément, parce que ça faisait des années que je n'avais pas écouté la scream queen Kim Shattuck et song gang, et que mine de rien ça fait beaucoup de bien aux poils pubiens de se replonger dans la discographie des Foufounes. Si la power pop est la version sucrée poivrée du punkrock, alors les Muffs produisaient les meilleures sucettes à l'anis aux orties des 90's! Mention spéciale pour la cover du Paul Collins' Beat, aussi kewl que l'original!
The Muffs - Sad Tomorrow
The Muffs - Rock N Roll Girl (The Beat)
The Muffs - I Don't Like You
17 février 2018
Et ça marche aussi très bien demain dimanche au saut du lit.. le titre ultra-addictif de Jonathan R. , posté mardi dernier, dans la version cartoon-ramonesque des Groovie Ghoulies, quand Kepi, Roach et le reste du groupe s'amusaient depuis Sacramento à revivifier modestement mais avec un amour sincère les codes des films de série Z via les canons power pop et punkrock de leurs illustres prédécesseurs new-yorkais. Enjoy.
Groovie Ghoulies - Dancing Late At Night (Modern Lovers)
02 novembre 2015
De l'art et de la manière de destroyer un plateau télé en live et de semer la panique dans l'équipe technique et le public. JSBX au temps de sa grandeur. Enjoy.
Jon Spencer Blues Explosion - 2 Kindsa Love (Recovery)
Thanks to Big Block Steph for the link!