17 juin 2019
Un petit aperçu de se qui attend les festivaliers du Sjock et de Binic en juillet, avec les quatre beaux gosses de Grindhouse en pleine action! From Melbourne, Australia, with a love of beer and Mutha Fuckin Punk Rock Power. Love'em!
Grindhouse - Death Of The Australian Car Industry
Grindhouse - Peter Brock Built My Hotrod
04 février 2019
Extrait de Gon' Boogaloo, son album paru en 2014, The Zombie est aussi un beau travail d'animation, dans cette vidéo promo. Le bluesman australien à la voix rocailleuse et au noeud papillon, autodidacte du banjo, de la guitare et du dobro, sera en tête d'affiche du Roots & Roses Festival le premier mai prochain. En bonus, le fameux The Love Me Or Die qui l'avait révélé il y a déjà quelques années.
C.W Stoneking - The Zombie
C.W. Stoneking -The Love Me Or Die
07 janvier 2019
Un petit moment de grâce today.. Un titre fabuleux, Everybody Moves, reprise d'un groupe scandaleusement méconnu, Died Pretty, par Courtney Barnett, la jeune garde oz rock qui continue de monter, associée à The Man himself, Le Dave Faulkner et sa voix intacte après toutes ces années au service du rock'nroll. Un duo pour l'émission de télé australienne RockWiz datant de 2013, qui n'est jamais très loin dans mes playlists. Enjoy.
Courtney Barnett & Dave Faulkner - Everybody moves - RocKwiz duet
11 décembre 2018
D'une addiction à l'autre, après l'Orgasm Addict des Buzzcocks hier, le Television Addict des Victims aujourd'hui, un single fondateur de la scène punk australienne par le premier groupe de Dave Faulkner et James Baker, futurs membres fondateurs des mighty Hoodoo Gurus. Texte cinglant et punkrock'n'roll de haute volée, et le talent de songwriter de Dave Faulkner déjà évident. Enjoy.
The Victims - Television Addict
17 novembre 2018
Un dernier détour cette semaine par la discographie du grand Ed Kuepper, en solo cette fois-ci avec une extrait de son EP 4-titres de 1992. Encore un exemple frappant du talent protéiforme du bonhomme. Enjoy.
Ed Kuepper - The Way I Made You Feel
13 novembre 2018
Ben ouais, après le post d'hier, quoi de mieux que de se remettre en boucles et entre les deux esgourdes ce fantasmabuleux killer track qui ouvrent la face A du classique Eternally Yours, second album de la comète Saints, qui enflamma brièvement Brisbane puis le Royaume-Uni, dès 1976, inspirant les punks locaux et écrivant l'une des plus belles pages du rock'n'roll australien, et du rock tout court, des 70's jusqu'à aujourd'hui.. Know Your Product, punkrock rhythm'n'blues turbochargé propulsé par la guitare tronçonneuse d'Ed Kuepper, les vocaux cinglants de Chris Bailey, et ces cuivres hi-energy, sans oublier des lyrics percutants qui dézinguent en 3'14" le monde de la pub et le consumérisme ambiant avec une verve communicative. Toujours aussi indispensable, quarante ans après!
The Saints - Know your product
12 novembre 2018
Le genre de comeback qui fait plaisir! Ed Kuepper, vétéran de la scène punk & rock'n'roll australienne, remet une nouvelle fois les couverts avec un album flambant-neuf, The Church of Simultaneous Existence, et une réincarnation de son groupe post-Saints, The Aints, avec le point d'exclamation en plus histoire d'enfoncer le clou. Super lp de pur Aussie rock'n'roll, tranchant, inspiré et intemporel, qui s'ouvre sur ce Red Aces, clin d'oeil et passerelle temporelle vers 1978 et le génial Know your Product qui ouvrait le deuxième album des Saints. Enjoy.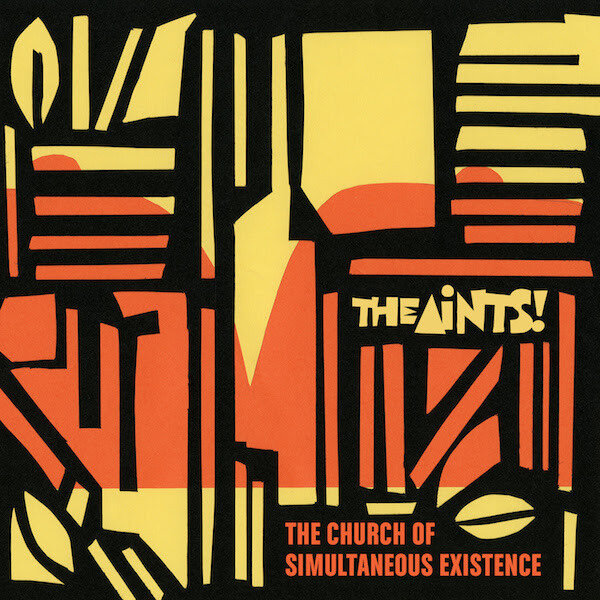 17 octobre 2018
En 1986, le premier album des Johnnys, Highlights of a Dangerous Life, paru en France sur Closer Rds, tournait au moins autant sur ma platine - et revenait en playlist dans l'émission - que, au hasard, les premiers lps des Hoodoo Gurus. J'avais craqué sur l'univers fun et country punk parodique du combo monté par l'ex-Hoodoo Rodney "Roddy" Radalj à Sydney en '82, et ce Injun Joe (tout comme Rebel Yell, sa super face-B inédite disponible sur le single paru quelques mois auparavant) tient encore parfaitement la route 35 ans plus tard. Enjoy the ride.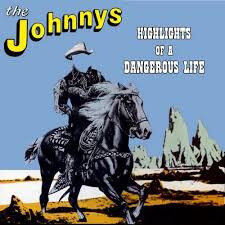 Une pensée au passage pour Spencer P. Jones, le chanteur guitariste du groupe et pilier émérite de toute la scène rock'n'roll australienne (The Beasts of Bourbon,..) des 80's et des 90's (plus une floppée d'albums solos jusqu'à récemment), disparu à l'âge de 61 ans il y a quelques semaines, RIP, Lone Rider.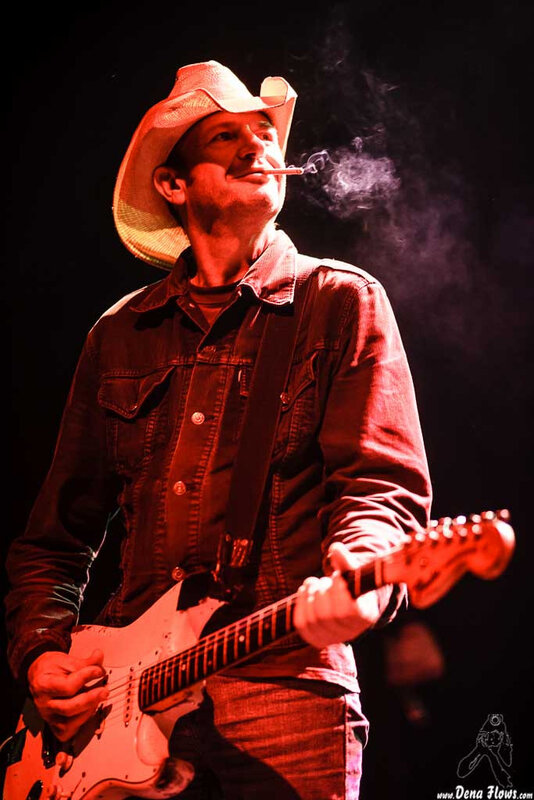 15 octobre 2018
La Classe.
What Gives, Non-stop Girls, Do The Pop, Descent Into The Maelstrom, Man With the Golden Helmet.. le frisson. Le Not To Touch The Earth des Doors. More Fun et les influences surf qui remontent à la surface. le final incandescent avec les incontournables.. New Race, Aloha Steve and Danno, le TV Eyes des Stooges.
Messieurs.. Bravo.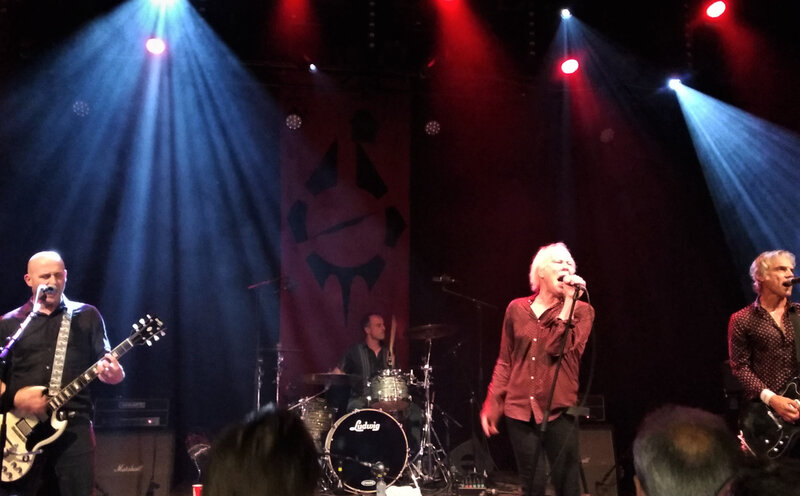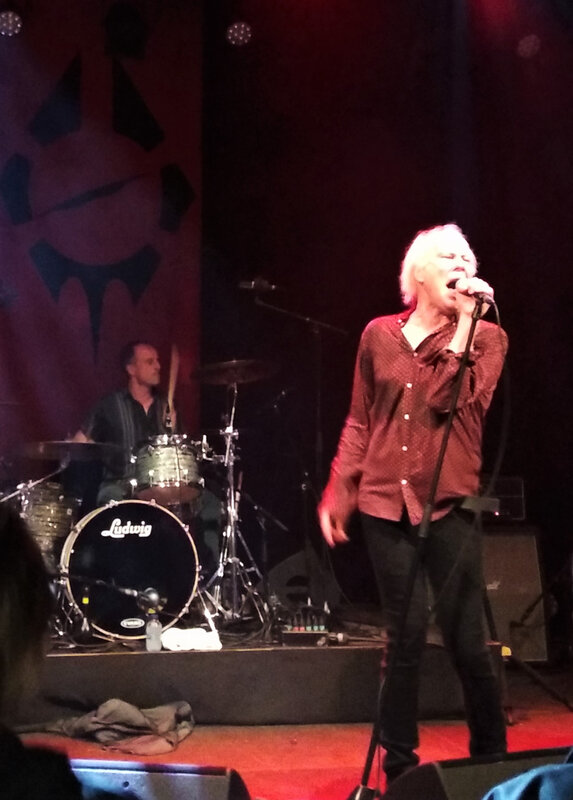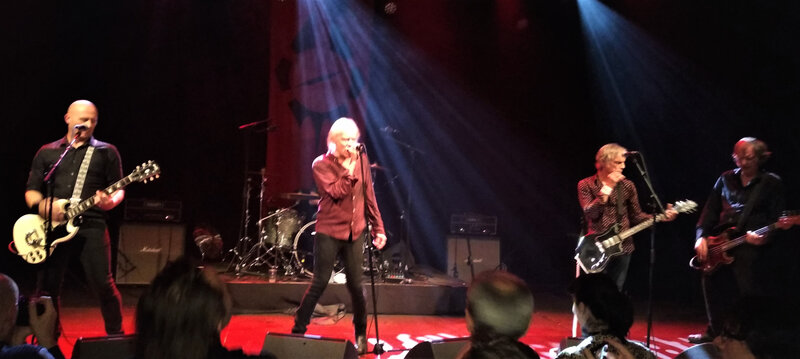 Pas d'APN sur moi hier soir, merci à ma Chérie pour les photos au smartphone!
10 septembre 2018
Envie d'Acca Dacca aujourd'hui! Allez, mon morceau favori du gang de Sydney, première période, un an après la formation du groupe et quelques mois après l'arrivée de Bon, shooté en live pour la télé en 76 à Londres au tout début de leur envolée internatonale. Jaiiiiiiiiiiiiiiiiiiiiiiiibreak!