18 mai 2015
L'un des grands groupes de la vague australienne du rock underground des 80's est sans aucun doute The Beasts of Bourbon, que pas mal de rock'n'roll addicts français de l'époque avaient découvert via leur premier album, The Axeman's Jazz, sorti en France en 1984 par le mythique label Havrais Closer Records. Psycho, la cultissime hillbilly murder ballad de Leon Payne (le country singer créateur du Lost Highway popularisé par Hank Williams) date de 1968, et cette version est devenue la promo-vidéo officielle de l'album des Beasts, un petit bijou minimaliste d'humour noir et de bizarrerie morbido-grotesque. Rien que la tronche de psychopathe de Tex Perkins, le chanteur, déjà.. on croirait voir le rejeton dégénéré d'Anthony Hopkins dans Psychose, non?
Beasts Of Bourbon - Psycho (1988)
29 novembre 1998
... Photos d'époque scannées avec une souris-scanner, sorry pour la qualité!
Surprise à l'abri du soleil, au milieu des dromadaires, dans une camel farm en plein désert entre Coober Pedy et Alice Springs, une imposante Packard Super-8 sedan qui avait l'air de rouler tous les jours sans encombre... La grosse berline était dans un état incroyable, avec juste une patine d'usage quotidien qui ne trahissait pas ses plus de 50 ans!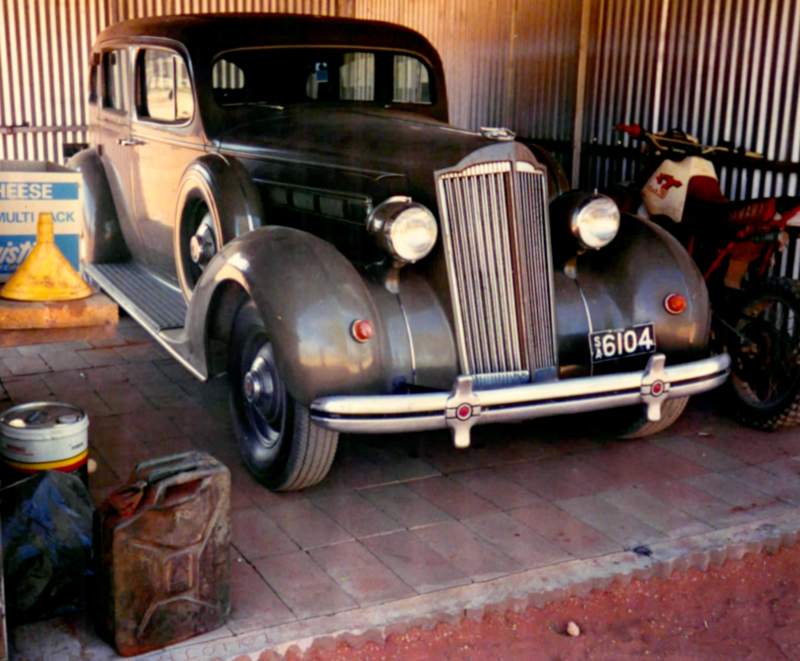 ... et un rarissime coupé Borgward Isabella de 57-59 dans une rue de Melbourne. Borgward était une marque allemande fabriquant des automobiles et des camions de 1933 à 1961, et cette Isabella est aussi sexy qu'une Karmann Ghia des mêmes années!