11 novembre 2019
Cracker, combo monté par l'ex-Camper Van Beethoven (remember Take The Skinheads Bowling?) David Lowery, a sorti plus d'une quinzaine d'albums depuis 1992, malheureusement pas toujours aussi inspirés que ses premiers efforts, mais même sur les productions moyennement excitantes et plus récentes du groupe (ici, Sunrise In The Land Of Milk & Honey, 2009), ont peut toujours extirper une perle qui vous fait la journée ou la semaine, comme ce très addictif Turn On Tune In Drop Out With Me. Enjoy.
Cracker - Turn On Tune In Drop Out With Me
04 novembre 2019
C'est le début de la semaine, c'est pour certain(e)s la rentrée, c'est just another Manic Monday! The Bangles en 1985 à l'époque de leur second album, Different Light, celui qui les fit décoller dans les charts avec le hit Walk Like An Egyptian. Pure pop en version Paisley Underground, le genre de trucs qui (tout comme leur excellent premier album, All Over The Place, paru l'année précedente) n'en finit plus de se bonifier en vieillissant. Enjoy.
21 octobre 2019
Pas plus de trois minutes de pure rage, un condensé jubilatoIre de frustration et d'énergie, tension / compression / explosion, on est en 1977 au CBGB's, 315 Bowery, Manhattan, The Dead Boys viennent de migrer de Cleveland, Ohio, à NYC, et définissent quasiment à eux seuls les canons du punkrock. Sonic Reducer, ain't no loser..
Dead Boys - Sonic Reducer
14 octobre 2019
Mon amour du rock'n'roll australien a commencé il y a plus de quarante ans, avec la découverte, alors que je n'étais encore qu'un pré-ado boutonneux et antisocial (tupertonsanfroid!), du maelström Radio Birdman, via quelques cassettes pirates bien pourries vendues à la sauvette dans la cours de récré. Puis quelques années plus tard ce fut le choc Citadel Records, avec ces fabuleux 45trs de toute une floppée de groupes inconnus par chez nous qui semblaient partager une même passion intacte pour la chose, au delà de chapelles et des effets de modes, et surtout bien loin de la new wave européenne qui me sortait par les trous de nez.. Parmi tous ces groupes tous aussi intriguants les uns que les autres, The Screaming Tribesmen fut l'un des plus marquants, grâce notamment à un titre absolument fabuleux, Igloo, devenu depuis un hymne et une référence absolue du oz rock des 80's.
C'est donc avec beaucoup de plaisir qu'on découvre ce nouvel album de Mick Medew, l'homme à l'origine des 'Tribesmen, toujours actif (même si si c'est à un rythme très laidback) et toujours convaincu que le rock'n'roll est un état tout ce qu'il y a de plus naturel et une pratique digne d'être partagée avec le plus grand nombre. Son dernier combo en date s'appelle The Mesmerisers, l'album, très pop (tendance power), s'intitule Open Season, et il mérite le détour!
Mick Medew and The Mesmerisers - Open Season
07 octobre 2019
Un p'tit shot de Country Bluegrass straight outta Kentucky avec un extrait du troisième et dernier album en date de Tyler Childers, Country Squire, produit comme le précédent, Purgatory, par Sturgill Simpson - Deux types qui secouent pas mal le petit monde de l'Americana en ce moment. Luv this House Fire..
Tyler Childers - House Fire
05 octobre 2019
Honnêtement, je ne connaissais pas The Cocktail Slippers avant cet été, mais leur Give It To Me m'a durablement imprégné les neurones à force de l'entendre sur la satellite radio de la bagnole de location via le Little Steven's Underground Garage.. Rien de révolutionnaire, juste une bonne piste de garage rock'n'roll avec un riff ultra-accrocheur et un p'tit goût de revenez-y bien addictif.. Est-ce que ça justifie d'aller investiguer la discographie de ce all-girl combo norvégien originaire d'Oslo? Ben oui, et on y découvre quelques belles perles pop dignes, au hasard, du premier lp des Bangles, pour ne citer qu'elles, comme ce Show 'Em Good, extrait de leur dernier album en date, People Talk. Enjoy.
Cocktail Slippers - Show`em Good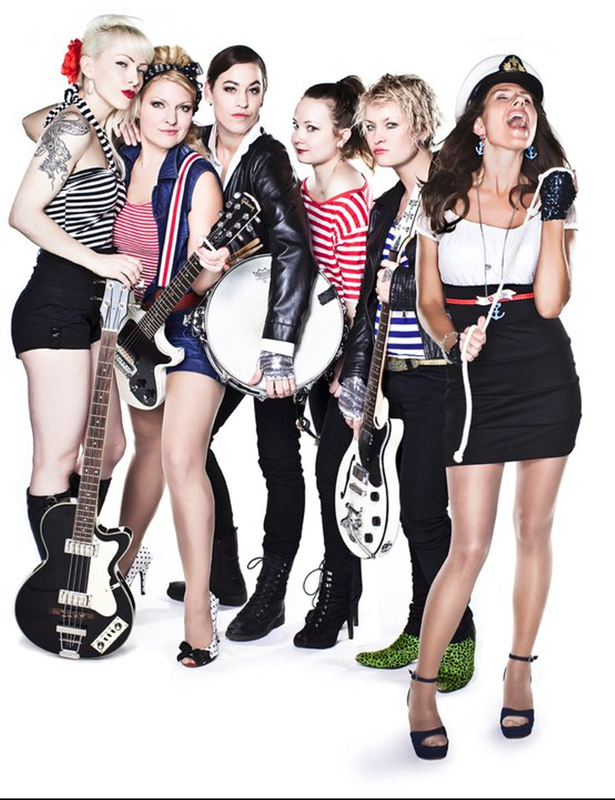 30 septembre 2019
Après ses débuts avec The Alabama Shakes et l'épisode Thunderbitch, Brittany Howard se lance en solo avec ce premier album, Jaime, paru il y a quelques jours. On se doutait bien qu'elle s'en tirerait avec les honneurs, et effectivement ce premier effort funk & soul dédié à la mémoire de sa soeur disparue mérite le détour. J'aime!
Brittany Howard - Stay High
24 septembre 2019
Un autre exemple flagrant de la persistance, d'une décennie à l'autre, de la "malédiction australienne":. Si The Volcanics étaient britons ou même américains, il y a fort à parier que ça ferait déjà un moment qu'on aurait entendu parler d'eux, au vu de la qualité de leurs productions enregistrées - sept singles et presque autant d'albums depuis 2004. Oui mais voilà, ce quintet est australien, originaire de Perth (la capitale de l'Australie Occidentale, au fin fond du sud ouest du continent - Perth trimbale la réputation d'être la "métropole la plus isolée au monde" dans un pays de 23 millions d'habitants et qui fait quatorze fois la France..) - et de fait, leur réputation a du mal à dépasser les frontières aussies, même s'ils s'apprètent à entamer un Euro Tour dans les jours qui viennent! Dommage, car leur rock'n'roll dignement hérité de leurs ainés et figures tutélaires oz rock nous ferait beaucoup de bien en live par les temps qui courent!
Deux titres extraits de deux albums différents pour s'en convaincre,Talk from leur tout nouveau long-jeu Black Door paru sur Ghost Highway Recordings cet été, et What I Found - leur Know Your Product à eux! - tiré de Transmission, paru en 2015 sur Citadel.
The Volcanics - Talk
The Volcanics - What I Found
23 septembre 2019
Classique et incontournable Aussie Rock'n'Roll.. The Cruel Sea en 1991, leur deuxième album This Is Not The Way Home et le titre éponyme.. Et la voix de Tex Perkins. Enjoy.
The Cruel Sea - This Is Not The Way Home
16 septembre 2019
Au début des eighties, on appellait ça du Country Punk, autrement-dit le mix à priori improbable entre la country music de la cambrousse et des trous paumés et le rock'n'roll urbain des grande métropoles. Ouais, mais de quelle country parlait-on? De la mainstream country réac, polissée et ultra-commerciale produite à la chaîne depuis Nashville? Of course not, il s'agissait plutôt de celle, rebelle et outlaw, héritée des icônes du genre, de Hank à Johnny en passant par Willie, et de leurs successeurs. Un univers musical différent de celui des Ramones, de X ou des groupes British - qui venaient juste de réinjecter de l'urgence et de la fureur dans le rock'nroll des origines - mais au fond une même rage incandescente et des frustrations à ventiler par n'importe quel moyen! Logique donc, pour le gamin qui s'emmerdait dur dans sa banlieue ou sa ferme, de tomber dans le punk, puis tout aussi logiquement de se rendre compte qu'une partie de la discothèque parentale, méprisée jusque là, renfermait elle aussi quelques perles sauvages, anti-establishment et insurgentes.. Le Cow Punk était né.
Jason & The (Nashville) Scorchers fit parti des pionniers du genre, avec à leur actif de vraies country roots et un chanteur exceptionnel, Jason Ringenberg. Cette cover survitaminée de Bob Dylan cartonna en '83, à la sortie de leur premier mini-lp 6-titres, Fervor, le bien-nommé.. Et même si la vidéo peut faire doucement rigoler aujourd'hui, ce premier vinyle est depuis devenu un classique!
Jason and the Scorchers - Absolutely Sweet Marie