16 septembre 2019
Au début des eighties, on appellait ça du Country Punk, autrement-dit le mix à priori improbable entre la country music de la cambrousse et des trous paumés et le rock'n'roll urbain des grande métropoles. Ouais, mais de quelle country parlait-on? De la mainstream country réac, polissée et ultra-commerciale produite à la chaîne depuis Nashville? Of course not, il s'agissait plutôt de celle, rebelle et outlaw, héritée des icônes du genre, de Hank à Johnny en passant par Willie, et de leurs successeurs. Un univers musical différent de celui des Ramones, de X ou des groupes British - qui venaient juste de réinjecter de l'urgence et de la fureur dans le rock'nroll des origines - mais au fond une même rage incandescente et des frustrations à ventiler par n'importe quel moyen! Logique donc, pour le gamin qui s'emmerdait dur dans sa banlieue ou sa ferme, de tomber dans le punk, puis tout aussi logiquement de se rendre compte qu'une partie de la discothèque parentale, méprisée jusque là, renfermait elle aussi quelques perles sauvages, anti-establishment et insurgentes.. Le Cow Punk était né.
Jason & The (Nashville) Scorchers fit parti des pionniers du genre, avec à leur actif de vraies country roots et un chanteur exceptionnel, Jason Ringenberg. Cette cover survitaminée de Bob Dylan cartonna en '83, à la sortie de leur premier mini-lp 6-titres, Fervor, le bien-nommé.. Et même si la vidéo peut faire doucement rigoler aujourd'hui, ce premier vinyle est depuis devenu un classique!
Jason and the Scorchers - Absolutely Sweet Marie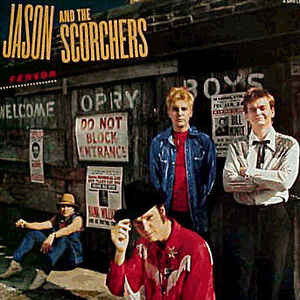 26 août 2019
Avril 1964. Le Dave Clark Five cartonne avec ce single aux States, après avoir été n°1 devant les Beatles au Royaume Uni. Aujourd'hui qui se souvient d'eux, à part les fans de la British Invasion? Pas grand monde, et c'est bien dommage.. Enjoy quand même.
Dave Clark Five - Glad All Over
01 juillet 2019
Hey! Hey! Hey! Uh-uwh-uwh! That's What I Like About You! Ce que je dis à ma chère et tendre tous les matins, yeah! Thanks to The Romantics, pugnace power pop trio natif de Detroit, Michigan, qui y débuta en 1977, influencé par la riche scène locale, bien sûr, mais fermement décidé à creuser un sillon nettement plus pop que ce qu'on associe en priorité à l'héritage de Detroit, à savoir la tellurique paire gagnante Stooges / MC5 et son rock brutal total. Malgré tout, les Romantics se distinguèrent par une approche high-energy de la pop sucrée que les médias U.S. allaient vite rebaptiser New Wave à la fin des 70's, et leur premier self-titled album paru en '79 contient son pesant de pépites énérvées, pop et poivrées, toujours aussi excitantes aujourd'hui. Le titre que j'ai choisi ouvre la face B du lp, et juste après le quatuor balance le She's Got Everything des Kinks, et le tout me met en joie pour ce début de semaine!
The Romantics - What I Like About You
29 juin 2019
Poor until Payday? Pas si grave tant qu'on a le bon Reverend Peyton et son Big Damn Band (Breezy à la washboard et Max au drumkit) pour preacher la bonne parole blues & country, finger-pickin' style, depuis leur fief de Brown County, Indiana..
Un extrait de leur cinquième, éponyme et néanmoins excellent dernier long-play en date, paru fin 2018. Enjoy.
Reverend Peyton's Big Damn Band - Poor Until Payday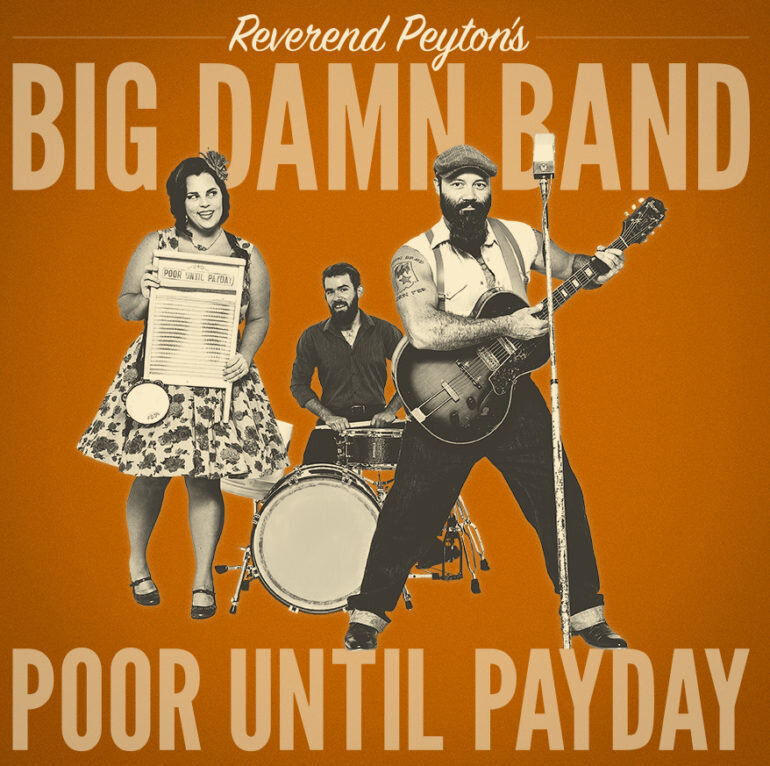 15 juin 2019
My mood exactly. One Taw Taww Faw!!
10 juin 2019
La piste qui ouvre en 1992 Sunrise On The Sufferbus, le deuxième album de The Masters Of Reality, ce très bon combo de Desert Rock de la scène de Palm Desert, dans la Coachella Valley, en Californie. Chris Goss toujours aux commandes, Ginger Baker (!) aux fûts, et ça déménage.. Enjoy.
Masters Of Reality - She Got Me (When She Got Her Dress On)
03 juin 2019
Les Lullies montent de Montpellier le dimanche 16 juin prochain pour un gig à l'Imposture, Lille, et ça c'est bien, parce que a) Les Lullies ont un look de punks à poils longs tout à fait classieux, b) Les Lullies ne prétendent pas jouer autre chose que du rock'n'roll, et c), Les Lullies ont l'extrême bon goût de reprendre le Savage des Fun Things, ce qui les place instantanément au sommet de la chaîne élémentaire mon cher Watson, comme disait ce bon vieux Billy. So, let's go down to the Night Club, en attendant le dimanche fatidique.
18 mai 2019
Ce titre folk traditionnel popularisé par Leadbelly et Woody Guthrie dans les années '40 fut bien sûr un hit en France et dans le monde anglo-saxon dans sa formidable version signée Eric Burdon & The Animals en 1964, mais je comprends ceux et celles qui lui préfèrent celle-ci, signée Frijid Pink (Ce nom!) à Detroit cinq ans plus tard. Transformée en hard-rockin' charge psyché-épique et propulsée par le chant puissant de Tom Beaudry, elle demeure l'une des meilleures covers jamais enregistrées de ce classique véritablement - pour une fois l'expression n'est pas usurpée - intemporel!
Frijid Pink faisait partie, au même titre que les Amboy Dukes, le MC5, les Stooges ou les Rationals, de toute cette galaxie de groupes qui n'arrêtaient pas de tourner régionalement et qui de fait surent se tailler une solide réputation en live - leurs concerts attiraient énormément de monde dans la région et étaient souvent sold-out - et pourtant, la renommée de ce combo hard blues psychédélique formé en 1967, n'a jamais vraiment dépassé les limites du Michigan. Leur seul titre de gloire en dehors du succès local puis national de The House Of The Rising Sun fut d'avoir offert, un jour, à un jeune groupe tout juste créé à Londres l'opportunité d'assurer leur première partie aux USA. Le groupe en question s'appelait encore, quelques semaines auparavant, The New Yardbirds, et venait de changer de patronyme. Son nouveau nom: Led Zeppelin..
Frijid Pink - House of the Rising Sun
Quant à la version des Animals, cela fait aujourd'hui 55 ans jour pour jour que les cinq de Newcastle Upon Tyne l'enregistrèrent à Londres en moins de 24 heures, en une seule prise et en plein milieu de leur tournée britannique, avant de reprendre la route. Le single est publié le 19 juin, et malgré la longueur inhabituelle du titre qui provoque une certaine réticence à la BBC, il commence à grimper dans les charts aux quatre coins de la planète. Il entre dans le top-40 le premier juillet 1964, atteint la première place le 15 au Royaume Uni, le 5 septembre aux USA, avec entre ces deux dates une percée remarquable en France le 9 août - l'un des rares titres en anglais à bousculer la variété française dominante et les versions francisées et édulcorées des hits anglo-saxons des yé-yés. Le 45-tours restera 12 semaines dans le Top-100 britannique et demeurera n°1 trois semaines d'affilée aux USA..
The Animals - House of the Rising Sun
Un p'tit bonus avec ce montage de différentes versions du standard trouvé sur YT. Enjoy.
The House of the Rising Sun trough History (1933-2016)
13 mai 2019
The Mystery Lights are back avec un nouvel album, toujours paru sur Wick Rds, le sous-label de Daptone, il y a quelques jours. Psyché-garage rock'n'roll from Brooklyn, NYC, cet état de Too Much Tension est-il le résultat "Trop Dur à Supporter", du Too Many Girls d'il y trois ans? Dunno, mais j'attends avec impatience de pouvoir jeter une oreille à ce nouveau lp. Enjoy.
The Mystery Lights - Too Much Tension
06 mai 2019
The Knack, Los Angeles, 1979, la face-B du fameux hit interplanétaire My Sharona. Un single acheté à l'époque et dont les deux faces reviennent encore régulièrement dans ma playlist. Enjoy.