18 janvier 2021
La chanson de ce weekend - et de ce lundi matin? God Damn New York!!! The Dictators, groupe légendaire toujours debout, Ross The Boss, Andy Shernoff et Scott Kempner, les trois membres fondateurs du groupe en 1972, plus Albert Bouchard (Blue Oyster Cult) aux fûts et Ed Stasium aux manettes, pour une toute nouvelle piste - le titre est sorti il y a quelques jours - et un super hommage dur-amer à leur ville-monde, ce qu'elle fut et ce qu'elle est malheureusement devenue. Enjoy.
12 octobre 2020
Connais pas grand' chose des enregistrements de Kevin Morby, mais ce long, lancinant et hypnotique Harlem River, extrait du premier lp éponyme - hommage à New York (sa ville d'adoption à l'époque) - de ce natif de Lubbock, Texas, s'est durablement incrusté au fond de mes esgourdes. Enjoy the trip.
19 septembre 2020
Quel plaisir de pouvoir réécouter la grande - et très regrettée - Sharon Jones, entourée de ses excellents Dap-Kings, quatre ans après sa disparition! Daptone Records, le label attitré de la Soul Diva de Brooklyn, N.Y.C., a eu l'excellente idée de compiler les nombreuses renditions enregistrées par le groupe jusqu'au décès de Sharon Jones, dont certaines restées totalement inédites pour des raisons purement commerciales, ou pour des raisons artistiques indépendentes du combo, puisqu'il s'agit essentiellement de reprises de classiques destinées à des bandes originales de films (tel Le Loup de Wall Street) ou de fonds sonores de publicités au final non-retenues par les annonceurs. Le second album posthume du combo s'intitule donc Just Dropped In (To See What Condition My Rendition Was In, en clin d'oeil malin au fameux stantard de Kenny Rogers & The First Edition écrit en 1967 par Mike Post, et sortira officiellement le 23 octobre prochain, mais on peut déjà se régaler en écoutant le titre ci-dessous, paru en single il y a quelques jours. Une chouette version d'un autre classique signé Stevie Wonder fois-ci, en attendant de pouvoir découvrir les autres covers sélectionnées pour cette nouvelle compilation. Enjoy.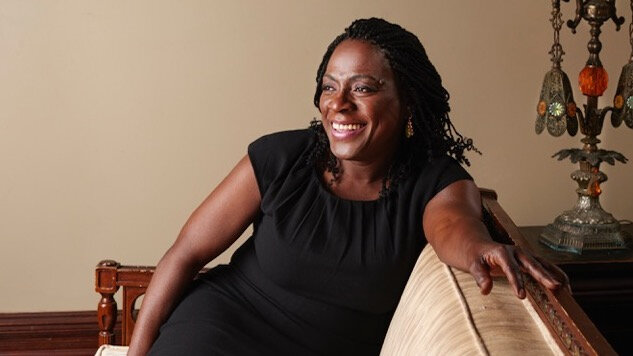 Sharon Jones by Jacob Blickenstaff
Le tracklisting de l'album (version digitale):
1. "Signed Sealed Delivered I'm Yours"
2. "Little By Little"
3. "Just Dropped In (To See What Condition My Condition Was In)"
4. "Here I Am Baby"
5. "What Have You Done For Me Lately?"
6. "Take Me With U"
7. "This Land Is Your Land"
8. "Inspiration Information"
9. "Giving Up"
10. "Rescue Me"
11. In The Bush
12. It Hurts to Be Alone
13. Trespasser
15 août 2020
Un poquito de Latin Jazz, de Boogaloo et de Salsa ce matin pour faire le ménage et ranger les trucs de vacances.. Avec right now dans les esgourdes The Joe Cuba Sextet, Straight outta 1972 et Nueva York con congas y soul, brothers and sisters! Ooh! Ah! est extrait de Bustin' Out, le douzième album (au moins) du groupe de Gilberto Miguel Calderon Cardona, a.k.a. Joe Cuba, un vrai fils de Spanish Harlem et Nuyorican extraordinaire, protégé de Tito Puente et précurseur du Latin Boogaloo, ce style mixant rhythm'n'blues et influences afro-cubaines. Push'n'Pull! & Enjoy el ritmo d'El Barrio!
21 avril 2020
Straight outta Jamaica, l'un des quartiers du Queens à New York, The Exciters s'étaient déjà établis comme un girl-group (plus one guy) d'importance, notamment avec l'imparable upbeat 60's pop hit Tell Him, lorsque le quatuor enregistra en 1963 ce titre signé Greenwich/Barry - une super compo qui connaîtra un beu succès d'estime aux States mais qui deviendra surtout un carton international quelques mois plus tard pour les anglais de Manfred Mann, combo British Blues Boom / Beat et fer de lance de la British Invasion. Leur cover de Do Wah Diddy deviendra en définitive la version la plus connue et l'un des Nuggets les plus savoureux, jusqu'à aujourd'hui! Enjoy.
The Exciters - Do Wah Diddy
Manfred Mann - Do Wah Diddy Diddy
07 mars 2020
Début 1965, Lou Reed et John Cale bossent comme songwriters pour un label commercial basé à Long Island, Pickwick Rds. On est encore bien loin du concept Velvet Underground, mais ce Why Don't You Smile Now, écrit pour les All Night Workers - éphémère garage band de Syracuse dont le guitariste, Mike Esposito, ira rapidement rejoindre les Blues Magoos - n'en demeure pas moins un excellent downtempo garage rocker, hypnotique et proto-Velvet en diable.
Un titre qui deviendra, quelques mois plus tard et de l'autre côté de la marre, un furieux classique freakbeat pour The Downliners Sect, le cultissime (demandez aux Headcoats!) gang de Twickenham, London, celui-là même qui transforma le fameux couvre-chef deerstalker de Sherlock Holmes en must absolu du look garage rock! Entre les deux versions, mon coeur balance, balance, et finit par refuser de choisir, du coup on se les joue back to back en boucle pour commencer le weekend! Enjoy.
The All Night Workers - Why don't you smile
The Downliners Sect - Why don't you smile now
03 mars 2020
En 1999, Ronnie Spector, ex-frontwoman des fabuleuses Ronettes (Be Maaaaaaaaah, Be My Baby!) et véritable badass girl (from Spanish Harlem) rescapée d'un mariage cauchemardesque avec ce taré - génial certes, mais vraiment taré - tyran domestique qu'était Phil Spector, enregistre un très bon mini-lp de reprises intitulé She Talks To Rainbows. Au programme, un titre des Beach Boys, le classique You Can't Put Your Arms Around A Memory de Johnny Thunders, une revisite d'un morceau des mid-70's des Ronettes (I Wish I Never Saw The Sunshine), et deux pistes signées par son pote Joey Ramone, dont le titre éponyme.
C'est d'ailleurs Joey lui-même qui produit le EP, et on imagine le kiff q'il a dû avoir en entendant son idole et néanmoins amie balancer cette superbe version de She Talks To Rainbows, un titre tardif des Ramones, écrit par lui justement, et que les brudders avaient originellement inclu dans leur quatorzième (et dernier) album studio, Adios Amigos, publié en 1995, un an avant le split du groupe..
Ronnie Spector - She Talks To Rainbows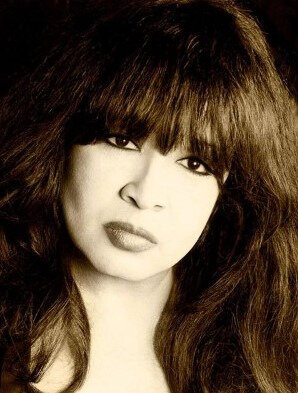 16 février 2020
Vendredi Soir, à Lillers, les trois Mousquetaires du Brooklyn Blues de Daddy Long Legs étaient de retour à l'Abattoir pour un troisième round (après leur premiers passages en 2015 et en novembre 2017) et ma foi, ça faisait du bien de se replonger tête la première (and your ass did follow) dans leur grand bain blues bash avec une centaine d'autres personnes dans ce minuscule, vénérable et historique bouge / bar / "Spaghetti House" pas-de-calaisien! Un p'tit retour en deux vidéos sur le set, via les titres qui ouvraient et fermaient leur premier LP, Evil Eye On You, en 2012. Enjoy.
Daddy Long Legs - Death Train Blues
Daddy Long Legs - Evil Eye
11 février 2020
Ouais, c'est une maligne, cette fille.. Et Vernon "Verne" Harrel n'en revient toujours pas que sa girlfriend soit une Slick Chick, ce qui vaut quand même toujours mieux q'une fille avec un cold cold heart comme celle du titre de la face-B! Le premier single paru en 1962 de ce rhythm'n'blues singer new-yorkais qui fut également membre des Coasters pendant quelques temps. Enjoy.
Vernon Harrel - Slick Chick