07 mars 2020
Début 1965, Lou Reed et John Cale bossent comme songwriters pour un label commercial basé à Long Island, Pickwick Rds. On est encore bien loin du concept Velvet Underground, mais ce Why Don't You Smile Now, écrit pour les All Night Workers - éphémère garage band de Syracuse dont le guitariste, Mike Esposito, ira rapidement rejoindre les Blues Magoos - n'en demeure pas moins un excellent downtempo garage rocker, hypnotique et proto-Velvet en diable.
Un titre qui deviendra, quelques mois plus tard et de l'autre côté de la marre, un furieux classique freakbeat pour The Downliners Sect, le cultissime (demandez aux Headcoats!) gang de Twickenham, London, celui-là même qui transforma le fameux couvre-chef deerstalker de Sherlock Holmes en must absolu du look garage rock! Entre les deux versions, mon coeur balance, balance, et finit par refuser de choisir, du coup on se les joue back to back en boucle pour commencer le weekend! Enjoy.
The All Night Workers - Why don't you smile
The Downliners Sect - Why don't you smile now
03 mars 2020
En 1999, Ronnie Spector, ex-frontwoman des fabuleuses Ronettes (Be Maaaaaaaaah, Be My Baby!) et véritable badass girl (from Spanish Harlem) rescapée d'un mariage cauchemardesque avec ce taré - génial certes, mais vraiment taré - tyran domestique qu'était Phil Spector, enregistre un très bon mini-lp de reprises intitulé She Talks To Rainbows. Au programme, un titre des Beach Boys, le classique You Can't Put Your Arms Around A Memory de Johnny Thunders, une revisite d'un morceau des mid-70's des Ronettes (I Wish I Never Saw The Sunshine), et deux pistes signées par son pote Joey Ramone, dont le titre éponyme.
C'est d'ailleurs Joey lui-même qui produit le EP, et on imagine le kiff q'il a dû avoir en entendant son idole et néanmoins amie balancer cette superbe version de She Talks To Rainbows, un titre tardif des Ramones, écrit par lui justement, et que les brudders avaient originellement inclu dans leur quatorzième (et dernier) album studio, Adios Amigos, publié en 1995, un an avant le split du groupe..
Ronnie Spector - She Talks To Rainbows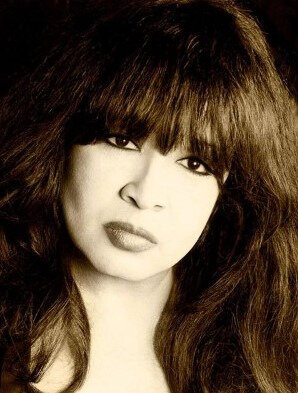 16 février 2020
Vendredi Soir, à Lillers, les trois Mousquetaires du Brooklyn Blues de Daddy Long Legs étaient de retour à l'Abattoir pour un troisième round (après leur premiers passages en 2015 et en novembre 2017) et ma foi, ça faisait du bien de se replonger tête la première (and your ass did follow) dans leur grand bain blues bash avec une centaine d'autres personnes dans ce minuscule, vénérable et historique bouge / bar / "Spaghetti House" pas-de-calaisien! Un p'tit retour en deux vidéos sur le set, via les titres qui ouvraient et fermaient leur premier LP, Evil Eye On You, en 2012. Enjoy.
Daddy Long Legs - Death Train Blues
Daddy Long Legs - Evil Eye
11 février 2020
Ouais, c'est une maligne, cette fille.. Et Vernon "Verne" Harrel n'en revient toujours pas que sa girlfriend soit une Slick Chick, ce qui vaut quand même toujours mieux q'une fille avec un cold cold heart comme celle du titre de la face-B! Le premier single paru en 1962 de ce rhythm'n'blues singer new-yorkais qui fut également membre des Coasters pendant quelques temps. Enjoy.
Vernon Harrel - Slick Chick
31 janvier 2020
L'été dernier on a terminé notre road trip américain à Jersey City pour quelques jours avant de goin' back home, et c'était pour nous l'occasion de goûter l'atmosphère du New Jersey, à la fois très proche et très différente de celle de New York. Lors d'une ballade en ville, mon regard fut attiré par une bande de street artists en train de commencer un grand mural à l'angle de Columbus Drive et de Coles Street, mais en m'approchant, c'est surtout cette kewl Chevrolet Chevelle SS 1970 qui me fit dégainer l'APN..
Autant, quand on fantasme sur la West Coast et son cruising éternel sous les palmiers californiens, on s'imagine au volant d'une telle muscle-car restaurée au petits oignons, impeccable jusqu'au bout de ses SS wheels, autant ici, au coeur de ces ex-working class et désormais bohême/hipster quartiers d'une petite ville devenue satellite de Manhattan, la même Chevy iconique des 70's colle parfaitement - en version street machine un poil fatiguée mais qui a de beaux restes (chromes piqués et baguettes cassées, carrosserie bien rayée et pocs un peu partout) 6 au feeling rugueux et East Coast, banlieue de briques rouges, asphalte craquelée et herbes folles, de ce côté-là de la Big Apple..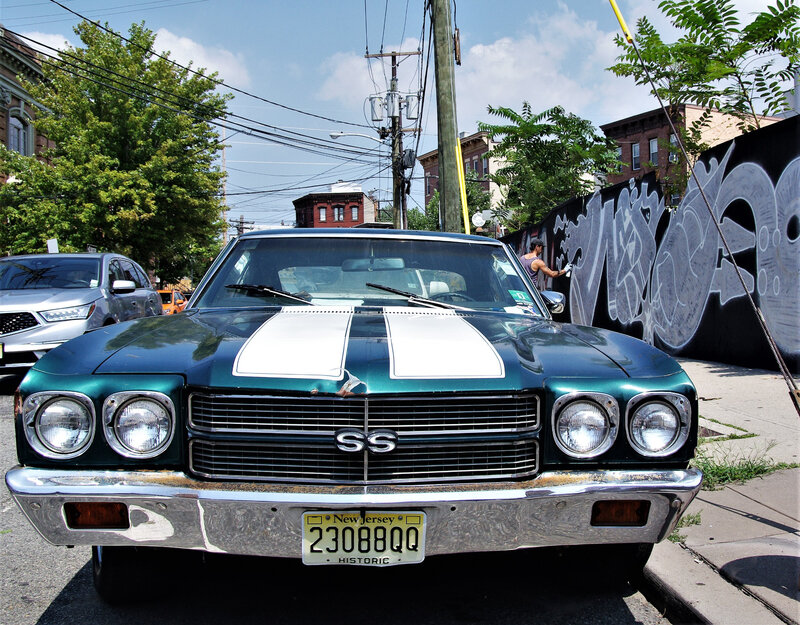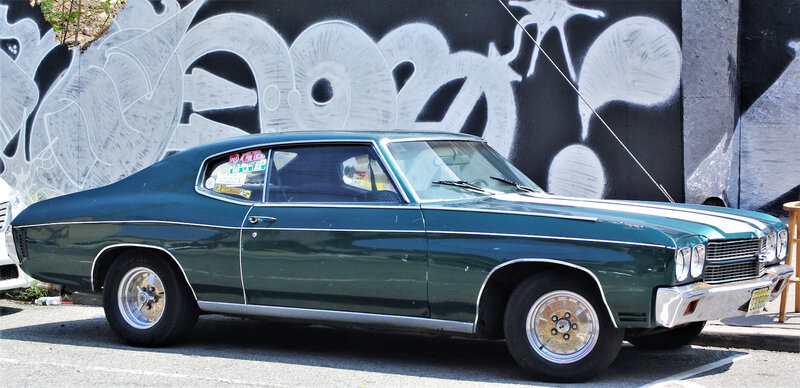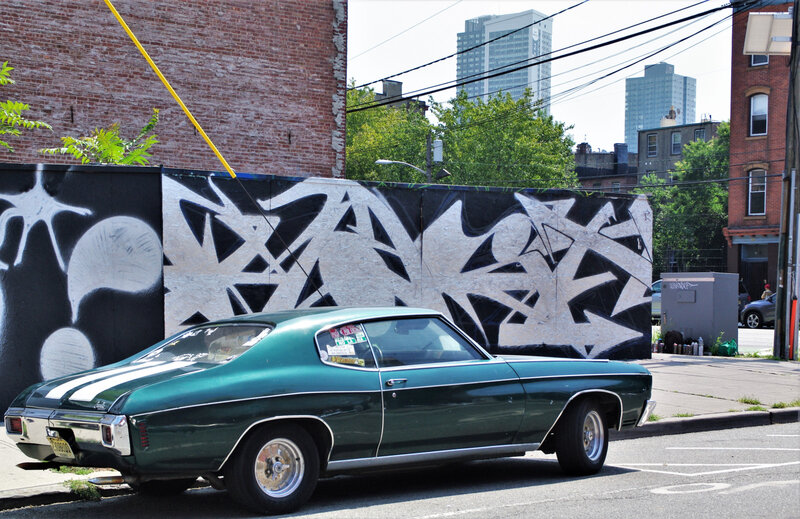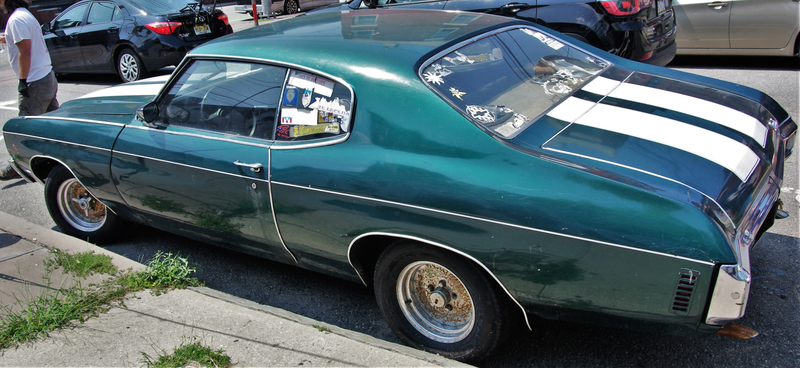 25 janvier 2020
Danny Owens fit partie dès les 40's de toutes une ribambelle de vocal groups (The Melody Masters, The Coleman Brothers, The Four Tunes,..) à New York, commencant par - quoi d'autre? - le gospel, mais se taillant vite pendant la décennie suivante une solide réputation en tant que lead tenor dans les circuits doo wop et early rhythm'n'blues. Ce You're a little too late date quant à lui de 1961 et swingue pas mal, non?! Enjoy.
Danny Owens - You're A Little Too Late
30 décembre 2019
Le groupe ne venait pas tout à fait de New York, mais de suffisamment près (Bergenfield, New Jersey), pour justifier le choix de ce patronyme historique. Par contre, en termes 'historiques" justement, les Knickerbockers ne durèrent que quelques saisons, le temps de surfer - en trois albums composés de quelques originaux et des mêmes reprises que tout le monde - sur la vague Mersey Beatlemaniaque qui submergea les States au milieu des sixties, avec pour seul et unique leg aujourd'hui quelques pistes pas mauvaises du tout et surtout ce killer hit, Lies, daté de 1965. Enjoy.
J'adore aussi la version de Nancy Sinatra enregistrée en 1966 sous la houlette de Lee Hazlewood. Enjoy aussi!
07 décembre 2019
New York, 1955. Doc Pomus, jeune trentenaire né Jerome Solon Felder dans le quartier de Williamsburg, Brooklyn, en 1925, est sur le point d'abandonner définitivement sa carrière de chanteur de rhythm'n'blues pour se consacrer totalement au song-writing et à la production, en solo ou en collaboration avec son compère Mort Shuman. S'en suivra une incroyable série de hits en tous genres, dont ce fantastique Lonely Avenue, repris à toutes les sauces depuis - mais ma version favorite demeure l'originale chantée par Ray Charles, sur son second single de 1956. Enjoy.
Ray Charles - Lonely Avenue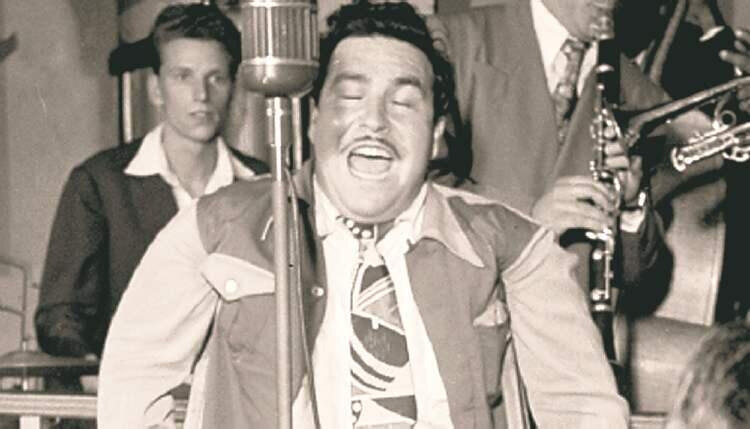 04 décembre 2019
Le nouvel album de Jeffrey Lewis, Bad Wiring, est un petit bijou - rien d'étonnant en soi, on a l'habitude! - mais la piste qui me réjouit par dessus tout, c'est ce pétillant et primesautier LPs, parfaite petite perle antifolkpopunk'n'roll au minimalisme accrocheur à souhait. Mais au delà du son, c'est le storytelling qui me réjouit à chaque écoute, cette histoire universelle (si, si, j'en connais partout, et j'en suis!) du type qui devient addict aux vinyles et ne se sent bien que quand il a laché quelques biffetons en échange d'un ou deux ou dix 33-tours.
La chute est bien entendu très ironique, J.L. annonçant le retour en grâce du CD, cet affreux et aujourd'hui complètement uncool support qui déborde des bacs des soldeurs et second-hand shops, mais dont le héraut new-yorkais prédit le retour en force dès que les jeunes fauchés, obsédés audiophages et autres dévoreurs de music se seront rendus compte que leur vinyles favoris commencent à atteindre des prix franchement déraisonnables, et qu'on les prend, comme d'habitude, pour des con-sommateurs décérébrés et hipstérisés tout juste bons à sortir leurs portefeuilles pour se donner l'impression d'être kewl! Bien vu, l'ami..
Ah oui, au fait, Jeffrey Lewis sera en concert à Lille le jeudi 27 février prochain à La Bulle Café (Maison Folie Moulins).. Pass da wurds..
Jeffrey Lewis & The Voltage - LPs
21 octobre 2019
Pas plus de trois minutes de pure rage, un condensé jubilatoIre de frustration et d'énergie, tension / compression / explosion, on est en 1977 au CBGB's, 315 Bowery, Manhattan, The Dead Boys viennent de migrer de Cleveland, Ohio, à NYC, et définissent quasiment à eux seuls les canons du punkrock. Sonic Reducer, ain't no loser..
Dead Boys - Sonic Reducer