30 décembre 2019
Le groupe ne venait pas tout à fait de New York, mais de suffisamment près (Bergenfield, New Jersey), pour justifier le choix de ce patronyme historique. Par contre, en termes 'historiques" justement, les Knickerbockers ne durèrent que quelques saisons, le temps de surfer - en trois albums composés de quelques originaux et des mêmes reprises que tout le monde - sur la vague Mersey Beatlemaniaque qui submergea les States au milieu des sixties, avec pour seul et unique leg aujourd'hui quelques pistes pas mauvaises du tout et surtout ce killer hit, Lies, daté de 1965. Enjoy.
J'adore aussi la version de Nancy Sinatra enregistrée en 1966 sous la houlette de Lee Hazlewood. Enjoy aussi!
07 décembre 2019
New York, 1955. Doc Pomus, jeune trentenaire né Jerome Solon Felder dans le quartier de Williamsburg, Brooklyn, en 1925, est sur le point d'abandonner définitivement sa carrière de chanteur de rhythm'n'blues pour se consacrer totalement au song-writing et à la production, en solo ou en collaboration avec son compère Mort Shuman. S'en suivra une incroyable série de hits en tous genres, dont ce fantastique Lonely Avenue, repris à toutes les sauces depuis - mais ma version favorite demeure l'originale chantée par Ray Charles, sur son second single de 1956. Enjoy.
Ray Charles - Lonely Avenue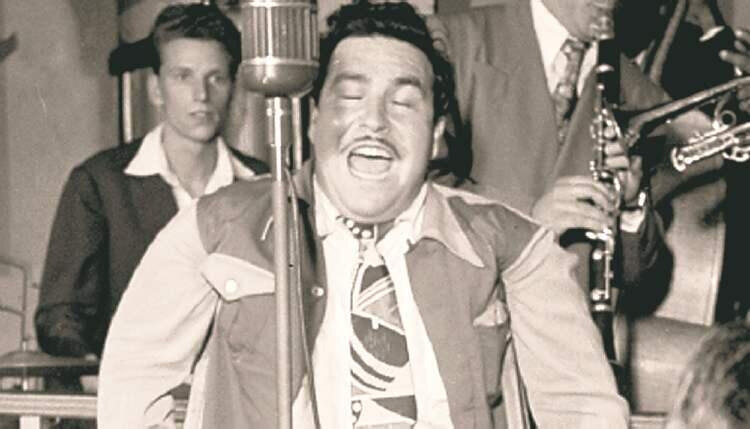 04 décembre 2019
Le nouvel album de Jeffrey Lewis, Bad Wiring, est un petit bijou - rien d'étonnant en soi, on a l'habitude! - mais la piste qui me réjouit par dessus tout, c'est ce pétillant et primesautier LPs, parfaite petite perle antifolkpopunk'n'roll au minimalisme accrocheur à souhait. Mais au delà du son, c'est le storytelling qui me réjouit à chaque écoute, cette histoire universelle (si, si, j'en connais partout, et j'en suis!) du type qui devient addict aux vinyles et ne se sent bien que quand il a laché quelques biffetons en échange d'un ou deux ou dix 33-tours.
La chute est bien entendu très ironique, J.L. annonçant le retour en grâce du CD, cet affreux et aujourd'hui complètement uncool support qui déborde des bacs des soldeurs et second-hand shops, mais dont le héraut new-yorkais prédit le retour en force dès que les jeunes fauchés, obsédés audiophages et autres dévoreurs de music se seront rendus compte que leur vinyles favoris commencent à atteindre des prix franchement déraisonnables, et qu'on les prend, comme d'habitude, pour des con-sommateurs décérébrés et hipstérisés tout juste bons à sortir leurs portefeuilles pour se donner l'impression d'être kewl! Bien vu, l'ami..
Ah oui, au fait, Jeffrey Lewis sera en concert à Lille le jeudi 27 février prochain à La Bulle Café (Maison Folie Moulins).. Pass da wurds..
Jeffrey Lewis & The Voltage - LPs
21 octobre 2019
Pas plus de trois minutes de pure rage, un condensé jubilatoIre de frustration et d'énergie, tension / compression / explosion, on est en 1977 au CBGB's, 315 Bowery, Manhattan, The Dead Boys viennent de migrer de Cleveland, Ohio, à NYC, et définissent quasiment à eux seuls les canons du punkrock. Sonic Reducer, ain't no loser..
Dead Boys - Sonic Reducer
15 août 2019
Wow! je ne pensais pas croiser un authentique taxi Checker Marathon à New York aujourd'hui, à plus forte raison un exemplaire parfaitement restauré comme celui-ci, probablement en attente d'une petite révision devant ce garage de Jersey City. Produit à des dizaines de milliers d'exemplaires quasiment sans aucun changement de carrosserie de 1961 à 1982, le fameux taxicab jaune avec ces mémorables bandes façon échiquier fait partie intégrante du fantasme new yorkais, tant on la vu et revu dans un nombre incalculable de films et de séries tournés dans la Grosse Pomme. Il a aujourd'hui complétement disparu de la circulation, tout comme d'ailleurs l'omniprésente Crow Victoria qui l'avait remplacé, et maintenant les cabs qu'on voit à chaque coin d'avenue sont tous made in Japan..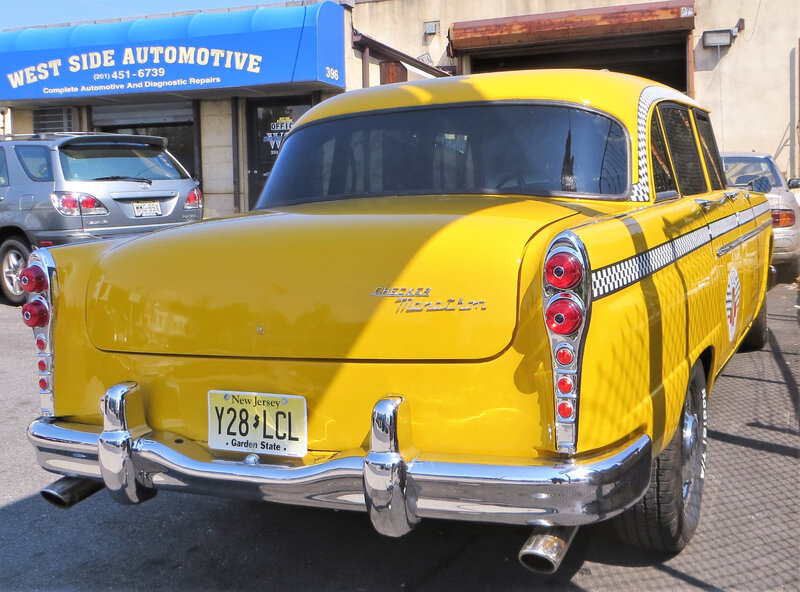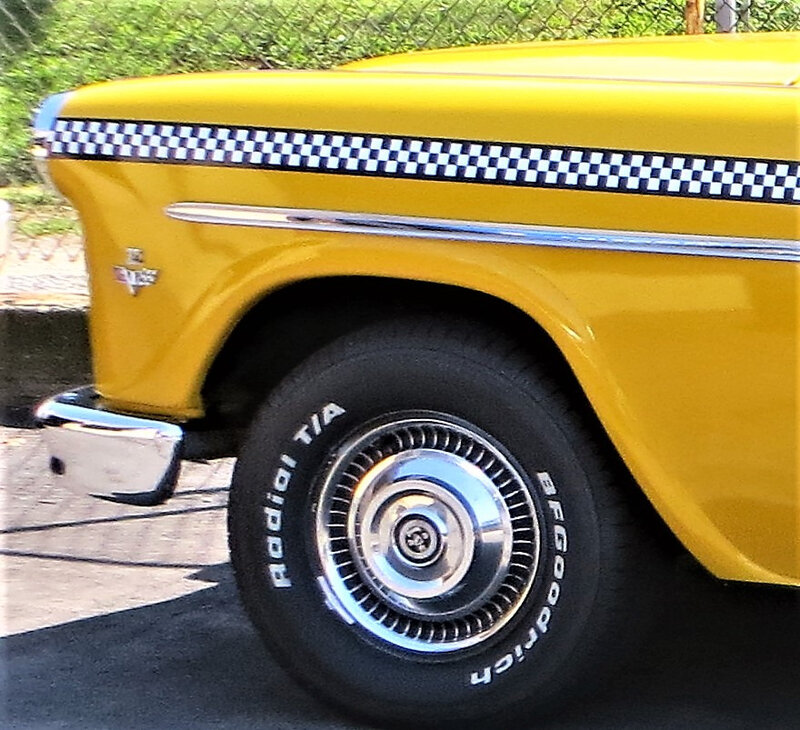 15 juin 2019
My mood exactly. One Taw Taww Faw!!
20 mai 2019
New York, début et milieu des 80's. La vague punk est retombée depuis un moment, la no-wave a fait pshitttt, et musicalement il ne se passe pas grand'chose de nouveau et d'excitant dans la Grosse Pomme; c'est l'une de ses périodes creuses ou tout retombe à plat et où naturellement les rock'n'roll addicts de tous poils et fans absolus de la chose se tournent vers le passé, plus ou moins éloigné et fantasmé. Les Raunch Hands se forment, comme des tas de groupes avant et après eux, poussés par cette envie de jouer un rock'n'roll fun, sauvage, débridé, simple et jouissif, sans aucune prétention carriériste, artistique ou musicale, en puisant à la source, dans le riche patrimoine national gorgé de morceaux de 50's rock'n'roll, de rhythmn'n'blues, de surf music, de garage 60's et de punk des 70's tous plus kool et bandants les uns que les autres.
Oui mais les Raunch Hands sont surtout new-yorkais, et le sulfureux passé pré-Giuliani de leur ville-monde va faire tout autant partie de leurs influences majeures. D'où leur surnom, sûrement, de Kings of Sleaze, tant leurs références au sexe tendance dirty et à toutes les autres dépravations possibles et imaginables (le tout dégoulinant d'alcool cheap à souhait - Thunderbird E.S.Q.!) imprègnent leur rock'n'roll libre, déglingué, testostéroné et mal embouché - aussi rugueux qu'une main calleuse sur un arrière-train rebondi, pour une partie de spanking librement consentie.. Deux exemples avec leur propre Blackjack et une méchante reprise d'un hit surf des sixties, le I live For The Sun des Sunrays. Enjoy
The Raunch Hands - Blackjack
The Raunch Hands - I Live for the Sun
13 mai 2019
The Mystery Lights are back avec un nouvel album, toujours paru sur Wick Rds, le sous-label de Daptone, il y a quelques jours. Psyché-garage rock'n'roll from Brooklyn, NYC, cet état de Too Much Tension est-il le résultat "Trop Dur à Supporter", du Too Many Girls d'il y trois ans? Dunno, mais j'attends avec impatience de pouvoir jeter une oreille à ce nouveau lp. Enjoy.
The Mystery Lights - Too Much Tension
27 avril 2019
Pendant ce temps-là, à New York dans le quartier de Harlem.. Cinq jeunes gens ont choisi, deux ans plus tôt et comme des milliers d'autres groupes d'un bout à l'autre de la planète, le nom de la marque de luxe du groupe automobile General Motors comme patronyme pour leur combo de Doo Wop. En 1955, The Cadillacs sortent leur cinquième single, Speedoo (b/w Let Me Explain), un uptempo doo wop particulièrement réjouissant, et l'idéal, par chez nous, pour démarrer la journée et le weekend en ondulant du pelvis et en claquant des doigts!
Une annecdode: le groupe se scinde en 1957 en deux entités différentes, Earl Carroll and the Cadillacs et The Four Cadillacs, avant de se redevenir un seul et unique band un an plus tard sous le nom de.. Speedoo & The Pearls. L'album des Four Cadillacs dont la pochette se trouve ci-dessous à quant à lui été enregistré en '57 et tient parfaitement la route encore aujourd'hui, pétillant mix de rhythm'n'blues swinguant et de doo woo suave à souhait. Enjoy.
21 avril 2019
Daddy Long Legs au 4AD à Diksmuide hier soir! Un très bon concert de début de tournée "continentale" (après deux premières dates en Angleterre, à Londres et à Brighton, il y a quelques jours), du foot-stompin', hollerin' blues preachin' haute intensité, une floppée de (très bons) nouveaux titres (Winners' Circle, un hit dans mon salon depuis ce matin) issus du tout nouvel opus du trio de Brooklyn, Lowdown Ways, à paraître le 10 mai prochain sur Yep Roc Rds. Et juste avant un beaucoup trop bref rappel et l'obligatoire hymne Motorcycle Madness, réclamé à corps et à cris par le public, une version du feu de dieu, ardente et incantatoire, du Fire & Brimstone de Link Wray.. Ils sillonnent toute l'Europe d'Alicante à Helsinki jusqu'au 10 juin, so don't find yourself on the wrong side of the river and catch 'em live if you can!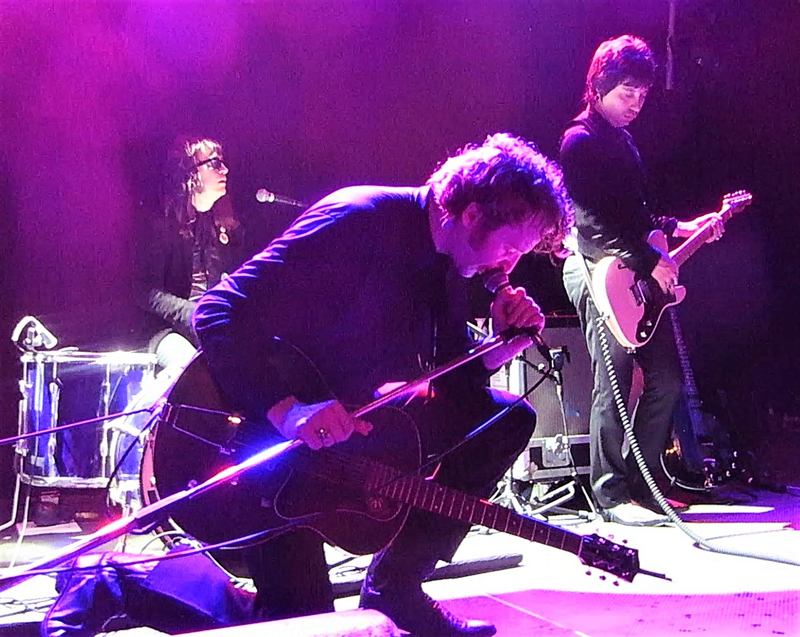 Daddy Long Legs - Bad Neighborhood