12 février 2019
Qui ça? The Jury, buddy! On reste au Canada avec ce compo de Winnipeg qui eut son quart d'heure de gloire localement dans les mid-sixties avant de se séparer après plusieurs tentatives pour percer sur le marché US. La face A de leur quatrième single Please Forget Her, témoigne de ce virage commercial et ne présente pas beaucoup d'intérêt, mais la face B, un vigoureux psyché-punker garage-rocker, est devenue un nuggets classic, toujours aussi tonique et bandant 53 ans après son enregistrement!
06 février 2019
Bon, ça c'est pas cool: le gig à l'Aéronef des très attendus Schizophonics, dont les derniers 33-tours tournent en boucle dans les RKT headquarters en ce moment, est annulé (comme toute la tournée), mais on se console avec l'annonce du retour pas loin de chez nous des Lords of Altamont (le 29 mai au Magasin 4 à Bruxelles), et avec le comeback le plus inattendu du moment! Chula Vista, California's very own punk rock legends The Zeros are back in town, ou plutôt en Europe, avec pour l'instant une date prévue à Paris, au Klub, le jeudi 28 février! Yaaahhhrrrg!!!
The Zeros - Right Now
The Zeros - Dont Push Me Around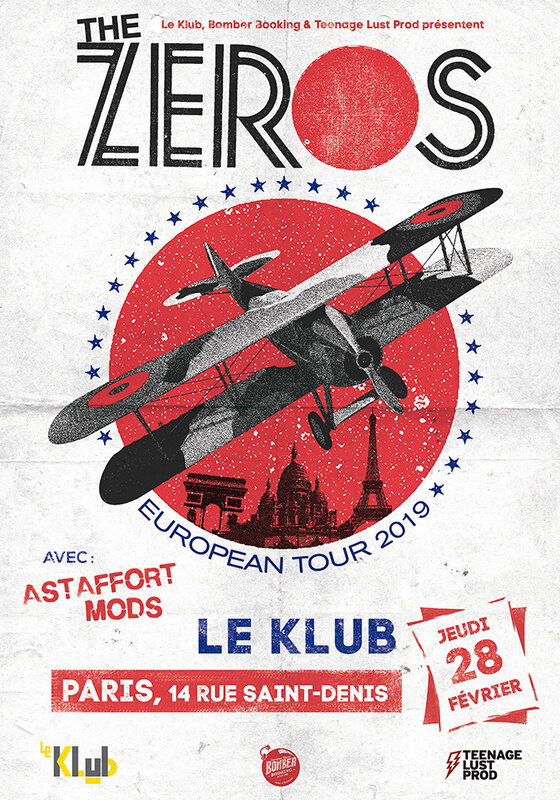 Merci à BeePee pour l'info, et pour avoir ressorti cette affiche du concert organisé par Vertigo! à Arras en 1996 sur l'infameuse péniche Les Tontons Flingueurs!!! Ah la vache ça m'a fait un choc! :)))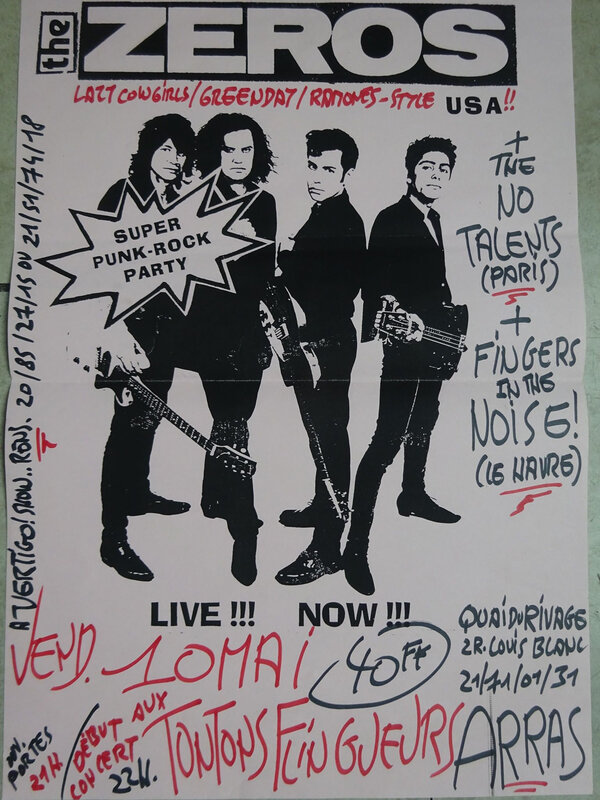 05 février 2019
Joey & Marky, Johnny & Dee Dee.. et End Of The Century, le cinquième album des Ramones, sorti il y a tout juste 39 ans, le premier que j'ai acheté neuf en 1980! Still kicking butts 39 years later.. Enjoy!
Ramones - Rock 'N' Roll High School
Ramones - Do You Remember Rock and Roll Radio?
12 janvier 2019
The Fadeaways. 2016. Japanese Garage Punk. Yeah. Kool.
'Nuff Said.
Enjoy.
The Fadeaways - That Girl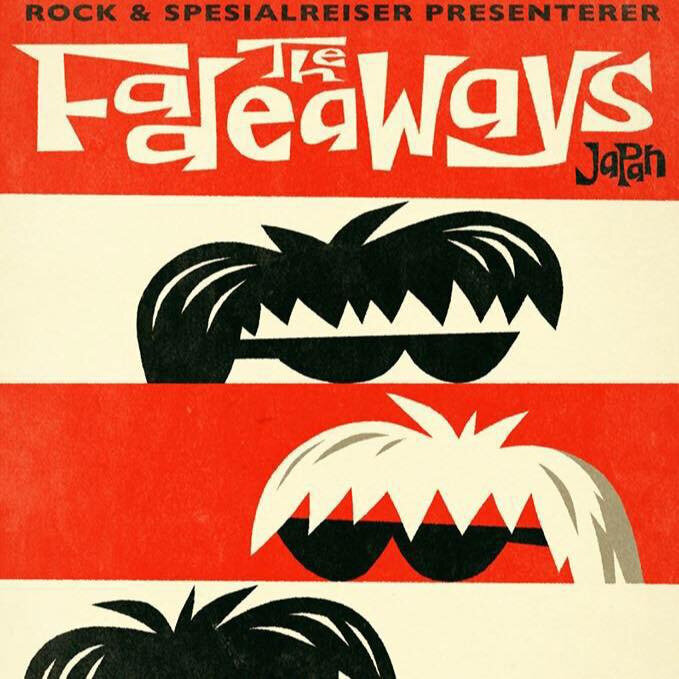 05 janvier 2019
Bon, la soirée est pourrie, le DJ craint, la bouffe est infâme, y'a rien à boire, et les autres vous snobent.. Pas grave, virez l'incapable en charge des playlists, dégainez votre usb-key, et balancez ce fabuleux single des Slickee Boys! Avantages immédiats: vous faites le vide sur la piste, ça vous laisse toute la place pour danser le Watusi comme un sauvage, et en plus vous exprimez clairement votre opinion sur la soirée en question..
Un des trucs les plus féroces et drôles jamais enregistrés par ce combo mythique dans l'underground de Washington D.C., This Party Sucks était sorti sur New Rose Records en 1988.
The Slickee Boys - This Party Sucks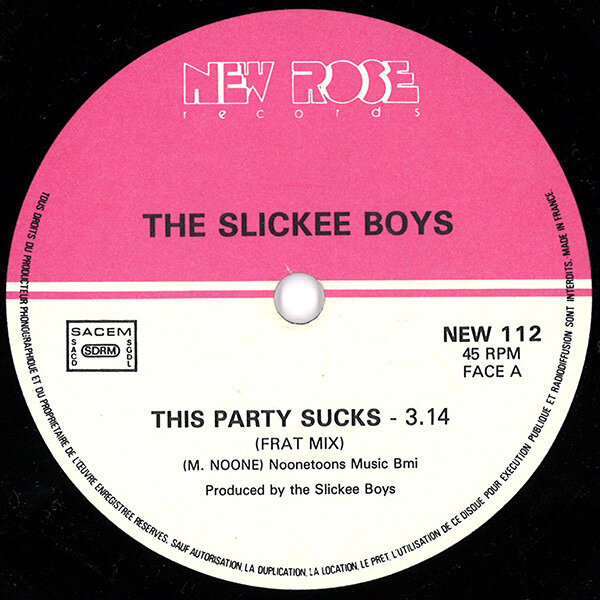 17 décembre 2018
Sharp. Stylés. Survoltés. The Jam en 1977 à Manchester, In the City. Enjoy.
11 décembre 2018
D'une addiction à l'autre, après l'Orgasm Addict des Buzzcocks hier, le Television Addict des Victims aujourd'hui, un single fondateur de la scène punk australienne par le premier groupe de Dave Faulkner et James Baker, futurs membres fondateurs des mighty Hoodoo Gurus. Texte cinglant et punkrock'n'roll de haute volée, et le talent de songwriter de Dave Faulkner déjà évident. Enjoy.
The Victims - Television Addict
10 décembre 2018
R.I.P. Pete Shelley, fondateur, songwriter, et chanteur-guitariste des Buzzcocks, seminal combo mancunien qui, de 1976 à 1980, associa de façon magistrale concision punk et hooks power pop. La compilation Singles Going Steady est toujours un must absolu.
Buzzcocks - What do I get
Buzzcocks - Orgasm Addict
20 novembre 2018
Let the music do the talking? Ok!
The Joe Perry Project - Let the music do the talking
Aerosmith - Let The Music Do The Talking
The Konks - Let the Music Do the Talking
19 novembre 2018
Hell Yeah! Pedal to the metal, le pied au plancher ce lundi matin, avec Lisa Kekaula, Bob Vennum et le reste du gang, baby! The Bellrays from Riverside, Californie, avec une version live (son un peu faiblard mais chouette perf - l'original en studio ici) de la piste qui ouvre leur septième album éponyme, Black Lightning, paru en 2010. Leur dernière livraison, l'excellent et fort justement intitulé Punk Funk Rock Soul Vol.2 est sorti il y a quelques mois et reste bloqué dans la top-five playlist de mon auto-radio à chaque fois que je prends la route. High-Energy Punk Rock & Soul, indeed!
The Bellrays - Black Lightning