11 novembre 2015
Après avoir passé un peu de temps dans les allées du Vintage Market, un p'tit tour par la salle qui accueillait les trois gigs annoncés ce soir, avec en guise de mise en jambes, Les Kitschenette's, from Bretagne/Paris with un amour certain pour la pop yéyé 60's française de qualité et les reprises / adaptations en français des standards garage et British Beat de la même époque. Amusant et ultra-référencé, mais un poil trop «français» pour moi, justement.
Je m'éclipse donc après quelques morceaux pour mieux revenir au pied de la scène lorsque les Dustaphonics commencent leur set. Dommage pour The Monsters le même soir à l'Aéronef, mais j'étais vraiment curieux de découvrir ce que ce combo basé à Londres mais à l'ADN franco-italiano-londonien (avec saupoudrage de gènes scottish via l'harmoniciste sur certains titres) était capable de produire sur scène, bien titillé par deux bons albums et une chouette brochette d'affriolantes vidéos faisant toujours la part belle aux sex vixens, strippers, go-go danseuses et autres party girls des golden years..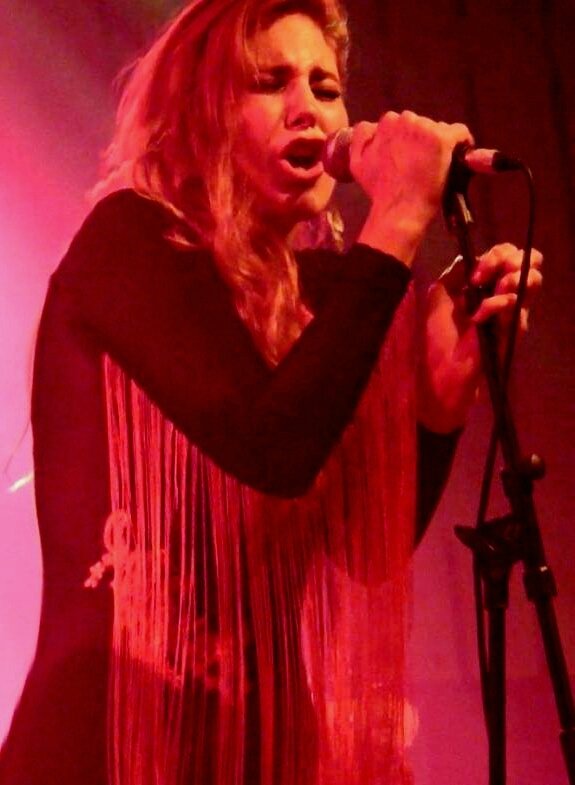 21 heures, la température monte (un peu) et ça démarre sec avec deux/trois garage-rockers bien velus, et paf, première surprise, le quartet balance aussi tôt sa première grosse cartouche groovy, l'imparable Rockin' Boogaloo, le titre-phare de leur deuxième album, Big Smoke London Town (Dirty Water Rds, 2014), une parfaite perle de pur rhythm'n'booze rock'n'roll, un smash-hit dans ma salle de bain depuis des mois (ça marche aussi du feu de dieu quand j'essuie la vaisselle), uno, dos, tres, quatro, pas besoin de docteur ni de French touch c'est le genre de piste qui vous requinque en moins de deux, Pa Pa Oom Mow Mow , Surfin' Bird and Buttshakers, c'est bon, j'ai décollé et je ne suis pas près de redescendre – that's my thing, ce rock'n'roll zébré de kewl références à tous ces héros et héroines, Link Wray et Da Ramones, Gabba Gabba Hey Bo Diddley, le black R'n'R des fifties, la Soul et le R'n'B des sixties – FUCK YEAH, give it to me Baby!!!
Bon, pas besoin de vous faire un dessin, they got me.. la complicité entre Hayley Red et Yvan Serrano–Fontova, respectivement superhot-chanteuse et guitariste-tête-pensante du combo, est évidente, et, bien épaulé par une section rythmique carrée à souhait, le duo n'a aucun mal à maintenir le show dans la stratosphère.. Les hits s'enchaînent, Party Girl, Big Smoke London Town, (Leur Dirty Water à eux, belle dédicace à «leur» ville), Tura Faster Pussycat, vibrant hommage à la number one badass gurl Tura Satana (of Russ Meyer's Faster Pussycat Kill! Kill! fame) jusqu'à la cool reprise d'un standard r'n'b de Sugar Pie DeSanto (cf. la video ci-dessous) et au final Don't Let The Devil Drive Your Car.. Bien joué, Lady and Gents, The Message a été reçu cinq sur cinq, revenez quand vous voulez!
Witch for a Night - The Dustaphonics at Roubaix Vintage Weekender 2015 (bon, mon vieux caméscope a fait des siennes, l'image photo & vidéo est pas top, mais le son est bon! / So my old camcorder doesn't work as well as it used to, but the sound is pretty good, I think - Enjoy)

Le compte-rendu du gig des Bellfuries bientôt!