01 octobre 2019
Un titre qui n'a pas pris une ride sur un album devenu un classique par un groupe encore aujourd'hui scandaleusement sous-estimé et oubié par chez nous.. The Long Ryders, from West Los Angeles, leur premier album Native Sons (Frontier Rds, 1984), et Still Get By..Enjoy.
The Long Ryders - Still Get By
17 septembre 2019
Il y a quelques jours on apprenait la mort de Daniel Johnston.. Un p'tit hommage via les deux vidéos suivantes, dont le fameux Speeding Motorcycle, dont j'avais déjà parlé ici.
Daniel Johnston - Impossible Love
Daniel Johnston - Speeding Motorcycle
15 avril 2019
"You and me and the Devil makes three", une vieille expression anglaise invitant à la bringue, au mischief et plus si affinités, et l'origine du nom de ce groupe originaire de Santa Cruz, Californie. Un paquet d'albums déjà, depuis la création de DM3 autour du noyan originel Pete Bernhard (guitare), Lucia Turino (contrebasse) et Cooper McBean (guitare & banjo) en 2002, et une réputation flatteuse dans le milieu de l'Americana qu'on aura l'occasion de vérifier le premier mai prochain à Lessines puisqu'ils monteront à 15h20 sur la scène Roots du Roots & Roses Festival! That's pretty kool..
Deux extraits de leur discog en guise d'amuse-gueules et pour patienter, avec un extrait de leur tout dernier album en date, Chains are broken, paru il y a quelques mois, et un titre tiré de leur second album, daté de 2007.
The Devil Makes Three - Bad Idea
The Devil Makes Three - The Bullet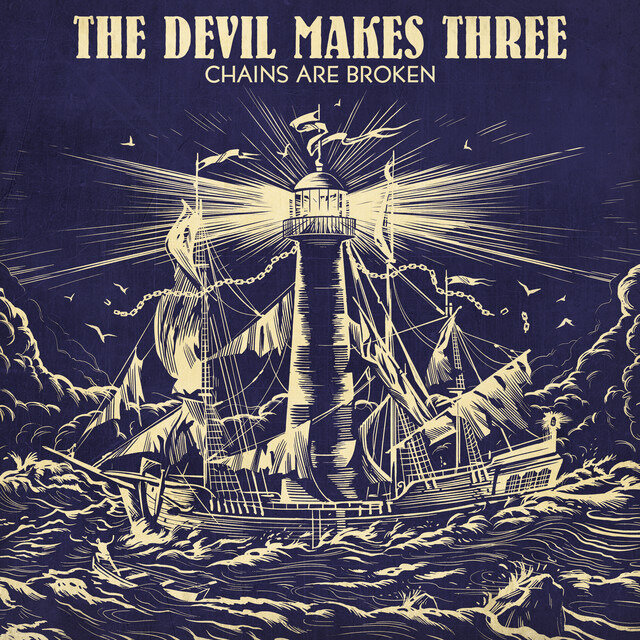 26 mars 2019
Bon, c'est l'hécatombe en ce moment.. RIP Scott Walker, a.k.a. Scott Engel.. un extrait de son quatrième album solo, Scott 4, et un p'tit clin d'oeil à ses débuts de bassiste de surf pré-teen idol en 1963, because I'm in a surf music mood these days et parce que c'est Tonic Tuesday, tout de même!
Scott Walker - The Old Man's Back Again (Dedicated To The Neo-Stalinist Regime)
Scott Engel - Devil Surfer
11 février 2019
Crossover Canada / Americana ce matin avec ce trio féminin de Vancouver qui tricote depuis 1999 et avec talent un folk matiné de bluegrass, de country et autres influences roots, et dont les compos apparaissent régulièrement dans les bandes-sons de séries tv comme Weeds ou Breaking Bad. En tant que groupe The Be Good Tanyas semble plutôt en sommeil depuis quelques années, mais les membres du trio continuent une carrière solo et retravaillent ensemble à l'occasion. Une cool piste de leur troisième album, Hello Love (2006) à enjoyer, avec une chouette vidéo en prime.
Be Good Tanyas - When Doves Cry
28 janvier 2019
Un extrait du sixième lp de Kurt Vile, avec la plage qui ouvrait ce B'lieve I'm Goin Down en 2015. Le pennsylvanien sera avec son backing-band attitré, The Violators, à l'Aéronef le 27 mai prochain. Enjoy.
Kurt Vile - Pretty Pimpin'
21 janvier 2019
On avait découvert The Sadies il y a quelques années via leur collaboration avec André Williams, mais le prolifique combo canadien (de Toronto) n'a pas collaboré qu'avec le tombeur de ces dames! Neko Case, John Doe (X), Jon Langford (The Mekons) ont aussi croisé la route des quatre membres de la famille Good, et bien entendu le groupe a gravé sous son nom propre une bonne dizaine d'albums entre 1998 et aujourd'hui. Au programme, un mix original d'alt country, de cowpunk gothique et de rock'n'roll épique nourri d'Americana, qu'on pourra savourer - ça y est, c'est confirmé! - le premier mai prochain à lessines, puisque le quatuor sera à l'affiche de la prochaine édition du Roots & Roses, et ça c'est kewl!
01 octobre 2018
C'est encore l'été sur RKT, avec le genre de truc qui aurait pu être bloqué dans le lecteur cassette (non, dans le lecteur à cartouche huit-pistes..) de la caisse sur la route des vacances, en mode soul '70's laidback, soyeuseusement orchestrée et satinée, s'il n'était sorti début septembre. Le nouvel et quatrième album de Jonathan Jeremiah s'intitule Good Day, et constitue une bonne entrée en matière pour découvrir l'univers folk & soul pas si uniforme que ça de ce londonien féru de sons des seventies mais qui considère que c'est d'abord et avant tout la qualité des chansons qui compte. Pour preuve, les deux pistes qui suivent et qui ouvrent ce nouveau long-jeu bien pourvu en songwriting haut de gamme et en petites pépites addictives. Enjoy.
Jonathan Jeremiah - Good Day
Jonathan Jeremiah - Mountain
Jonathan Jeremiah sera en tournée européenne au printemps.
16 juillet 2018
Une nouvelle chanson de Rosemary Standley? Eh non, même si la ressemblance est troublante, il s'agit d'un titre issu du nouvel album (Everywhere I go) de Cicada Rhythm, jeune duo/trio folkrock d'Atlanta, Georgia, chanté ici par la moitié féminine du combo, Andrea DeMarcus. Un groupe qui s'appelle Le Rythme des Cigales et qui célèbre la route américaine, ça incite à descendre vers votre sud préféré toutes vitres baissées, non? Will do..
Cicada Rhythm - America's Open Roads
21 mai 2018
Larkin Poe, c'est deux frangines from Atlanta, Georgia, 28 ans de moyenne d'âge et une passion précoce pour l'Americana et le blues en général, et le rock'n'roll teinté southern en particulier. Comme tou(te)s les jeune(tte)s de leur âge, elles aiment partager leurs interprétations sur FB, revivifiant les classiques de Leadbelly, Duane Allman, Stevie Ray Vaughan, ou, ici, Son House, avec fraîcheur et sans une once de prétention. Alors bien sûr ça ne révolutionne pas l'avenir du futur de la musique, même si c'est fort sympathique, mais là ou elles se distinguent de leurs congénères, c'est qu'elles peuvent aussi assurer sur album et avec leurs propres compos, témoin ce Preach sorti en 2017 et republié il y a quelques semaines grâce au succès de son crowdfunding. Enjoy.
Larkin Poe - Preachin' Blues