21 mai 2019
Londres, 1965. The Eyes auraient souhaité avoir le même succès avec ce When The Night Falls, leur tout premier single, que The Who la même année avec leur My Generation, mais le titre écrit par Pete Townshend et produit par Shel Talmy était tout de même d'un autre calibre. Du coup The Eyes se consolèrent un an plus tard avec My Degeneration, piste psychéloufoque fourre-tout issue de leur EP The Arrival Of The Eyes. Join the Teaaaa-set and enjoy..
The Eyes - When The Night Falls
The Eyes - My Degeneration
20 mai 2019
New York, début et milieu des 80's. La vague punk est retombée depuis un moment, la no-wave a fait pshitttt, et musicalement il ne se passe pas grand'chose de nouveau et d'excitant dans la Grosse Pomme; c'est l'une de ses périodes creuses ou tout retombe à plat et où naturellement les rock'n'roll addicts de tous poils et fans absolus de la chose se tournent vers le passé, plus ou moins éloigné et fantasmé. Les Raunch Hands se forment, comme des tas de groupes avant et après eux, poussés par cette envie de jouer un rock'n'roll fun, sauvage, débridé, simple et jouissif, sans aucune prétention carriériste, artistique ou musicale, en puisant à la source, dans le riche patrimoine national gorgé de morceaux de 50's rock'n'roll, de rhythmn'n'blues, de surf music, de garage 60's et de punk des 70's tous plus kool et bandants les uns que les autres.
Oui mais les Raunch Hands sont surtout new-yorkais, et le sulfureux passé pré-Giuliani de leur ville-monde va faire tout autant partie de leurs influences majeures. D'où leur surnom, sûrement, de Kings of Sleaze, tant leurs références au sexe tendance dirty et à toutes les autres dépravations possibles et imaginables (le tout dégoulinant d'alcool cheap à souhait - Thunderbird E.S.Q.!) imprègnent leur rock'n'roll libre, déglingué, testostéroné et mal embouché - aussi rugueux qu'une main calleuse sur un arrière-train rebondi, pour une partie de spanking librement consentie.. Deux exemples avec leur propre Blackjack et une méchante reprise d'un hit surf des sixties, le I live For The Sun des Sunrays. Enjoy
The Raunch Hands - Blackjack
The Raunch Hands - I Live for the Sun
13 mai 2019
The Mystery Lights are back avec un nouvel album, toujours paru sur Wick Rds, le sous-label de Daptone, il y a quelques jours. Psyché-garage rock'n'roll from Brooklyn, NYC, cet état de Too Much Tension est-il le résultat "Trop Dur à Supporter", du Too Many Girls d'il y trois ans? Dunno, mais j'attends avec impatience de pouvoir jeter une oreille à ce nouveau lp. Enjoy.
The Mystery Lights - Too Much Tension
07 mai 2019
En 1985 sortait Beware The Ides of March, le premier album de Thee Mighty Caesars, un power trio garage punk back-to-basics monté par trois individus qui s'étaient déjà illustrés au sein d'une galaxie de bands vite qualifiée de Medway Scene - en référence au comté de Kent, au sud-est de Londres, d'où ces groupes avaient émergé dès la fin des 70's. The Pop Rivets, The Milkshakes, The Prisoners, puis The Headcoats/Headcoatees, The Delmonas, The Armitage Shanks, Holy Golightly, jusqu'aux Squares en France (Nancy), la liste est beaucoup trop longue, mais sûrement pas aussi longue que celle des productions vinyliques de l'ensemble de ces combos - rien que pour Billy Childish, chanteur-guitariste-peintre-poète, tête pensante et corps astral central de tout ce petit monde, on doit dépasser les 200!
Il faut bien l'avouer, cette multiplication tous azimuts de projets D.I.Y. avait à l'époque quelque chose de réjouissant, entre authentique passion pour le garage punk US et le rhythm'n'blues British des 60's dans leurs expressions les plus sauvages et déglinguées - évocations contemporaines des compiles Back From The Grave qui faisaient notre bonheur à la même période - et attitude désinvolte/je-m'en-foutiste, humour tongue-in-cheek et désir d'occuper le terrain dans le coeur et les tripes du rock'n'roll fan. Mais au fil des années, l'intérêt s'est émoussé, à cause même de cette prolifération d'albums et de singles souvent tout juste "okay".. jusqu'à ce qu'on les oublie suffisamment pour reprendre du plaisir, à l'occasion, à l'écoute d'une petite bombe comme ce You'll be sorry now, ce You make me die, ou ce Cowboys are square ("Indians are best!"). Enjoy.
Thee Mighty Caesars - You'll Be Sorry Now
Thee Mighty Caesars - You Make Me Die
Thee Mighty Caesars - Cowboys Are Square
29 avril 2019
Dans quelques heures démarrera la dixième édition du Roots & Roses Festival, ce chouette festival belge orienté Americana, Blues et Rock'n'Roll qu'on suit ici depuis maintenant quelques années. Un festival qui évolue et s'épanouit sans heurts, mais dont l'état d'esprit demeure le même: la qualité plutôt que la quantité, que ce soit côté organisation, bouffe (homemade et locavore) ou programmation, mêlant grosses pointures, jeunes pousses à découvrir et révélations récente.

Black Box Revelation en était une, de révélation, il y dix ans, lorsque le duo flamand se retrouvait à l'affiche de la première mouture du Roots & Roses en 2009, et il semblait donc naturel à Fred Maréchal, le head honcho du festival, de les programmer à nouveau cette année histoire de marquer le coup et de célébrer à la fois l'anniversaire de l'événement annuel Lessinois et le retour en force de ce combo fer de lance de la scène belge et solide référence en Europe. Une ch'tite piqûre de rappel avec leur High On A Wire, daté de 2009 justement, en attendant de prendre la route direction Lessines le Ier mai prochain!
The Black Box Revelation - High On A Wire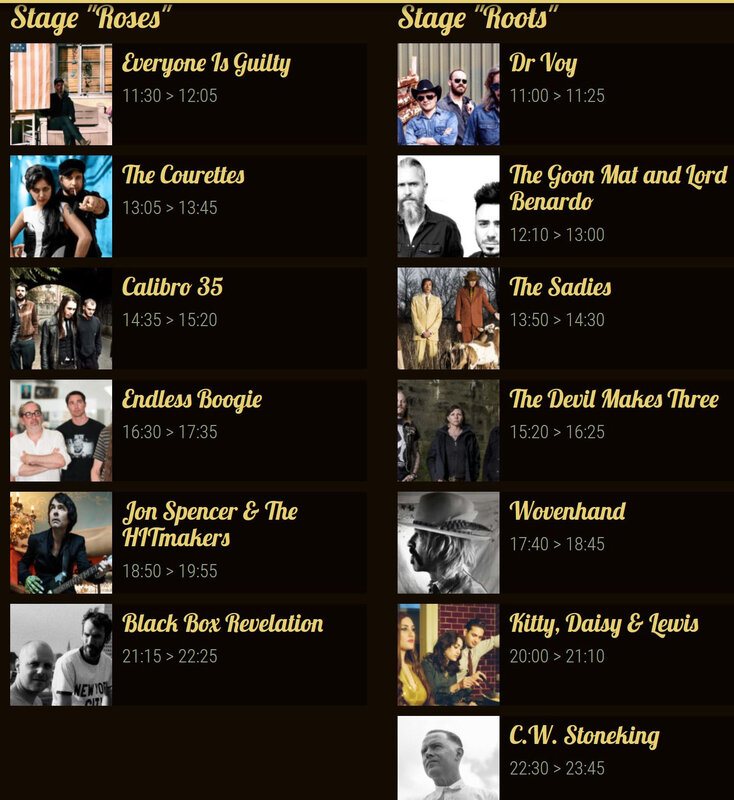 22 avril 2019
From Liège with leur primitive punk blues et un album produit par Jim Diamond, sorti sur Voodoo Rhythm Rds et sobrement intitulé Take Off Your Clothes, voici The Goon Mat et Lord Benardo, le duo belge chargé cette année de reprendre à sa hot sauce l'hymne officiel du festival Roots & Roses! Enjoy it en attendant de pouvoir se désaper et danser nu sous le soleil du fest le plus hot de Belgique (le staff du festival commande toujours une journée chaude et ensoleillée à la météo pour le premier mai, so, no probs).
The Goon Mat & Lord Benardo - Roots & Roses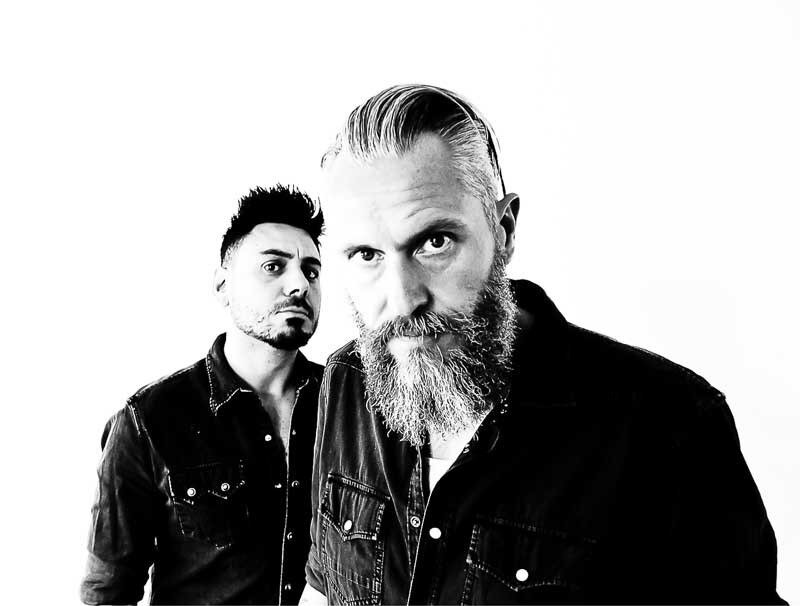 12 mars 2019
Des fois, j'aime bien me promener dans le noir, en pleine nuit, un grand couteau de boucher à la main, de la cuisine à la chambre, en écoutant le Night of the Sadist / Night of the Phantom de Larry & The Blue Notes, ou des covers bien senties de ce classique Back From The Grave garage-punker psychokiller paru en en 1965, face B de l'un des quatre singles enregistrés par ce combo de Fort Worth, Texas.
Des fois, je massacre une tartine et un bout de filet mignon, et après je retourne me coucher.
Et je dors.
Bien.
Larry & The Blue Notes - Night Of The Sadist
Larry & Blue Notes - Night Of The Phantom
Zuma - Night of The Sadist
The Nazis From Mars - Night Of The Phantom
09 mars 2019
La piste à se mettre en boucle quand c'est le weekend mais que le temps est pourri, qu'il fait froid, qu'on est crevé et qu'on a le moral dans les boots.. Ce classique pop-garage-rocker qui-aurait-du-être-un-hit à l'époque fut signé par The Choir, from Cleveland, Ohio, en 1966, est fait encore aujourd'hui toujours bien la paire garage-météorologique avec le I'm in Pittsburg (And it's raining) de The Outcasts, paru la même année. La version d'un autre natif de Cleveland, Stiv Bators, sortie en 1979, est pas mal non plus. Enjoy.
The Choir - It's Cold Outside
Stiv Bators - It's Cold Outside
26 février 2019
30 ans.. putain, TRENTE ANS!!! ça fait trente ans que cet album monstrueux est sorti, le troisième effort de The Cynics, un gang de garagistes pas manchots, à l'écoute de leurs deux albums précédents, mais qui fin 1989 s'étaient franchement lâchés sur ce Rock'n'Roll le bien nommé, poussant la logique garage punk dans ses derniers retranchements, la guitare fuzz démoniaque de Gregg Kostelich et le chant-hurlement possédé de Michael Kastelic au service de quatorze titres à l'exquise brutalité explosant les haut-parleurs de la chaîne hi-fi et la cervelle de votre serviteur.. Le même impact quasi-physique que la découverte des titres des Sonics quelques années auparavant, en ce qui me concerne. Et le truc cool, c'est que Get Hip, le label de Pittsburg dirigé par les deux suscités, propose pour l'anniversaire du bestiau une reissue de luxe et augmentée histoire de donner l'occasion aux jeunes générations innocentes de sombrer corps et âmes dans cette marmitte rock'n'roll ultra-jouissive et addictive!
Un avant-goût de la furie avec cette fabuleuse cover du Cry Cry Cry des Unrelated Segments (déjà bien barré d'origine), plus leur propre Baby What's Wrong, un titre qui a du devenir un hit interplanétaire, s'il y a une quelconque justice divine, dans un univers parallèle au nôtre. Enjoy.
The Cynics - Baby What's Wrong
25 février 2019
The Cayman Kings pour commencer la semaine en beauté psychédélique, mais pas déliquescente (Wot?), avec un extrait du tout nouveau long-jeu de cet excellent six-tease garage band lillois, Marigold Under Scales, tout juste paru chez Soundflat, le fameux label allemand au goût toujours aussi impeccable. Et pour joindre l'agréable au supermidable, le groupe sera de la partie le samedi deux mars lors de la soirée Peaky Mania à la Maison Folie de Wazemmes, pour la présentation publique de la programmation du Séries Mania Festival, édition 2019, qui se déroulera à Lille du 22 au 30 mars prochain! Koooool...
Ah oui au fait, la soirée Peaky Mania est gratuite, mais vu le buzz, vaut mieux réserver dès ce midi sur le site officiel du festival..

Cayman Kings - Pink & Blue