14 janvier 2020
The Unknowns.. Déjà eu l'occasion de dire ici à quel point je chérissais ce groupe, mais une petite discussion sur les réseaux sociaux ce weekend autour de ce mythique concert lillois du 18 octobre 1990 à l'ancien Aéronef (rue Colson) m'a fait illico replonger dans la savoureuse potion rock'n'roll concoctée à l'époque par Bruce Joyner, Mark Neill, David Doyle et Steve Bidrowski (remplacé par Craig Packham lors de cette tournée). Du coup je réécoute en boucle l'enregistrement intégral de ce gig réalisé par RCV 99fm, la rock radio locale, et je me dis que ça vaut la peine de re-partager ce petit bijou avec vous.. Enjoy.
The Unknowns - The Streets
Bruce Joyner & the Unknowns Live in Lille ( L'Aeronef ) - October 18 th 1990)
11 janvier 2020
Yeaaaaah.. la piste garage punk parfaite pour démarrer le weekend! Un riff qui trace, un orgue que frétille derrière, une rythmique carrée et percutante, des lyrics futiles donc indispensables et un chant plein de morgue teenage, tout ça emballé en moins de deux minutes, au milieu des sixties, par The Oucasts, éphémère teen combo de San Diego, Californie. Kewl..
30 décembre 2019
Le groupe ne venait pas tout à fait de New York, mais de suffisamment près (Bergenfield, New Jersey), pour justifier le choix de ce patronyme historique. Par contre, en termes 'historiques" justement, les Knickerbockers ne durèrent que quelques saisons, le temps de surfer - en trois albums composés de quelques originaux et des mêmes reprises que tout le monde - sur la vague Mersey Beatlemaniaque qui submergea les States au milieu des sixties, avec pour seul et unique leg aujourd'hui quelques pistes pas mauvaises du tout et surtout ce killer hit, Lies, daté de 1965. Enjoy.
J'adore aussi la version de Nancy Sinatra enregistrée en 1966 sous la houlette de Lee Hazlewood. Enjoy aussi!
23 décembre 2019
Avril 1963. Le jeune Don Gallucci, 15 ans, signe le riff de keyboards de Louie Louie, instant classic du Pacific Northwest Sound puis hit interplanétaire définitif des Kingsmen, mais se fait virer du groupe parce qu'il est trop jeune pour partir en tournée. Pas démonté pour un sou, il monte aussi sec un nouveau combo, Don & The Goodtimes, et cartonne immédiatement avec le killer instro Turn On puis avec Little Sally Tease, autre future classique garage, d'ailleurs vite repris par tout le monde dont les fabuleux Standells, à Boston, à l'autre bout des States. Le groupe devient vite un incontournable du circuit des clubs régionaux, tout comme les Wailers, les Sonics et Paul Revere & The Raiders, mais sans jamais atteindre le succès de ses derniers.
Leur version du vigoureux Money (That's What I Want), un standard rhythm'n'blues daté de 1959 et signé par l'infernal duo Berry Gordy/Janie Bradford pour Barrett Strong vaut aussi le détour, et leur réengistrement de Louie Louie étalé sur plus de cinq minutes rivalise en énergie et brutalité garage punk avec les originaux et les reprises des Sonics eux-mêmes. Enjoy.
Don and The Good Times -Little Sally Tease
Don and The Good Times - Money
Don & The Goodtimes - Louie Louie (Le cliché est bien sûr une photo des Sonics, et non pas de Don & The Good Times)
Déjà posté un titre des Stems en guise de T.W.M.V. il y a trois ans, mais je ne vois aucune raison de se priver de ce genre de gourmandise aussie classic en cette fin d'année. Enjoy The Mushroom.
The Stems - Under Your Mushroom
03 décembre 2019
Un p'tit shot de pure garage punk sex-teaze revival, ça ne se refuse jamais, surtout un mardi (?), et surtout de cette qualité! The Premonitions, Baby, from Los Angeles with fuzz et deux 45trs parus cette année, dont ce tout nouveau Give Back What You Take b/w Sun Goes Down. Enjoy.
The Premonitions- Give Back What You Take
!
19 novembre 2019
Ils sont jeunes, ils sont chevelus, ils sont néerlandais, ils font du garage rock teinté 60's et leurs compos, disponibles sur leur tout frais premier lp qui vient juste de paraître (Don't You Want to Know..) tiennent parfaitement la route, sans prétention mais avec le groove et la niaque qui vont bien. Ils s'appellent The Tambles et on les aiment déjà beaucoup dans R.K.T. Check 'em Out!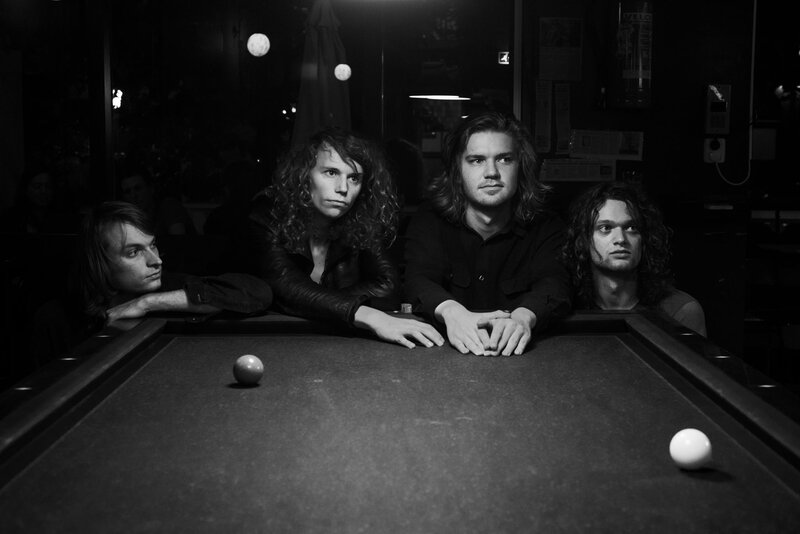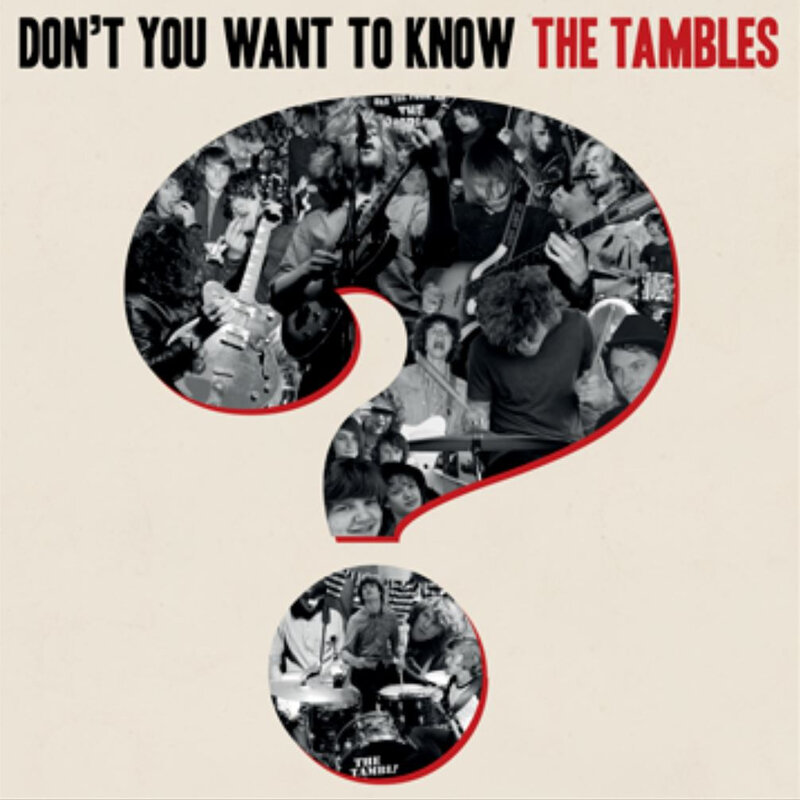 12 novembre 2019
The Dogs. Pas du "rock français", ou même "hexagonal" - du rock'n'roll Made-in-France. Nuance.Too much class internationale, sans se forcer, dès les premiers eps et avec ce premier album, Different - qui portait si bien son titre - paru en 1979. Enjoy.
05 novembre 2019
2001! Déjà 18 ans qu'est sorti ce qui doit probablement être le meilleur enregistrement jamais réalisé par les Dirtbombs, un bon groupe de Detroit monté par le cofondateur des Gories, Mick Collins, quelques années auparavant. Deux batteries, deux basses, une guitare, la voix chaude et la présence scénique de Collins.. de quoi garantir de sacrés souvenirs de concerts, surtout pendant les tournées de promo de ce fameux second album Ultra Glide In Black, avec cette superbe collection de reprises remises au goût du jour garage soul. Le single Ode to a Black Man a bien tourné sur ma platine, la face A signée en 1980 par Phil Lynott, mais aussi la face B inédite avec cette cool et suavissime cover du Natural Man (1971) du crooner soul/r'n'b Lou Rawls! Enjoy.
The Dirtbombs - Ode to a Black Man
The Dirtbombs - Natural Man
30 octobre 2019
Alors, ce concert des Detroit Cobras hier soir aux 4-Ecluses à Dunkerque.. on était nombreux(ses) à avoir fantasmé sur ce combo issu de la scène de Detroit de la fin des 90's, mais contrairement aux Gories, Dirtbombs et autres White Stripes, les occasions de voir le gang de Rachel Nagy et de Maribel Restrepo avaient été extrêmement rares en Europe. Restait les vinyles, cinq long-jeux et mini-lps, dont ces deux excellents premiers albums, Live, Love or Leaving (2001) et surtout Mink, Rat or Rabbit (1998), superbes collections de reprises de vieux trucs obscurs mais géniaux, black rock'nroll et rhythm'n'blues fifties et early-sixties essentiellement, passés à la moulinette garage tendance dancefloor filler. Deux lps qui reviennent encore régulièrement sur ma platine, et qui comme pour pas mal de fans avaient à l'époque provoqué de fiévreuses recherches des fabuleux originaux sélectionnés par les 'Cobras, ces gemmes plus ou moins rares qui leurs avaient de facto garanti un répertoire en béton armé.
C'est surtout en pensant à l'opportunité de découvrir ces perles vintage en live qu'on misait ce mardi soir, et effectivement j'ai pris mon pied à danser sur les covers de Gary U.S. Bonds, des Shangri-Las, des Shirelles, de Brice Cofield et de Otis Redding, même si, en toute honnêteté, la perf du groupe était souvent tout juste du niveau d'un (bon) groupe de baloche.. Tant pis pour le (mini-)mythe, tant mieux pour le weekend qui arrive, ça aura au moins eu le mérite de me redonner envie de plonger dans mes compiles "Songs We Taught The Detroit Cobras" homemade..
Allez, une 'tite video du concert tout de même, une version d'autant plus chouette du Looking For My Baby des Nite Riders que le groupe a eu l'excellente idée d'inviter sur scène Daphné Pussycat, la world-famous dee-jay du fantasmabuleux Faster Pussycat rock'n'roll radio show sur PFM-99.9 à Arras, pour les backing-vocaux! Kewl.....
Detroit Cobras - Looking for my Baby
Quelques mots aussi sur la première partie signée Jack's On Fire, jeune et vigoureux quatuor lillois qui depuis 2012 (déjà?!) assène sa post-pop punk sucrée salée avec une saine aggressivité toute rock'n'roll. un bon gig pour se mettre en jambes, avant la deuxième première partie (Parlor Snakes), mais pas un simple échauffement, J.O.F. a suffisamment de bons titres et de bonnes idées, en plus de l'attitude ad hoc, pour qu'on ait vite envie d'en savoir plus - je vais les suivre de près, désormais.. le titre ci-dessous, Fake Generation, est celui avec lequel les lillois on terminé leur set. De la graine de hit, non?
Jack's on Fire - Fake Generation