12 mars 2019
Des fois, j'aime bien me promener dans le noir, en pleine nuit, un grand couteau de boucher à la main, de la cuisine à la chambre, en écoutant le Night of the Sadist / Night of the Phantom de Larry & The Blue Notes, ou des covers bien senties de ce classique Back From The Grave garage-punker psychokiller paru en en 1965, face B de l'un des quatre singles enregistrés par ce combo de Fort Worth, Texas.
Des fois, je massacre une tartine et un bout de filet mignon, et après je retourne me coucher.
Et je dors.
Bien.
Larry & The Blue Notes - Night Of The Sadist
Larry & Blue Notes - Night Of The Phantom
Zuma - Night of The Sadist
The Nazis From Mars - Night Of The Phantom
09 mars 2019
La piste à se mettre en boucle quand c'est le weekend mais que le temps est pourri, qu'il fait froid, qu'on est crevé et qu'on a le moral dans les boots.. Ce classique pop-garage-rocker qui-aurait-du-être-un-hit à l'époque fut signé par The Choir, from Cleveland, Ohio, en 1966, est fait encore aujourd'hui toujours bien la paire garage-météorologique avec le I'm in Pittsburg (And it's raining) de The Outcasts, paru la même année. La version d'un autre natif de Cleveland, Stiv Bators, sortie en 1979, est pas mal non plus. Enjoy.
The Choir - It's Cold Outside
Stiv Bators - It's Cold Outside
26 février 2019
30 ans.. putain, TRENTE ANS!!! ça fait trente ans que cet album monstrueux est sorti, le troisième effort de The Cynics, un gang de garagistes pas manchots, à l'écoute de leurs deux albums précédents, mais qui fin 1989 s'étaient franchement lâchés sur ce Rock'n'Roll le bien nommé, poussant la logique garage punk dans ses derniers retranchements, la guitare fuzz démoniaque de Gregg Kostelich et le chant-hurlement possédé de Michael Kastelic au service de quatorze titres à l'exquise brutalité explosant les haut-parleurs de la chaîne hi-fi et la cervelle de votre serviteur.. Le même impact quasi-physique que la découverte des titres des Sonics quelques années auparavant, en ce qui me concerne. Et le truc cool, c'est que Get Hip, le label de Pittsburg dirigé par les deux suscités, propose pour l'anniversaire du bestiau une reissue de luxe et augmentée histoire de donner l'occasion aux jeunes générations innocentes de sombrer corps et âmes dans cette marmitte rock'n'roll ultra-jouissive et addictive!
Un avant-goût de la furie avec cette fabuleuse cover du Cry Cry Cry des Unrelated Segments (déjà bien barré d'origine), plus leur propre Baby What's Wrong, un titre qui a du devenir un hit interplanétaire, s'il y a une quelconque justice divine, dans un univers parallèle au nôtre. Enjoy.
The Cynics - Baby What's Wrong
25 février 2019
The Cayman Kings pour commencer la semaine en beauté psychédélique, mais pas déliquescente (Wot?), avec un extrait du tout nouveau long-jeu de cet excellent six-tease garage band lillois, Marigold Under Scales, tout juste paru chez Soundflat, le fameux label allemand au goût toujours aussi impeccable. Et pour joindre l'agréable au supermidable, le groupe sera de la partie le samedi deux mars lors de la soirée Peaky Mania à la Maison Folie de Wazemmes, pour la présentation publique de la programmation du Séries Mania Festival, édition 2019, qui se déroulera à Lille du 22 au 30 mars prochain! Koooool...
Ah oui au fait, la soirée Peaky Mania est gratuite, mais vu le buzz, vaut mieux réserver dès ce midi sur le site officiel du festival..

Cayman Kings - Pink & Blue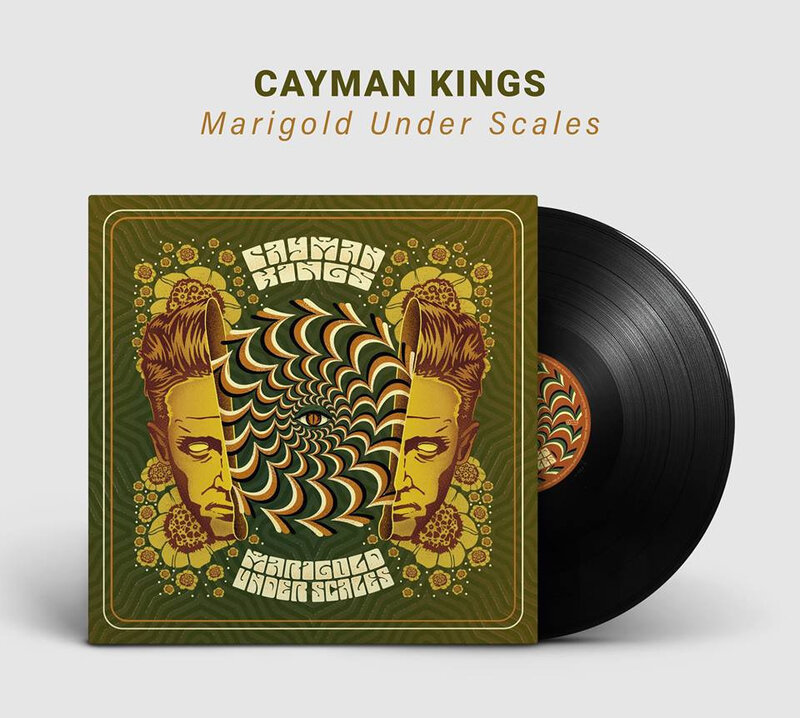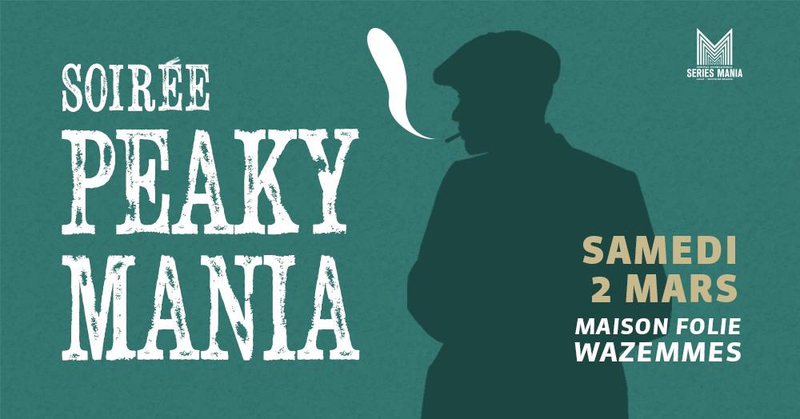 19 février 2019
1966. Dans quelques mois The Animals vont muter en Eric Burdon & The (New) Animals et prendre une virage psyché dans l'air du temps, mais pour l'instant le Rhythm'n'Blues survitaminé est toujours de mise et, British Invasion oblige, continue d'inspirer le garage rock US, de l'autre côté de la mare. Une bel exemple avec ce brutalement efficace Inside Looking Out, extrait de Animalization. Enjoy.
The Animals - Inside Looking Out
12 février 2019
Qui ça? The Jury, buddy! On reste au Canada avec ce compo de Winnipeg qui eut son quart d'heure de gloire localement dans les mid-sixties avant de se séparer après plusieurs tentatives pour percer sur le marché US. La face A de leur quatrième single Please Forget Her, témoigne de ce virage commercial et ne présente pas beaucoup d'intérêt, mais la face B, un vigoureux psyché-punker garage-rocker, est devenue un nuggets classic, toujours aussi tonique et bandant 53 ans après son enregistrement!
06 février 2019
Bon, ça c'est pas cool: le gig à l'Aéronef des très attendus Schizophonics, dont les derniers 33-tours tournent en boucle dans les RKT headquarters en ce moment, est annulé (comme toute la tournée), mais on se console avec l'annonce du retour pas loin de chez nous des Lords of Altamont (le 29 mai au Magasin 4 à Bruxelles), et avec le comeback le plus inattendu du moment! Chula Vista, California's very own punk rock legends The Zeros are back in town, ou plutôt en Europe, avec pour l'instant une date prévue à Paris, au Klub, le jeudi 28 février! Yaaahhhrrrg!!!
The Zeros - Right Now
The Zeros - Dont Push Me Around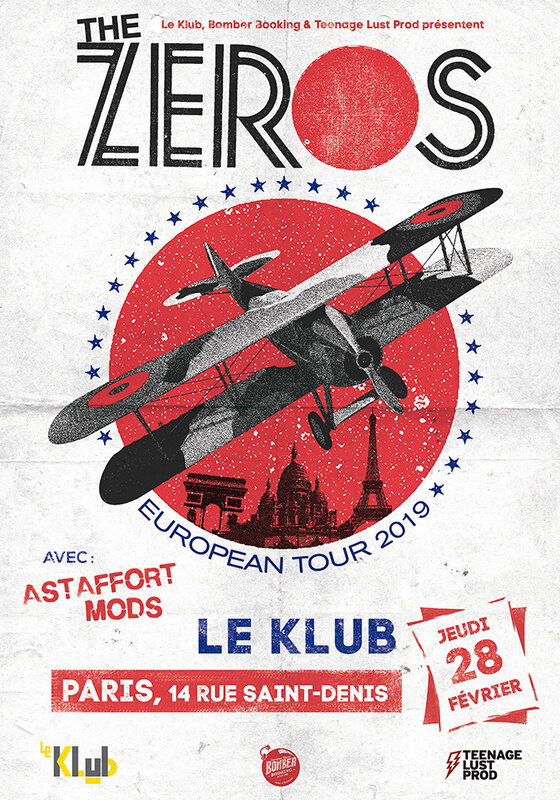 Merci à BeePee pour l'info, et pour avoir ressorti cette affiche du concert organisé par Vertigo! à Arras en 1996 sur l'infameuse péniche Les Tontons Flingueurs!!! Ah la vache ça m'a fait un choc! :)))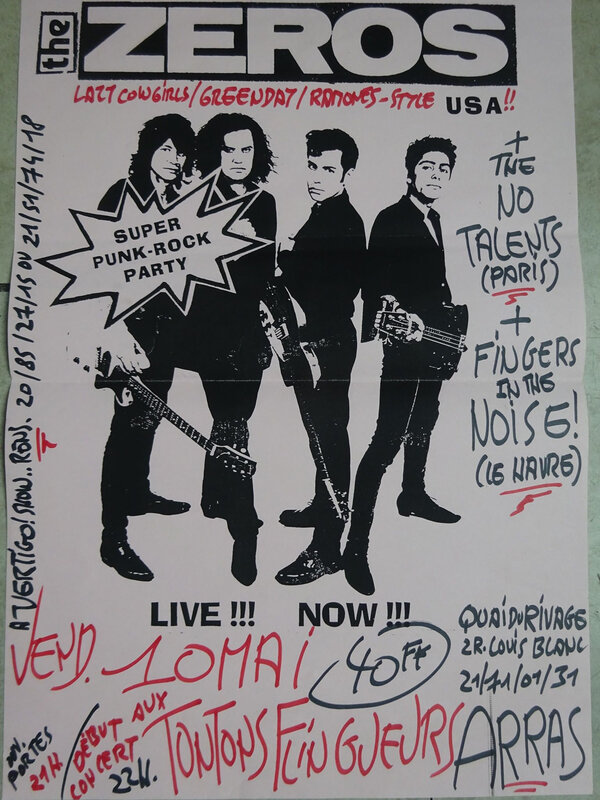 19 janvier 2019
Los Angeles, 1966. The Seeds avec leur deuxième album A Web Of Sound, Sky Saxon au chant et le presque quart d'heure de Up In Her Room.. Psychedelic groove out of the garage! Enjoy.
The Seeds - Up in Her Room
12 janvier 2019
The Fadeaways. 2016. Japanese Garage Punk. Yeah. Kool.
'Nuff Said.
Enjoy.
The Fadeaways - That Girl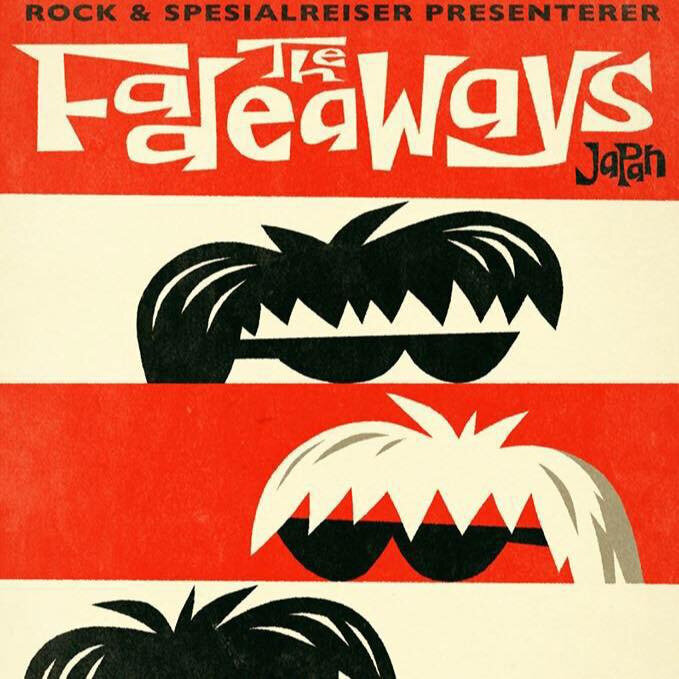 05 janvier 2019
Bon, la soirée est pourrie, le DJ craint, la bouffe est infâme, y'a rien à boire, et les autres vous snobent.. Pas grave, virez l'incapable en charge des playlists, dégainez votre usb-key, et balancez ce fabuleux single des Slickee Boys! Avantages immédiats: vous faites le vide sur la piste, ça vous laisse toute la place pour danser le Watusi comme un sauvage, et en plus vous exprimez clairement votre opinion sur la soirée en question..
Un des trucs les plus féroces et drôles jamais enregistrés par ce combo mythique dans l'underground de Washington D.C., This Party Sucks était sorti sur New Rose Records en 1988.
The Slickee Boys - This Party Sucks