23 juin 2019
J'ai replongé avec plaisir dans mes souvenirs de gamin en visionnant hier sur ARTE cet excellent documentaire sur la carrière de Billy Gibbons, Dusty Hill et Frank Beard! Truffé d'images d'archives, évoquant rapidement mais avec justesse l'avant ZZ Top via les Moving Sidewalks et The American Blues, sans oublier la connection avec Roky Erickson et The Jimi Hendrix Experience, ce doc permet de (re)découvrir la partie la plus intéressante de la carrière du groupe (autrement dit de leur début en 69-70 à Eliminator et la période MTV - le reste de leur parcours étant, d'une manière très révélatrice, complètement passée sous silence).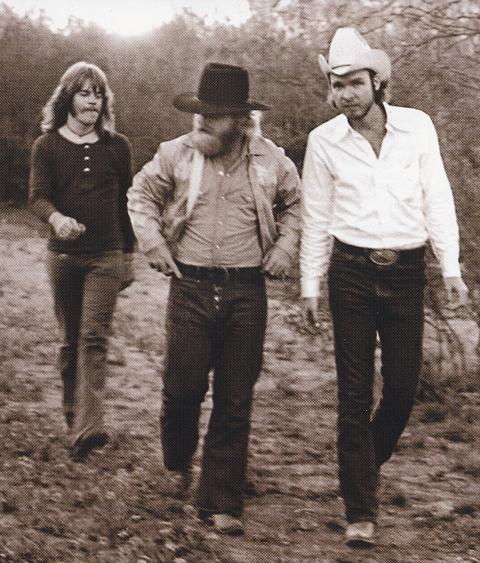 Les trois membres du groupe se livrent volontiers, ensemble et séparément, avec franchise, humour et humilité, et en écoutant ces trois types très ordinaires et complètement indifférents à la hype, on a l'impression de retrouver des vieux potes perdus de vue depuis longtemps mais avec qui on redémarre au quart de tour.. Du coup, ce matin, c'est vintage ZZ top en boucle sur la hi-fi dans le salon!
10 juin 2019
La piste qui ouvre en 1992 Sunrise On The Sufferbus, le deuxième album de The Masters Of Reality, ce très bon combo de Desert Rock de la scène de Palm Desert, dans la Coachella Valley, en Californie. Chris Goss toujours aux commandes, Ginger Baker (!) aux fûts, et ça déménage.. Enjoy.
Masters Of Reality - She Got Me (When She Got Her Dress On)
18 mai 2019
Ce titre folk traditionnel popularisé par Leadbelly et Woody Guthrie dans les années '40 fut bien sûr un hit en France et dans le monde anglo-saxon dans sa formidable version signée Eric Burdon & The Animals en 1964, mais je comprends ceux et celles qui lui préfèrent celle-ci, signée Frijid Pink (Ce nom!) à Detroit cinq ans plus tard. Transformée en hard-rockin' charge psyché-épique et propulsée par le chant puissant de Tom Beaudry, elle demeure l'une des meilleures covers jamais enregistrées de ce classique véritablement - pour une fois l'expression n'est pas usurpée - intemporel!
Frijid Pink faisait partie, au même titre que les Amboy Dukes, le MC5, les Stooges ou les Rationals, de toute cette galaxie de groupes qui n'arrêtaient pas de tourner régionalement et qui de fait surent se tailler une solide réputation en live - leurs concerts attiraient énormément de monde dans la région et étaient souvent sold-out - et pourtant, la renommée de ce combo hard blues psychédélique formé en 1967, n'a jamais vraiment dépassé les limites du Michigan. Leur seul titre de gloire en dehors du succès local puis national de The House Of The Rising Sun fut d'avoir offert, un jour, à un jeune groupe tout juste créé à Londres l'opportunité d'assurer leur première partie aux USA. Le groupe en question s'appelait encore, quelques semaines auparavant, The New Yardbirds, et venait de changer de patronyme. Son nouveau nom: Led Zeppelin..
Frijid Pink - House of the Rising Sun
Quant à la version des Animals, cela fait aujourd'hui 55 ans jour pour jour que les cinq de Newcastle Upon Tyne l'enregistrèrent à Londres en moins de 24 heures, en une seule prise et en plein milieu de leur tournée britannique, avant de reprendre la route. Le single est publié le 19 juin, et malgré la longueur inhabituelle du titre qui provoque une certaine réticence à la BBC, il commence à grimper dans les charts aux quatre coins de la planète. Il entre dans le top-40 le premier juillet 1964, atteint la première place le 15 au Royaume Uni, le 5 septembre aux USA, avec entre ces deux dates une percée remarquable en France le 9 août - l'un des rares titres en anglais à bousculer la variété française dominante et les versions francisées et édulcorées des hits anglo-saxons des yé-yés. Le 45-tours restera 12 semaines dans le Top-100 britannique et demeurera n°1 trois semaines d'affilée aux USA..
The Animals - House of the Rising Sun
Un p'tit bonus avec ce montage de différentes versions du standard trouvé sur YT. Enjoy.
The House of the Rising Sun trough History (1933-2016)
01 avril 2019
Un avant-goût du printemps et d'un été torride? E tout cas une bonne tranche de 70's revisitées, versants hard-rockin' roots, folk & blues.. Grace Potter & The Nocturnals, au naturel, avec une version live très chargée en eye candy de leur Paris (Ooh la la), qui ouvre leur troisième album paru en 2010. Bien content que la petite soeur de Harry ait choisi d'empoigner le manche d'une Flying V plutôt qu'une bête baguette de magicien, non?
Grace Potter & The Nocturnals - Paris (Ooh La La)
Grace Potter And The Nocturnals - Paris (Ooh La La)
16 octobre 2018
Nine Pound Hammer hier, Nashville Pussy today, Blaine Cartwright toujours, avec Corey et Ruyter en machines à orgasme white trash sleaze hard rock speed punk à donf'.. et la pochette du single glorieusement repompée sur l'affiche - Babette Bardot forever! - de Mondo Topless, un Russ Meyer de 1966.. What's not to enjoy?
Nashville Pussy - Go Motherfucker Go