06 mai 2019
The Knack, Los Angeles, 1979, la face-B du fameux hit interplanétaire My Sharona. Un single acheté à l'époque et dont les deux faces reviennent encore régulièrement dans ma playlist. Enjoy.
16 avril 2019
Des guitares, de la pop vitaminée et deux titres - She May Be Your Girl b/w All The Innocent Girls - qui parlent de.. filles, et rien d'autre. The Donuts, San Francisco, 1980, un seul et unique single autoproduit, une autre perle power pop à glisser dans une mixtape! Enjoy.
The Donuts - All The Innocent Girls
06 avril 2019
Derrière The Red Button, il y a un duo de songwriters plutôt doués et très actifs du côté de Los Angeles, Seth Swirsky et Mike Ruekberg. Le groupe a quant à lui deux albums à son actif depuis 2007, et cette petite perle power pop intitulée Cruel Girl, tiré de leur premier lp, She's About to Cross My Mind, a connu son petit succès à sa sortie en single à l'époque. Enjoy.
The Red Button - Cruel Girl
02 avril 2019
Un classique issu de la toujours aussi formidable compil' Destination: Bomp!, ce titre incisif signé The Vertebrats, éphémère quatuor power pop (1979-1982) et fierté D.I.Y. de l'Illinois, me tittille encore l'oreille aujourdhui et trouve toujours sa place dans mes mixtapes. Enjoy.
The Vertebrats - Left In The Dark
25 mars 2019
En plein festival SériesMania ce weekend, quelques belles découvertes déjà, mais je me disais que ça faisait quand même un bon moment que je n'avais pas eu un choc sériephile à la hauteur de Breaking Bad, la fameuse série en cinq saisons (2008 - 2013) de Vince Gilligan, featuring Brian Cranston dans le rôle (de sa vie?) de Walter White, prof de chimie qui a plus ou moins raté sa vie et qui, atteint d'un cancer foudroyant, se transforme en redoutable fabriquant-dealer de métamphétamine pour subvenir aux besoins de sa famille.
J'avais vraiment craqué sur cette série là en particulier, et j'ai encore un souvenir ému de la toute dernière scène du tout dernier épisode, quand Walter rend l'âme et que le Baby Blue de Badfinger démarre.. Rarement l'adéquation entre les paroles d'une chanson, la chanson elle-même, et l'utilisation de celle-ci à un moment-clé - le premier couplet résumant en quelques mots toute l'intrigue - n'avait été aussi parfaite. Un coup de maître de Thomas Golubic, le Music Supervisor de la série à l'époque!
Badfinger - Baby Blue
16 mars 2019
j'ai découvert ce Pretty Please via la killer cover de Redd Kross sur leur album de 1996, Show World. Le gang des frangins McDonald l'avait repris des Dickies (autre grand groupe oublié - on en reparle bientôt). The Dickies avaient légèrement modifié le titre et en avait pondu une version speedo-ramonesque tout à fait réjouissante en '83, sur leur Stukas Over Disneyland le bien-nommé. l'original signé The Quick (Los Angeles, 1974-1978, un album est une poignée de singles et EP's) datant quant à lui de 1978, est depuis devenu une classique power-pop incontournable - surtout le samedi matin pour démarrer le weekend. Enjoy.
The Quick - Pretty Please
The Dickies - Pretty Please Me
Redd Kross - Pretty Please Me
09 mars 2019
La piste à se mettre en boucle quand c'est le weekend mais que le temps est pourri, qu'il fait froid, qu'on est crevé et qu'on a le moral dans les boots.. Ce classique pop-garage-rocker qui-aurait-du-être-un-hit à l'époque fut signé par The Choir, from Cleveland, Ohio, en 1966, est fait encore aujourd'hui toujours bien la paire garage-météorologique avec le I'm in Pittsburg (And it's raining) de The Outcasts, paru la même année. La version d'un autre natif de Cleveland, Stiv Bators, sortie en 1979, est pas mal non plus. Enjoy.
The Choir - It's Cold Outside
Stiv Bators - It's Cold Outside
24 février 2019
Pas mal du tout le gig des Death Valley Girls hier soir au 4AD à Diksmuide, mais on a surtout craqué sur la perf toute en fraîcheur pop sucrée salée mais néanmoins rentre-dedans de Calva Louise, jeune trio British from Londres, qui vient en outre de sortir il y a quelques jours son premier album, Rhinoceros. Check 'em out if you can, ça fait du bien!
Calva Louise - Getting Closer
Calva Louise - I'm Gonna Do Well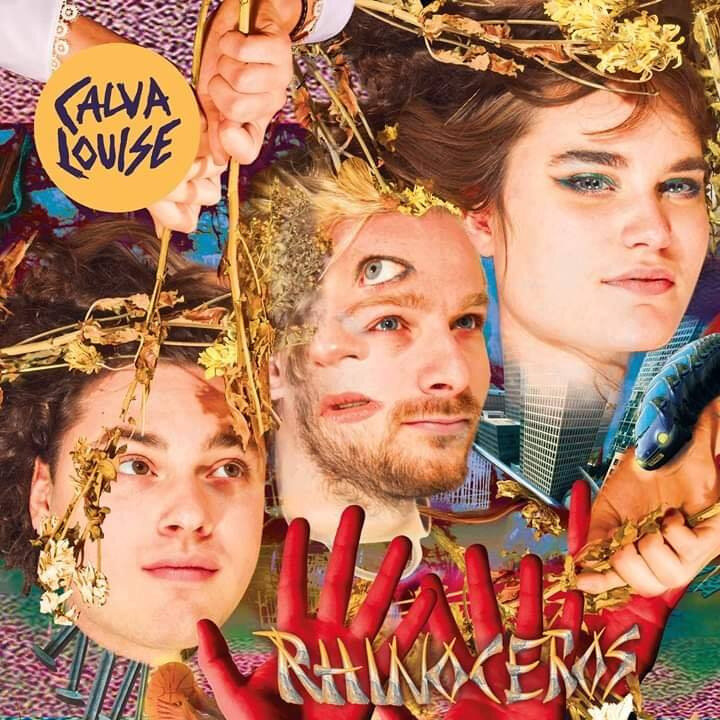 05 février 2019
Joey & Marky, Johnny & Dee Dee.. et End Of The Century, le cinquième album des Ramones, sorti il y a tout juste 39 ans, le premier que j'ai acheté neuf en 1980! Still kicking butts 39 years later.. Enjoy!
Ramones - Rock 'N' Roll High School
Ramones - Do You Remember Rock and Roll Radio?
10 décembre 2018
R.I.P. Pete Shelley, fondateur, songwriter, et chanteur-guitariste des Buzzcocks, seminal combo mancunien qui, de 1976 à 1980, associa de façon magistrale concision punk et hooks power pop. La compilation Singles Going Steady est toujours un must absolu.
Buzzcocks - What do I get
Buzzcocks - Orgasm Addict