06 juillet 2019
Le seul point commun entre ces deux pistes, outre leur titre quasi-identique, c'est l'année de parution (1966) et le fait que les écouter en boucle pendant une heure le samedi matin vous file la patate pour tout le weekend. Merci donc à Tommy Boyce, l'homme responsable d' un bon nombre de hits pop des sixties (dont ceux des Monkees) et à Robert Parker (le New-Orléanais derrière l'ultra-groovy hit Barefootin', même année) pour ces deux killer tunes qui donnent envie de foncer sur la plage en écoutant du rhythm'n'blues (why not). Enjoy.
Tommy Boyce - Let's Go Where The Action Is
Robert Parker - Let's Go Baby (Where The Action Is)
24 juin 2019
Un T.W.M.V. en forme d'hommage, quelques jours après la disparition de Dc. John, à une autre légende de la Nouvelle Orléans, Dave Bartholomew, qui vient de nous quitter hier dimanche six mois presque jour pour jour après son centième anniversaire. Trop rapidement uniquement présenté comme "l'homme derrière Fats Domino", Dave Bartholomew était un membre incontournable et respecté des multiples scènes new-orléanaises, du jazz au rock'n'roll, du swing au rhythm'n'blues.
Dave Bartholomew - The Monkey
Dave Bartholomew - Shrimp and Gumbo
Dave Bartholomew's interview on PBS
22 juin 2019
Premier hit en 1961 de Gary "US" Bonds, peu prolifique mais toujours actif rhythm'n'blues rock'n'roller né en 1939 à Jacksonville en Floride, ce New Orleans ne peut pas ne pas vous faire tricoter des gambettes le samedi matin! En bonus, une rareté datée de 1962 mais jamais sortie à l'époque (il a fallu attendre les 80's), ce I Wanna Holler avait été déterré il y a quelques années par les Detroit Cobras, pour le plus grand bonheur des amateur-trices de r'nb rugueux. Enjoy.
Gary " U.S." Bonds - New Orleans
Gary " U.S." Bonds - I Wanna Holler
08 juin 2019
David Walker a.k.a. Bunker Hill, le Screamin' Wildman du classique The Girl Can't Dance, avec ce qui était en fait la face A de ce monstrueux stomper (re)découvert par beaucoup via le fameux volume 4 des compilations Back From The Grave de Crypt Rds au milieu des 80's. Le single original était le troisième effort du Washingtonien (District of Columbia), un an après son premier cri primal, l'ultra raw et primitif Red Riding Hood & The Wolf, paru en '62 - En backing band derrière le Bunker, Link Wray et ses Raymen.. Scream, Baby, Scream!
Bunker Hill - You Can't Make Me Doubt My Baby
Bunker Hill - Red Riding Hood & The Wolf
25 mai 2019
Je suis tombé il y a peu sur cette super cover récente signée The Bluebeaters, un combo italien spécialisé dans les reprises ska/rocksteady, d'un titre rare des 5 Royales (oui, ceux de The Slummer The Slum, repris par les Detroit Cobras) daté de 1962, et je ne m'en lasse pas, pas plus d'ailleurs que de l'original ou de la version de 2011 des Bo-Keys, ce groupe constitué de vétérans de chez Stax et de la scène Soul/R'n'B de Memphis toujours actifs aujourd'hui. Enjoy.
The Bluebeaters - Catch That Teardrop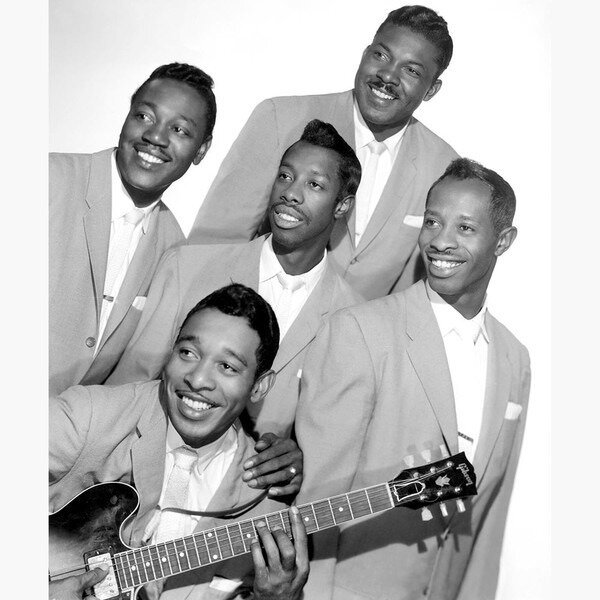 Five Royales - Catch That Teardrop
14 mai 2019
Toujours aussi impériale et indéboulonnable, Mavis Staples! La voix (au sein de son groupe familial, les légendaires Staples Singers) du Mouvements de Droits Civiques de Martin Luther King a toujours bon pied bon oeil aujourd'hui, à quelques semaines de son 80ème anniversaire, et un nouvel album à paraître dans quelques jours! En attendant ce We Get By, produit et écrit par Ben Harper, un extrait de l'album en question et en bonus, son Down In Mississippi tiré d'un autre album (We 'll never turn back, produit par Ry Cooder) paru sur le même label, Anti- Rds, en 2007. Enjoy.
Mavis Staples - Down In Mississippi
07 mai 2019
En 1985 sortait Beware The Ides of March, le premier album de Thee Mighty Caesars, un power trio garage punk back-to-basics monté par trois individus qui s'étaient déjà illustrés au sein d'une galaxie de bands vite qualifiée de Medway Scene - en référence au comté de Kent, au sud-est de Londres, d'où ces groupes avaient émergé dès la fin des 70's. The Pop Rivets, The Milkshakes, The Prisoners, puis The Headcoats/Headcoatees, The Delmonas, The Armitage Shanks, Holy Golightly, jusqu'aux Squares en France (Nancy), la liste est beaucoup trop longue, mais sûrement pas aussi longue que celle des productions vinyliques de l'ensemble de ces combos - rien que pour Billy Childish, chanteur-guitariste-peintre-poète, tête pensante et corps astral central de tout ce petit monde, on doit dépasser les 200!
Il faut bien l'avouer, cette multiplication tous azimuts de projets D.I.Y. avait à l'époque quelque chose de réjouissant, entre authentique passion pour le garage punk US et le rhythm'n'blues British des 60's dans leurs expressions les plus sauvages et déglinguées - évocations contemporaines des compiles Back From The Grave qui faisaient notre bonheur à la même période - et attitude désinvolte/je-m'en-foutiste, humour tongue-in-cheek et désir d'occuper le terrain dans le coeur et les tripes du rock'n'roll fan. Mais au fil des années, l'intérêt s'est émoussé, à cause même de cette prolifération d'albums et de singles souvent tout juste "okay".. jusqu'à ce qu'on les oublie suffisamment pour reprendre du plaisir, à l'occasion, à l'écoute d'une petite bombe comme ce You'll be sorry now, ce You make me die, ou ce Cowboys are square ("Indians are best!"). Enjoy.
Thee Mighty Caesars - You'll Be Sorry Now
Thee Mighty Caesars - You Make Me Die
Thee Mighty Caesars - Cowboys Are Square
27 avril 2019
Pendant ce temps-là, à New York dans le quartier de Harlem.. Cinq jeunes gens ont choisi, deux ans plus tôt et comme des milliers d'autres groupes d'un bout à l'autre de la planète, le nom de la marque de luxe du groupe automobile General Motors comme patronyme pour leur combo de Doo Wop. En 1955, The Cadillacs sortent leur cinquième single, Speedoo (b/w Let Me Explain), un uptempo doo wop particulièrement réjouissant, et l'idéal, par chez nous, pour démarrer la journée et le weekend en ondulant du pelvis et en claquant des doigts!
Une annecdode: le groupe se scinde en 1957 en deux entités différentes, Earl Carroll and the Cadillacs et The Four Cadillacs, avant de se redevenir un seul et unique band un an plus tard sous le nom de.. Speedoo & The Pearls. L'album des Four Cadillacs dont la pochette se trouve ci-dessous à quant à lui été enregistré en '57 et tient parfaitement la route encore aujourd'hui, pétillant mix de rhythm'n'blues swinguant et de doo woo suave à souhait. Enjoy.
23 avril 2019
The Electras, l'avant-dernier single (1966, une cover du Little Girl of Mine des Cleftones) de ce combo doo-wop de Los Angeles, et des kids qui dansent sur du r'n'b et qui roulent en hot rods. Hmmmmmmmmm.. Love it!
The Electras - Little Girl of Mine
23 mars 2019
RIP Zephire André Williams, Black Godfather & Sugahdaddee de toute la scène blues punk de ces vingt dernières années ET progéniteur, depuis les fifties et les sex-teaz, du R&B salace et libidineux le plus jouissif, ET co-auteur du killer hit Shake A Tail Feather propulsé au sommet par Ike & Tina Turner! On est pas prêt d'oublier tes costards flamboyants et ta bonhommie chaleureuse, man!
Andre Williams - Agile Mobile and Hostile
Andre Williams - Jail Bait
Andre Williams - Lookin' Down At You, Lookin' Up At Me
Andre Williams - Sweet Little Pussycat