07 mai 2019
En 1985 sortait Beware The Ides of March, le premier album de Thee Mighty Caesars, un power trio garage punk back-to-basics monté par trois individus qui s'étaient déjà illustrés au sein d'une galaxie de bands vite qualifiée de Medway Scene - en référence au comté de Kent, au sud-est de Londres, d'où ces groupes avaient émergé dès la fin des 70's. The Pop Rivets, The Milkshakes, The Prisoners, puis The Headcoats/Headcoatees, The Delmonas, The Armitage Shanks, Holy Golightly, jusqu'aux Squares en France (Nancy), la liste est beaucoup trop longue, mais sûrement pas aussi longue que celle des productions vinyliques de l'ensemble de ces combos - rien que pour Billy Childish, chanteur-guitariste-peintre-poète, tête pensante et corps astral central de tout ce petit monde, on doit dépasser les 200!
Il faut bien l'avouer, cette multiplication tous azimuts de projets D.I.Y. avait à l'époque quelque chose de réjouissant, entre authentique passion pour le garage punk US et le rhythm'n'blues British des 60's dans leurs expressions les plus sauvages et déglinguées - évocations contemporaines des compiles Back From The Grave qui faisaient notre bonheur à la même période - et attitude désinvolte/je-m'en-foutiste, humour tongue-in-cheek et désir d'occuper le terrain dans le coeur et les tripes du rock'n'roll fan. Mais au fil des années, l'intérêt s'est émoussé, à cause même de cette prolifération d'albums et de singles souvent tout juste "okay".. jusqu'à ce qu'on les oublie suffisamment pour reprendre du plaisir, à l'occasion, à l'écoute d'une petite bombe comme ce You'll be sorry now, ce You make me die, ou ce Cowboys are square ("Indians are best!"). Enjoy.
Thee Mighty Caesars - You'll Be Sorry Now
Thee Mighty Caesars - You Make Me Die
Thee Mighty Caesars - Cowboys Are Square
27 avril 2019
Pendant ce temps-là, à New York dans le quartier de Harlem.. Cinq jeunes gens ont choisi, deux ans plus tôt et comme des milliers d'autres groupes d'un bout à l'autre de la planète, le nom de la marque de luxe du groupe automobile General Motors comme patronyme pour leur combo de Doo Wop. En 1955, The Cadillacs sortent leur cinquième single, Speedoo (b/w Let Me Explain), un uptempo doo wop particulièrement réjouissant, et l'idéal, par chez nous, pour démarrer la journée et le weekend en ondulant du pelvis et en claquant des doigts!
Une annecdode: le groupe se scinde en 1957 en deux entités différentes, Earl Carroll and the Cadillacs et The Four Cadillacs, avant de se redevenir un seul et unique band un an plus tard sous le nom de.. Speedoo & The Pearls. L'album des Four Cadillacs dont la pochette se trouve ci-dessous à quant à lui été enregistré en '57 et tient parfaitement la route encore aujourd'hui, pétillant mix de rhythm'n'blues swinguant et de doo woo suave à souhait. Enjoy.
23 avril 2019
The Electras, l'avant-dernier single (1966, une cover du Little Girl of Mine des Cleftones) de ce combo doo-wop de Los Angeles, et des kids qui dansent sur du r'n'b et qui roulent en hot rods. Hmmmmmmmmm.. Love it!
The Electras - Little Girl of Mine
23 mars 2019
RIP Zephire André Williams, Black Godfather & Sugahdaddee de toute la scène blues punk de ces vingt dernières années ET progéniteur, depuis les fifties et les sex-teaz, du R&B salace et libidineux le plus jouissif, ET co-auteur du killer hit Shake A Tail Feather propulsé au sommet par Ike & Tina Turner! On est pas prêt d'oublier tes costards flamboyants et ta bonhommie chaleureuse, man!
Andre Williams - Agile Mobile and Hostile
Andre Williams - Jail Bait
Andre Williams - Lookin' Down At You, Lookin' Up At Me
Andre Williams - Sweet Little Pussycat
19 février 2019
1966. Dans quelques mois The Animals vont muter en Eric Burdon & The (New) Animals et prendre une virage psyché dans l'air du temps, mais pour l'instant le Rhythm'n'Blues survitaminé est toujours de mise et, British Invasion oblige, continue d'inspirer le garage rock US, de l'autre côté de la mare. Une bel exemple avec ce brutalement efficace Inside Looking Out, extrait de Animalization. Enjoy.
The Animals - Inside Looking Out
08 janvier 2019
Originaire d'Arnaudville, Louisiane, né à la fin des 30's, Camille Bob connut un énorme et durable succès local pendant pas mal d'années avec sa formation de pur rhythm'n'blues, et enregistra un paquet de bons titres, dont ce fameux I Got Loaded, repopularisé par Los Lobos en 1984 sur leur premier LP How Will The Wife Survive? Cette killer-track du Sweet Soul Swinger, datée de 1965, a toujours aujourd'hui autant de punch! Have a drink and enjoy..
Little Bob - I Got Loaded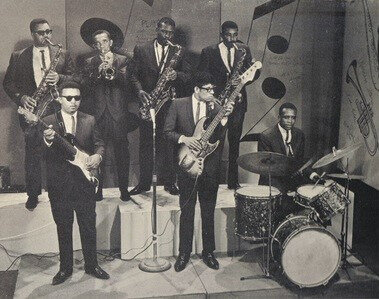 25 décembre 2018
Avec le coollissime Gaspard Royand, et son toujours aussi indispensable album de Noël paru l'année dernière (Wishing You A Merry Christmas), puis la sublime Sharon Jones entourée de ses suavissimes Dap-Kings, en 2015, pour It's A Holiday Soul Party, et enfin Bing Crosby & The Andrew Sisters, pour la touche vintage exotica et néanmoins hawaïenne, Mele Kalikimaka, paru en LP en 1955. Enjoy!
Gaspard Royant - (C'mon Baby) It's Christmas Time!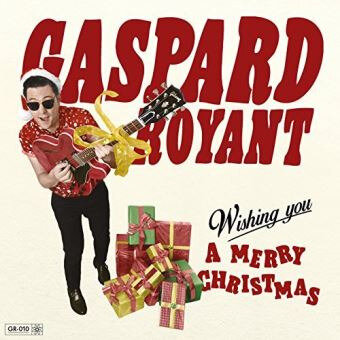 Sharon Jones & the Dap-Kings - White Christmas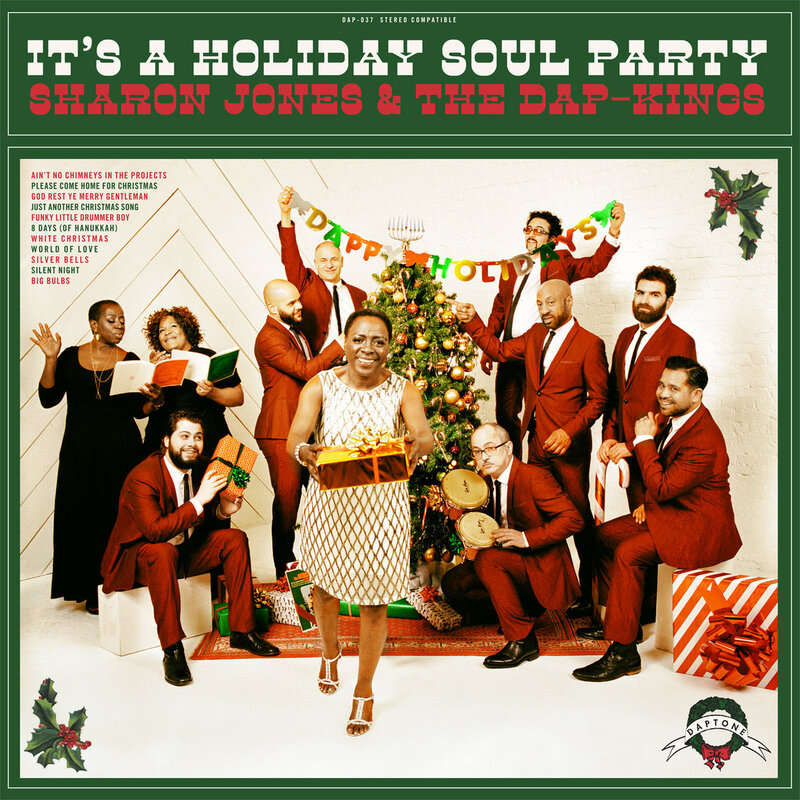 Bing Crosby And The Andrews Sisters - Mele Kalikimaka (Merry Christmas)
08 décembre 2018
On y sera pas, mais ce soir il y a au moins deux concerts dignes d'intérêt dans la région. Tout d'abord, deux groupes qu'on a beaucoup apprécié sur scène ces derniers mois, Theo Lawrence & The Hearts et The Limboos, à la Manufacture, à Saint Quentin; et aussi The Asphalt Tuaregs (le dernier projet en date du veterano de la scène Punk R'n'R Havraise François Lebas (Fixed-Up, Backsliders), avec Les belges de The Nervous Shakes et un tribute band à Doctor Feelgood, Oil City Band, au bar Le Communal, à St Léger. Be There or be malade comme un chien, mais c'est moins bien.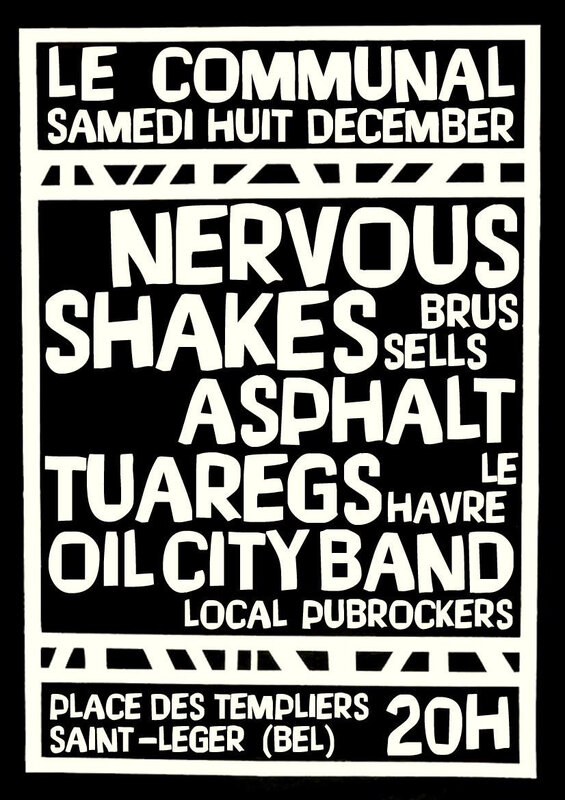 24 novembre 2018
Une piste rare, face-B du single Jackie Wilson Said de Van Morrison, enregistrée en 1972 pendant les sessions de son sixième album, Saint Dominic's Preview, et sans aucun rapport avec le titre de James Brown daté de 1960. Kool Kewl Track.. Enjoy.
Van Morrison - You've Got The Power
06 novembre 2018
Tonic, indeed! Deux versions du classique sixties British R&B des Small Faces, la cover bien garage de The Litter, face-B du standard Action Woman de ce kool band de Minneapolis, datée de 1967, et bien sûr l'original bien plombé, impeccable stomper déjà pub-rock avant l'heure, du gang de Steve Marriott , daté de '65 et ici en live sur la télé allemande un an plus tard. Love 'em both.
The Litter - Whatcha Gonna Do About It?
The Small Faces - What'cha Gonna Do About It