27 avril 2015
Une vidéo pour bien commencer la semaine, disponible sur le net si on cherche un peu. Juste l'envie de partager une découverte récente, un vieux favori, ou un truc qui était passé sous mes radars jusqu'ici. On commence avec le countrypunk rock'n'roll couillu des Supersuckers, et leur très ironique Rock'n'Roll Records (Ain't Selling This Year).From l'album Motherfuckers Be Trippin' , paru il y a (déjà!) 12 ans..

Supersuckers - Rock-n-Roll Records (Ain't Selling This Year)
19 avril 2015
..prises lors des éditions 2012-13-14. Roots & Roses, c'est notre GROS coup de coeur en matière de festivals r'n'r, r'n'b, roots, Americana & co, et on peut faire confiance à Fred Maréchal et à son équipe de bénévoles pour nous pondre une prog haut de gamme! Check it out here

En attendant, une petite mise en bouche histoire de patienter - la qualité vidéo n'est pas tip-top mais le son est bon. Enjoy!
The Dream Syndicate at Roots Roses 2014
Two bottles of Wine, The Rev. Peyton's Big Damn Band at Roots & Roses 2013
Bob & Lisa at Roots & Roses 2012
Slim Cessna's Auto Club at Roots & Roses 2013
16 avril 2015
Roots & Roses, D-Day moins 14.. YEAH !!!!!!!!!!!!!!!!!
The Computers - Silena Chinese
30 janvier 2015
Arrivés à la Médiathèque Robert Cousin à la bourre because perdus dans la tentaculaire agglomération lensoise (et accessoirement, peu aidé par l'absence de signalétique urbaine digne de ce nom), c'est avec un soulagement manifeste à peine entamé par l'absence de bar que nous sautons à pieds joints dans la faille spatio-temporelle ouverte par Jake Calypso & His Red Hot, et leur sauvage rockabilly à la Billy Lee Riley, Johnny Burnette, Carl Perkins & co - vintage pur jus, quoi, avec yodel débridé, upright bass fringuante, drumkit minimaliste et rockin' guitars period correct. Je n'avais pas encore eu l'occasion de voir le quatuor en live, mais l'excellente réputation de ce combo béthunois m'avais mis la puce à l'oreille..
Intuition confirmée à 200 %! Jake et ses compères s'y entendent pour balancer la purée sans aucune retenue et nous faire swinguer, jumper et jiver à coups d'originaux qui sonnent comme des reprises millésimées (et vice versa), à la fois respectueux des roots et allergiques à la naphtaline. Sur scène à taille réduite (la jauge de la salle est de 120 et il y avait ce soir une grosse centaine de personnes), et la proximité aidant, l'intimité se crée vite et il n'a pas fallu longtemps à J.C. pour emballer le public et faire monter la température au moins au niveau de celle de Memphis en Mai dernier, lorsqu'il est allé en pèlerinage aux Sun studios pour y enregistrer son nouvel E.P. !
Well done, sir!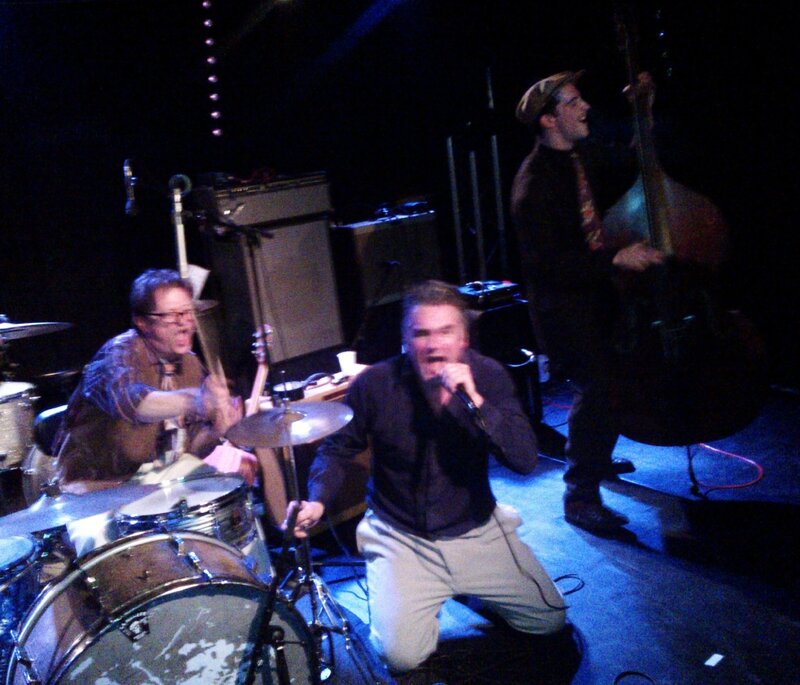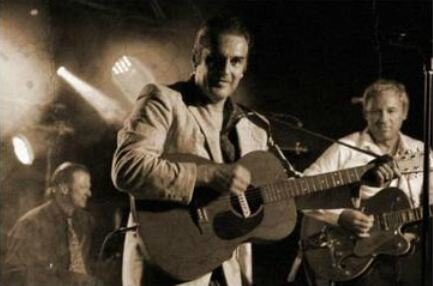 Température adéquate pour accueillir à nouveau par chez nous miss Koko-Jean Davis, la panthère noire de Barcelone, et son gang de soul shakers catalans - ladies & gents, the Excitements are in da house ! - et ça n'a pas fait un pli: fort de leur nouvel album et donc d'un tout nouveau set - quasiment aucun titre de leur premier lp – le show a bénéficié, mine de rien, de compos nettement plus solides et plus tight, un bon qualitatif nettement perceptible ce soir par rapport au gig du Grand Mix il y a deux ans.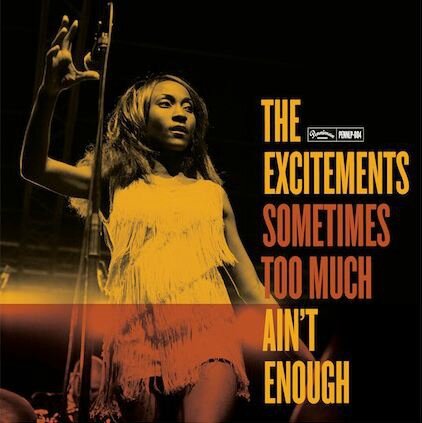 Le groupe assume remarquablement bien son rôle en faisant office d'écrin de velours à sa front-woman de chanteuse, qui elle occupe l'espace et assure le show: classe et lascive, femme de caractère et sexbomb ultra-chaude, maîtresse et black power pin-up, la Koko-Jean en impose!
Et musicalement, c'est tout ce qu'on aime, à fond et sans retenue: Sixties Soul qui vous agrippe les trippes et Vintage Rhythm'n'Blues qui prend le contrôle de votre système reproducteur, de quoi secouer des hips, clapper des mains, stomper des pieds et se dérouiller les cervicales pendant une bonne heure, avec ce qu'il faut de ballades déchirantes pour reprendre son souffle, et quelques titres qui crèvent le plafond en live : « Sometimes Too Much Ain't Enough » bien sûr, le brûlot féministe « Ha, Ha, Ha » ou encore « I believe you », plus Tina que nature.. Une seule fausse note, côté look, la jupe de la miss était, de l'avis général de moi-même et de mes potes, beaucoup, BEAUCOUP trop LONGUE par rapport à d'habitude ! Faudra revoir ce détail non négligeable pour la prochaine fois, Koko-Jean, mais à part ça,..
..Well Done,Lady, and Cheers to You, Gentlemen!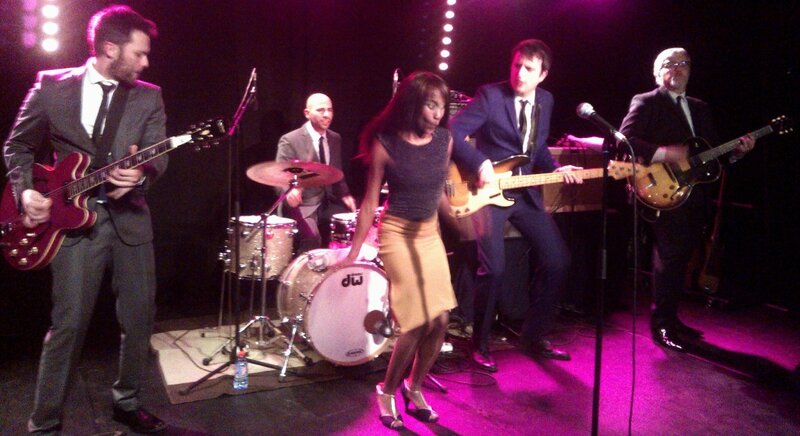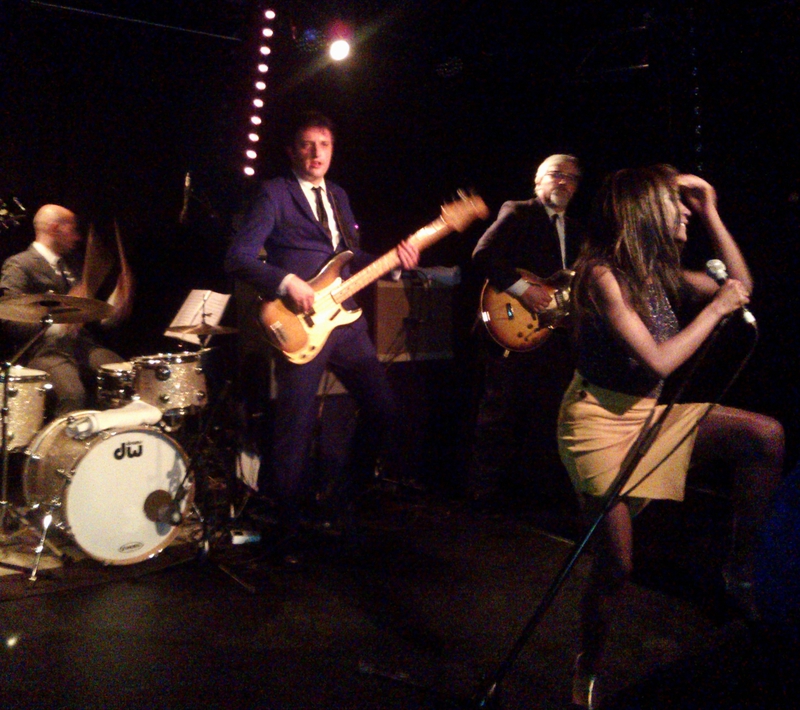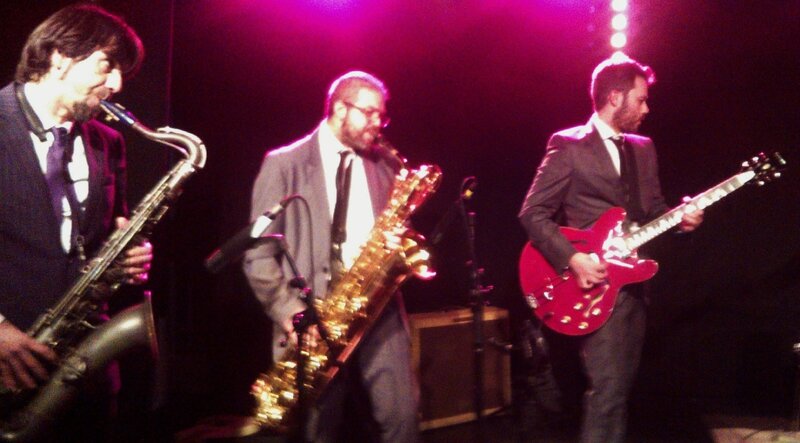 01 mai 2012
Les Fleshtones, Bob & Lisa et Barrence Whitfield & the Savages le 1er mai 2012 à Lessines.