14 novembre 2020
Boston, 1959. Le jeune rocker Frederick Anthony Picariello, qui s'est déjà taillé un très bonne réputation, localement, avec les Spindrifts puis avec son propre combo, croise la route de Dick Clark, de Swan Records, du fameux team maison d'arrangeurs producteurs Bob Crewe / Frank Slay, et hop!, boom boom, The Explosive Freddy Cannon se retrouve propulsé en tête des charts grâce à Tallahassee Lassie, originellement écrit par sa maman avant d'être revu et amélioré par le team en question. Aujourd'hui, Freddy Cannon a toujours bon pied bon oeil, et ce classique du rock'n'roll n'a pas perdu un poil de son impact. Enjoy The Whooo!
13 juin 2020
On est en 1963, à Woonsocket, Rhodes Island, au sud-ouest de Boston et à quelques minutes de Providence, la capitale du plus petit état des Etats-Unis. Florian Monday, 21 ans, frais émoulu de l'université, a des envies bien légitimes de rock'n'roll band et recrute le jeune Dennis Richards, 17 ans, en lui payant un batterie complète! C'est le début de Florian Monday & The Mondos, un des tous premiers garage-bands de l'état à sortir ces propres singles sur son propre label, créé pour l'occasion. Comme nombre de combos ayant suivi le même parcours, les Mondos ne dureront que le temps de quelques 45-tours, dont cette totale tuerie frat-garage frénétique qu'est Rip It, Rip It Up, reprise il y a quelques dizaines d'année par - entre autres - les Swingin' Neckbreakers, et tout récemment par Gino & The Goons, dont on parlait il y a quelques jours. Enjoy the Rip.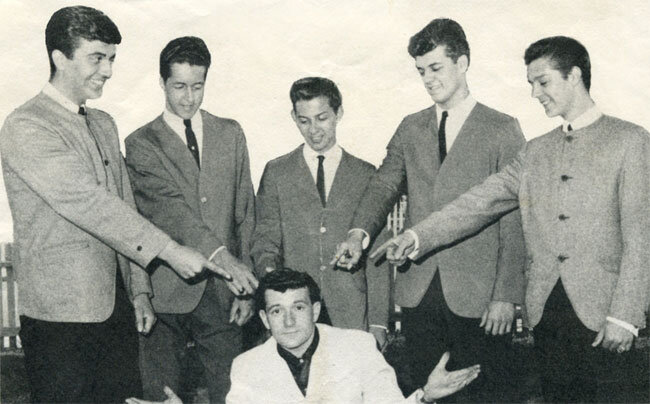 Pour en savoir plus sur le garage rock originel dans les états de la Nouvelle Angleterre, un excellent site sur la toile: The Basement Walls, et pour en savoir plus sur les Mondos eux-mêmes (et le titre qui aurait inspiré - conditionnel nécessaire - le Get Off My Cloud des 'Stones..), rendez-vous directement ici.
Florian Monday & His Mondos - Rip It Up
23 mars 2020
Need some timeless rock'n'roll right now.. Gene and Eddie and Brian and Lee and Slim Jim and the rest of the hot rod gang.. We're gonna rock with you guys.
The Stray Cats, unaffected by time or fashion, way back in '89 - Enjoy.
18 février 2020
La nièce de Jerry Lee Lewis - et fille de Linda Gail Lewis - a sorti son deuxième album, Reckless, Wild & Crazy, en 2017, le résultat d'une collaboration avec Danny B. Harvey (Mad Violets, Trigger & The Thrill Kings, Lonesome Spurs,..) et un bon concentré de rock'n'roll classique, originaux et reprises mélangés, influencé country/rockab' avec un son moderne. Ce Sweet Nothings qui figure sur l'album en question est le fruit d'un des deux featuring du lp (le premier étant un excellent duo avec Lemmy Kilmister), cette fois-ci avec Jyrki 69, le chanteur du combo finlandais The 69 Eyes. Pas mal, non?
Jyrki 69 & Annie Marie Lewis - Sweet Nothings
17 février 2020
Le cinquième et dernier album en date de Tami Neilson est sorti il y a trois jours, et le moindre que l'on puisse dire c'est que la canadienne et néo-zélandaise d'adoption frappe encore un grand coup avec ce Chickaboom!, tonique mix à base de country soul vintage, avec ce qu'il faut d'infusion western swing, gospel et rockab' du meilleur cru. La miss Neilson et son frangin Jay assurent aussi côté compos, et l'album est truffé de titres haut-de-gammes sur lesquels Tami dévoile sans efforts apparents toute l'étendue de son talent. Des capacités d'entertainer qu'on pourra apprécier en live bientôt dans la région! Concert en effet annoncé au Poche, à Béthune, le samedi 4 avril prochain.. Kewl..
Tami Neilson - Queenie, Queenie
Tami Neilson - Devil in a Dress
14 janvier 2020
The Unknowns.. Déjà eu l'occasion de dire ici à quel point je chérissais ce groupe, mais une petite discussion sur les réseaux sociaux ce weekend autour de ce mythique concert lillois du 18 octobre 1990 à l'ancien Aéronef (rue Colson) m'a fait illico replonger dans la savoureuse potion rock'n'roll concoctée à l'époque par Bruce Joyner, Mark Neill, David Doyle et Steve Bidrowski (remplacé par Craig Packham lors de cette tournée). Du coup je réécoute en boucle l'enregistrement intégral de ce gig réalisé par RCV 99fm, la rock radio locale, et je me dis que ça vaut la peine de re-partager ce petit bijou avec vous.. Enjoy.
The Unknowns - The Streets
Bruce Joyner & the Unknowns Live in Lille ( L'Aeronef ) - October 18 th 1990)
16 novembre 2019
A la fin des fifties, Alvin Wayne Casey n'a pas encore formé son propre Combo, mais il a déjà entamé une fructueuse carrière professionnelle en bossant avec des pointures comme Duane Eddy et Lee Hazlewood. Futur recherché et renommé sessionman, Al Casey enregistra bien sûr certains hits dans le registre instro-surf (dont le killer - et déjà hommage à un genre à part entière - Surfin' Hootenanny, dans lequel il cite Eddy, Dick Dale et The Ventures), mais sa période pure rockab' est également tout à fait digne d'intérêt - témoin ce supra-kewl et swinguant Willa Mae, signé Casey-Hazlewood, et daté de 1957. Enjoy.
09 novembre 2019
Novembre 1957. Max Lipscomb, jeune guitariste de 18 ans originaire de Dallas, Texas, rejoint les Blue Caps de Gene Vincent, qui vient il y un peu plus d'un an, à l'été '56, de changer la face du monde libre avec le hit international et instant classic Be-Bo-A-Lula. Deux ans plus tard, sous le pseudonyme de Scotty McKay, il enregistre deux fabuleux singles de pure feral rockabilly, Midnight Cryin' Time puis Evenin' Time, dont la face-B, l'explosif Rollin' Dynamite, suinte autant la nitro que, au hasard, le Fujiyama Mama de Wanda Jackson! Enjoy the Boom.
Scotty McKay - Rollin' Dynamite
15 octobre 2019
1956, Memphis, Sun Studios. Macy "Skip" Skipper, originaire de Saint Louis, enregistre quelques démos, dont ce pétillant Bop Pills, pour Sam Phillips, mais aucun disque ne résultera de ces sessions. 33 ans plus tard, les Cramps livrent leur version voodoobilly de cette obscure pépite aux masses de fans avides et autres teenage werewolves en mal de pilules du bonheur.. Stay Siiiiick!
12 octobre 2019
Un kewl classic swingin' rock'n'roller pour débuter le weekend avec le Linda Lu de Ray Sharpe, chanteur guitariste texan originaire de Fort Worth qui décrocha la timbale dès son second single, ce même titre enregistré en 1959 sous la houlette de Lee Hazlewood, avec, excusez du peu, Duane Eddy et Al Casey aux guitares! Luv that stuff..