20 avril 2019
Dix ans après Brownsville Station, Cub Koda, musicien, chanteur, journaliste, natif de Detroit et rock'n'roller hardcore bien frappé devant l'éternel avait encore bon pied bon oeil, et le label parisien New Rose ne s'y était pas trompé en lui proposant de sortir ce mini-lp solo en 1983. Let's Get Funky, le titre, sonne aussi jubilatoire qu'un early Flaming Groovies millésimé, et dépoussière les enceintes avec autant d'efficacité aujourd'hui qu'à l'époque! Heeeee-haww!!!
Cub Koda - Let's Get Funky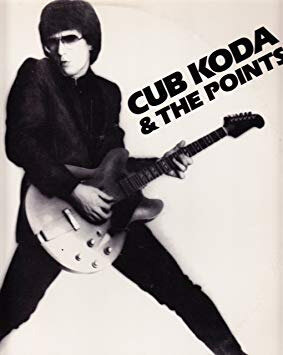 16 avril 2019
Des guitares, de la pop vitaminée et deux titres - She May Be Your Girl b/w All The Innocent Girls - qui parlent de.. filles, et rien d'autre. The Donuts, San Francisco, 1980, un seul et unique single autoproduit, une autre perle power pop à glisser dans une mixtape! Enjoy.
The Donuts - All The Innocent Girls
15 avril 2019
"You and me and the Devil makes three", une vieille expression anglaise invitant à la bringue, au mischief et plus si affinités, et l'origine du nom de ce groupe originaire de Santa Cruz, Californie. Un paquet d'albums déjà, depuis la création de DM3 autour du noyan originel Pete Bernhard (guitare), Lucia Turino (contrebasse) et Cooper McBean (guitare & banjo) en 2002, et une réputation flatteuse dans le milieu de l'Americana qu'on aura l'occasion de vérifier le premier mai prochain à Lessines puisqu'ils monteront à 15h20 sur la scène Roots du Roots & Roses Festival! That's pretty kool..
Deux extraits de leur discog en guise d'amuse-gueules et pour patienter, avec un extrait de leur tout dernier album en date, Chains are broken, paru il y a quelques mois, et un titre tiré de leur second album, daté de 2007.
The Devil Makes Three - Bad Idea
The Devil Makes Three - The Bullet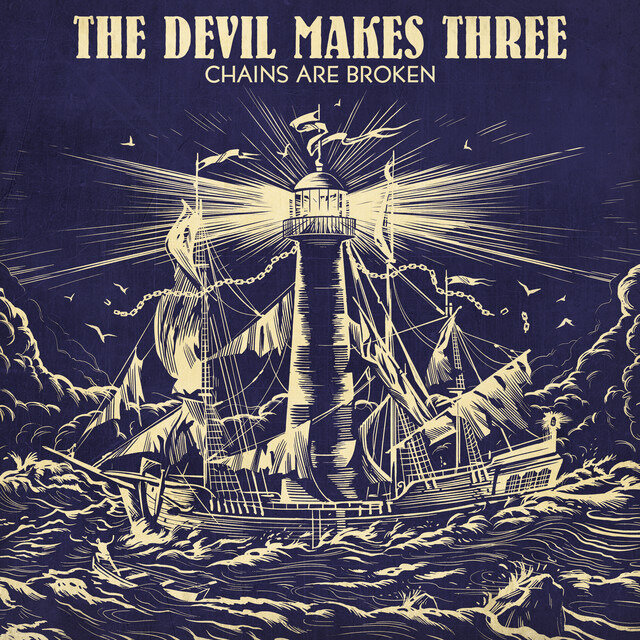 13 avril 2019
1978. Fred "Sonic" Smith (The MC5), Scott Morgan (The Rationals), Gary Rasmussen (The Up), Scott Asheton (The Stooges).. et le single qui aurait du être publié. Enjoy.
Sonic's Rendezvous Band - City Slang
Sonic's Rendezvous Band - Electrophonic Tonic
11 avril 2019
Une photo emblématique du début des 80's à New York.. Une membre des Guardian Angels devant la porte d'une rame couverte de graffiti, tout comme les autres bénévoles (visibles au fond) du groupe anti-agression et anti-criminalité créé par Curtis Sliwa en 1977.
Les Guardian Angels furent fondés à la fin des 70's par Curtis Sliwa, un natif de Brooklyn et manager de nuit d'un fastfood dans le Bronx, qui ne supportait plus l'état de déréliction et l'absence totale de loi et d'un minimum de sécurité dans le métro new-yorkais, livré, le soir notamment mais pas seulement, à la violence aveugle et aux exactions de tous types.
Imaginant des groupes multi-raciaux composés de citoyens lambda non-armés mais spécialisés en arts martiaux et techniques d'auto-défense, et susceptibles de patrouiller d'une manière visible et rassurante dans le métro et les stations d'un bout à l'autre des cinq boroughs constituant la Grosse Pomme, Sliwa et ses amis lancèrent ce projet et commencèrent à s'attirer à la fois les commentaires positifs des usagers du métro et les reproches de la police, cette dernière accusant vite les Guardian Angels de n'être qu'une bande de "vigilantes" (un terme connoté très négativement en anglais, traduisible par "justiciers autoproclamés" et suggérant une milice versant facilement dans la justice expéditive), voire un gang parmi d'autres..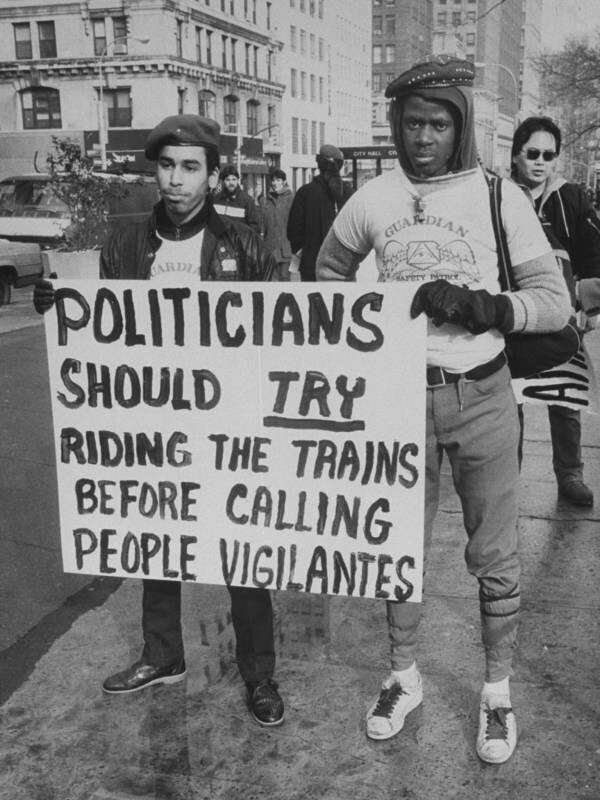 (Robert Rosamilio/NY Daily News Archive via Getty Images)
Les Guardian Angels sont de retour dernièrement dans les rues de New York et dans le métro, avec en plus cette fois-ci des patrouilles entièrement féminines, les Perv Busters, qui ciblent spécifiquement les prédateurs sexuels et cherchent à informer et rassurer les usagères qui voyagent seules et les femmes en général. Un article intéressant vient d'être publié il y a quelques jours ici.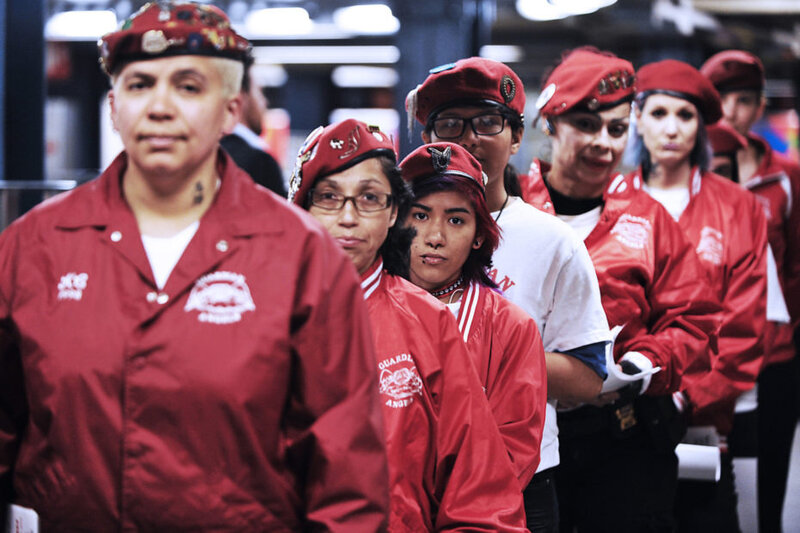 Perv Busters © Guardian Angels
09 avril 2019
You can't go wrong with some S.C.O.T.S. en concert, buddy.. Le trio d'enfer en live il y a 14 ans, avec un medley de la muerte, quelque part en Caroline du Nord. Enjoy The Surf, Punk.
Southern Culture on the Skids - Meximelt/Misirlou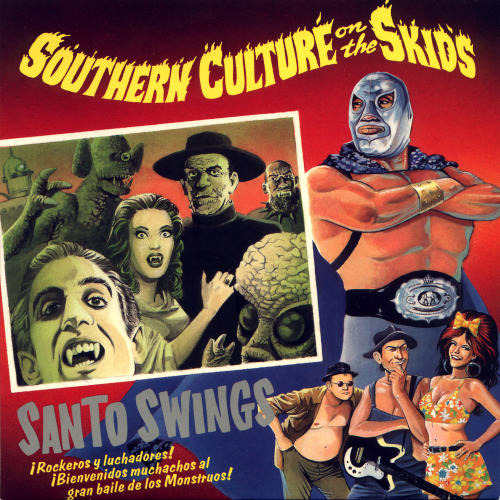 08 avril 2019
La famille Durham incarne à elle toute seule, à la fois la passion toute britannique pour les roots de la musique populaire américaine, et l'assimilation naturelle de celle-ci dans la culture british. Les trois frères & soeurs, Lewis, Kitty et Daisy, donc, se sont forgés une solide réputation dans les circuits rockabilly, rhythm'n'blues et americana ces dernières années, puis ont fini par se détacher de leurs racines familiales avant d'explorer d'autres contrées plus pop et "modernes". Témoin leur dernier et quatrième album en date, Superscope, bien pourvu en popsongs addictives, référencées-mais-pas-trop.. A découvrir sur la scène du Roots & Roses Festival le 1er mai prochain à Lessines, le plus supermidable de tous les fests belges, pile-poil entre Lille et Bruxelles! Be there ou be ailleurs comme un con à te demander mais pourquoi oh my gawd pourquoi t'y est pas allé!
Kitty, Daisy & Lewis - Black Van
06 avril 2019
Derrière The Red Button, il y a un duo de songwriters plutôt doués et très actifs du côté de Los Angeles, Seth Swirsky et Mike Ruekberg. Le groupe a quant à lui deux albums à son actif depuis 2007, et cette petite perle power pop intitulée Cruel Girl, tiré de leur premier lp, She's About to Cross My Mind, a connu son petit succès à sa sortie en single à l'époque. Enjoy.
The Red Button - Cruel Girl
02 avril 2019
Un classique issu de la toujours aussi formidable compil' Destination: Bomp!, ce titre incisif signé The Vertebrats, éphémère quatuor power pop (1979-1982) et fierté D.I.Y. de l'Illinois, me tittille encore l'oreille aujourdhui et trouve toujours sa place dans mes mixtapes. Enjoy.
The Vertebrats - Left In The Dark
01 avril 2019
Un avant-goût du printemps et d'un été torride? E tout cas une bonne tranche de 70's revisitées, versants hard-rockin' roots, folk & blues.. Grace Potter & The Nocturnals, au naturel, avec une version live très chargée en eye candy de leur Paris (Ooh la la), qui ouvre leur troisième album paru en 2010. Bien content que la petite soeur de Harry ait choisi d'empoigner le manche d'une Flying V plutôt qu'une bête baguette de magicien, non?
Grace Potter & The Nocturnals - Paris (Ooh La La)
Grace Potter And The Nocturnals - Paris (Ooh La La)