16 octobre 2018
Nine Pound Hammer hier, Nashville Pussy today, Blaine Cartwright toujours, avec Corey et Ruyter en machines à orgasme white trash sleaze hard rock speed punk à donf'.. et la pochette du single glorieusement repompée sur l'affiche - Babette Bardot forever! - de Mondo Topless, un Russ Meyer de 1966.. What's not to enjoy?
Nashville Pussy - Go Motherfucker Go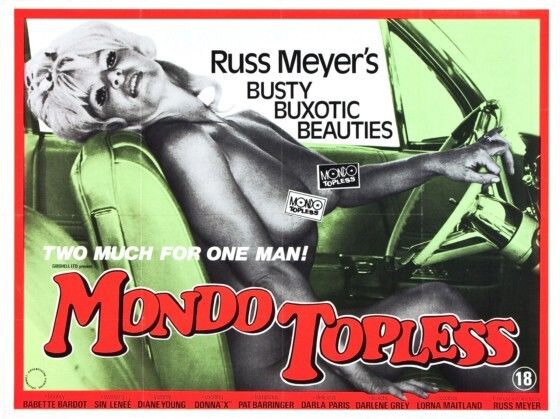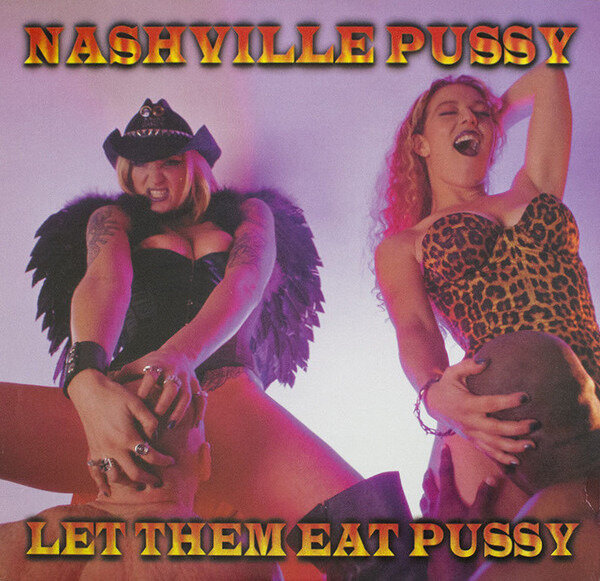 15 octobre 2018
La Classe.
What Gives, Non-stop Girls, Do The Pop, Descent Into The Maelstrom, Man With the Golden Helmet.. le frisson. Le Not To Touch The Earth des Doors. More Fun et les influences surf qui remontent à la surface. le final incandescent avec les incontournables.. New Race, Aloha Steve and Danno, le TV Eyes des Stooges.
Messieurs.. Bravo.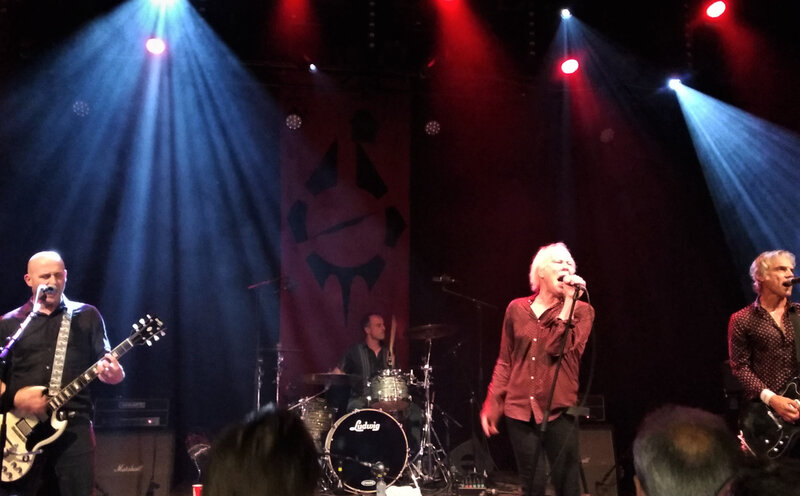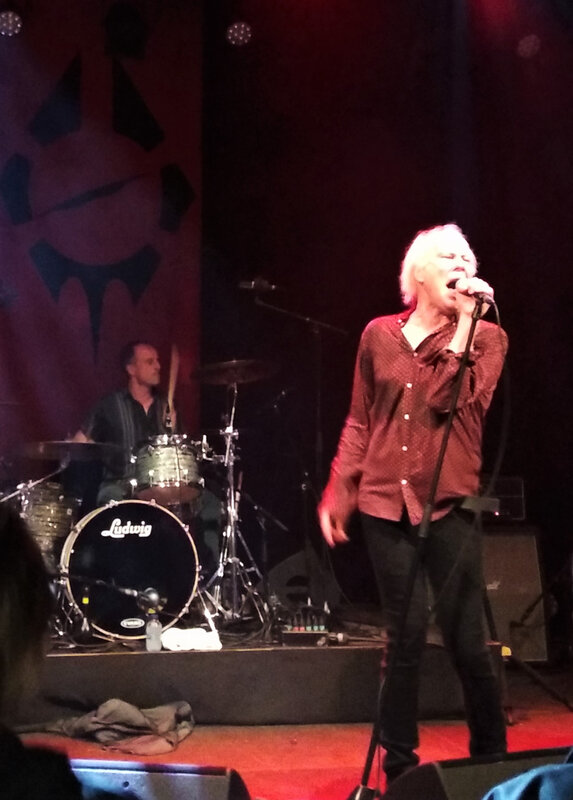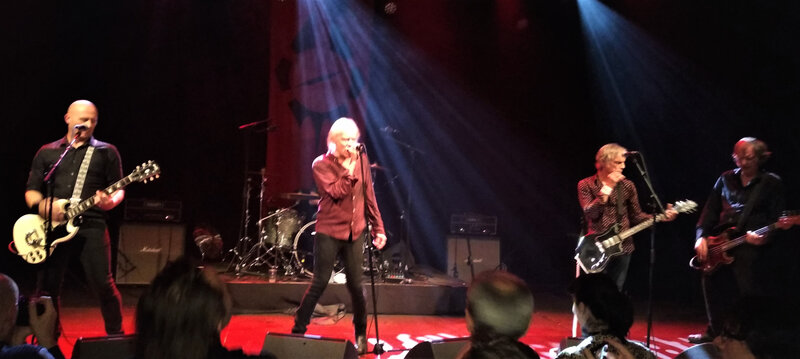 Pas d'APN sur moi hier soir, merci à ma Chérie pour les photos au smartphone!
Bon, je triche un peu ce matin, but I'm in a country punk kinda mood et je n'ai pas trouvé de vidéo assez cool à mon goût pour célébrer le réjouissant mauvais esprit et la gouaille décapante de Nine Pound Hammer, le combo hardcore hillbilly cowpunk pré-Nashville Pussy de Blaine Cartwright & co basé à Owensboro, Kentucky. Du coup, deux versions différentes mais tout aussi goûtues l'une que l'autre de leur Stranded outside Tater Knob, dont l'original figure sur leur classique second album, Hayseed Timebomb (tiens, ça ferait un bon nom de groupe, ça, non?) paru en 1994 sur Crypt Records. Enjoy (with or without a copy of JuGGs Magazine).
Nine Pound Hammer - Stranded Outside Tater Knob
Nine Pound Hammer - Stranded Outside Tater Knob
13 octobre 2018
1961. Get It, face-B du premier single (Late Date) des Parkays. Classic organ-driven rhythm'n'blues tittyskaker instrumental, parfait pour un samedi matin.. Enjoy, and don't forget to shake you booty, too.
12 octobre 2018
Hey, Hey, Hey, thanks gawd it's Friday, et j'ai déjà noté sur mes tablettes le rendez-vous de vendredi prochain à Lessines, au C.C.R. Magritte, ladies & germs, get ready pour une bonne dose de rock'n'roll avec The Sore Losers (à découvrir, connaît pas encore) et Romano Nervoso, (le combo glam-belge le plus italiano-spaghetti de La Louvière Rawk City)- be there or be ailleurs, mais c'est moins cool!
Romano Nervoso - Meet the 300 Sicilians
The Sore Losers - Beyond Repair
09 octobre 2018
Un album qui a tourné tout le printemps sur ma platine, et tout l'été dans l'autoradio: l'excellent debut-lp de Southern Avenue, jeune et prometteur combo from Memphis qui joue la carte country funk / soul blues référencée mais intemporelle, et dont le nom est un clin d'oeil appuyé à Stax Records, Soulsville oblige. Tout ça pourrait être un costard un peu lourd à porter, mais le quatuor (le guitarise israélien Ori Naftaly et les frangines Jackson - Tierinii au chant et Tikyra aux drums - plus Jeremy Powell aux claviers) s'en tirent mieux que bien, tant côté compos que production, et le tout avec fraîcheur et conviction. Enjoy.
Southern Avenue - What Did I Do?
Southern Avenue - Don't Give Up
08 octobre 2018
Quand je suis tombé sur la vidéo ci-dessus il y a quelques mois, je me suis dit, avant même d'avoir écouté la piste, que le groupe finlandais gagnait déjà des points via le choix de son nom de scène.. ben oui, j'ai un à priori favorable et totalement ridicule et infondé pour les combos qui aime jouer sur les jeux de mots foireux et débiles - En plus, le téléscopage complètement improbable du hard rockin' swagger d'AC/DC et du cadre champêtre façon Delivrance de la vidéo me met, allez savoir pourquoi, en joie. Steve'n'seagulls sera en concert à l'Aéronef le vendredi 18 janvier prochain. Paddle faster, I hear banjos..
Steve'n'Seagulls - Thunderstruck
06 octobre 2018
Et les deux versions, siouplaît! American Beat, le tout premier single des Fleshtones (l'original de 1978) et le remake de '84 pour le film Bachelor Party (Incidemment l'un des premiers rôles ciné de Tom Hanks), par l'un des groupes les plus funs qu'il m'ait été donné de voir sur scène.. Ladies & Gents, Enter New York City's Roman Gods of Rock'n'Roll, The Fleshtones!
Et en plus l'increvable quatuor sera live on stage à Lessines le 1er octobre prochain! Super-Rock Time! Yeeeeeaaaah... Yaaaaaaaaaw!!!
Fleshtones - American Beat '84
Fleshtones - American Beat
02 octobre 2018
Yeah gimme some more of that garage punk sound, man! Accent sur le punk, please, fuck la subtilité je veux du rentre-dedans sans fioriture, faut faire gicler la purée.. The Sons of Hercules, San Antonio, Texas, deuxième album Hits for the Misses, 1996. Enjoy.
The Sons Of Hercules - Gimme Some
01 octobre 2018
C'est encore l'été sur RKT, avec le genre de truc qui aurait pu être bloqué dans le lecteur cassette (non, dans le lecteur à cartouche huit-pistes..) de la caisse sur la route des vacances, en mode soul '70's laidback, soyeuseusement orchestrée et satinée, s'il n'était sorti début septembre. Le nouvel et quatrième album de Jonathan Jeremiah s'intitule Good Day, et constitue une bonne entrée en matière pour découvrir l'univers folk & soul pas si uniforme que ça de ce londonien féru de sons des seventies mais qui considère que c'est d'abord et avant tout la qualité des chansons qui compte. Pour preuve, les deux pistes qui suivent et qui ouvrent ce nouveau long-jeu bien pourvu en songwriting haut de gamme et en petites pépites addictives. Enjoy.
Jonathan Jeremiah - Good Day
Jonathan Jeremiah - Mountain
Jonathan Jeremiah sera en tournée européenne au printemps.