17 août 2019
Et merde..
Wild Angels Opening Sequence
14 juillet 2019
Et là, en descendant Lexington Avenue en début de soirée pour chopper le métro, alors que la moitié de Manhattan est paralysée par une maousse panne d'électricité, je tombe à l'angle de la East 69th Street sur ce sublime cabrio Chevy Caprice 1969 lowrider en version big rims, superbe peinture custom et jantes titanesques, posée sur ses airbags, attendant sagement son proprio parti shopper dans la boutique en face.. That's what I like about NYC.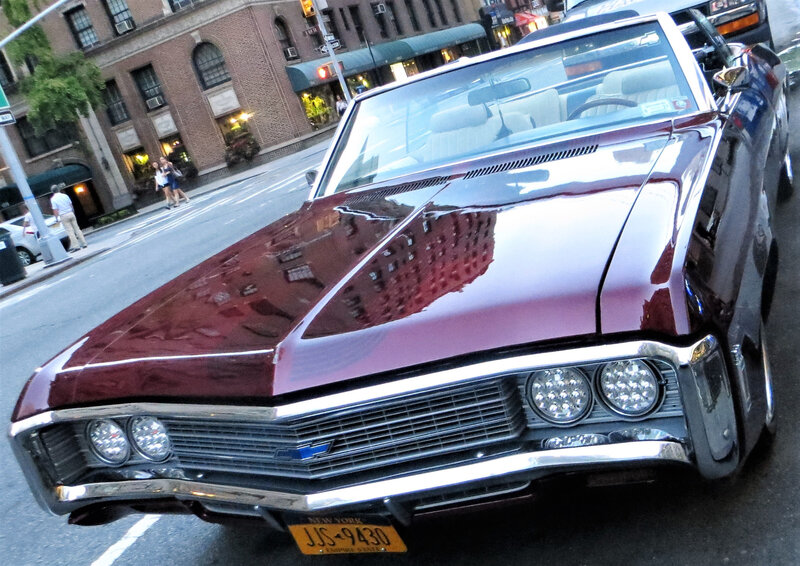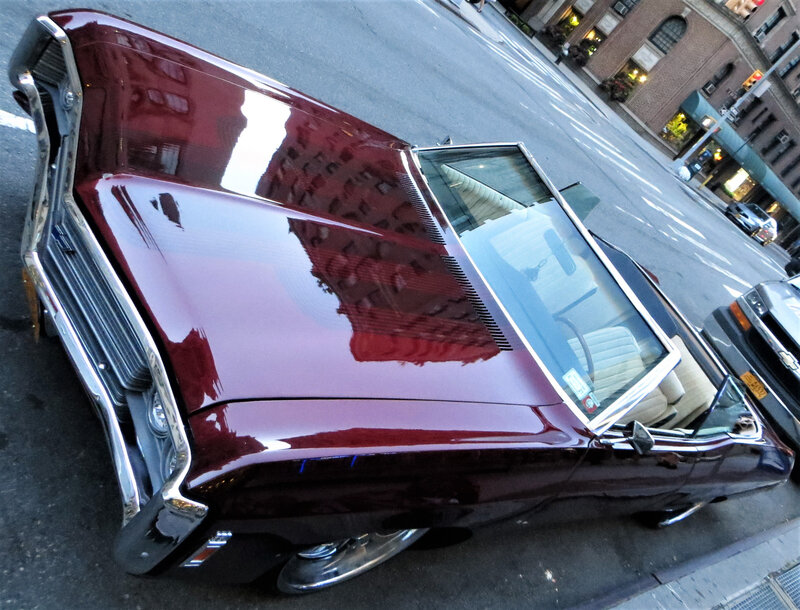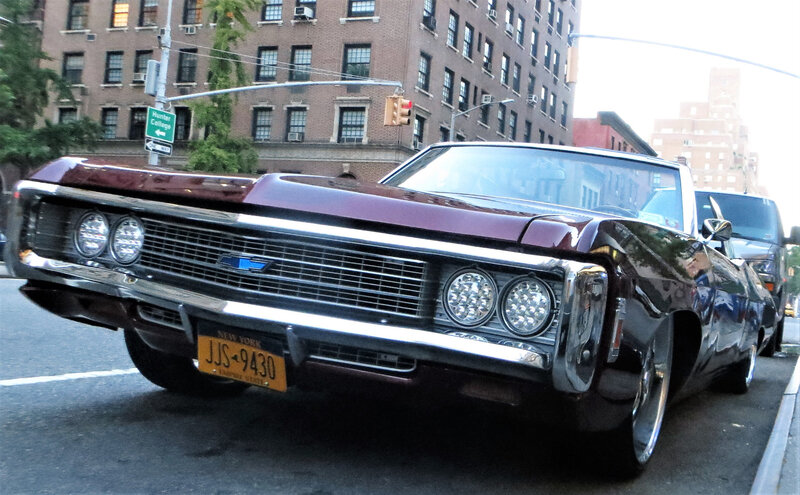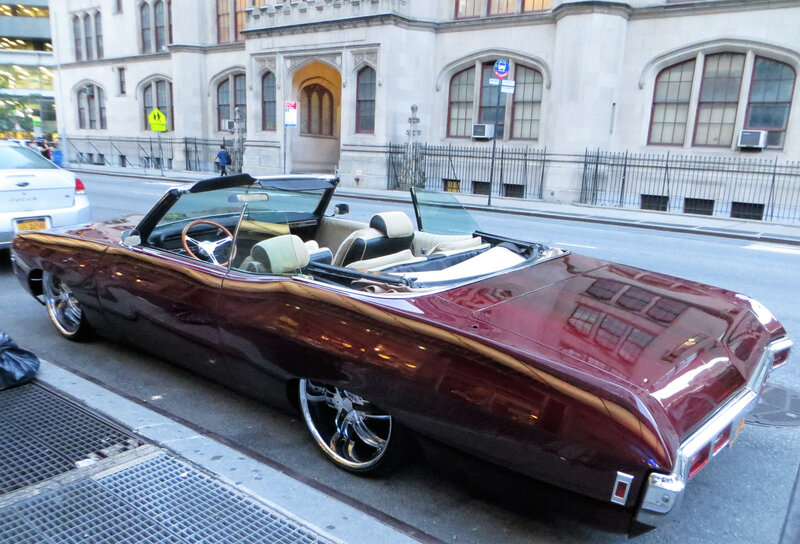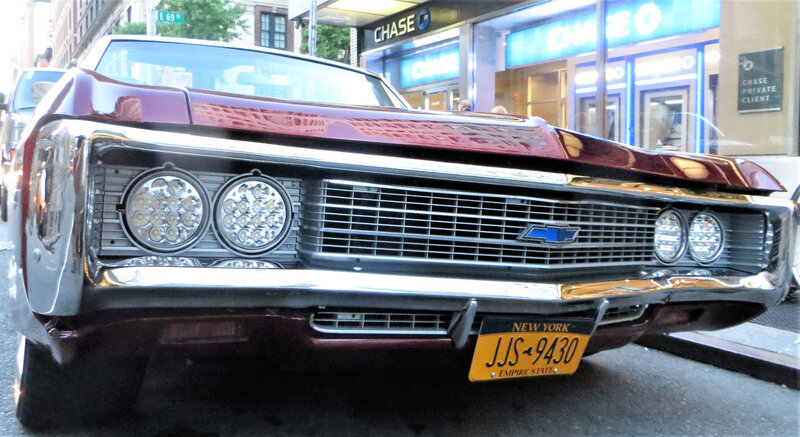 06 juillet 2019
Le seul point commun entre ces deux pistes, outre leur titre quasi-identique, c'est l'année de parution (1966) et le fait que les écouter en boucle pendant une heure le samedi matin vous file la patate pour tout le weekend. Merci donc à Tommy Boyce, l'homme responsable d' un bon nombre de hits pop des sixties (dont ceux des Monkees) et à Robert Parker (le New-Orléanais derrière l'ultra-groovy hit Barefootin', même année) pour ces deux killer tunes qui donnent envie de foncer sur la plage en écoutant du rhythm'n'blues (why not). Enjoy.
Tommy Boyce - Let's Go Where The Action Is
Robert Parker - Let's Go Baby (Where The Action Is)
02 juillet 2019
Detroit once again. The Go fait partie de toute cette floppée de gangs de la Motor City qui ont émergé dans la foulée des Gories, à la même époque que (ou juste avant) les White Stripes, Dirtbombs, Von Bondies, Paybacks et consorts, et qui sont largement ignorés aujourd'hui, même si quelques fans continuent à entretenir la flamme. Pourtant, leurs productions vinyliques n'ont rien perdu de leur intérêt, notamment leur excellent premier lp Watcha Doin' (1999, Sub Pop Rds - avec un certain Jack White à la gratte), petit bijou de rock'n'roll rugueux et Kim Fowley-esque à souhait, dont est extrait ce très badass Summer Sun Blues. En bonus, une piste datée de 2007, You Go Bangin' On, qui trahit l'évolution du groupe vers un truc nettement plus psyché-pop par la suite, tout à fait digne d'intérêt également. Enjoy.
The Go - Summer Sun Blues
The Go - You Go Bangin' On
01 juillet 2019
Hey! Hey! Hey! Uh-uwh-uwh! That's What I Like About You! Ce que je dis à ma chère et tendre tous les matins, yeah! Thanks to The Romantics, pugnace power pop trio natif de Detroit, Michigan, qui y débuta en 1977, influencé par la riche scène locale, bien sûr, mais fermement décidé à creuser un sillon nettement plus pop que ce qu'on associe en priorité à l'héritage de Detroit, à savoir la tellurique paire gagnante Stooges / MC5 et son rock brutal total. Malgré tout, les Romantics se distinguèrent par une approche high-energy de la pop sucrée que les médias U.S. allaient vite rebaptiser New Wave à la fin des 70's, et leur premier self-titled album paru en '79 contient son pesant de pépites énérvées, pop et poivrées, toujours aussi excitantes aujourd'hui. Le titre que j'ai choisi ouvre la face B du lp, et juste après le quatuor balance le She's Got Everything des Kinks, et le tout me met en joie pour ce début de semaine!
The Romantics - What I Like About You
29 juin 2019
Poor until Payday? Pas si grave tant qu'on a le bon Reverend Peyton et son Big Damn Band (Breezy à la washboard et Max au drumkit) pour preacher la bonne parole blues & country, finger-pickin' style, depuis leur fief de Brown County, Indiana..
Un extrait de leur cinquième, éponyme et néanmoins excellent dernier long-play en date, paru fin 2018. Enjoy.
Reverend Peyton's Big Damn Band - Poor Until Payday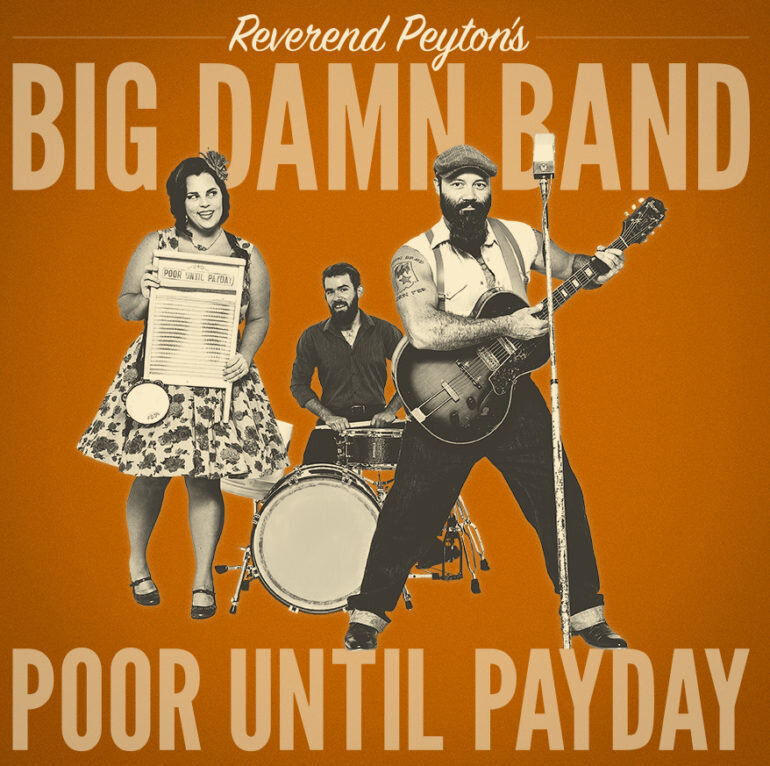 25 juin 2019
The Heck! Un garage punk power trio originaire de Klazienaveen, dans le nord-est des Pays-Bas, deux singles et un album tout récent à son actif (Who? The Heck!!!, sur Dirty Water Rds), et rien du tout côté passif! Un son cru à souhait mais des chansons bien torchées, avec un sens mélodique certain, et une patate d'enfer.. Que demander de plus? Ben, un p'tit tour par la nord de la France ou le sud-ouest de la Belgique, par example, ça serait kewl, non?!
The Heck - For Cryin' Out Loud
24 juin 2019
Un T.W.M.V. en forme d'hommage, quelques jours après la disparition de Dc. John, à une autre légende de la Nouvelle Orléans, Dave Bartholomew, qui vient de nous quitter hier dimanche six mois presque jour pour jour après son centième anniversaire. Trop rapidement uniquement présenté comme "l'homme derrière Fats Domino", Dave Bartholomew était un membre incontournable et respecté des multiples scènes new-orléanaises, du jazz au rock'n'roll, du swing au rhythm'n'blues.
Dave Bartholomew - The Monkey
Dave Bartholomew - Shrimp and Gumbo
Dave Bartholomew's interview on PBS
23 juin 2019
J'ai replongé avec plaisir dans mes souvenirs de gamin en visionnant hier sur ARTE cet excellent documentaire sur la carrière de Billy Gibbons, Dusty Hill et Frank Beard! Truffé d'images d'archives, évoquant rapidement mais avec justesse l'avant ZZ Top via les Moving Sidewalks et The American Blues, sans oublier la connection avec Roky Erickson et The Jimi Hendrix Experience, ce doc permet de (re)découvrir la partie la plus intéressante de la carrière du groupe (autrement dit de leur début en 69-70 à Eliminator et la période MTV - le reste de leur parcours étant, d'une manière très révélatrice, complètement passée sous silence).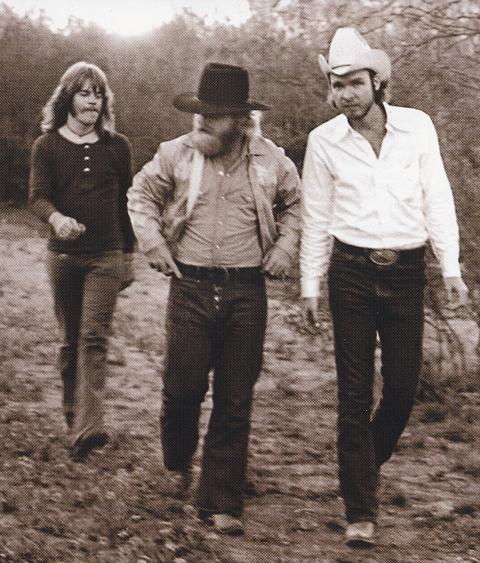 Les trois membres du groupe se livrent volontiers, ensemble et séparément, avec franchise, humour et humilité, et en écoutant ces trois types très ordinaires et complètement indifférents à la hype, on a l'impression de retrouver des vieux potes perdus de vue depuis longtemps mais avec qui on redémarre au quart de tour.. Du coup, ce matin, c'est vintage ZZ top en boucle sur la hi-fi dans le salon!
22 juin 2019
Premier hit en 1961 de Gary "US" Bonds, peu prolifique mais toujours actif rhythm'n'blues rock'n'roller né en 1939 à Jacksonville en Floride, ce New Orleans ne peut pas ne pas vous faire tricoter des gambettes le samedi matin! En bonus, une rareté datée de 1962 mais jamais sortie à l'époque (il a fallu attendre les 80's), ce I Wanna Holler avait été déterré il y a quelques années par les Detroit Cobras, pour le plus grand bonheur des amateur-trices de r'nb rugueux. Enjoy.
Gary " U.S." Bonds - New Orleans
Gary " U.S." Bonds - I Wanna Holler