26 décembre 2020
Un p'tit avant goût de la soirée de jeudi prochain, même si on sera tout seul dans son salon, avec le Go Go Power (I'm gonna kick off my shoes and dance - ça marchera aussi avec tes Slip-In Mules, ou même en chaussettes, jusqu'au rooster crow & the break of dawn!) avec Sugar Pie De Santo et sa supercharged, rhythm'n'blues-powered soul du meilleur vintage - 1966, Chess Records via Checker Rds, Frisco via Brooklyn et Chicago.. On peut pousser les meubles tout de suite, ça marche aussi le samedi matin! Enjoy.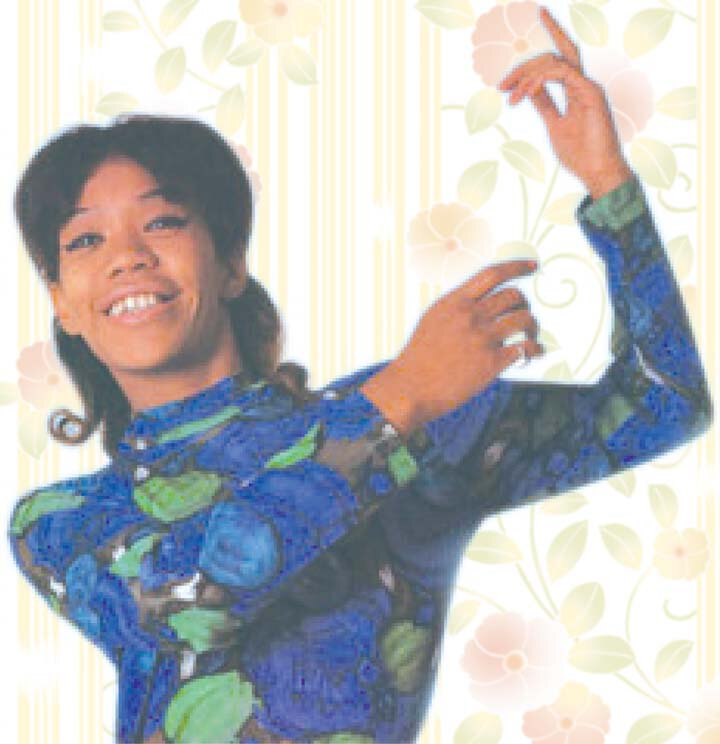 19 septembre 2020
Quel plaisir de pouvoir réécouter la grande - et très regrettée - Sharon Jones, entourée de ses excellents Dap-Kings, quatre ans après sa disparition! Daptone Records, le label attitré de la Soul Diva de Brooklyn, N.Y.C., a eu l'excellente idée de compiler les nombreuses renditions enregistrées par le groupe jusqu'au décès de Sharon Jones, dont certaines restées totalement inédites pour des raisons purement commerciales, ou pour des raisons artistiques indépendentes du combo, puisqu'il s'agit essentiellement de reprises de classiques destinées à des bandes originales de films (tel Le Loup de Wall Street) ou de fonds sonores de publicités au final non-retenues par les annonceurs. Le second album posthume du combo s'intitule donc Just Dropped In (To See What Condition My Rendition Was In, en clin d'oeil malin au fameux stantard de Kenny Rogers & The First Edition écrit en 1967 par Mike Post, et sortira officiellement le 23 octobre prochain, mais on peut déjà se régaler en écoutant le titre ci-dessous, paru en single il y a quelques jours. Une chouette version d'un autre classique signé Stevie Wonder fois-ci, en attendant de pouvoir découvrir les autres covers sélectionnées pour cette nouvelle compilation. Enjoy.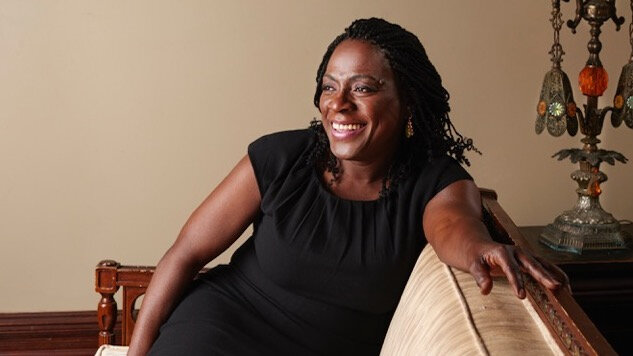 Sharon Jones by Jacob Blickenstaff
Le tracklisting de l'album (version digitale):
1. "Signed Sealed Delivered I'm Yours"
2. "Little By Little"
3. "Just Dropped In (To See What Condition My Condition Was In)"
4. "Here I Am Baby"
5. "What Have You Done For Me Lately?"
6. "Take Me With U"
7. "This Land Is Your Land"
8. "Inspiration Information"
9. "Giving Up"
10. "Rescue Me"
11. In The Bush
12. It Hurts to Be Alone
13. Trespasser
23 mai 2020
Un post en forme d'hommage à Virginia Lee Hicks, a.k.a. Jennie Lee, l'une des grandes strip-teaseuses et burlesque dancers de l'âge d'or! Encore adulée et révérée aujoud'hui, connue, entre autre, pour sa capacité à faire tournoyer d'une manière extrêmement spectaculaire les nipple tassels (parfois après les avoir enflammé!) collés aux extrémités de son impressionnante poitrine, "The Bazoom Girl" était aussi et surtout une sacrée nana, pin-up girl et actrice, mais aussi fondatrice et première présidente de l'Exotic Dancers' League of North America, l'un des premiers syndicats destinés à conseiller et à venir en aide aux strippers de l'époque. Pas étonnant que la pétulante "Miss 44 and Plenty More" aie fasciné la gent masculine des 50's et des 60's, inspirant les jeunes Jan & Dean, le duo pop surf vocal californien, et poussant même celui-ci à lui consacrer une chanson après être tombé en arrêt devant l'un de ses posters promo en façade du club ou elle bossait à Los Angeles. Un single qui deviendra un hit en 1958 pour le duo, et qui sera repris avec succès la même année par Billy Ward & His Dominoes.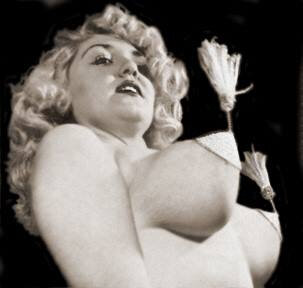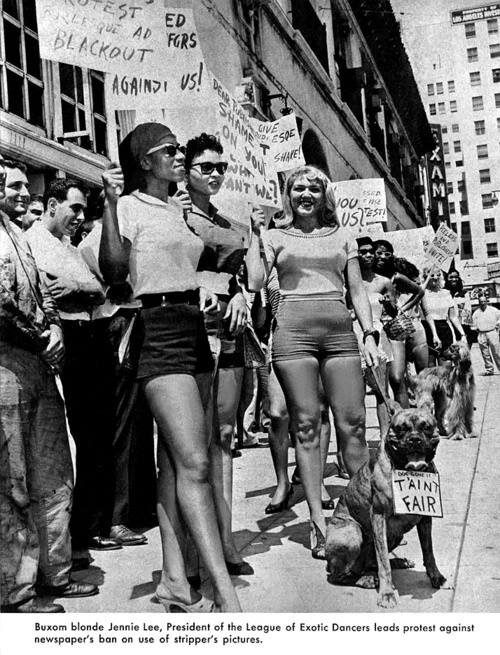 Quant à la chanson de Bobby Fuller, je ne sais pas si elle a été inspirée par la vraie Jennie Lee, mais j'adore ce titre depuis que je l'ai découvert via le medley qui figurait sur la compilation sortie par Eva Rds au début des 80's, et encore plus depuis la parution de cette previously unreleased track (en version studio) quelques années plus tard, sur d'autres compils. Une gemme de plus signée par l'incroyablement talentueux (et trop tôt disparu) texan Bobby Fuller, of I Fought The Law fame.
En bonus track, enfin, un titre qui n'a rien à voir, le That Jim de Mackey Beers & The Rockitts repris avec fougue et un sublime sens de la déglingue élémentaire par The A-Bones, le groupe de Miriam Linna et Billy Miller, infernal couple de rock'n'roll addicts basé à Brooklyn, qui avait eu le bon goût d'utiliser une photo de Jennie Lee en action pour la pochette de leur single Button Nose, paru en 1991 - Les mêmes Miriam et Billy qui se sont fait un devoir de faire découvrir au monde ébahi le Bobby Fuller Four à coups de bouquins et de rééditions tout azimut, via leur label, Norton Records. La boucle est bouclée, reste plus qu'à enjoyer..
Jan & Dean (Jan & Arnie) - Jenny Lee
Bobby Fuller Four - Jenny Lee (Do The Jerk With Me)
Bobby Fuller Four - Louie Louie / Farmer John / Jenny Lee medley
Bonus Track!!! The A-Bones - That Jim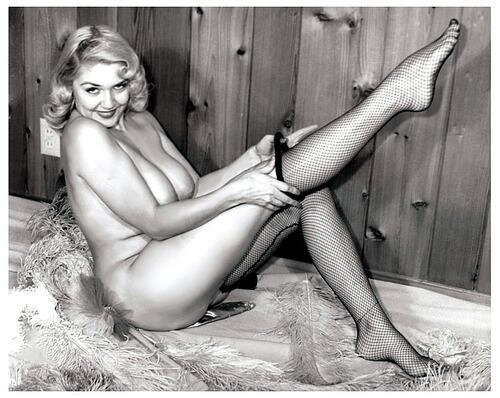 16 février 2020
Vendredi Soir, à Lillers, les trois Mousquetaires du Brooklyn Blues de Daddy Long Legs étaient de retour à l'Abattoir pour un troisième round (après leur premiers passages en 2015 et en novembre 2017) et ma foi, ça faisait du bien de se replonger tête la première (and your ass did follow) dans leur grand bain blues bash avec une centaine d'autres personnes dans ce minuscule, vénérable et historique bouge / bar / "Spaghetti House" pas-de-calaisien! Un p'tit retour en deux vidéos sur le set, via les titres qui ouvraient et fermaient leur premier LP, Evil Eye On You, en 2012. Enjoy.
Daddy Long Legs - Death Train Blues
Daddy Long Legs - Evil Eye
07 décembre 2019
New York, 1955. Doc Pomus, jeune trentenaire né Jerome Solon Felder dans le quartier de Williamsburg, Brooklyn, en 1925, est sur le point d'abandonner définitivement sa carrière de chanteur de rhythm'n'blues pour se consacrer totalement au song-writing et à la production, en solo ou en collaboration avec son compère Mort Shuman. S'en suivra une incroyable série de hits en tous genres, dont ce fantastique Lonely Avenue, repris à toutes les sauces depuis - mais ma version favorite demeure l'originale chantée par Ray Charles, sur son second single de 1956. Enjoy.
Ray Charles - Lonely Avenue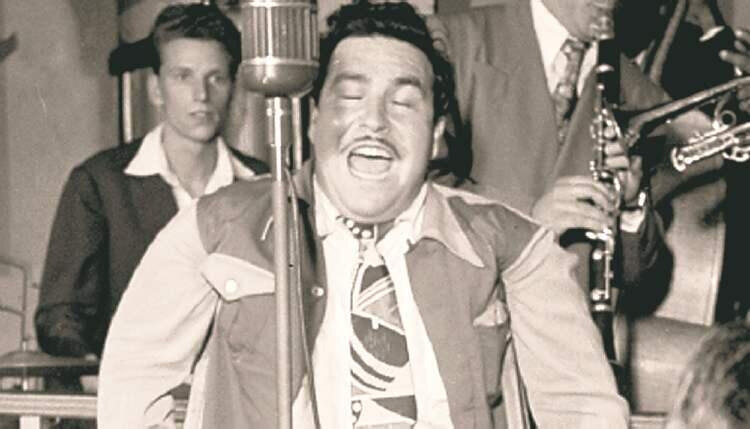 04 décembre 2019
Le nouvel album de Jeffrey Lewis, Bad Wiring, est un petit bijou - rien d'étonnant en soi, on a l'habitude! - mais la piste qui me réjouit par dessus tout, c'est ce pétillant et primesautier LPs, parfaite petite perle antifolkpopunk'n'roll au minimalisme accrocheur à souhait. Mais au delà du son, c'est le storytelling qui me réjouit à chaque écoute, cette histoire universelle (si, si, j'en connais partout, et j'en suis!) du type qui devient addict aux vinyles et ne se sent bien que quand il a laché quelques biffetons en échange d'un ou deux ou dix 33-tours.
La chute est bien entendu très ironique, J.L. annonçant le retour en grâce du CD, cet affreux et aujourd'hui complètement uncool support qui déborde des bacs des soldeurs et second-hand shops, mais dont le héraut new-yorkais prédit le retour en force dès que les jeunes fauchés, obsédés audiophages et autres dévoreurs de music se seront rendus compte que leur vinyles favoris commencent à atteindre des prix franchement déraisonnables, et qu'on les prend, comme d'habitude, pour des con-sommateurs décérébrés et hipstérisés tout juste bons à sortir leurs portefeuilles pour se donner l'impression d'être kewl! Bien vu, l'ami..
Ah oui, au fait, Jeffrey Lewis sera en concert à Lille le jeudi 27 février prochain à La Bulle Café (Maison Folie Moulins).. Pass da wurds..
Jeffrey Lewis & The Voltage - LPs
13 mai 2019
The Mystery Lights are back avec un nouvel album, toujours paru sur Wick Rds, le sous-label de Daptone, il y a quelques jours. Psyché-garage rock'n'roll from Brooklyn, NYC, cet état de Too Much Tension est-il le résultat "Trop Dur à Supporter", du Too Many Girls d'il y trois ans? Dunno, mais j'attends avec impatience de pouvoir jeter une oreille à ce nouveau lp. Enjoy.
The Mystery Lights - Too Much Tension
21 avril 2019
Daddy Long Legs au 4AD à Diksmuide hier soir! Un très bon concert de début de tournée "continentale" (après deux premières dates en Angleterre, à Londres et à Brighton, il y a quelques jours), du foot-stompin', hollerin' blues preachin' haute intensité, une floppée de (très bons) nouveaux titres (Winners' Circle, un hit dans mon salon depuis ce matin) issus du tout nouvel opus du trio de Brooklyn, Lowdown Ways, à paraître le 10 mai prochain sur Yep Roc Rds. Et juste avant un beaucoup trop bref rappel et l'obligatoire hymne Motorcycle Madness, réclamé à corps et à cris par le public, une version du feu de dieu, ardente et incantatoire, du Fire & Brimstone de Link Wray.. Ils sillonnent toute l'Europe d'Alicante à Helsinki jusqu'au 10 juin, so don't find yourself on the wrong side of the river and catch 'em live if you can!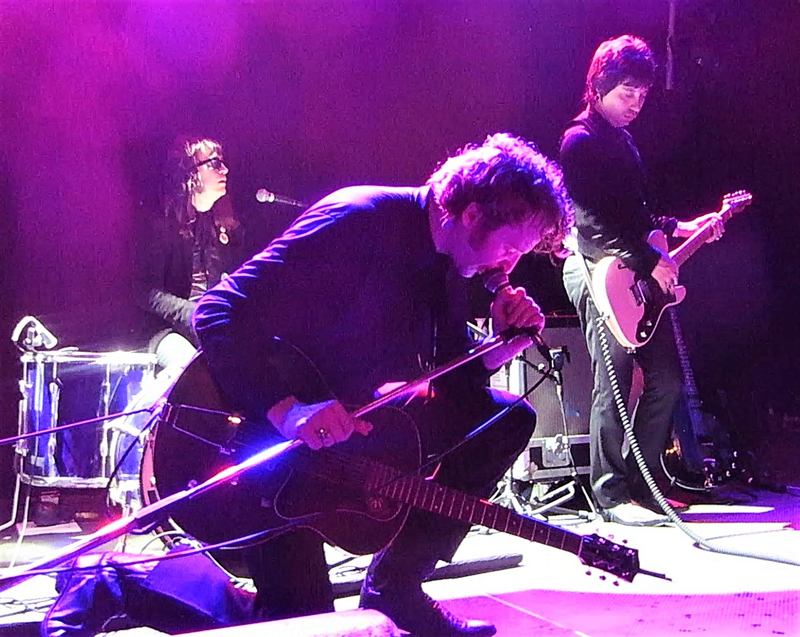 Daddy Long Legs - Bad Neighborhood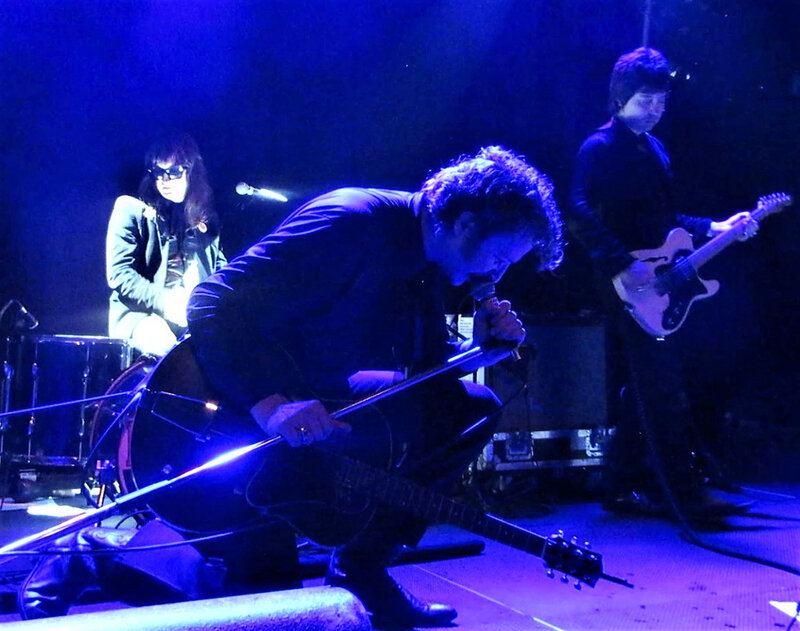 18 juin 2018
Le premier album de Bodega, jeune et fin quintet from Brooklyn, New York City, pourrait avoir été enregistré à la fin des seventies, mais voilà, il paraît ces jours-ci, et ce How did this happen!?, premier single issu de ce Endless Scroll, est bien parti pour devenir le tube de l'été sur toutes les plages accessibles depuis le portail spatio-temporel ouvert en permanence sous le troisième pilier du pont de Williamsburg. Et, au delà des modèles et références proto et postpunk évidents (The Fall, Wire, le Velvet & co), auxquels on risque très vite de les réduire, il y a suffisamment de petites perles pop'n'roll dans ce premier opus (Truth is not Punishment, Boxes for the Move, Williamsburg Bridge,..) pour donner envie d'en savoir plus. Check'em out.
Bodega - How did this happen!?
19 novembre 2017
Woohoo! Je viens de me réveiller et les good vibes d'hier soir sont toujours là, me faisant envisager le reste de ce dimanche avec béatitude et sérénité, et tout ça, grâce à Daddy Looooooooooooong Legs !!! Yep, rien de tel qu'une bonne secousse électrifiée et un dosage adéquat de punk rock high energy, de blues preachin' possédé et de rock'n'roll à haut indice d'octane pour se remettre tous les compteurs à zéro et passer un coup de polish sur son karma.. Et ça, on sait depuis déjà un bon moment que les trois de Brooklyn savent faire, le soulful blues high voltage, fiévreux, sincère et sans fioriture, dépouillé jusqu'à l'os et passé à la moulinette garage punk, they know how...
Par contre, on ne s'attendait pas à ses nombreuses nouvelles compos, qui tirent le répertoire du combo vers un rock'n'roll sixties encore plus roboratif, et il y en a quelques-unes en particulier que j'attends avec impatience de pouvoir glisser prochainement dans ma playlist quotidienne.. Faudra attendre que le trio repasse par la case studio (en janvier, à priori) - et qu'un nouvel album estampillé Norton Rds sorte des presses, mais en attendant, et si vous franchissez le Channel ces jours-ci, vous pourrez encore croiser Murat, Josh et Brian dans les jours et les semaines qui viennent, puisqu'ils entamment aujourd'hui chez les Britons la deuxième partie de leur euro tour. Keep on castin' your spells, guys!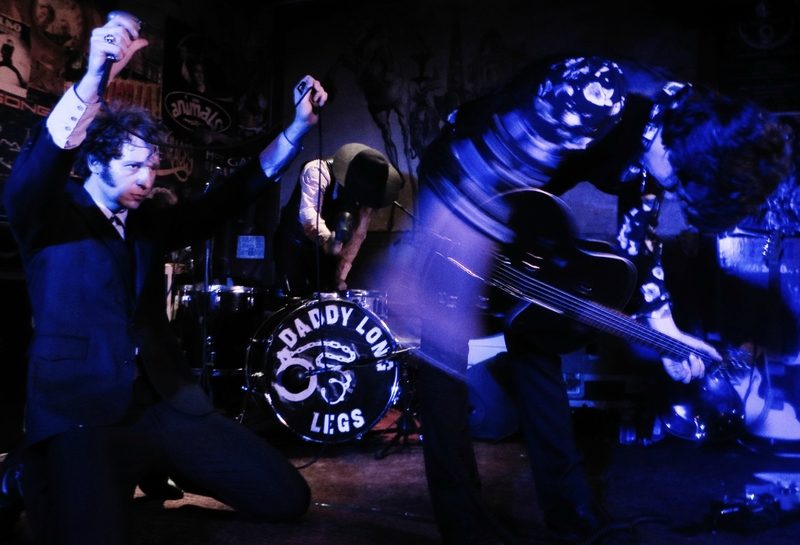 Daddy Long Legs at L'Abattoir, Lillers, France - Nov.18, 2017